Downtown Areas Perfect for Michigan-Made Shopping
If you're one of those travelers who carry an extra-large suitcase in hopes of great shopping opportunities, Michigan is the place for you. These downtown destinations promise locally-owned shops and shopping bags full of Michigan-made souvenirs.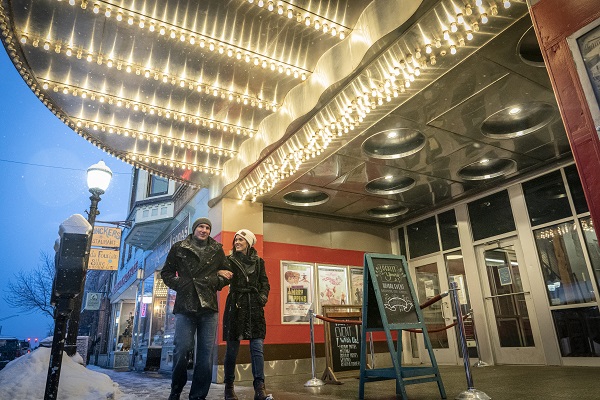 Marquette offers many ways to take a piece of the Upper Peninsula home with you. Lake Superior Photo sells high-quality photographs of the Great Lakes from their gallery on Front Street. Local art, handmade jewelry and clothing are sold at Blackbird Boutique, and Beth Millner Jewelry sells pieces inspired by the Upper Peninsula, many of them created from locally-mined copper. Marquette's shopping district lies an easy walk from the Lake Superior shoreline and the Marquette Harbor Lighthouse and Maritime Museum.
 
Traverse City's 19th-century brick downtown storefronts are filled with 150 shops, boutiques and galleries only an easy drive from the Lake Michigan beaches at Clinch and Bryant Park. Visit Cherry Republic, Inc. for jams, cookies and salsas made from local fruit. Browse the art at the Michigan Artists Gallery, where contemporary fine art and regional landscapes and photographs hang on the walls. Or head to Horizon Books, a store that fills its shelves with a good selection of books penned by Michigan authors. 
Petoskey's Historic Gaslight District ranks as one of Michigan's best shopping destinations, and the district sits just blocks away from Petoskey stone-hunting territory on Lake Michigan. Northgoods sells a wide array of gifts, including mirrors, picture frames and jewelry made from those famous Petoskey stones. Grandpa Shorter's Gifts sells Petoskey stone jewelry, too, as well as home décor and apparel, much of it crafted in Michigan. McLean & Eakin Booksellers draws booklovers from across the state with their diverse selection of titles, author events and books written by Michigan authors.
 
Set at the base of the Mackinac Bridge, Mackinaw City marks the meeting point of Michigan's Lower and Upper Peninsulas and one of two gateways to Mackinac Island. Buy books and maps of the region at The Island Bookstore and Coffee Shop. Three Pines Studio and Gallery sells pottery, fiber art, paintings and other artworks influenced by the Straits area, all of it created by Michigan artists. Don't leave without a few boxes of traditional Mackinaw area fudge from Joann's Fudge, Murdick's Famous Fudge or Devon's Delight Fudge Shoppe.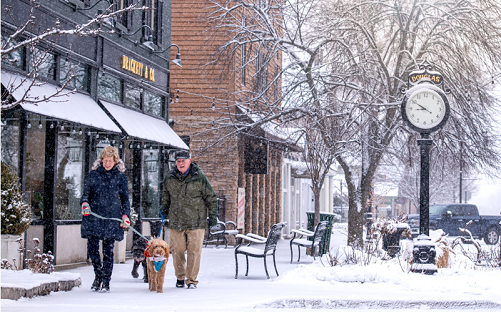 Michigan-themed and Michigan-made housewares, clothing and jewelry are sold at MI Coast, a shop that donates a portion of its proceeds to the preservation of Great Lakes shorelines. The shop is just one of many in downtown Saugatuck, including Water Street Gallery, with Great Lakes-inspired art and jewelry, and Good Goods, selling maritime-themed home décor and gifts. Saugatuck's quaint shopping district is located just blocks from the city's art institutions, Lake Michigan beaches and the historic Saugatuck Chain Ferry.  
 
An easy walk from New Holland Brewing Company – Pub on 8th and other award-winning breweries and Windmill Island Gardens, Holland's downtown shops include locally-owned boutiques and galleries. Visiting in the winter? The downtown sidewalks are heated with a snowmelt system, meaning you can shop without hassle year-round. Head to the Apothecary Gift Shop for Michigan-made housewares and jewelry. Lake Effect Gallery sells locally-made paintings and prints with a Lake Michigan theme. And farther out of town, DeKlomp Wooden Shoe & Delft Factory sells klompen and delicate blue-and-white porcelain, all of it following traditional Dutch themes and all of it made in-house.
 
Just one block from Grand Haven's boardwalk, the pedestrian walkway leading to the city's Lake Michigan beaches, is Washington Avenue, lined with dozens of locally-owned shops and boutiques. The shelves of C2C Gallery are filled with ceramics, glassware and jewelry crafted by more than 40 artists, nearly all of them from West Michigan. Nearby, Marüshka designs, creates and sells brightly-colored, hand-printed clothing and accessories, while Floto's Gifts offers clothing and housewares adorned with the Grand Haven lighthouse.
 
Located near the Museum District and an easy QLine streetcar ride from the rest of downtown Detroit, the sidewalks of Midtown bustle with locals and travelers drawn to the neighborhood's one-of-a-kind restaurants and shops. City Bird sells Michigan- and Detroit-themed jewelry, housewares and apparel made by more than 50 regional designers. The Detroit Artists Market showcases established and emerging Detroit-area artists' works, from paintings and sculptures to greeting cards. Not to forget Shinola, where you can buy high-end watches, bicycles and leather goods from their Midtown showroom, items hand-crafted in a nearby manufacturing facility.
 
Shopping goes upscale in Birmingham, half an hour's drive from the entertainment and sports venues of downtown Detroit. Browse the shops of downtown Birmingham's Maple Road for stylish boutiques, such as Lyudviga Couture, where fashion designer and owner Lyudviga sells her custom-designed women's jackets and dresses. Other clothing shops include Tender and Caruso Caruso, with Detroit-themed t-shirts and sweaters, while Detroit Guitar specializes in new and vintage stringed instruments.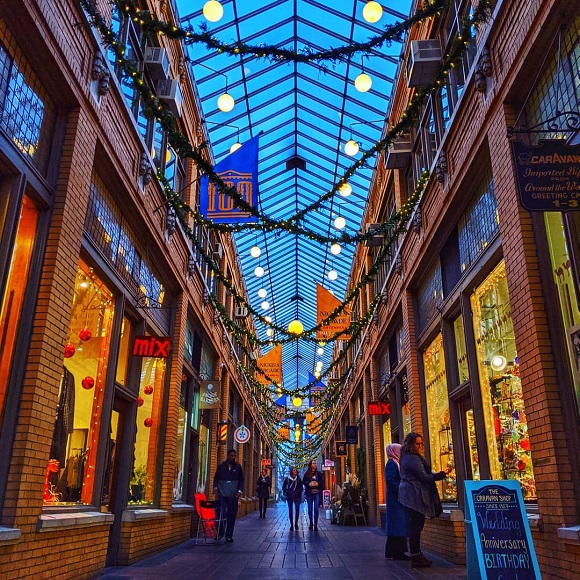 Photo Courtesy Destination Ann Arbor
The University of Michigan campus lies just steps away from downtown Ann Arbor, with half a dozen blocks of great shopping. Booklovers can browse the shelves of Literati, with thousands of interesting titles, many of them written by Michigan authors. Head to WSG gallery for paintings and sculptures by regional artists. The Kerrytown Market and Shops sell local products ranging from fresh produce, jams and chutneys to jewelry and home décor.
 
---