A Guide to Snowmobile Trails in Michigan
The opportunities to experience a Pure Michigan Snow Day are endless. With more than 200,000 registered snowmobiles in the state, according to the International Snowmobile Manufacturers Association, and some of the top ranked trails in the nation, a day on the sled is a perfect way to explore the winter scenery.
With more than 6,500 miles of groomed snowmobile trails that stretch from the Keweenaw Peninsula all the way down to Michigan's southern border, there is ample opportunity for a snowmobile adventure. Along the way, you can speed across frozen lakes (be sure to check conditions first), wind through deep forests, and stop in snowmobile-friendly communities for a hot meal and good company. To get you started with planning your snow day adventure, below are some of the best snowmobile destinations all across the state!
UPPER PENINSULA
A journey on a snowmobile across Michigan's Upper Peninsula should be on every snowmobile enthusiast's bucket list. There are more than 3,000 miles of groomed trails in the UP alone, with epic views and ideal riding conditions. Get a new perspective of destinations like Tahquamenon Falls State Park and Pictured Rocks National Lakeshore from the seat of your sled or make your way to Eben Ice Caves or Grand Island Ice Caves to explore this unique winter phenomenon.
Marquette is home to a vast trail system, containing six groomed trails and some of the best Pure Michigan snowfall you will find! With lodging options in close proximity to the trails and plenty of dining options for fuel, you will see why Marquette should be on every snowmobiler's radar.
Fittingly named Paradise, the city is a snowmobiler's paradise with hundreds of miles of groomed snowmobile trails and recreational sports. Make the most of your winter getaway with visits to Tahquamenon Falls State Park (only 10 miles away!) and Whitefish Point Lighthouse!
Named a top winter family getaway, Munising is the "Snowmobile Capital of the Midwest!" Alger County's groomed snowmobile trail system includes 10 trails and covers 300 miles. Not only are the trails vast, they are incredibly scenic with gorgeous forests covered in fresh snowfall. The area also provides plenty of lodging options for an extended winter getaway.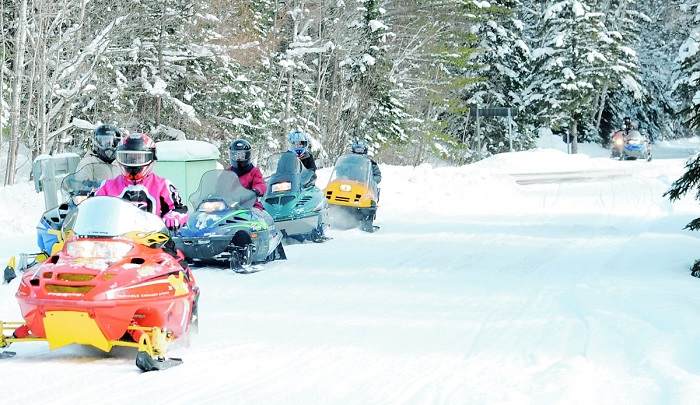 The stunning Sault Ste. Marie is home to over 100 miles of snowmobile trails that connect riders to Newberry, Paradise, Strongs, Pickford, Cedarville, AND St. Ignace for an unforgettable eastern Upper Peninsula adventure. The city is also home to Michigan's premier snowmobile race, International 500 at the 1-500 Snowmobile Race Track.
LOWER PENINSULA
The Upper Peninsula isn't the only place for renowned trails. Learn why snowmobilers from all over come to Michigan's Lower Peninsula for prime conditions and groomed trails.
Snowmobiling in Gaylord Michigan is perfect because of its location in Northern Lower Michigan's Snowbelt. The area averages over 180 inches of snowfall annually making for some of the best snowmobiling conditions you can find. In addition to fluffy lake-effect snowfall, you can choose from more than a dozen Gaylord-area lodging options to enjoy days on the trail.
Cadillac has a vast trail system with over 200 miles of groomed trails. The trail system connects north and south, perfect for days on the sled. Trails include the White Pine Trail at Fred Meijer White Pine Trail State Park. The linear trail is 92 miles long with an 88-mile section open from Cadillac to Grand Rapids.
Sanilac is home to 100 miles of meticulously groomed trails, all on private land. Enjoy the Thumbs Up Snowmobile Trail and experience the beauty and snowfall of an eastern Michigan winter! When in the area, be sure to enjoy a visit to Sanilac Shores Underwater Preserve and the picturesque Port Sanilac Lighthouse.
With glorious lake-effect snowfall, Allegan County's 98 miles of trails include perfect conditions for a snowmobile adventure. Riders from all over the Midwest venture to Allegan for its prime conditions and beauty. Be sure to check out Allegan's historic streets and take advantage of the many events the city hosts year-round!
SNOWMOBILING CLUBS 
When it comes to good company, snowmobiling is a sport the whole family can enjoy. Or join one of the 110 snowmobiling clubs throughout the state and your family becomes a whole lot larger.  With fun names like Twisting Trails Sno Braves out of Twin Lakes and the Cheboygan Trailblazers, these clubs provide a social atmosphere, coupled with safety in group rides.
The International Snowmobiler Manufacturers Association recommends snowmobile beginners join a local club to learn safety precautions and sled advancements and enjoy the social aspects of club rides and functions.
For more information on snowmobiling safety, visit gosnowmobiling.org and for more information on snowmobiling clubs and trail conditions across Michigan, visit msasnow.org.