Must-Try Places to Eat in Grand Rapids
Grand Rapids enjoys its moniker of Beer City, USA, but Michigan's second-largest city promises great dining, too. Bring your appetite to one of these Grand Rapids restaurants and you won't be disappointed.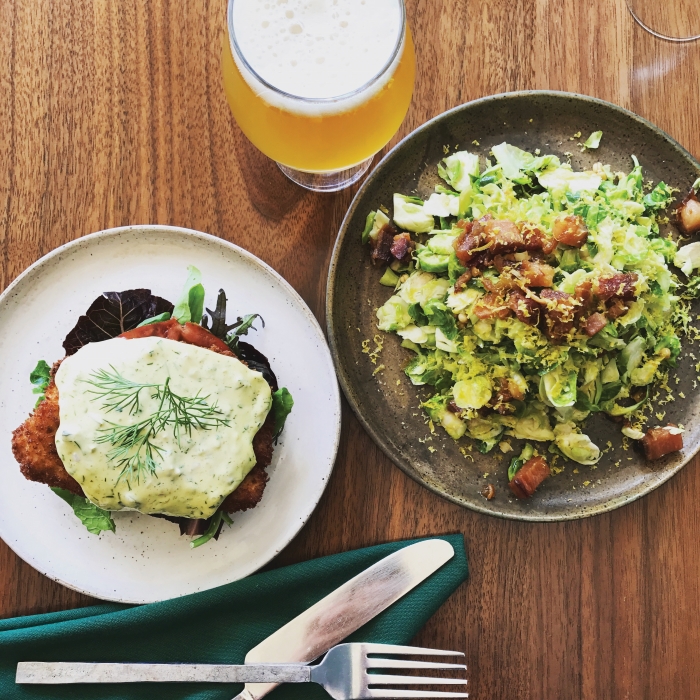 The Sovengard creates Scandinavian-influenced dishes from the most local of local ingredients. The day's menu may include rye rebollita (a cabbage and bread stew) and house-cured salmon, fried perch, black bread and house-pickled cucumbers, but it all depends on the weather. Sovengard tailors the day's offerings to the ingredients currently on hand from West Michigan farmers. This trendy dining spot includes a traditional restaurant, called HOST and a garden level eatery and Biergarten, lush with trees and blooming flowers. The Sovengard sits within Grand Rapids' booming West Side neighborhood.
 
Hungry for pizza and pasta? Dine at Bobarino's. More in the mood for BBQ? Gilly's is the place for you, serving barbecued chicken, pulled pork and ribs. If it's steak and seafood you're after, head to Judson's Steakhouse. All three restaurants—as well as a brewery, a couple of bars, live music venues and a comedy club—reside within the B.O.B. (the Big Old Building), a former 1903 warehouse. The B.O.B. is located in the heart of downtown Grand Rapids, near Van Andel Arena, the DeVos Place convention center, DeVos Performance Hall, and half a dozen other entertainment venues and museums.
 
Local is the rule at six.one.six, a fine dining restaurant inside downtown Grand Rapids' JW Marriott, near the Gerald R. Ford Museum, the Grand Rapids Art Museum and a variety of entertainment venues. Taking its name from the city's area code, six.one.six offers a French-inspired menu that supports the vast number of small, family-owned farms and orchards in West Michigan. Expect a seasonal mix of locally-produced fruits and vegetables, meat, honey, maple syrup and cheese.
 
Award-winning wine stars at Reserve, but the food is no less impressive at this downtown fine dining establishment. Enjoy a terrific selection of meats and cheeses for a DIY charcuterie board, or make a meal of small plates. Don't care to share? Order a plate of pasta, gnocchi, fresh seafood or steak all for yourself. Ask the wait staff for wine pairing suggestions. The menu includes vintages from Michigan and around the world.
 
Dine on made-from-scratch chicken and waffles or creole catfish, a bowl of gumbo or fried green tomatoes. The menu at Forty Acres Soul Kitchen has been passed down through generations, and the restaurant celebrates not only authentic American soul food but also a celebration of African American culture and community. Forty Acres is located in the Wealthy Street District of Uptown, near eclectic boutique shopping, funky galleries and a variety of entertainment venues.
 
The offerings are diverse but the concept is simple at Roam, where a wildly varied menu revolves around global street food. Try a bowl of Moroccan shakshuka, two hard boiled eggs cooked in a savory tomato stew. Dig into a plate of Irish fish and chips or an Indian kati roll, filled with ground lamb and vegetables. And if your preference runs toward the more familiar, you can always fill up on an American pulled pork sandwich. Your taste buds will travel the world at this enjoyable restaurant near the performing arts venues and museums of downtown Grand Rapids.
 
 It's no surprise that Beer City, USA, is home to a host of great breweries. The Mitten Brewing Company is just that, but their pizza is no less a standout. From traditional Margherita and Mediterranean pies to creative zas available only at The Mitten—try the Westerdog with hot dogs and their toppings, or the Field of Greens with enough vegetables to make your mother happy. The pizza and hearty sandwich selection at this brewery will leave you satisfied. The Mitten is located on Grand Rapids' West Side, near the John Ball Zoo Society, the Mines Golf Course, the Kent Trails and the shops and bars of Bridge Street.  
 
 Celebrate a special occasion at Noto's, a family-owned restaurant in Southeast Grand Rapids not far from the Gerald R. Ford International Airport. In addition to a nationally recognized, award-winning wine list, Noto's dishes up traditional Italian favorites like spaghetti with homemade meatballs, veal piccata and chicken Marsala. You'll also find some creative standouts such as Salmon all'Arrancia, with orange thyme sauce, and filet mignon with black truffle port wine sauce and forest mushrooms. Enjoy your meal in Noto's elegant main dining room, or reserve space in the wine cellar, beneath the restaurant's dramatic brick arches.
 
 With locations near the attractions of Grand Rapids' downtown and Southeast neighborhoods, Sundance Grill offers a budget-friendly menu infused with Southwest American flavors. Lunch and dinner offerings include Tex-Mex standards like burritos, chilaquiles and tacos as well as mac 'n' cheese, walleye and mussels, all with a Southwestern twist. Breakfast is a favorite at Sundance, with a large selection of Southwestern-influenced omelets, scrambles and hashes.
 
Whether you're looking for a sit-down meal, picnic ingredients or a culinary souvenir, Grand Rapids' Downtown Market has you covered. More than 20 vendors fill the market hall, offering fresh produce, locally sourced meat and fish and an array of oils, vinegars, seasonings, wine and other beverages. Stalls such as Tacos El Cuñado, Sushi Market and Fish Lads serve prepared foods to take out or to enjoy at one of the open tables scattered throughout the hall. Dine-in restaurants round out the experience at the Downtown Market, with options including Slows Bar BQ and Social Kitchen and Bar, with its creative take on classic American comfort food.
A century ago, Rose's Bathing Beach and Swimming School was where Grand Rapidians went to cool off in the heat of the summer. These days, Rose's remains a popular summer spot but as a restaurant. Located on Reeds Lake in East Grand Rapids, close to the shops of Gaslight Village Shopping Center and not far from the Frederik Meijer Gardens & Sculpture Park, Rose's offers a spectacular deck for warm-weather dining. In the fall and winter months, enjoy the view from inside a cozy dining room. No matter what season, the food won't disappoint. The dinner menu includes locally grown produce, fresh beef and fish, wood-fired pizza and positively decadent desserts.
 
Grand Rapids' best-known craft brewery serves its beer cold and its sandwiches hot, made to order, often with a little beer tossed in the recipe. Relax over a mug at Founders' downtown pub and feast on a crisp Blushing Monk salad topped with Rubaeus Raspberry Ale vinaigrette; a Reuben sandwich topped with Dirty Bastard Scotch Ale sauerkraut, or a vegetarian sandwich slathered with Centennial IPA honey mustard. Founders frequently hosts evening live music performances.
 
Nashville hot chicken comes to West Michigan at Hancock, a trendy, from-scratch, fast food restaurant in the Wealthy Street District of Grand Rapids' Uptown neighborhood. Fried chicken is the big draw at Hancock—order it Not, Hot, Hotter or Hottest—but you'll fill up on lots of home-style sides, too. Try the jalapeno cheddar cornbread, baked beans or homemade pickles. Tame the heat with a glass of sweet tea, house-made lemonade or a can of Faygo soda.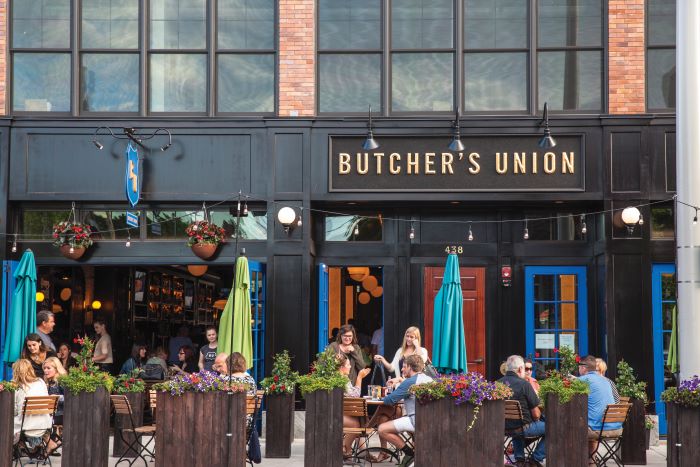 Meat and whiskey form the centerpiece of this trendy West side restaurant, near John Ball Zoo and the Medical Mile. Stroganoff and meatloaf, roasted chicken and steaks fill Butcher's Union's dinner menu, sourced largely from Michigan farms and paired with locally-grown vegetables. The restaurant's 100+ whiskeys trace their roots from a decidedly larger area, including the U.S., Canada, Scotland, Ireland and Japan.
 
The New Hotel Mertens occupies a century-old hotel, but its menu is decidedly contemporary. Choose from one of three dining spaces: NHM Bakery, selling coffee drinks, house-baked pastries, quiches and sandwiches to eat in or take out; NHM Brasserie, on the main floor dining room, with French specialties such as steak frites, bouillabaisse and filet au poivre; and Haute on the building's rooftop, serving charcuterie, chilled seafood platters and cocktails. Haute ranks as one of Grand Rapids' most romantic dining spots and offers some of the best views in the city. Trendy New Hotel Mertens is located in the Heartside neighborhood, known for its art galleries and studios, and its diverse dining scene just blocks from downtown Grand Rapids.
 
---