Go On A Grand Rapids Coffee Adventure
When many people think of Grand Rapids, beer and breweries usually come to mind. However, with each passing day, it is becoming a top coffee destination too. Looking to go on a Michigan coffee adventure in a big city with a friendly, small-town feel? Guest blogger and coffee-lover Aaron Cruz from Coffee Ann Arbor gives his recommendations for a Grand Rapids coffee adventure.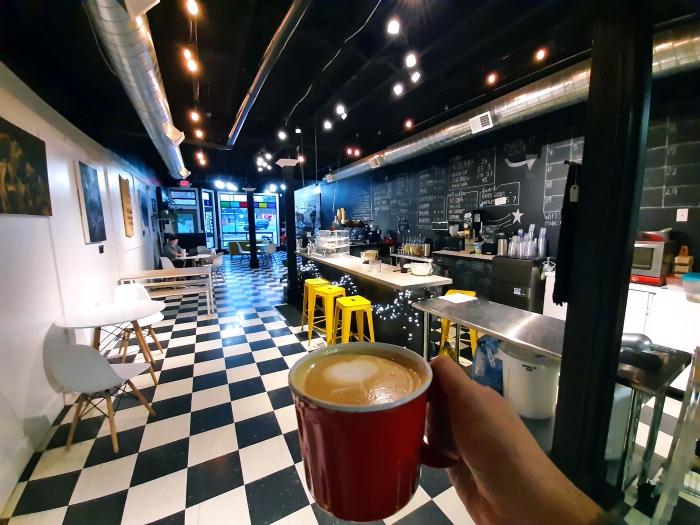 Before heading into Grand Rapids, you will need to fuel up. For the java-lover, of course, that means it's time for coffee! Coming in from the west, head just south of the Grand Rapids area to the village of Middleville. Countless house-made syrups, from-scratch pastries and cozy vibes await at Left Field Café on Main. You'll feel right at home with that seasonal Smoked Butterscotch Latte and an oven-fresh cinnamon roll. They roast their own coffee beans in small batches out of a local farmhouse and are heavily invested in Middleville. How could you not love a coffee shop like that? Now, you're ready to head into the city.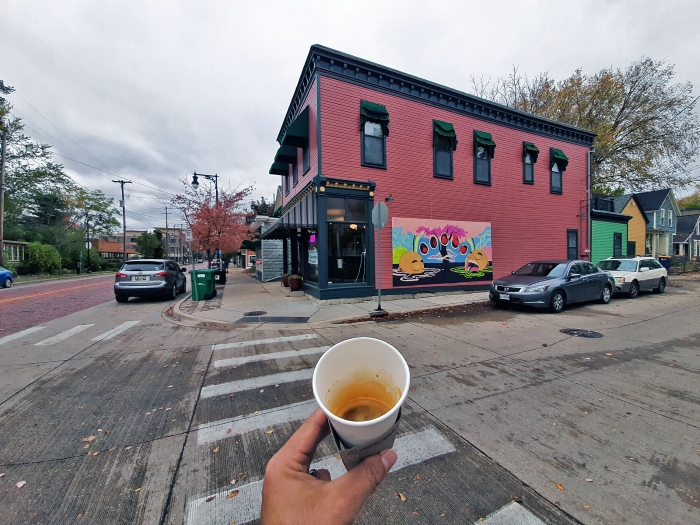 Now in Grand Rapids, start by going to several shops on the fashionable Wealthy Street. Off the brick-paved street sits this corner shop. As you enter the community gathering space you'll get a homey, artsy and old-school vibe. Order from their extensive fair-trade and organic coffee and tea menu. For espresso lovers, The Behemoth is a good choice. Two shots and condensed milk will definitely get you on your toes. Enjoy your drink inside with a magazine, newspaper or some self-published poetry. You can also sit outside and take in the beautiful mural by local artist Maddison Chaffer on a nearby former hardware store building.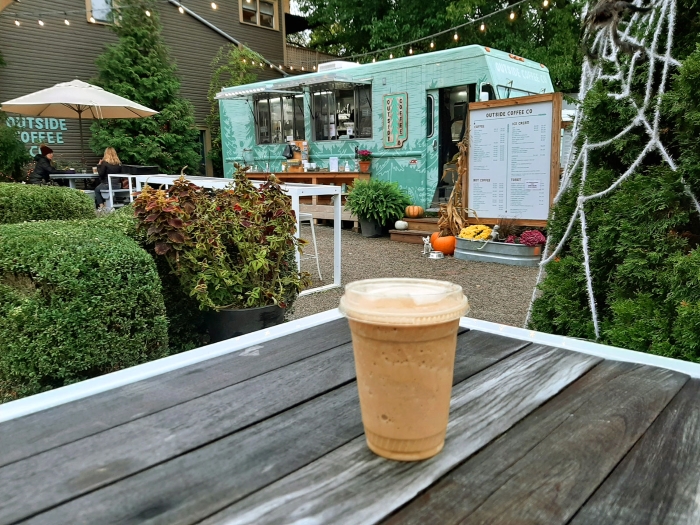 About a mile down Wealthy Street, everything you experience at this shop will be naturally "outside." Order from their coffee truck, charge your phone, use the Wi-Fi, sit by a warm fire pit and enjoy your drink amongst the outdoor community garden. This shop is open year-round! There are a variety of seating options no matter the season. During summer you may see hammocks, and in winter you may run into heated Igloos (geo domes). What stands out on the menu is that they can turn any latte into a milkshake. How does a Honey Lavender Latte Milkshake with extra espresso sound? If it's cold out with lots of snow, try the hot Lavender Oat Milk Latte.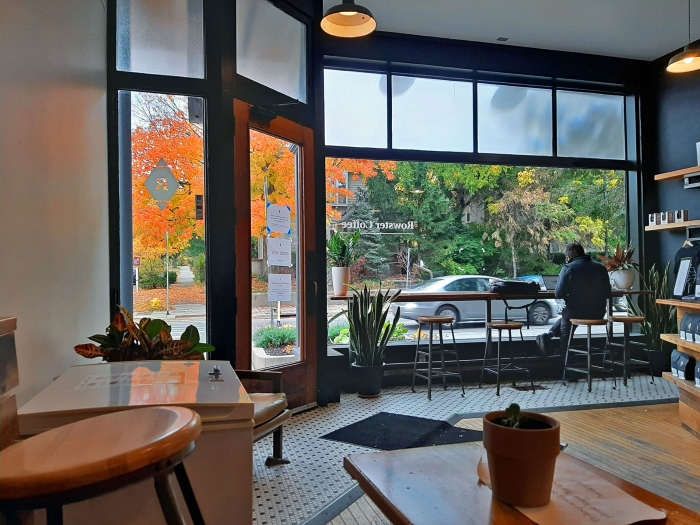 A block or two further west, our Wealthy Street tour ends at this modern, minimalist and hip shop and roaster—I mean Rowster. The name came from their beginnings as a roaster in a backroom. Sit along the bar in front and look out the large window, checking out neighborhood passersby. Watch as the baristas make your Congo coffee using the Modbar, an under-the-table pour over and espresso system. This leads to more interaction between you and the barista without anything on the counter. Ask them questions, as they love to share their knowledge of coffee. Grab a bag of their signature Milky Way beans for home.
 
Afterward, walk a couple of doors down and grab some of the larger-than-life cinnamon rolls and other goodies for home at Wealthy Street Bakery.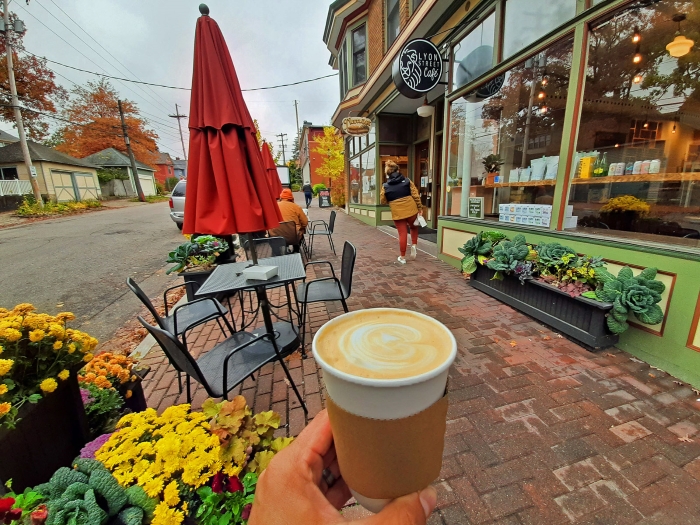 In the Heritage Hill-Midtown neighborhood, there is a shop named after the street it resides on. A perfect place for lunch, grab some avocado toast with a kick (and a healthy amount of radishes!) to go with a smooth, creamy latte. They rotate the beans and coffee roasters that they use for their coffee drinks. You can never have enough goodies, so after lunch head next door while sipping your coffee and grab some pastries from their sister bakery, Nantucket Baking Company. To try something outside the box, order a Spinach Artichoke croissant.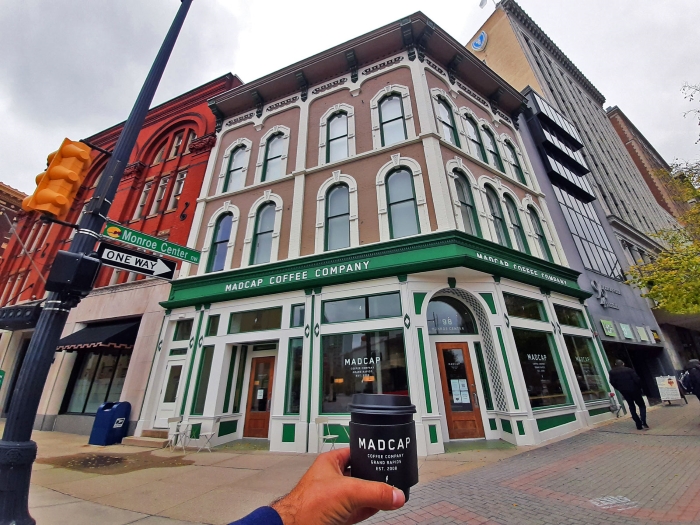 Now in downtown, head to the flagship location of the coffee brand known to many in Michigan and around the country. Go seasonal and grab an Oktoberfest. No, not a beer. It's a smooth Colombian and Ethiopian blend served as a pour over. It's perfect to sip as you walk around outside checking out the churches, murals and colorful architecture in this part of downtown. Their building is on the National Register of Historic Buildings, built in the 1800s. Madcap sources and roasts their own beans from all over the world alongside one of their other Grand Rapids coffee shops on Fulton Street.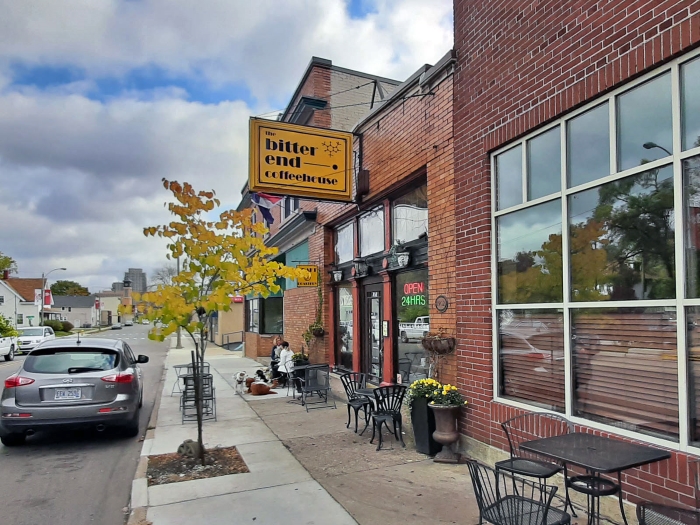 The tour ends on the west side in the University District at this long-standing Grand Rapids coffee institution. Park for free across the street. As you enter you will see the shop's neo-classical storefront, tin ceilings, porcelain tile floors and wooden walls covered with an eclectic mix of artwork. What else makes this shop stand out you ask? How about the fact that it is open 24/7! Located next to a university, this shop is a popular place for students to study. Their menu is an endless list of smoothies, dessert lattes, bubble tea, espresso drinks and more. If you've had enough coffee, that's okay. Their signature, in-house Chai Latte is the perfect way to wrap up your Grand Rapids coffee adventure.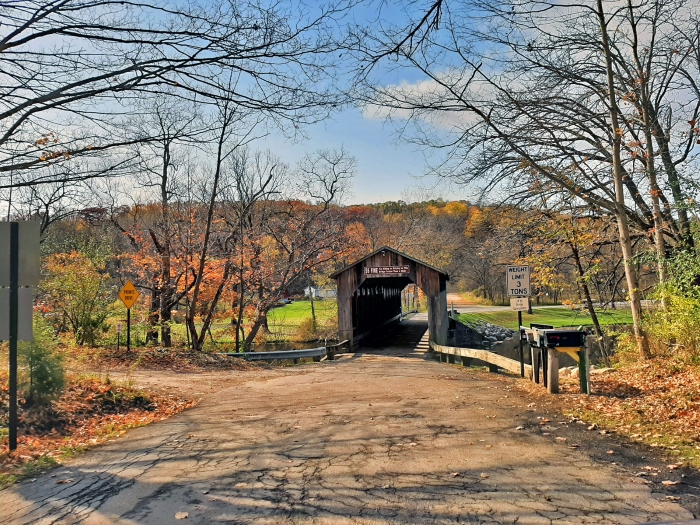 Looking for a place to stretch out and chill by some water before driving home? Head to the scenic and historic 100-foot long Fallasburg Covered Bridge, just outside the town of Lowell. If you go at the right time in autumn, the colors are especially magical. Remember to drive across the bridge no faster than if you were walking, or you could get a $5 ticket! Cheers to Grand Rapids coffee.
 
About the Author: Aaron Cruz is a long time resident of The Mitten. When not out on the open road, he's probably drinking coffee somewhere. He loves exploring independent coffee shops, taking photos and road trips. He is the founder of Coffee Ann Arbor, with the goal of helping to show off the college town areas thriving coffee scene. You also can find him on Instagram, Twitter and on his travel blog.
---