The Perfect Cup: 11 Awesome Michigan Coffee Shops
Like breweries and wineries in The Mitten, new Michigan coffee shops and roasters are popping up everywhere. The craft coffee scene has exploded. No matter where your travels take you, you're bound to find a great cup of coffee. Guest blogger and coffee lover Aaron Cruz from Coffee Ann Arbor suggests eleven cool Michigan coffee shops to visit on your Pure Michigan travels.
If you are a Michigan latte drinker, Foster is the place to be. Choose from favorites like peppermint mocha, pumpkin, and the standard variety, all made with the purest of ingredients. So smooth! Order a pour over coffee from beans roasted in-house at their original Owosso location. Upon entering look down at the penny-tiled floor and custom-painted logo. Last year they opened a Flint location right in the heart along Saginaw Street. Foster has the overarching goal of "fostering community through coffee."
Is the road bringing you to Lake Michigan? Head to this Muskegon shop and cool down with their signature iced pour over. Explore the latte, regular pour over and other craft coffee offerings amongst the shop's laid-back and vintage personality. With each sip you can tell the care and coffee knowledge they possess. You can find them in their original, shared location in the Russell Block Building. They are in the process of building their very own and bigger space right down the street.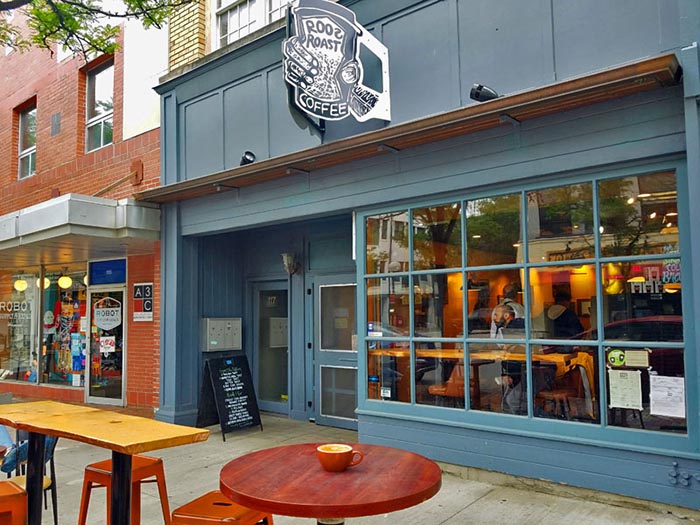 When in Ann Arbor it's all about the Lobster Butter Love, the signature coffee beans of this unique shop and roaster. They don't do pour overs, but you'll quickly recover from by ordering a Long Pull. RoosRoast roasts at their original Rosewood Street location, where you will find a quirky and throwback-style café. The shop Downtown is more modern and offers a small breakfast menu which includes delicious breakfast burritos. Coffee bean names like "Portland in the 1990s" reflect the vision and life experiences of their owner John Roos. Feeling adventurous? Order a Garlic Cortado!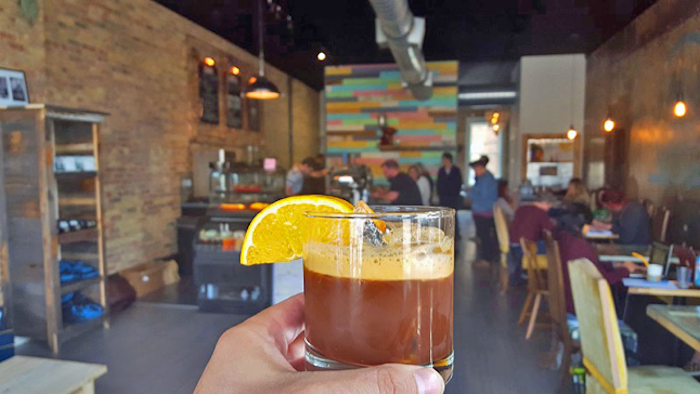 Head inside this Lansing coffee spot in the up-and-coming REO Town neighborhood. Craft coffee cocktails (non-alcoholic) is where it is at. I recommend closing your eyes and sipping an Ol Blue. It will be like you are drinking an Old Fashioned. Sit amongst a beautiful mix of families, people working, and others just experiencing the coffee in this open layout. Their signature Nitro Cold Brew fresh out of a kegerator is another tasty option. If you dare, order one of their Nitro flights! Keep an eye out, as a second location is in the works in East Lansing right across from campus.
With café and drive-thru options in and around Kalamazoo, Water Street Coffee Joint is a go-to for coffee lovers in this college setting. Enjoy a latte made with hazelnut or other house-made syrups. Choose from amongst their other espresso offerings, along with shakes, smoothies, teas and a full food menu. Get cozy on a weekend morning at their original café along of course Water Street with a coffee and a freshly made pastry. Grab a bag of in-house roasted beans on your way out. Locations open early and close late, so there is always a welcoming spot and coffee waiting!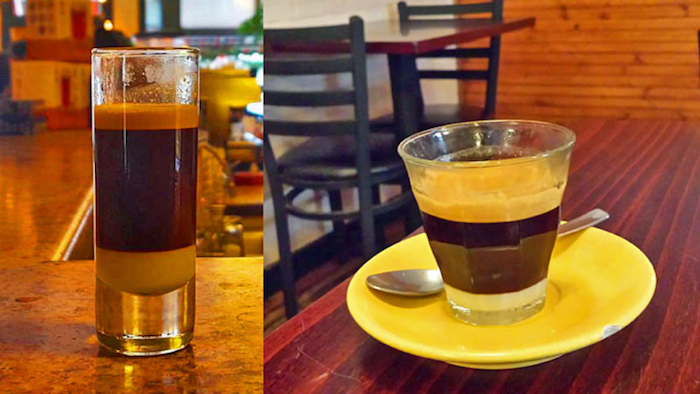 The name of this Grand Rapids coffee shop says it all. You'll find a healthy offering of coffees, teas, magazines and newspapers along with pastries. This Wealthy Street neighborhood shops atmosphere is artsy, creative and fun. Want to get caffeinated? Look no further than the "Behemoth", my favorite espresso shot in Michigan. This decorative and delicious espresso shot will have you buzzing.
Head across the Mackinac Bridge to St. Ignace and this colorful coffeehouse. Here it's as much about the experience as it is about the coffee. It's a shop I could hang in every day around the super friendly staff and unique décor. Murals, knick-knacks, tea kettles and a never-ending breakfast menu awaits. Peanut butter and chocolate chip pancakes anyone? Grab a shot of some delicious U.P. espresso and/or a latte made with whatever flavor your heart desires.
Going on an adventure in the U.P.? You will find your coffee "cup of the day" in Sault Ste. Marie. This coffeehouse is firmly entrenched in the heart of downtown, having served for the better part of two decades. Enjoy a mocha, latte or simple cup of coffee, to one of their fresh made-to-order sandwiches. Locally roasted beans come in every coffee served within the mom-and-pop, friendly themed shop. I'd recommend an Irish Crème Latte to start a day of exploring the Soo Locks and the oldest town in Michigan.
The Moose serves up over 15 custom blends of coffee, in addition to a full espresso bar and plenty of baked treats to pair your drink with! It also doubles as one of the town's social hubs. It's often busy, especially around lunchtime when sandwiches, wraps, salads and paninis fly out of the kitchen.
Dead River Coffee roasts a selection of Arabica coffees from various exotic locations. Enjoy your cup in the store and enjoy the delicious aroma of roasting beans, then grab a pound for the road!
About the Author: Aaron Cruz is a long-time resident of The Mitten. When not out on the open road, he's probably drinking coffee somewhere. He loves exploring independent coffee shops, taking photos and road trips. He is the founder of Coffee Ann Arbor, with the goal of helping to show off the college town areas thriving coffee scene. You also can find him on Instagram, Twitter and on his travel blog.