The Perfect Pictured Rocks Paddling Guide for a First Time Visitor
When fur trader Pierre Espirit paddled through what's now the Pictured Rocks National Lakeshore four centuries ago, he found much of what you'll see today: a coast "most delightful and wonderful," a place nature has made "pleasant to the eye, the spirit and the belly."
You'll also find—as this early explorer did—the rougher side of paddling. As Espirit and his party passed sandstone cliffs that rise as high as 200 feet from the Lake Superior surface. Paddling Pictured Rocks has become an item on an increasing number of adventure bucket lists, and for good reason. Mineral seepage creates the cliffs' vibrant colors, best seen from the water. Shallow caves also add exploring interest. Guides, booked through a growing number of local outfitters in Munising or Grand Marais, know how to safely find those crannies, as well as hidden waterfalls and rare sandy beaches. Guides also act as your weather and wave forecaster, ensuring that Lake Superior's famed gales won't lead to a trip gone wrong.
 
Getting Outfitted
The park is an official National Lakeshore, and rangers offer guided paddle programs as well as hikes and classes. There are also a handful of outfitters, some with additional twists to their offerings.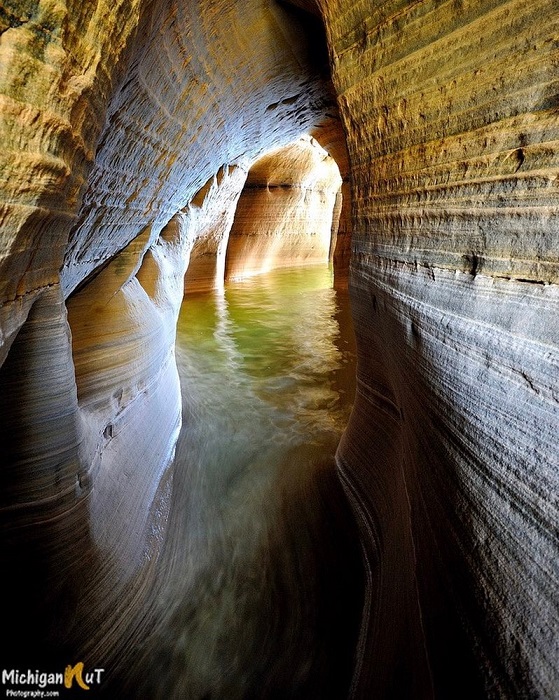 This adventure site features lodging and kayak tours, booked individually or in combination with options from two to eight-hour paddles. The six-hour sunset paddle lets you view the cliff walls while illuminated in hues of orange and red. The journey also features some of the famed landmarks, some named centuries earlier: Miners Castle, Bridalveil Falls, Lovers Leap Arch. Paddlers Village offers the chance to camp along the shoreline you paddle with options like a yurt, a tipi or a safari tent.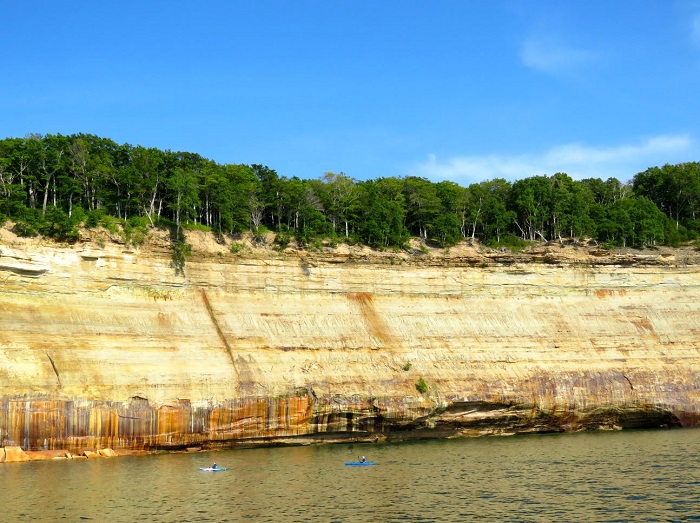 This activities center combines a powered boat ride with a kayaking trip. These trips start with a cruise to one of the prettiest stretches of Pictured Rocks, and each paddler is launched from a cradle alongside the boat, including one specially built in Michigan for this particular trip. The boat stays near enough to the group to provide back-up for anyone who gets tired early or needs a restroom break. Trips run from four to five hours with two hours of kayaking time included.
Make it a Weekend
Munising is the gateway to paddling Pictured Rocks, and its steady growth has brought a variety of hotel and housing rental options, from more modern hotels to classic cabin resorts. There are plenty of other activities to do in town like:
Located in the Roam Inn is a chef-curated five-star farm to table dining that focuses on eclectic American fare.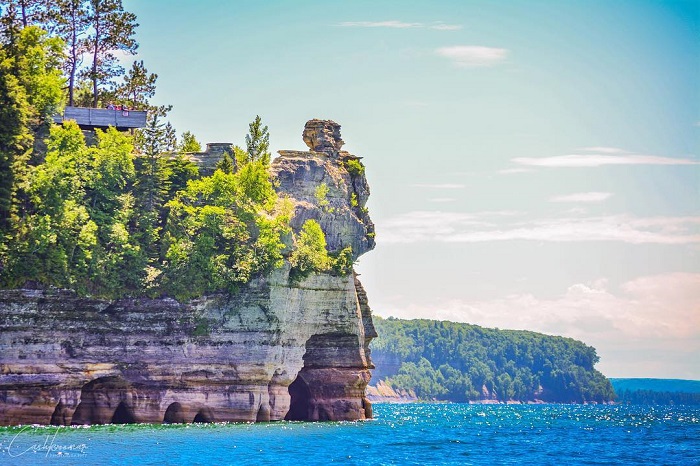 Cruise the Pictured Rocks, sit back and listen to narration or shoot photos as the sun illuminates the cliffs. This trip has been ranked as Michigan's number one boat tour by AAA's Michigan Living.
Explore Pictured Rocks both above—and below the surface—and offer tales of shipwrecks as well as the Pictured Rocks.
Waterfalls
The national lakeshore is also the site of many waterfalls, in fact, the park service created a map that lets you hunt for treasures of falls accessible by drives and hikes both and often running over the same glowing sandstone that makes the paddling trips so popular.
Tips 
Book your paddling outing near the beginning of your trip to the Pictured Rocks area. Wind and waves can cause dangerous conditions, and trips are regularly cancelled due to weather. Guides keep careful contact with the National Weather Service and work to reschedule cancelled paddling trips as soon as weather clears.
If you plan to paddle on your own, bring a sea kayak designed for coastal paddling, one 14.5 to 18 feet long. In addition, the park requires that you paddle with a life jacket and whistle or air horn and recommend that you bring a spray skirt, wet or dry suit, paddle float and leash, bilge pump, marine radio and more. You should always leave your kayaking itinerary with a friend before venturing out.
Do your research and check the options offered by each paddling outfitter as well as their reviews. Some trips are more appropriate for beginners than others, some are the backup option of a motored vessel, and others are combination adventures that include a paddle and a hike.