Scenic Drives for Michigan Summer Road Trips

As school and work schedules slow down and temperatures heat up, summer is the perfect time for a road trip in Pure Michigan! Nick Nerbonne, MEDC Digital Media Director, shares a few of his favorite scenic road trips around the state.

Summer is meant for road trips with the windows down, music up, and good times on the horizon. Fortunately for Michiganders, and for those who visit us here in the Mitten, there are plenty of options for beautiful drives that showcase the beauty of the Great Lakes State.

I've had the pleasure of exploring quite a bit of Michigan's pleasant peninsulas, and when I hop in the car and hit the road from my home in Traverse City, I often find myself heading toward the miles of Great Lakes coastline that are always just a short drive away, no matter where you are in the state. Here are a few of my favorites:

1. Red Arrow Highway from New Buffalo to St. Joseph
Head north from New Buffalo on Red Arrow Highway along Lake Michigan to explore the quaint coastal villages of Union Pier, Lakeside and Harbert on your way to St. Joseph. Known for its art galleries and antiques, this popular summer cruise also features numerous Lake Michigan beaches. The region's climate is heavily influenced by Lake Michigan, and orchards and vineyards checker the landscape. Sample wines at tasting rooms for over a dozen wineries along the Lake Michigan Shore Wine Trail, and bring a few bottles home to open while sharing the memories. Be sure to check out the Great Lakes surfing scene in New Buffalo and St. Joseph.

Don't miss: Weko Beach
Follow the signs from Red Arrow Highway in Bridgman to this beautiful stretch of Lake Michigan beach. Day passes are available, or reserve a campsite and catch one of Weko Beach's famous sunsets.

2. M-22 from Arcadia to Frankfort
M-22 receives much of its well-deserved notoriety for the many scenic destinations along its northern reaches in Sleeping Bear Dunes National Lakeshore. While these are among my favorite day trips in Michigan, I often look further south along this scenic coastal highway, beginning in the village of Arcadia. On a hot summer day, the beach at Arcadia is the perfect place for a refreshing swim along the sandy shore. After cooling off in the "Big Lake," head north along M-22 for scenic vistas from the tops of the wooded hills to the Lake Michigan port city of Frankfort. Grab a Michigan craft beer at Stormcloud Brewing Company and stroll along Frankfort's pier to the very photogenic lighthouse.

Don't miss: Lake Michigan overlook just north of Arcadia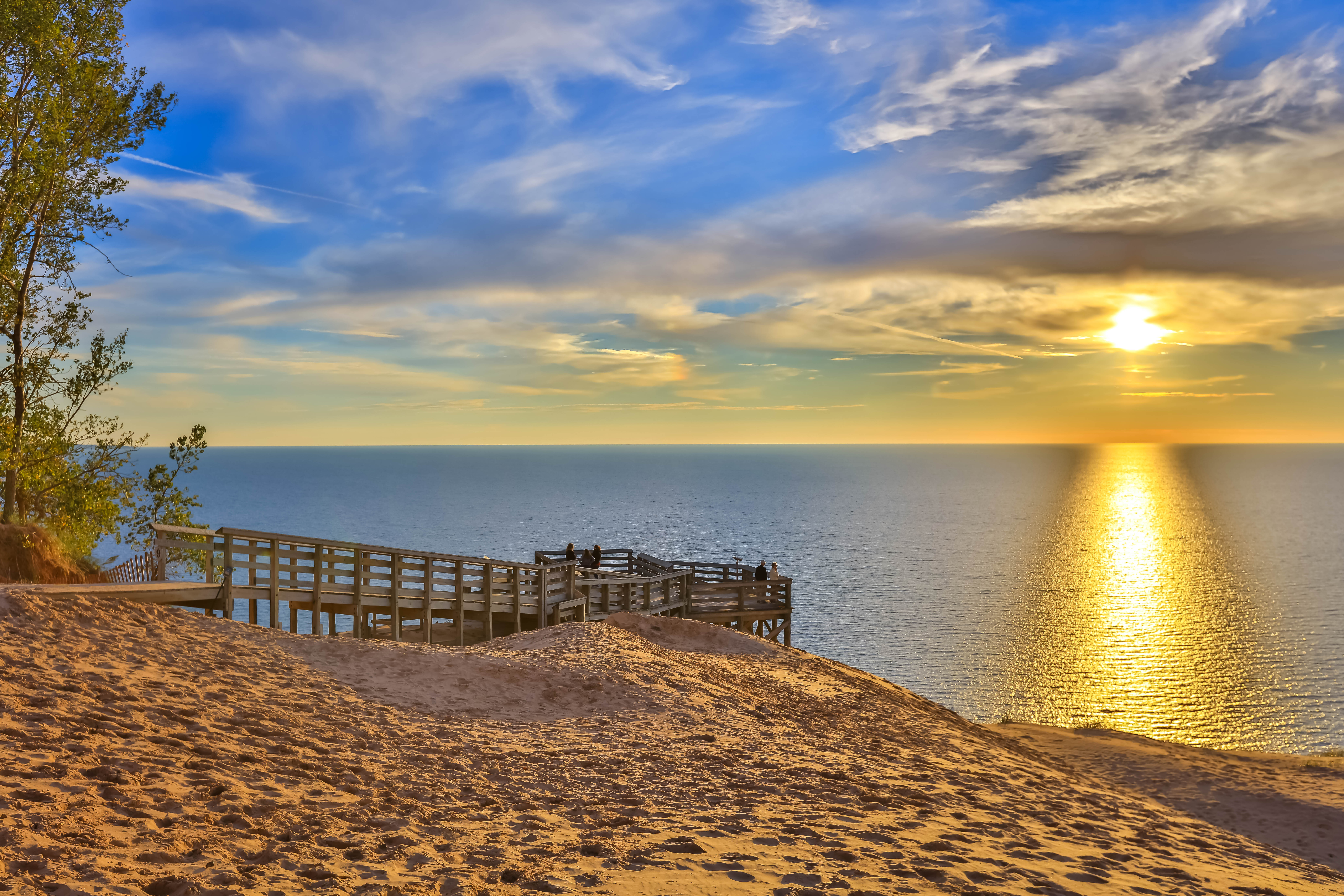 Head north along M-22 from Arcadia and stop at the scenic turnout just outside of town, called Inspiration Point. Climb the steps for a spectacular view from atop the bluff.

3. M-23 from Tawas City to Alpena
Often overlooked by travelers heading north, Michigan's "Sunrise Coast" offers a Great Lakes setting with a beauty all its own. From M-55 in Tawas City, M-23 skirts the Lake Huron shoreline through the coastal villages of Oscoda and Harrisville on its way north to Alpena. Pack a picnic and enjoy the scenery at Alpena's waterfront park adjacent to the marina on the shores of Thunder Bay. Harrisville State Park offers campsites directly on Lake Huron. Make your reservation early to get the best view of the beach.

Don't miss: Sturgeon Point Lighthouse
Constructed in 1870, this classic Lake Huron beacon is a must-stop when traveling along M-23.

4. River Road Scenic Byway along to AuSable River to Oscoda
The River Road Scenic Byway leads visitors west along the AuSable River from Oscoda. The drive lives up to its name, with several viewpoints high above the AuSable Valley along the way, but also provides a glimpse into the area's past as a major hub in Michigan's timber industry. Hiking trails and elaborate staircases provide access to the water's edge, so bring your hiking shoes.

Don't Miss: Lumberman's Monument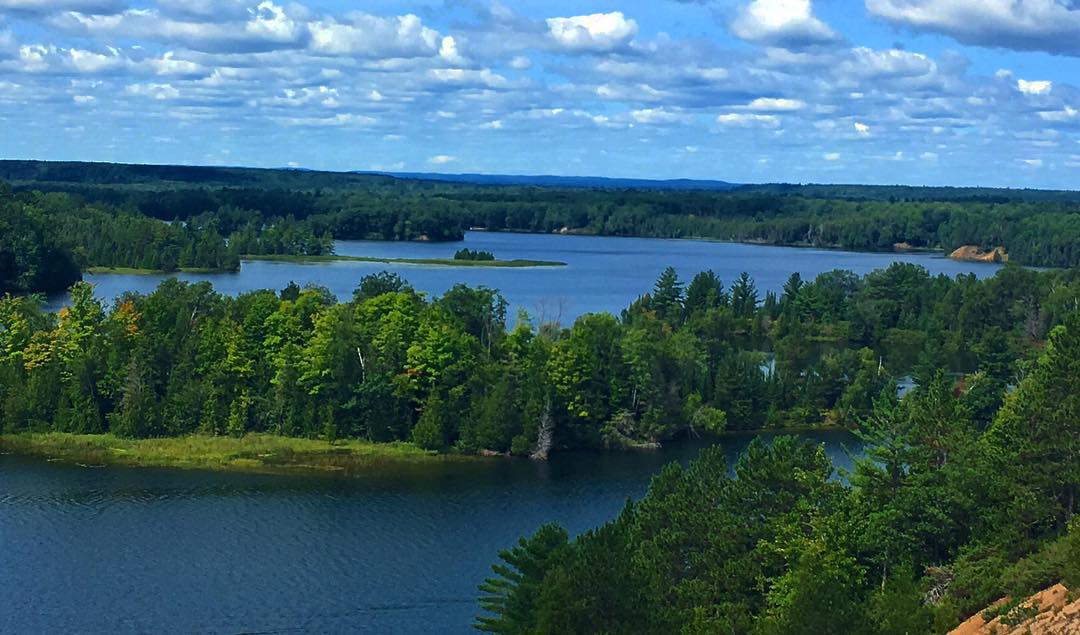 Dedicated in 1932, Lumberman's Monument recognizes the hard-working lumbermen of Michigan's early logging industry. Follow the trail northeast from the Lumberman's Monument Visitor Center for a panoramic view of the AuSable River and surrounding area.

5. US-2 from St. Ignace to Manistique
A trip across the Mackinac Bridge always involves breathtaking scenery, and the drive west from St. Ignace on U.S. 2 doesn't disappoint. After passing the famed Mystery Spot just outside of town, the highway re-joins the Lake Michigan shoreline for several miles. Locals and visitors alike stop along the way for picnics among the dunes and swimming in the Lake Michigan surf. Any visit to "The Yoop" would not be complete without an authentic Upper Peninsula pasty. Hiawatha Pasties in Naubinway, about 45 minutes west of St. Ignace, is a favorite of locals and visitors alike.

Don't miss: Cut River Bridge Overlook
Park at the scenic turnout about 25 miles west of St. Ignace for a view of Lake Michigan and the Cut River 150 feet below; a trail and staircase lead to the valley floor for those looking for a mid-drive adventure.

6. M-134 from Hessel to Drummond Island
Head east on M-134 from I-75 north of St. Ignace for views of Lake Huron and the Les Cheneaux Islands that go undiscovered by many. The classic boathouses of the early-1900s cottages and rocky shorelines of Les Cheneaux's 36 islands are seen by many as reminiscent of east-coast hideaways found along the coast of Maine. If you're lucky enough to make the drive early in the morning, keep your camera ready for a photo of a sailboat moored among the morning mist in one of the many natural harbors.

Don't miss: Antique Wooden Boat Show in Hessel
Held each August in the Les Cheneaux Islands, the Antique Wooden Boat show is one of the largest gatherings in the country of classic vessels dating back to the early 1900s.

About the Author: Nick Nerbonne is an online marketing specialist, outdoor adventurer, craft beer drinker, wine enthusiast, and aspiring photographer from Traverse City.


---