6 Scenic Hiking Trails Along Leelanau Peninsula and M-22
 
Close your eyes and imagine an idyllic place filled with vibrant, turquoise-hued lakes and powdered sand beaches, surrounded by towering dunes and pine-scented, old-growth forests. This is the perfect depiction of the hiking (and biking) trails along M-22 as it hugs the Lake Michigan shoreline along the Leelanau Peninsula of Northern Michigan.
 
This is a must-explore, for it is arguably the most scenic seven-mile route in the country. To get there, head to Glen Arbor along M-22 then take a quick detour along "Dune Highway" 109. The drive, which can also be made by bike, winds through rich forests, over a classic covered bridge and to various stops and lookout points. Just over halfway through the drive, you'll reach the Lake Michigan Dune Overlook Platform stop. Park your car and walk the trail to the dune, which towers 450 feet above lake level and offers a view you won't soon forget. Although going down the bluff is not recommended, it's also not prohibited for those who are up to the challenge. The park entrance fee gets you into the drive and all other areas within the Sleeping Bear Dunes National Lakeshore.
 
This paved, multi-use trail, great for hiking or biking, connects the villages and key visit highlights within the Sleeping Bear Dunes National Lakeshore. The trail connects the popular Dune Climb and historic Glen Haven, with its worthy museums and popular sand beach. The trail also wends through the DH Day Campground and through meadows, dunes and forests.
 
In less than a mile's hike on this popular trail on Wilco Road about a mile south of Empire, you can rise to an overlook that's 400 feet above Lake Michigan for one of the state's most spectacular water views. Most people can get to the top and back in less than an hour, but not without getting a little out of breath during the steady uphill climb to the bluff's top. Don't miss the dramatic sunset—itself worth the climb.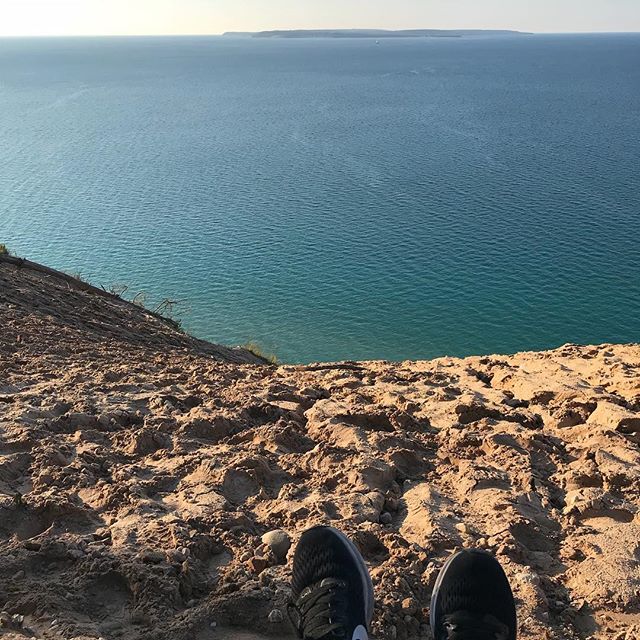 Chances are, you've seen the view from atop Pyramid Point—one of the most popular vantage points in the county for photographs (and gazing toward Lake Michigan with the one you love). Find it on Basch Road near the Port Oneida Historic District. From the parking lot, the trail gets steeper as you get closer to the Lake Michigan overlook, but you'll give yourself plenty of chance to catch your breath as you look out toward the Manitou Islands and dramatic vista. From here, you can connect to more trails that wind through forests and open meadow.
 
Whaleback Natural Area is a 10,000-year-old playground of preserved dunes and forests. It's within walking distance of downtown Leland and directly accessible from M-22. Plan on 1 to 1.5 hours if you're walking the trail. There are a couple fairly intense climbs involved too, so this is generally classified as moderately difficult. Make sure you stop at the spectacular Lookout Point, which offers majestic views of Lake Michigan and where the sound of the waves below are amplified in a particularly fascinating way.
 
Quick disclaimer about Houdek Dunes: it's not easy to find. Head slowly up M-22 just north of Lake Leelanau and Leland, and you'll find it marked by a tiny sign on the left side of the road. Getting there is worth the extra hunt. Houdek Dunes was formed from glacial sediments about 4,000 years ago, and you'll experience the amazing aftermath of geology and time with its combination of dunes and wooded forests. Depending on which way you trek through the trail system, you'll see plenty of century-old birch trees, mature pines, sun-kissed stretches of dense green ferns and the beautiful Houdek Creek, a spring-fed trout stream that flows into North Lake Leelanau. The trail features 3/4 and 1-1/2 mile loops. Plan on a couple hours to get through it if you're walking, but you can definitely do it in less. 
---