Splash Into These 14 Inland Lakes in Michigan
Michigan's Great Lakes attract plenty of attention. But there are more than 11,000 small inland lakes within Michigan's borders, with plenty of opportunities for outdoor recreation. Whether your idea of a perfect lake getaway includes a sailboat or ice fishing gear, a kayak or a picnic basket, there's plenty of reason to visit Michigan's inland lakes. 
 
Upper Peninsula
1. Lake Michigamme – Michigamme
This lake, 40 miles west of Marquette in Michigamme captures the wild essence iconic to Michigan's Upper Peninsula. At 4,300 acres, Michigamme is among the state's largest lakes, with room for solitary exploration on three beaches and 16 islands. Van Riper State Park provides access for camping and beach activities, or is a great base for a fishing trip to catch smallmouth bass, northern pike, walleye, rock bass and even whitefish.
 
2. Big Manistique Lake – Curtis
With two creeks running through the lake, you will find a steady flow of fresh water, and Seney National Wildlife Refuge—bringing other treasures in the form of bald eagles, sandhill cranes, osprey and common loons. The lake's 10,000-plus acres of surface area offer plenty of spots for exploring on a recreational or fishing boat; Big Manistique is a fishing favorite for its walleye, bluegill, panfish, perch and more. Not a fishing fan? Gaze over it from a fresh fish dinner on the deck at classic Chamberlin's Ole Forest Inn or your cabin at Big Manistique Resort. 
 
Northwest Michigan
3. Lake Charlevoix (Charlevoix, Boyne City and East Jordan)
This is Michigan's third largest and—if you put stock in "USA Today" polls—the second prettiest in the entire nation. This lake is located between some of the state's most popular resort towns: Charlevoix, Boyne City, East Jordan, offering many chances for shoreside dining and fun including a stop at The Landing restaurant by the historic Ironton Ferry. Lovers of literature need stop at Horton Bay, site of Ernest Hemingway's childhood summer vacation and location for many of his "Up in Michigan" stories.
 
Lake Leelanau, wedged long and narrow between Suttons Bay and Lake Michigan on pastoral Leelanau Peninsula, is sometimes overlooked, perhaps because a dam with waterfall blocks access between its waters and Lake Michigan. Others know it only by the "narrows" you cross on the shortcut across the winery-laden peninsula. Those narrows are a great place to rent a pontoon boat from The Narrows Yacht Club, join a rowing outing at centuries-old Fountain Point Resort, or slip your kayak in at the landing. The narrows is popular for both wildlife viewing and wine.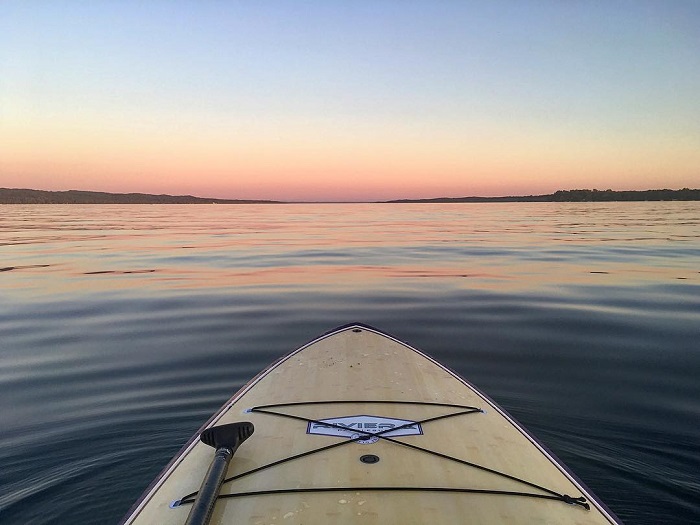 There's something for everyone at Torch Lake. Sociable boaters love gathering on the sand bars to the south where a local pizza place will even deliver to your boat. Those looking for a nature-oriented outing on the water love exploring the Chain of Lakes, a water trail system that connects Torch to lesser-traveled lakes like Elk, Skegamog, Intermediate and Bellaire.
 
Northeast/Mid-Central Michigan
6. Higgins Lake – Roscommon  
If you had to pick one lake for recreation in all forms, it just might be Higgins—the one the readers of the "Detroit Free Press" voted the state's best inland lake in one reader poll. The lake is deep and clear; the first Chippewa settlers named it Majinabeesh, which means "sparkling water." Today, fishing and boating are both popular sports, and you can rent motor and silent sports boats at the B & B Sports Center and Marina in Roscommon. For a day at the beach, locals love South Higgins Lake State Park where the swimming area stretches out over a half mile and you can pick up hand-dipped ice cream and hot stuffed pretzels at the historic park store.
 
7. Black Lake – Cheboygan and Presque Isle Counties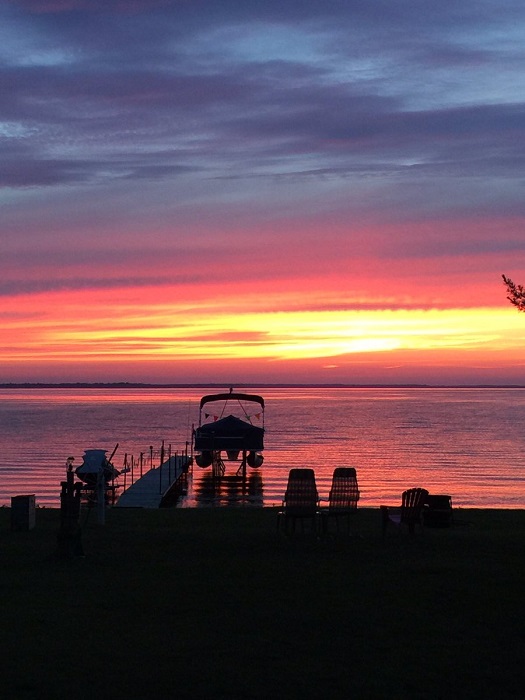 For an experience you can have only a few places on earth, head to Black Lake to spot, possibly spear—the largest fish native to the Great Lakes. Black Lake is the only place in the state where you can spear the ancient Lake Sturgeon, once endangered but brought back to a healthy population with the ongoing protection of a preservation group called Sturgeon for Tomorrow. The lake is named black for the way its depth of 50 feet at its maximum renders it so dark. Base your camping or swimming adventures at Onaway State Park, one of the state's first parks.
 
Southeast Michigan
8. Lake St. Clair – Mount Clemens
Tucked between Lake Huron and Lake Erie and between Michigan and Ontario, crystal-clear Lake St. Clair draws visitors from metro Detroit and across the Midwest. Lake St. Clair Metropark near Mount Clemens offers a wide array of family-oriented activities, from a 1,000-foot swimming beach to boating, bicycle rentals, SUP, fishing and in the winter, cross-country skiing. You can learn to sail at the Lake St. Clair Sailing School in St. Clair Shores, then rent your own sailboat for a perfect day out on the water.
 
9. Pontiac Lake – Waterford
Pontiac Lake sits surrounded by nearly 3,800 acres of natural area, making the Pontiac Lake Recreation Area feel worlds away from its metro Detroit location. A mix of pristine ponds and marshes, old farmsteads and thick hardwood forests surround Pontiac Lake, drawing the waterfowl that makes this area popular with duck hunters. The lake and its shoreline also offer opportunities to fish, fly radio-controlled planes and are crisscrossed by trails for horseback riding, mountain biking and cross-country skiing.  
 
Southwest Michigan
10. Gull Lake – Augusta
Set midway between Kalamazoo and Battle Creek, Gull Lake draws summertime crowds with crystal clear water that shimmers emerald green on sunny days. Soak up the sunshine, fishing for rainbow trout, bass and perch, gliding across the water in a sailboat or simply relaxing in the shade at one of Gull Lake's vacation cottages. The Kellogg Biological Station on Gull Lake's eastern shore is popular with birders. Flocks of bald eagles, great horned owls, trumpeter swans and bluebirds frequent the station's Bird Sanctuary.
 
The sister cities of Saugatuck and Douglas sit on opposite sides of Kalamazoo Lake in the heart of Michigan's Art Coast. Enjoy the region's undeveloped natural beauty, kayaking or paddling the lake's banks and beyond, into the Kalamazoo River. Or find your creative inspiration at a lakeside gallery like Water Street, Thistle and Saugatuck Galleries. Art lovers have flocked to Kalamazoo Lake and its surroundings from across the Midwest for over a century. 
 
West Michigan  
12. Silver Lake – Mears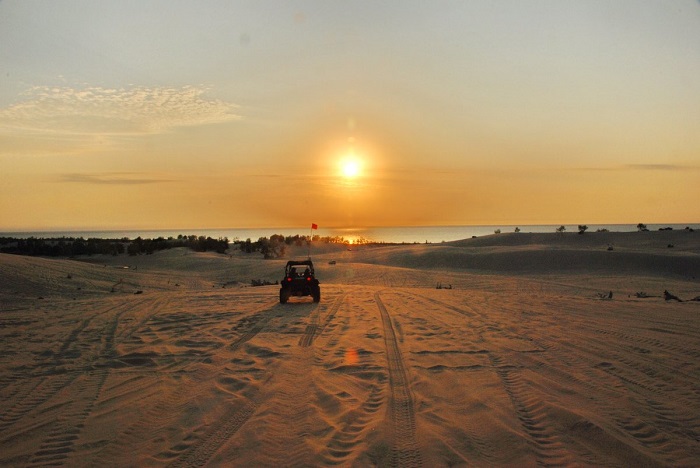 Its warm water, golden sand dunes and ample supply of vacation rentals, Silver Lake draws families all summer long. Rent a pontoon or power boat for a day of fishing and waterskiing on Silver Lake. Relax at a lakeside campsite or cottage rental. Or spend an afternoon on Silver Lake's dunes. Some 3,000 acres of rolling sand tower over Silver Lake, separating the inland lake from Lake Michigan, promising opportunities for building epic sandcastles and wilderness hiking. Silver Lake is the only state park that allows ORVs on the dunes.
 
Kent County's largest inland lake lies an easy drive from downtown Grand Rapids. Take a break from the urban attractions for a day of waterskiing, fishing and sailing. John Collins Park on Reeds Lake's western shore offers a free boat launch, a fishing dock, walking paths and picnic facilities. Dinner on the patio at Rose's is a popular way to wrap up the day.
 
14. Muskegon Lake – Muskegon
If Lake Michigan's water proves too cold or its surf to fierce, consider Muskegon State Park. Nearly half of the park's land lies along the calmer and warmer waters of inland Muskegon Lake. In warm weather, the park's Muskegon Lake access offers a boat launch, paddling, picnic facilities and camping. In winter, Muskegon Lake is particularly popular for ice fishing. The WWII-era U.S.S. Silversides Submarine Museum is permanently moored on the ship canal that links Muskegon Lake to Lake Michigan.
---