Todd and Brad Reed's Favorite Spots in Michigan for Fall Color Photography
Todd and Brad Reed are a father-son outdoor photography team based in Ludington, Michigan. Fall is their favorite time of year to take photographs of the state's beautiful scenery. The duo shares the best places to visit in Michigan for the ultimate fall filter.
Autumn is our favorite time of year to photograph our beloved home state of Michigan. When it comes to photographing fall color, Brad and I know our own backyard of Ludington best. The country roads east of Ludington in autumn never disappoint, especially Conrad Road, which boasts what I find to be one of the most picturesque tunnels of trees in Michigan.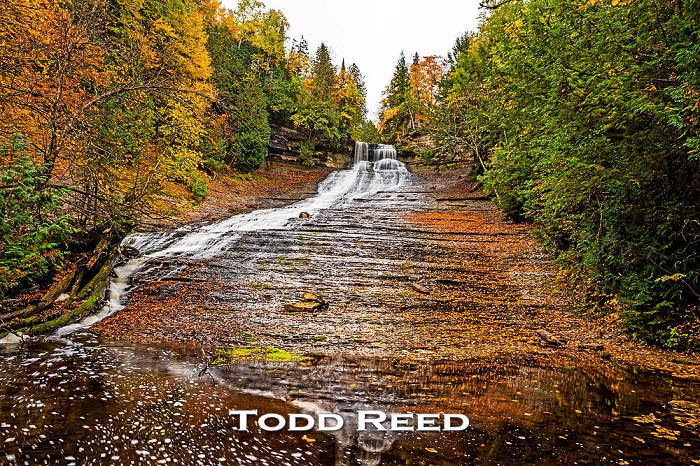 1. The Lost Lake Trail – Ludington
Located inside Ludington State Park, this trail is another of our favorite Ludington places to experience fall color. Toward the end of October, the shores of Lost Lake are usually resplendent with burnt fall hues, allowing for the perfect photo opportunity.
 
2. Pere Marquette River – Cadillac
 A float trip down any stretch of the Pere Marquette River is a relaxing adventure, and a great way to see wildlife in Michigan's fall season. Expert guides are available for your route, and can even help you catch fish or can cook you a gourmet dinner on the river. For those who prefer staying ashore, driving through the Huron-Manistee National Forests is a visual treat.
 
3. Pierce Stocking Scenic Drive – Empire
Pierce Stocking Scenic Drive, off M-109 in the Sleeping Bear Dunes National Lakeshore, features gorgeous mature hardwoods. However, the real gems here are the scenic lookouts that provide glorious panoramic views of an area that Good Morning America has named "The Most Beautiful Place in America."
 
4. M-37
One of our favorite inland, color-touring highways is M-37. The forests are loaded with brilliant sumac and gorgeous ferns, as well as towering maple trees mixed with green pine trees.
 
When traveling on the east side of the state during fall, be sure to check out the Price Nature Center.  You won't be disappointed. While in southeast Michigan, we always make an effort to stop by Kensington Metropark. The park is filled with whitetail deer, birds and other fun animals to photograph as you meander amongst beautiful fall leaves that fill the forest floor.
 
This scenic site is a hidden treasure in the Western Upper Peninsula. Considered one of Michigan's most picturesque waterfalls, not to mention it's easily accessible and is surrounded by beautiful maple trees and evergreens.
 
7. The Manistee River High Banks Rollaway – Wexford County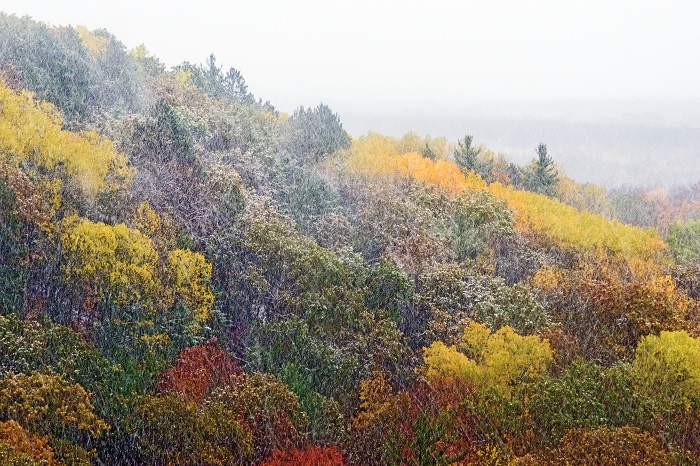 This is the best fall vista we've ever seen in the Lower Peninsula. This spot overlooks the Manistee River and should be on everyone's bucket list.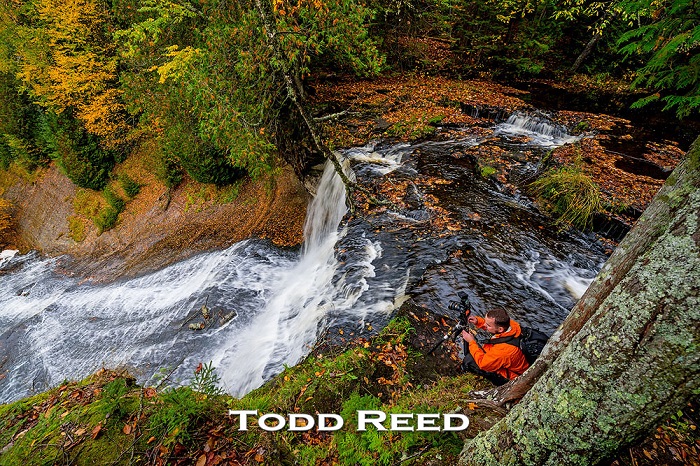 This state park is only a short drive from Munising. The hike into the falls is manageable for most and is totally worth the effort. The view from the top looking down is my favorite, but the view from the bottom looking back up is pretty incredible too.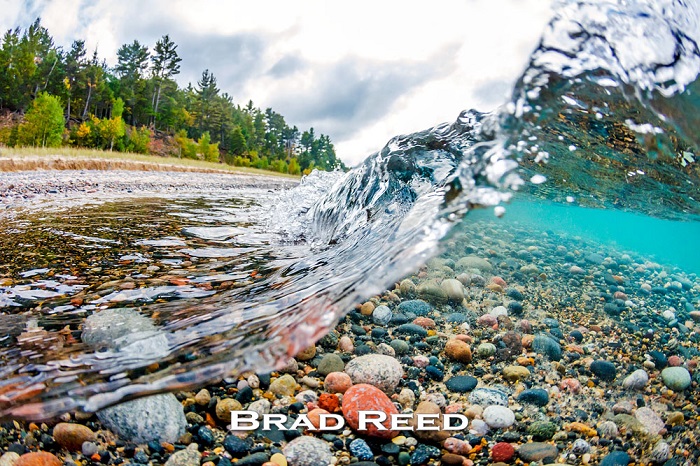 Located inside Pictured Rocks National Lakeshore, this campground has the best birch and maple forest intermix that we've found in Michigan. The intense colors can be viewed from the road if people are not able to explore on foot.
10. Pictured Rocks National Lakeshore – Munising
A highlight of our fall photography expeditions is seeing the Pictured Rocks National Lakeshore, aboard one of the cruise boats out of Munising. Between the peak fall color and the evening magic light striking the rocky sandstone cliffs, the area views are breathtaking.
Don't forget to take time to explore some side roads during your travels to find Michigan's hidden visual fall treasures. Ask locals for tips on their favorite fall color places and how to get there.
About the Authors: Todd and Brad Reed are a father-son outdoor photography team based in Ludington, Michigan. Visit their website to learn more about the duo and see some of their work.
 
---