8 Unique Ways to Use Michigan Apples
We're all familiar with apple pies, apple crisp, and caramel apples, but an apple a day can be used so many ways! Michigan apples make delightful desserts and simple healthy snacks, but the options are endless when it comes to cooking with them.
Michigan is the nation's third-largest producer of apples. Come fall, you can find Michigan apples in the stores or pick them yourself at u-pick locations around the state like Overhiser Orchards in South Haven, Blake's Orchard & Cider Mill in Armada, Dexter Cider Mill in Dexter, Rennie Orchards in Williamsburg and many others.
No matter where you get your Michigan apples, try your hand at whipping up these out-of-the-ordinary apple recipes courtesy of the Michigan Apple Committee. 
Apple Turkey Wraps
Ingredients:
1 1/3 cups diced red Michigan Apples
1/2 cup low-fat lemon yogurt
4 flour tortillas, 8-inches in diameter
2 cups fresh spinach leaves
6 ounces thinly sliced smoked turkey breast
2 ounces thinly sliced Havarti cheese
2 cups clover sprouts
Combine Michigan Apples and yogurt. Set aside.
Warm tortillas according to package directions. Divide and arrange remaining ingredients evenly over tortillas. Place ¼ of Apple mixture down center of each tortilla. Fold 2 opposite sides in about 1 ½ - inches and roll. Cut each wrap in half and serve immediately. Suggested Michigan Apple varieties to use: Empire, Gala, Golden Delicious, Ida Red, Jonagold, Jonathan, McIntosh, Red Delicious or Rome.
Apple Pecan Burger
Ingredients:
1 cup shredded Michigan Apples
1/2 cup shredded carrots
1/4 cup finely chopped onion
1/2 teaspoon finely chopped garlic
1 cup cold, cooked brown rice
3/4 cup toasted pecan pieces
1 cup dry breadcrumbs
2 egg whites
1/4 teaspoon salt
1/4 teaspoon coarse black pepper
5 hamburger buns, optional
5 tomato slices, optional
Lettuce, optional
Vegetable cooking spray
Place apples and remaining ingredients in food processor bowl. Using metal blade, process about 30 seconds or until evenly chopped and thoroughly combined. Using 1/2 cup measure, portion and shape mixture into 5 patties. (Mixture will be soft.) Place on baking sheet coated with cooking spray.
Bake in 400-degree oven about 25 minutes or until deep golden brown. Serve hot on a bun with tomato and lettuce or with sweet and sour sauce, if desired. Note: Patties may be broiled 4-5 inches from heat, about 3 minutes per side or until deep golden brown. Suggested Michigan Apple varieties to use: Empire, Gala, Golden Delicious, Ida Red, Jonagold, Jonathan, McIntosh, or Rome.
Apple Nachos
Ingredients:
1 large Michigan Apple*, cut into 12 wedges
1/2 cup (2 ounces) shredded Colby cheese
1/2 teaspoon cinnamon-sugar
Assorted crackers
Place apple wedges on a microwave-safe plate. Sprinkle cheese and cinnamon-sugar evenly over apples. Microwave on High 1 to 1-1/2 minutes or until cheese is melted and apples are hot. Scoop up the hot apple mixture with crackers. Suggested Michigan Apple varieties to use Ida Red, Rome, Empire, Gala, Jonagold, Jonathan, McIntosh.
Apple Salsa
Ingredients:
2 medium red Michigan Apples
2 tablespoons lime juice
1/2 cup chopped orange segments
1/2 cup finely chopped onions
1/2 cup finely chopped green pepper
1 finely chopped jalapeno
1 clove garlic, minced
2 tablespoons chopped fresh cilantro
1 tablespoon cider vinegar
1/2 teaspoon ground cumin
1 teaspoon vegetable oil
Yield: 3 cups.
Core and dice apples into 1/4 inch pieces. Toss immediately with lime juice. Stir in remaining ingredients. Chill 2 hours before serving over fish, chicken or turkey. Suggested Michigan Apple varieties to use: Empire, Gala, Ida Red, Jonagold, Jonathan, McIntosh, Red Delicious, or Rome.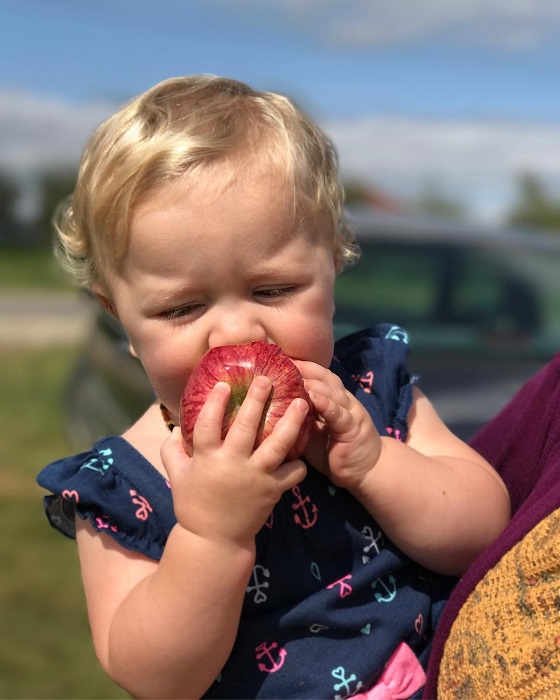 Caramelized Apples and Cheese Quesadillas
Ingredients:
4 tsp. butter
1 medium unpeeled cored Golden Delicious or Gala apple, sliced
1 tbsp. brown sugar
1/8 tsp. ground cinnamon
2 (6-inch) whole grain tortillas
2 slices reduced fat sharp cheddar cheese
Sour cream (optional)
Sauté apples in butter in skillet on medium heat 3-4 minutes or until apples are soft and lightly browned. Add brown sugar and cinnamon. Cook 1-2 minutes on medium-low until sugar is dissolved. Overlap cheese slices on 1 of the tortillas. Top with apple mixture; cover with the second tortilla.
Heat skillet on medium-high heat. Cook tortilla 2-3 minutes per side or until lightly browned and cheese is melted. Cut into quarters and serve with sour cream.
Roasted Rome Feta Salad
Ingredients:
4 firm Michigan Rome Apples*, peeled and cut into sixths
2 tbsp. brown sugar
8 cups mixed greens
4 tbsp. thinly sliced green onions
2 slices cooked and crumbled bacon
½ cup crumbled feta cheese
Dressing:
2 tsp. whole grain mustard
1 tbsp. honey
1 tbsp. fresh lemon juice
2 tbsp.apple cider vinegar
¼ cup extra virgin olive oil
Preheat oven to 425 degrees. Spray a large baking sheet with non-stick cooking spray. In a large bowl, toss apples with brown sugar. Spread in a single layer on prepared sheet. Bake for 15-20 minutes until apples begin to brown but are still firm enough to pick up with a fork. Remove and cool.
Meanwhile, in a large bowl, toss greens and green onions together. Chill for 30 minutes. Shake dressing ingredients together in a small jar. Set aside. Just before serving, drizzle salad with dressing. Toss. Divide into four salad bowls. Divide bacon and cheese onto each. Arrange 6 apple slices on each. Serve immediately. Yield: 4 servings. Other suggested varieties: Empire, Jonagold, Fuji, Braeburn, Jonamac, McIntosh
Apple Cider Vinaigrette Dressing
Ingredients:
2 cups fresh apple cider
½ teaspoons cracked black pepper
¼ cup apple cider vinegar
¼ teaspoon salt sprinkle of ground clove to taste
¼ teaspoon cinnamon
¼ cup sugar
1 and ¼ cup vegetable oil
Mix together all ingredients (except oil) until sugar is dissolved.
Michigan Apple and Butternut Squash Soup
Ingredients:
3 cups Michigan Jonagolds or your favorite Michigan Apple, cored and chopped
3 cups butternut squash, peeled and cubed*
1 cup sweet onion, peeled and roughly diced
2 T. Michigan butter
1 T. grated ginger
1/8 t. freshly grated nutmeg
1 ½ cups Michigan Apple cider
3 to 4 cups of liquid (equal parts chicken stock and water), depending upon the thickness of soup desired*
salt and pepper to season and taste
In a large soup pot, add butter, squash, apples, and onion and sauté for 5 to 7 minutes to soften the onion.  Add 1 cup of water to help steam squash. Cover pot and simmer for 30 minutes, or until squash is soft. Blend mixture with a hand immersion blender or in a stand-alone blender or food processor. (If using blender or food processor, a process in batches.) Return mixture to the soup pot, add nutmeg, ginger and apple cider and the remaining liquid for desired consistency. Salt and pepper to season and taste. Serve with a small dab of sour cream or Greek plain yogurt on top and with crusty bread. Enjoy!
*Chef notes: Roasting squash adds a wonderful layer of flavor. Try it. Place squash in oven-proof pan. Add 1-2 T. oil and 1 t. dried sage. Toss squash to coat. Place in 425-degree oven for 30 minutes. Encourage charring of the squash for extra flavor. If you want a vegetarian soup, add equal parts water and cider to taste in place of chicken stock. May need extra seasoning and salt.