Sunrise Coast Maritime and Nature Trails
Grab the sunglasses, beach towels, scuba gear, binoculars and camping equipment—it's time to head to Michigan Northeast coast. From towering lighthouses to sunken vessels; from Native American heritage to quaint harbor towns; from groomed trails to tall ship; from festivals to fireworks--Michigan's Sunrise Coast offers the ideal family getaway.
From the Tawas Bay to Alpena, you'll find lighthouses, museums, specialty and antiques shops. At Alpena's Thunder Bay National Marine Sanctuary, the lake bottom harbors more than 116 shipwrecks, which captivate scuba divers. The sanctuary's Great Lakes Maritime Heritage Center--a warehouse-size museum--records Lake Huron's perils.
You don't need your car to cruise a 10-mile stretch of Heritage Route 23 tracing US-23 along the Lake Huron shore. From Rogers City to Hoeft State Park, the Huron Sunrise Trail provides a smooth paved pathway for bicycles, pedestrians and inline skaters. After winding out of Rogers City's park and marina, the trail never strays more than a few feet from the broad, sandy beach. In the 300-acre preserve, the state has linked the Huron Sunrise Trails with its own paved trails that slice through the forest to Hoeft's quiet beach and campground.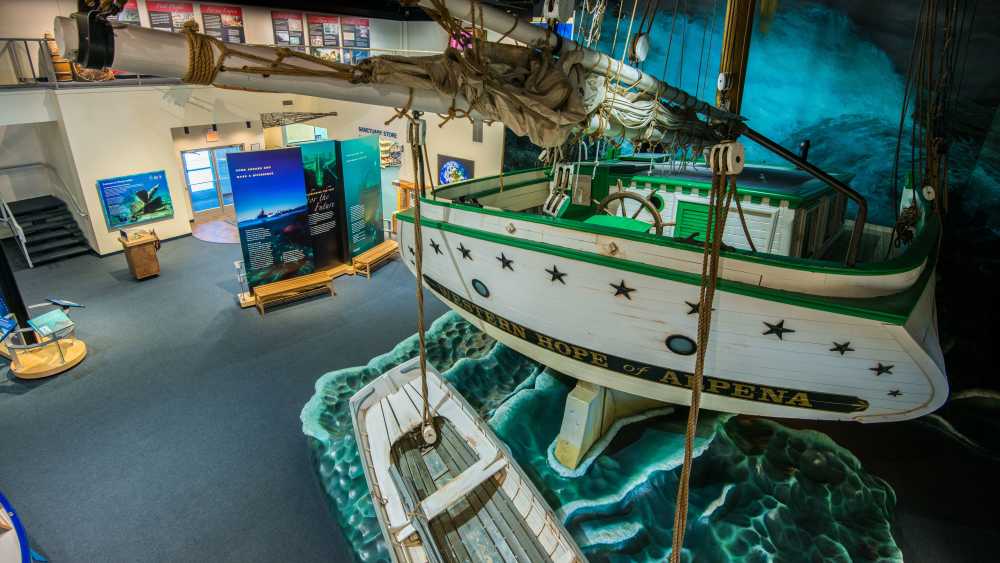 Great Lakes Meritime aheritage Center/Courtesy of Midwest Living Magazine
Combine a hike with birding and visit one of many wildlife refuges and wilderness areas. Near Saginaw is the 9,400-acre Shiawassee National Wildlife Refuge. The refuge includes a 5.5-mile trail where you can hike and observe Canada Geese, deer, muskrats, beavers, ducks and turtles and more than 200 species of birds including great blue herons, great egrets and bald eagles. Interpretative signs help identify areas and four observation decks allow you to take in breathtaking views.
At Nayanquing Point, you'll find 1,400 acres of coastal wetland and protected natural area are perfect for birding, hiking, fishing from the bank and bay watching. Best known for the large numbers and variety of migrating waterfowl that visit diked pools and the adjacent Saginaw Bay wetlands, the area features a 16-foot handicapped-accessible tower and spectacular views.
Caseville's Albert E. Sleeper State Park beckons visitors to 723 acres of forest, wetlands, sandy beach and dunes located on Lake Huron. The popular state park have long been a favorite spot to admire gorgeous sunrises and sunsets on the bay and relax in the shade.