Glide, Slide and Ride Your Way to Exhilarating Winter Fun
There are state parks that offer snowy fun. And then there is the Muskegon State Park, which goes all in for winter. The park, with its massive snowy playground, offers an activity fix for nearly every winter outdoor enthusiast including cross-country skiing and snowshoe trails, hockey, ice-skating, luge tracks and more.
As you go, Lake Michigan peeks through snow-covered pines. The winding road through Muskegon State Park leads to the massive snowy playground of the Muskegon Luge Adventure Sports Park (formerly known as the Muskegon Winter Sports Complex). Whatever your winter activity fix, the park has space and gear for it: cross-country skiing and snowshoe trails, hockey and ice skating, plus a kiddie sledding hill. At the heart of the park snakes a world-class, 850-foot luge track—one of only four in the United States—that even non-Olympians can use.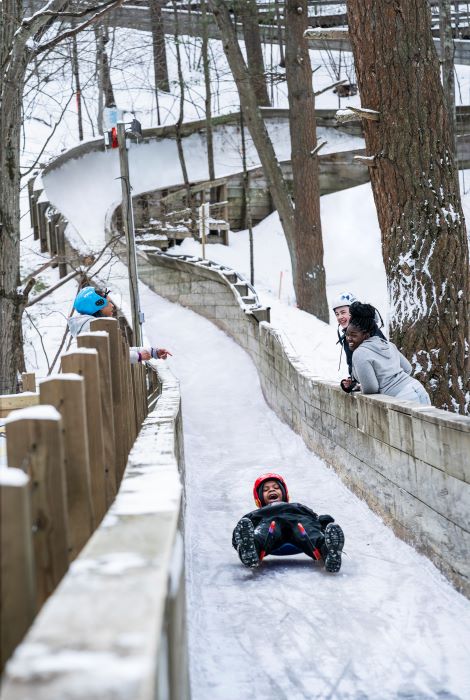 If you're up for an adventure, sign up for a weekend learn-to-luge session. During the 2.5-hour class, instructors cover safety and proper body positioning. Before heading to the starting gate, participants (ages 8 and older) learn to steer by turning their heads in the direction they want to go. When ready, sliders lie on the sled with their hands on the grips and knees along the runners, called kufens.
A gentle push and sliders whoosh through the banked curves in about 30 seconds, reaching speeds up to 30 mph before stopping in a mass of blue cushions. Sliders can go as many times as they like during their session, but each run requires a trip up steep stairs while toting a sled. Elbow pads absorb most of the friction if you get too close to the wall, but just in case, wear a coat that can withstand some scrapes.
The sports park grooms for both classic (parallel tracks) and skate skiing (smooth tracks). Whatever your style, you'll find 10 kilometers of trails. The easiest, White Night, caters to newbies with an opt-out spot. Three routes entice experienced striders. The longest and hilliest, Lost Lake, tops out at 5 kilometers. Experts meet their match on 2-kilometer Spencer's Advanced.
Ice Skating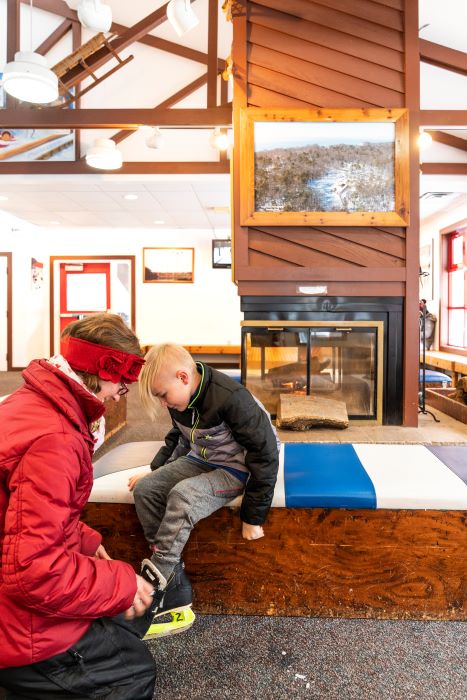 Choose from three outdoor ice-skating areas: rinks for hockey and for families, plus a quarter-mile lighted skating trail that winds through the woods. Hockey players can rent helmets, sticks and skates and smack pucks into nets. The family rink welcomes traditional skaters and anyone wanting to use a trainer, which resembles a metal walker. Overall, there are 2 acres of space for skating.
A free, family-friendly hill welcomes sledders. It's open to all ages but is geared toward youngsters. For sledders who want more speed, bring a sled and head to the Sugar Bowl Dune within Muskegon State Park, 2 miles south of the sports park. The dune ranks as one of the county's largest sledding hills.
Strap on a pair of snowshoes—rentals available—and head for the trails. Four dedicated snowshoe trails cater to all skill sets. Follow the flat Woods Loop (1 kilometer) around Muskegon State Park. For more of a challenge, two trails (Lost Lake Dune Trail and Lake Michigan Loop) cross diverse terrain. For lake views, the Highlands (0.8 kilometers) and Lake Michigan loops skirt the shore.
Night Light
An icy ribbon loops through the dense pine forest of Muskegon State Park. After dusk, shadows dance across the glistening trail as skaters wind through the trees. Often less crowded, night brings a hush, with gliding skate blades the only sound. Grab a partner for a trip around the lighted quarter-mile track.
Take the Chill Off
Head to the main building, which houses rental equipment, a concession stand (think soup, chili, sandwiches, chips) and a fireplace.
Get a Passport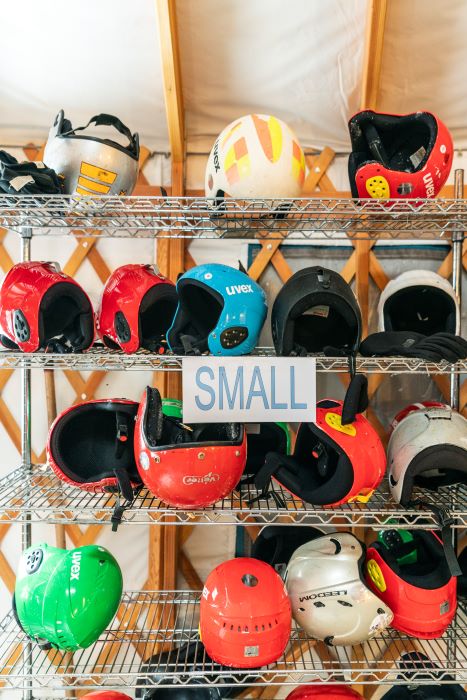 Because the Muskegon Luge Adventure Sports Park is located within a state park, you will require a Recreation Passport, available for purchase at the lodge.
For lodging, dining, winter events and other area information, visit visitmuskegon.org.