28 Spots for a Historic Road Trip Along US 12 Heritage Trail
Winding through more than 200 miles of scenic roads and historic landmarks, the US 12 Heritage Trail is a journey through time. Along the way you'll enjoy wineries, monuments, incredible feats of innovation, and a relaxing end to your journey at the beach.
 
Start the adventure in Detroit. The Motor City has a distinctive personality and an incredibly storied past, which make it an exciting place to explore. Check out Woodward Avenue, the All-American Road and Automotive Heritage Trail, for some of the city's best architecture and coolest attractions, like the Detroit Institute of Arts and the Detroit Historical Museum. Get more in-depth into the city's auto history at the Ford Piquette Avenue Plant, the former factory and birthplace of the legendary Ford Model T. The Z Lot is a one-of-a-kind parking garage/art gallery where you can experience a different side of the city's car culture (oh, and The Belt, the alley beside the garage, is an art space as well).
Visit one of the oldest and largest markets in the United States, Eastern Market, where you can browse a vast array of local foods and goods. Grab coffee at Trinosophes and pizza at Supino Pizzeria and walk from the market along the 1.5-mile Dequindre Cut Greenway down to the Riverfront. At the Riverfront, you can stroll through Milliken State Park and Harbor, the state's first urban state park, and take in some great views of the Ambassador Bridge and Canada. The Riverfront is also home to the Department of Natural Resource's Outdoor Adventure Center, which is great for kids, with its many interactive and innovative exhibits.
 
You could easily spend a whole day exploring everything that Belle Isle Park has to offer. The island in the middle of the Detroit River features a restored aquarium, a conservatory, a nature zoo, and a museum. Crossing the MacArthur Bridge from Detroit to the island is like entering a whole other world!
 
4. Soldiers and Sailors Monument – Detroit
The Michigan Soldiers and Sailors Monument is one of Detroit's oldest and most special pieces of public art. It's one of the country's first Civil War monuments, having been built in 1872, and has been placed on the National Register of Historic Places. A lot has changed in Detroit since it was unveiled, but it's stood the test of time, and remains a beloved sight in the city.
 
5. Exploration Bike Trails
If you're looking to further explore the surrounding region of Detroit, head to nearby Wyandotte to bike the Downriver Ramble. The neighborhoods "downriver" from Detroit are worth touring, and this 18-mile ride is a great way to do it. There's also the considerably longer 86-mile Tour de Wayne and Washtenaw Classic, which Tour de France finisher and Dearborn native Frankie Andreu likes to take through the suburbs.
 
If you're looking for a wild adventure in Detroit, head to the Detroit Zoo. It's a world class facility with more than 2,500 animals of 270 different species, and it features incredibly detailed habitats to house them. All of your favorites are here, including penguins, bears, camels, gorillas, kangaroos, lions, rhinos, crocs, sloths, zebras and more. There's even a giraffe encounter, the world's largest penguinarium and one of North America's largest polar bear habitats.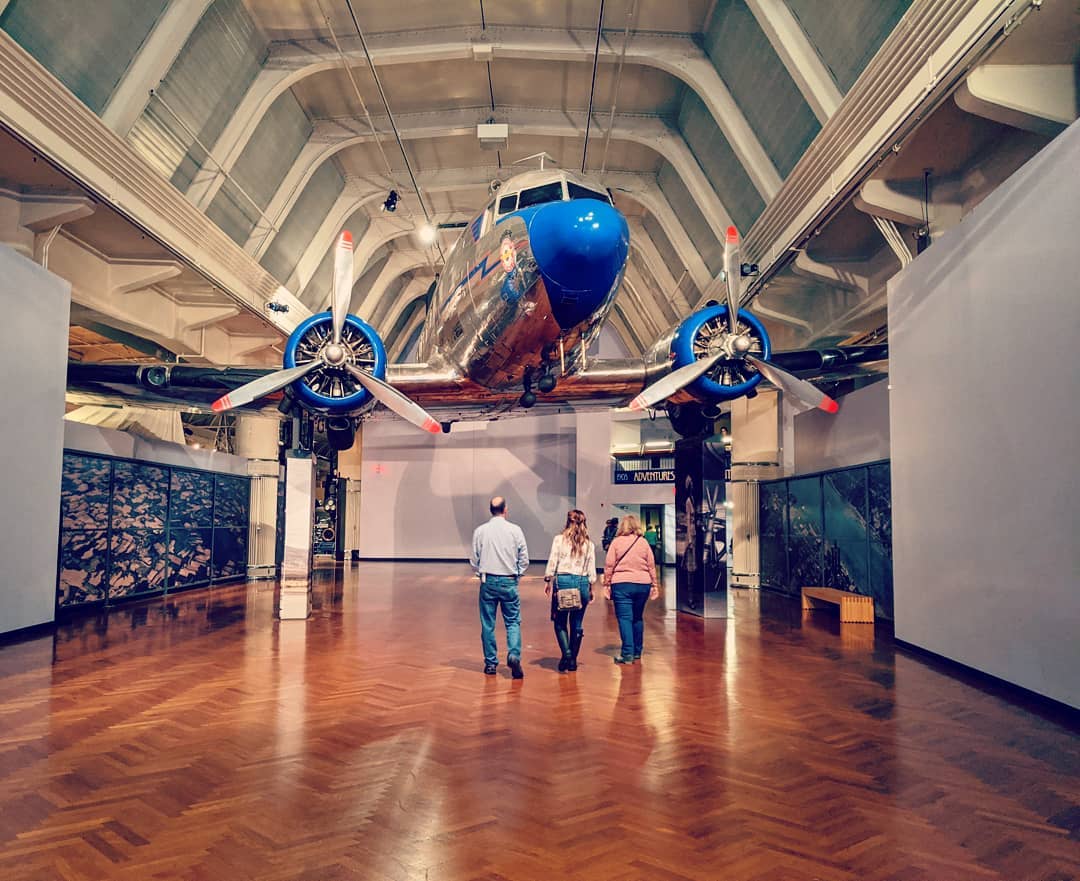 One of the most prestigious history museums in the country is right along U.S. 12: The Henry Ford. It is, of course, named for Henry Ford, of Ford Motor Company, but it's so much more than just a museum about cars. Of course, there's auto history here, but they also have airplanes, helicopters, presidential cars (include the limo that JFK was assassinated in), the bus Rosa Parks rode, and the historical Greenfield Village (that you can tour in a Model T). If you want to make the most of a trip here, leave at least a day to explore... that's how much incredible history is contained within. At Henry Ford Museum of American Innovation, you'll discover America and hundreds of hands-on ways to explore it.
Inkster is a suburb of Detroit that's worth spending time exploring. The Inkster Farmer's Market is nice on weekends, and nearby you'll find the Wayne Historical Museum, which is located in the old Town Hall, a gorgeous Victorian building that's loaded with history. Old photos, maps, artifacts, art, and more tell the story of this part of Michigan.
 
Next stop on the route is Ypsilanti. This funky, artsy community has a bold personality that you can delve into at their historic district, Depot Town. It has an old train station and Civil War barracks, plus old buildings that now contain trendy restaurants and museums. One cool spot is the Automotive Heritage Museum, which has a massive collection of old cars and auto-related memorabilia.
 
10. Ypsilanti Museums
Ypsilanti is also home to the Michigan Firehouse Museum, which is located in a 19th-century firehouse and filled with historical artifacts and modern info on firefighting, and the Ypsilanti Historical Museum, which is located in a Victorian home filled with beautiful old artifacts and cared for by incredibly passionate docents.
 
11. Hiking Trails
For hiking near Ypsi (as the locals call it) try the North Bay Trail. Two miles of trail are contained within a 15-acre park, and the hike takes you across boardwalks and bridges to islands on Ford Lake. Fishing fanatics: bring your gear, because the angling here is awesome.
 
12. Brookside Cemetery – Tecumseh
The Lenawee County town of Tecumseh is home to the Cemetery Tour. The 20-mile bike route takes you to three old graveyards, which look like city parks, with their landscaping and old, ornamental headstones. Between the graveyards, one of which is the historic Brookside Cemetery, you'll pass by rural farmlands.
 
At Cambridge Junction Historic Park in Brooklyn, you'll find the famed Walker Tavern. Historically, a stagecoach ride from Detroit to Chicago took approximately five days, and a stop-off at Walker's Tavern was highly anticipated by many weary travelers. Today if you visit, you'll find it decorated as it was in the 19th century, with living history interpreters and awesome exhibits. You'll get a really unique look at life in Michigan back when it was considered the frontier!
 
Lenawee County is a great region to explore in Southern Michigan. It's the home of the Pioneer Wine Trail, lovely lakes, and quaint towns. Take a ride on the Southern Michigan Railroad, the state's first branch railroad, to enjoy the scenery of the county. It's not all relaxing train rides and sipping wine here in Lenawee, though: feel the rush of pure speed at the Michigan International Speedway or by jumping 18,000 feet out of a plane at Skydive Tecumseh, the highest skydive jump offered in the U.S.
 
As U.S. 12 makes its way west from Detroit, you'll pass through wine country. Plan to visit a few of the vineyards and wineries along the Southeast Michigan Pioneer Wine Trail. Cherry Creek Cellars uses old-world techniques to make wine in an 1870s schoolhouse, Sleeping Bear Winery uses all-Michigan grown fruits and grapes, and also has a sister brewery nearby, and the Pentamere Winery lets you peek into the winemaking process as you sip their offerings in their tasting room.
 
The next stop is Hillsdale County, which is loaded with charming historic sites. The Grosvenor House Museum is the Victorian Italianate mansion where Lt. Governor E.O. Grosvenor once resided. It's got a whopping 32 rooms, and is open for tours during weekends in the summer. Or, check out the original J.J. Deal buggy built in the 1890s; it's standing in the lobby of the former J.J. Deal and Son Carriage Factory, the only remaining factory in Jonesville. It now houses apartments.
 
Coldwater, in Branch County, is another highlight of the trip. If you're visiting during the summer, spend a night of vintage fun at the Capri Drive-In, one of the country's last remaining drive-in theaters. It's also home to Michigan's second-oldest theater, the opulent Tibbits Opera House, which features gorgeous architecture and attention to detail, and provides an intimate experience for whatever show or performance happens to be on the schedule.
 
For a fun afternoon activity, book a ride on the Little River Railroad: The steam locomotive takes you on a tour along Michigan's oldest railroad line.
 
19. South Chain of Lakes
And, for nature-lovers, the South Chain of Lakes is right outside Coldwater: Eight interconnected lakes provide 16 miles of boatable water, forested shores, beaches, and excellent fishing.
 
The town of Colon is "The Magic Capital of The World". It got that title by being home to one of the largest magic shops on Earth, hosting the annual Magic Get Together for the past 76 years, being the home of some famed magicians, opening a magic museum, and generally embracing the quirky hobby.
You can tour the town and see their many magic stores, the museum, and even a magic-themed brewery on the Colon Magical Mystery Tour, which is only about 22 miles long.
 
For more small-town fun, head into Cass County. Fish or boat on one of the lakes, hike through one of their parks, explore the town of Marcellus (make sure to grab some ice cream at Wild Patch), and bask in the serene, natural beauty!
 
Keep the adventure going in Berrien County, whose history dates back to the Colonial period. Once the largest train yard in Southwest Michigan, the New Buffalo Railroad Museum still sees trains pass through, and has vintage train cars (like a Chesapeake & Ohio boxcar and a Pullman sleeper car), an incredibly detailed model train set, and tons more.
 
Toast your journey with a glass of something strong from Journeyman Distillery in Three Oaks. Reserve a tour of their impressive operation, where they make whiskey, gin, vodka, rum, brandy, and other liquors, order a cocktail at the Staymaker Restaurant, and even grab dinner or brunch (their breakfast pizzas are crazy good!).
 
Harbor Shore Golf Club is one of the country's premier golf courses, hosting Senior PGA tournaments. It's also home to a luxurious inn and a scenic marina, making it worth a visit if you're looking to tee off while on vacation.
 
If you're more outdoorsy, head to the legendary Third Coast Surf Shop (yes, a surf shop in Michigan!) to get lessons and rent the gear to kayak the Paw Paw River.
 
26. Wineries and Breweries
Berrien County is also home to famed winery Tabor Hill Winery and Restaurant in Buchanan, known for their light, bright whites and incredible onsite restaurant; it's in a gorgeous setting and features an elegant menu. Greenbush Brewery is a little more laid back but just as fun to stop by: it's renowned for its craft brews (paging any IPA fans) and BBQ.
 
Then make your way into St. Joseph. This region is known for its art galleries, cultural institutions, and vacation-ready vibes! Weko Beach, Box Factory for the Arts, and the Heritage Museum & Cultural Center are favorite spots to explore.
Visit Silver Beach and be enchanted by the whimsical Silver Beach Carousel. Choose one of the 48 unique animals and take a spin on the merry-go-round... it'll have you feeling like a kid again! Speaking of kids, if you have them with you, there's enough here to keep them entertained for hours. Michigan's tallest kaleidoscope, the Curious Kids' Museum and the Whirlpool Compass Fountain splash pad are all right nearby. And, of course, you can celebrate crossing the state of Michigan by dipping your feet into Lake Michigan's water!
From small towns to big cities, it's hard not to be charmed by the rich history along this unique heritage route. Feel the allure of the past and the touches of personality that make southern Michigan's attractions so distinctively enjoyable!
 
---