15 Stops on a Road Trip Along the Tahquamenon Byway
Michigan's eastern Upper Peninsula features natural wonders, breweries, and wild animal sanctuaries. It's a 63-mile journey past waterfalls and lighthouses, and along miles of shoreline.
Begin your journey along the Tahquamenon Scenic Byway at Eckerman Pond. This Upper Peninsula historic site is home to great trout fishing and picnicking, and is the perfect place for a day out in a canoe.
If you want to hop out of the car and immerse yourself in the natural beauty, a hike to Naomikong Point is just what you need. The round trip is about 7.5 miles, but hiking along the sandy shores of Lake Superior is incredible, and knowing that the area is rich in Native American history (it's an archaeological site that was home to the Laurel people between 1000 BCE and 1000 CE) only adds to the experience.
The Naomikong Point trail ends at Naomikong Overlook. This scenic site provides an amazing view of Lake Superior. There are plenty of stairs, and the Lake Superior East Water Trail will take you from the parking area all the way down to Lake Superior.
Next, drive 11 miles north of Paradise to Whitefish Point Bird Observatory, one of the country's premier spots for bird-watching. Home to hawks, owls, eagles, falcons, and warblers this observatory is a relaxing place to spend an afternoon or to just get out of your car to stretch your legs. Pro tip: If you visit in the spring, you have the chance to witness of birds of prey, waterbirds and songbirds migrate through the observatory.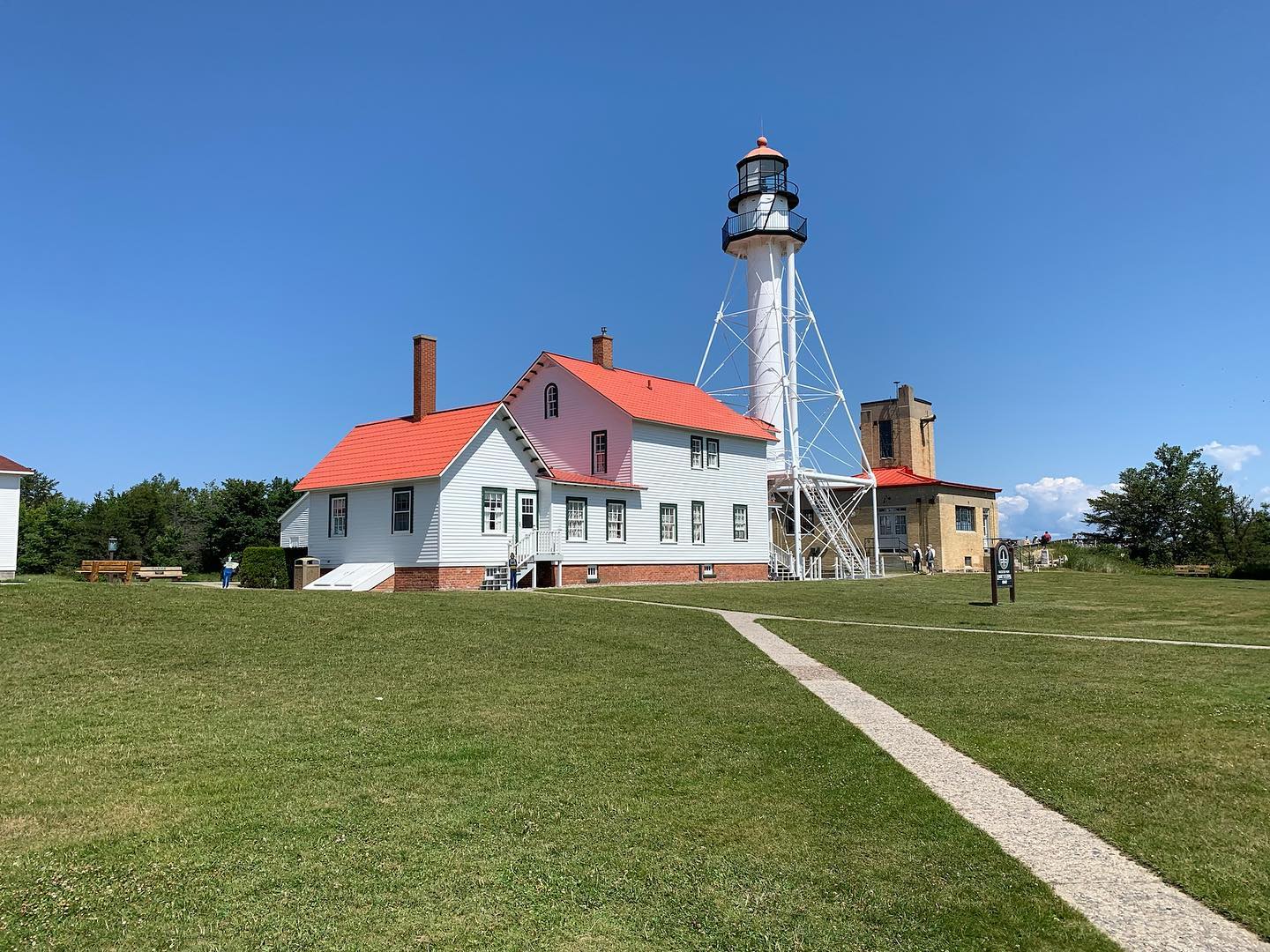 Then it's on to the world-renowned Great Lakes Shipwreck Museum & Whitefish Point Light Station. With more than 200 shipwrecks lying in the immediate vicinity, the area is known as Lake Superior's Shipwreck Coast and the museum features shipwreck artifacts, artwork and models. Be sure to tour the famous Whitefish Point Light Station as well. One of the most infamous shipwrecks in the area was the wreck of the S.S. Edmund Fitzgerald, which has inspired books, movies and even a popular folk song. In November of 1975, the S.S. Edmund Fitzgerald mysteriously sank just 17 miles north of Whitefish Point and lost its entire crew of 29 souls. At the request of family members surviving her crew, Fitzgerald's 200 pound bronze bell was recovered by the Great Lakes Shipwreck Historical Society and is now on display at the museum.
When you're ready for a bite to eat, visit Brown's Fisheries Fish House, also in Paradise. They catch their own whitefish and lake trout every morning at 9 a.m. Try the smoked whitefish chowder... you won't be disappointed.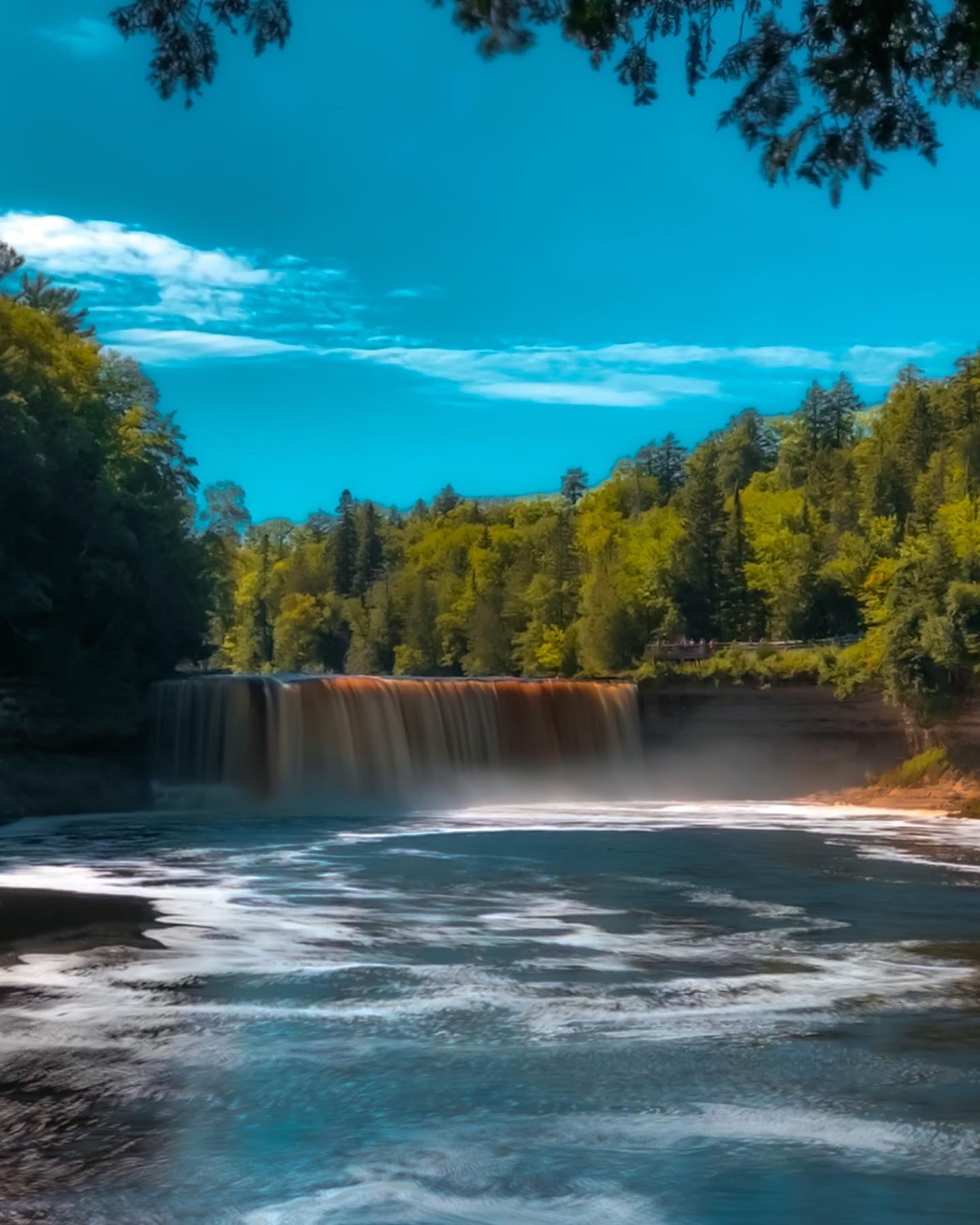 From there it's on to Tahquamenon Falls State Park, which is 50,000 acres of pure Michigan beauty. The main feature of this state park is the Tahquamenon River that boasts a series of gorgeous waterfalls. There are over 40 miles of hiking trails, 24 miles of river, and 13 lakes. You easily could spend an entire day wandering around the park. If you have, time hike to the Upper Tahquamenon Falls, one of the largest waterfalls east of the Mississippi. What makes these falls so impressive is that more than 50,000 gallons of water rush 50 feet down the falls...every second.
Tahquamenon's Lower Falls might not be as imposing as the upper falls, but they do have some awesome camping. Imagine being able to wake up and take a quick, early morning hike to see the soft light on the falls!
When you're ready for some delicious bar fare in a rustic brewpub that prides itself on being "woodsy-chic", head over to the Tahquamenon Falls Brewery & Pub. This scenic restaurant offers a good selection of microbrews, and the wild rice soup is to die for. Also make sure to try the Porcupine Pale Ale, Wild Forest Mushrooms, and Fruit of the Forest Pie. Or if you're in the mood for some Lake Superior Whitefish, they've got that, too.
Next up is the Crisp Point Light Historical Society & Lighthouse, one of the most beautiful and remote lighthouses in the Upper Peninsula. This historic lighthouse has the distinction of being just one of five U.S. Life-Saving Service Stations along Lake Superior. Located about 13 miles west of Whitefish Point, on the southern shore of Lake Superior, this lighthouse played an important role in the area's maritime history. Plus, it's a pretty phenomenal drive through the woods to visit it.
From the lighthouse, visit the Two Hearted River, a scenic 23-mile waterway that drains into Lake Superior. This river is so beautiful that it earned a place in American literary history! Ernest Hemingway recalled his time there in one of his short stories. Here, you can easily spend the day hiking and fishing, or even camp out overnight.
Newberry is home to Oswald's Bear Ranch, America's largest bear ranch. Opened in 1997, the ranch cares for more than 24 rescued bears that visitors can see from viewing platforms. You even can watch the bears playing in the pond.
Really into wildlife? You can get a chance to see even more on a dog sled adventure with Nature's Kennel Iditarod Sled Dog Racing & Adventures. Their day and overnight trips (which mostly happen in the winter, naturally) let you learn how to control a dog sled and experience the rush of speeding along the snowy landscape. Luckily, they also offer fall color tours where the super adorable dogs pull 4-wheelers instead of sleds!
Also visit the Luce County Historical Museum. This restored sheriff's residence and jail is a great historical showpiece, and it still has the original jail cells, sheriff's office, witness stand, and judge's bench.
Then it's on to the Hamilton Lake Nature Area, an unexpected hidden gem full of hiking trails, wildlife, and a gorgeous scenic overlook. As you walk along the trails, look out for blooming lady's slippers.
The Tahquamenon Byway is one of the most scenic drives in all of Michigan, and it's one of the Upper Peninsula's best-kept secrets. Cast a fishing line at Eckerman Pond, hike to the Upper Tahquamenon Falls, and canoe along the Two Hearted River. Traveling down the byway in fall provides beautiful views of autumn foliage, and, in winter, frozen waterfalls offer an ethereal vision of nature. Springtime has the annual migration of birds, and in the summer, you can easily laze the day away at one of the many rivers, lakes, and ponds in this absolutely lush corner of the Mitten State.