Spooky Places To Visit This Fall in Michigan
Looking for a spooky addition to your vacation while exploring Michigan? Enjoying the fall season isn't reserved for only Michigan's charming apple orchards and autumnal festivals. Explore the outdoors, rich history and experience a spooky, ethereal ambiance at some of Michigan's ghost towns, cemeteries and historic attractions this fall.
Before and during your visit to these ghostly locations, be mindful of what times of day visitors are allowed, as well as any informational and restrictive signage on the properties. Remember to always watch your step and be aware of your surroundings while exploring!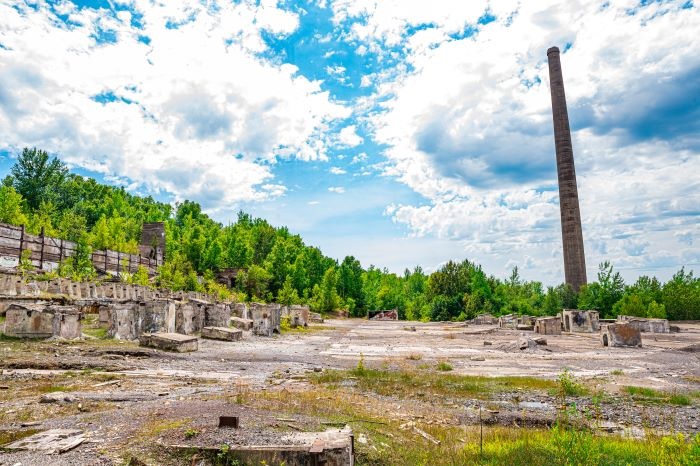 Located along sandstone cliffs over Lake Superior, the interesting thing about Freda is that people still call this "ghost town" home. The most scenic way to get to Freda is Covered Road, which is a longer route through a lush forest on a dirt road that will help you get in the mindset of stepping into history. Explore the Champion Mill Ruins where only the concrete foundation, towering smokestack and other structures remain. Along Lake Superior, you can find a man-made waterfall, black-sanded beaches and beach glass waiting to be discovered from the area's past.
There are even more ghost towns in the Keweenaw Peninsula to discover. Find tips for exploring and a map of the region's ghost towns here. 
Located on the shores of the Garden Peninsula within one of Michigan's most beautiful state parks, Fayette is an Upper Peninsula treasure. More than 20 beautifully preserved iron buildings are still standing from this smelting town built in the late nineteenth century. With a backdrop of Lake Michigan waters, towering forests and white sandstone cliffs, there's plenty to explore in this ghost town. On a crisp, fall day, this townsite is sure to inspire both awe and chills during your U.P. adventure.
Want a guided tour for your spooky adventure? Go on a Traverse City Ghost Tour. These tours blend Traverse City's rich history with the strange and haunting stories of the city's past. You can choose between public and private tours, and will visit a variety of locations including the Perry Hannah House, City Opera House, State Theatre and more—and the tour guide may also mix it up! The tours run from spring until late fall, so if you don't get a chance during autumn you can plan your future tour when warm weather returns.
To discover local shops and restaurants while exploring more history in Traverse City, visit The Village at Grand Traverse Commons. This vibrant building was once the Traverse City State Hospital, a state-run asylum, that is over one hundred years old.
If you're taking a road trip through the Lower Peninsula, add the historic Pere Cheney Cemetery to your itinerary. The village of Pere Cheney, also known as Cheney and Center Plains, was a small lumbering community established in 1874. Abandoned in the early twentieth century, the village is now considered a ghost town. The cemetery is home to the only remaining residents: spirits and other supernatural entities. The most infamous of those in the cemetery is a witch, who is rumored to be buried there and was ostracized for causing an outbreak of disease that swept through the town.
Make sure you visit before sunset, as the cemetery is closed to the public after dark.
Aptly named "The Lost City of Damon" by Michigan author James Oliver Curwood in 1911, all that remains of this old logging town is an abandoned general store, a post office and an eerie cemetery. Damon inspired Curwood and he chose it as the setting for his novel Green Timber.
The Damon Cemetery is home to both wooden and marble grave markers dating as far back as the 1800s. Make sure you have your GPS ready to go as you set off on your spooky adventure down the dirt roads that lead to Damon. The mystery continues if you're up for a daytime treasure hunt, as Damon is also a geocaching location!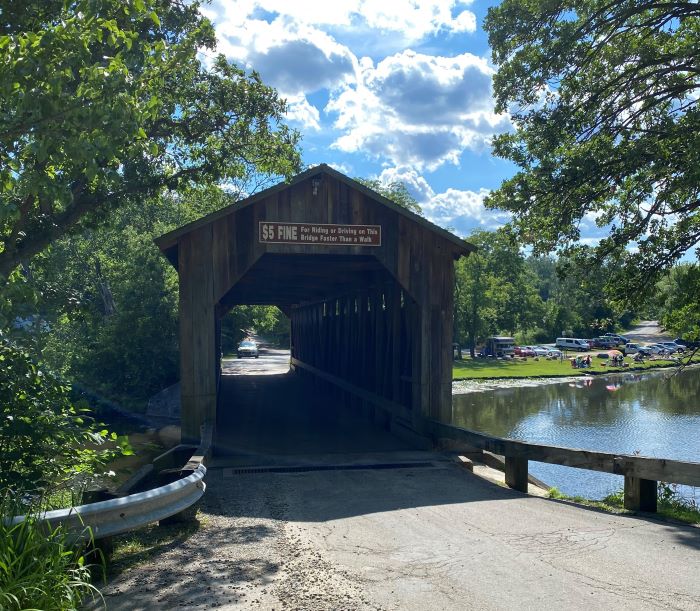 Enjoy a relaxing, autumnal walk that's a little less spooky at Fallasburg Village in the charming town of Lowell. Located along the Flat River, Fallasburg Village is made up of several historic structures including a one-room schoolhouse, multiple houses and a cemetery. You can also walk across the iconic, 100-foot Fallasburg Covered Bridge that was built in 1871. Be mindful that the road is open to traffic and cars do cross the bridge. There are signs on both entrances warning a $5 fine if cars cross the bridge at a speed faster than a walk.
After soaking up history at this ghostly town, go on a walk or have a picnic along Flat River at Fallasburg Park near the village.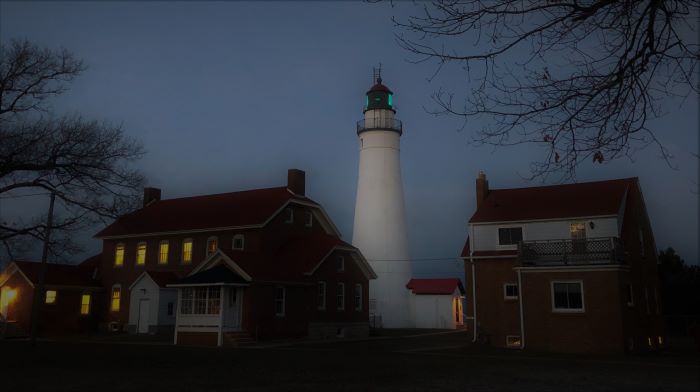 Go on a spooky road trip along the Lower Peninsula's "Thumb" this fall. There are eight locations including "haunted" roads, historic cabins and inns, a haunted grave and some of Michigan's oldest lighthouses. At one end of the route, north of Lake St. Claire, be wary as you travel down Marrow Road at night. It's rumored that a woman can be seen wandering the road at night, still searching for her lost child. At the other end near Port Austin visit Point Aux Barques Lighthouse that is said to still be haunted by Catherine Shook, Michigan's first female lighthouse keeper.
Find all of the attractions along this spooky route here.
There are plenty of more spooky and haunted places to visit this fall in the Upper and Lower Peninsulas. Which of these ghost towns, cemeteries or centuries-old attractions will you add to your itinerary?