Where to Find Petoskey Stones in Michigan
The Petoskey stone, Michigan's state stone - and its lesser-known cousin, the Charlevoix stone – are unique to the Great Lakes and can be found along the shores of Michigan's lower peninsula. These unique treasures can be elusive to first-time stone seekers, but the tips below can help get you on track to your first discovery!

Where's the best place to find Petoskey Stones?
That's the age-old question: Where's the best place to find Petoskey and Charlevoix stones? Whether you're in Charlevoix or Petoskey or elsewhere on Lake Michigan, it's not unusual to see people strolling along the shoreline looking for these beautiful natural fossils. With numerous public beaches, rock hounds are guaranteed to find a treasure or two. Below are some popular rock hunting destinations with potential for Petoskeys. Some areas may prohibit the removal of stones. Be sure to research the rules before your quest for the perfect Petoskey stone!

Charlevoix
Mt. McSauba
Lake Michigan Beach
Beaver Island
Fisherman's Island State Park
North Point Nature Preserve

Petoskey
Petoskey State Park

Frankfort
Pt. Betsie Lighthouse

Leelanau County
Empire Beach
Leelanau State Park
Sleeping Bear Dunes National Lakeshore

Manistee
Orchard Beach State Park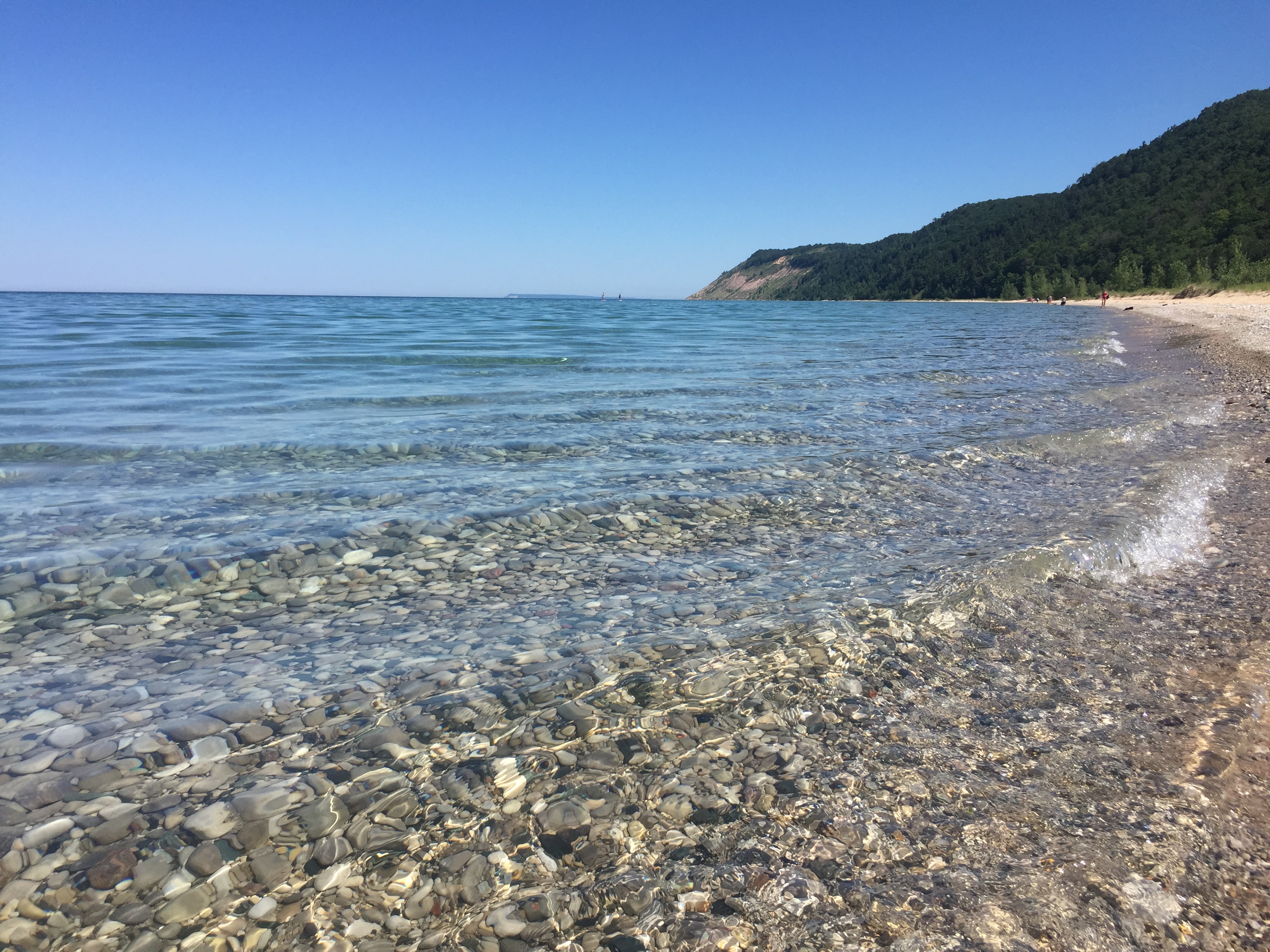 Tips for Finding Petoskey Stones
1. Find a stretch of Lake Michigan beach that is uncrowded and somewhat rocky
Though there can be exceptions, your best chance at finding these fossils is in the presence of other stones. TIP: Storms and high winds can churn up the lake and can provide great stone deposits, but can also clear the beach of stones.

2. Be patient
You could spend an hour walking along the shoreline of Lake Michigan and only find a few Petoskey or Charlevoix Stones. Don't be frustrated. Rock hunting requires lots of patience. With each stone you find, it becomes easier to identify the next one. Plus, when you're walking a Lake Michigan beach, the view is usually pretty nice, too.

3. Know the rules
When hunting rocks of any kind, it's extremely important to be aware of any state or federal regulations. According to the Michigan DNR, you are only allowed to remove 25lbs of stones per visit. If any Petoskey Stone weighs over 25lbs, the DNR has the right to confiscate it. If you're strolling the shores of Sleeping Bear Dunes National Lakeshore for your search, keep in mind that stones must remain where you find them. The National Park Service invites visitors to find and admire Petoskey stones and other natural treasures on its Lake Michigan beaches, but asks that they be returned to the lake to maintain the pristine nature of the environment.

4. Know when to go
The spring is generally the best time of year to find Petoskey stones because wave action and winter's ice have brought new stones to the shores of Lake Michigan. Heading out in the rain or right after a storm can be productive times, too.

5. Other tips
Carry a small bucket or bag to collect your treasures.
Keep an eye out for the rare "Pink Pets" Petoskey Stones. The pink hue is a result of the iron that permeated the coral as it calcified.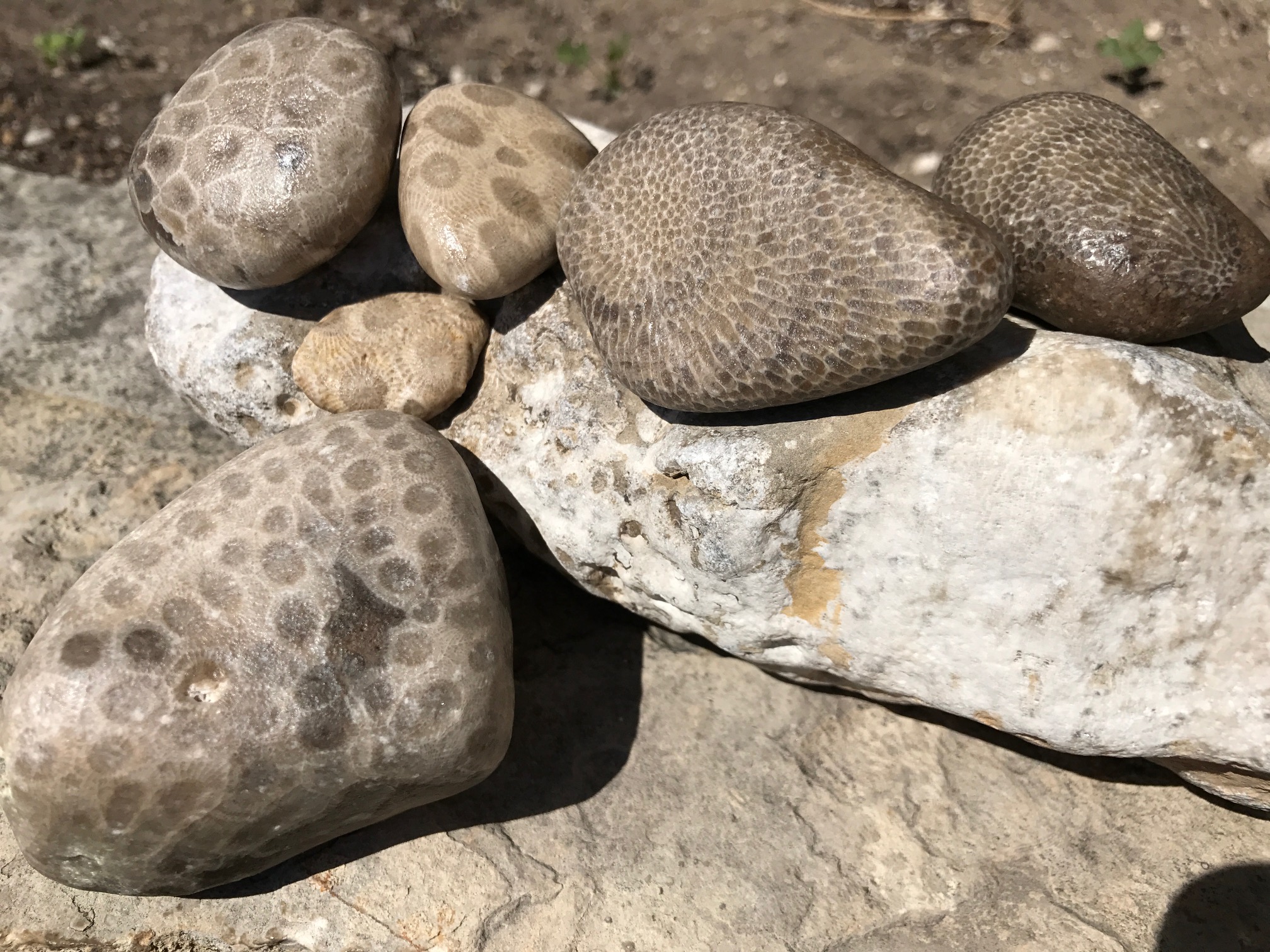 And in case you're interested before you go, here's, a little background…

What is a Petoskey Stone?
The Petoskey stone is fossilized pre-historic coral fossilized rugose coral, Hexagonaria percarinata. Distinguishable by its unique exoskeleton structure, a Petoskey stone consists of tightly packed, six-sided corallites, which are the skeletons of the once-living coral polyps. The center of each polyp was the mouth and contained tentacles that reached out for food. The hexagon shape of each cell and thin lines radiating out from the dark "eye" in the center are distinguishing features unique to this fossil.

What is the difference between a Petoskey and a Charlevoix stone?
The Charlevoix stone is similar in appearance to its cousin, the Petoskey stone, but has its own unique structure and features. A smaller exoskeleton with the coral colonies closer together gives the Charlevoix stone a distinctive honeycomb-like appearance. They're a bit more rare than Petoskey stones, but it's not uncommon to find both of these unique fossils while exploring northern beaches in Charlevoix or throughout northern Michigan.


Where have YOU found Petoskey (and Charlevoix) Stones?
Do you have a favorite beach for hunting and finding Petoskey stones? Share your photos with us on our Facebook page. Happy hunting!