Shop Local in Petoskey: 10 Spots to Find the Perfect Gift
If you've never seen Petoskey around the holidays, it is straight from the set of a Hallmark Movie. Charming downtown streets, heartwarming shop windows, and a gazebo that looks fit for a Norman Rockwell painting. It's a treat any year to visit, but supporting our small businesses in downtown districts like Petoskey is more crucial than ever before.
The perks to small business shopping are innumerable; personalized service, many places offering adorable free gift wrapping, and the experience of fresh air while walking around to shop!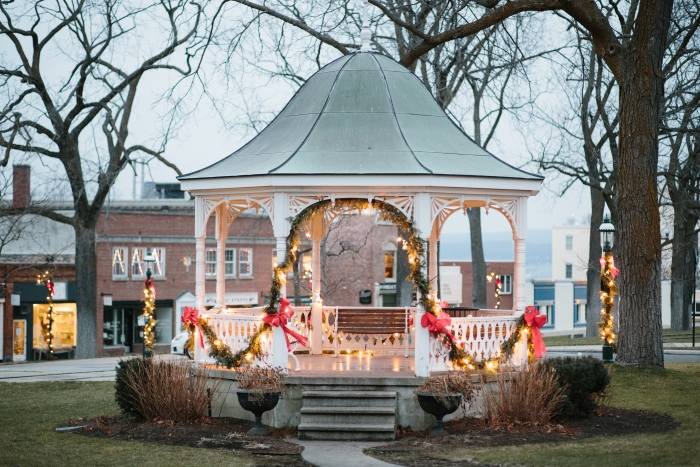 And the purchases can have an impact on your community. According to the Michigan Retailers Association, if only one in ten out-of-state purchases were switched to local stores, Michigan would gain $2.2 billion in increased economic activity.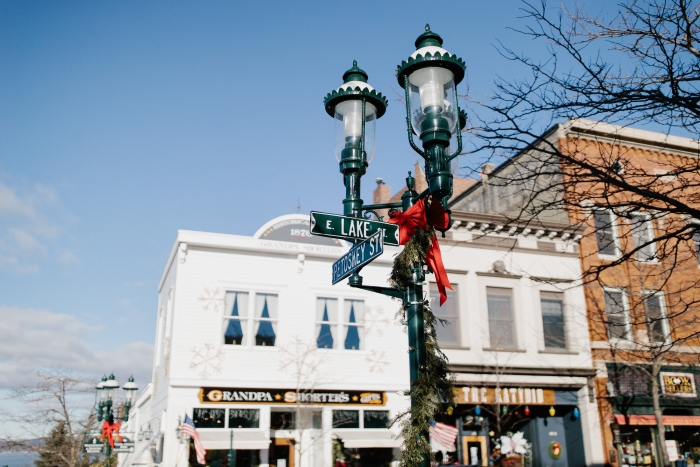 In an afternoon shopping downtown, you can cover the foodie, outdoor enthusiast, wine lover, and the person who wants to be pampered on your list.
Here are 10 Petoskey shops that have the perfect gift: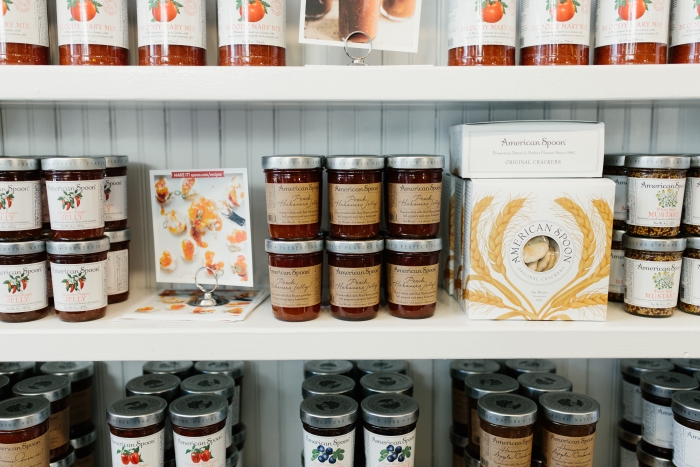 Foodie family member? American Spoon has something for them. Small batch fruit preserves and condiments mean freshness, quality ingredients, and delicious flavor. My favorite American Spoon treats include Lemon Curd and the Cherry Peach Salsa. Send a taste of Northern Michigan anywhere in the country with their online shipping options.
Michigan winters are beautiful, but not always for the faint of heart. Bear Cub will outfit the entire family for whatever Mother Nature sends your way year-round. Their friendly team is so helpful in suggesting gifts. The quality of the product lines they carry is never compromised. Whether it's a hat, vest, or camping gear, you know you're buying something that has been tried and tested by the Bear Cub team.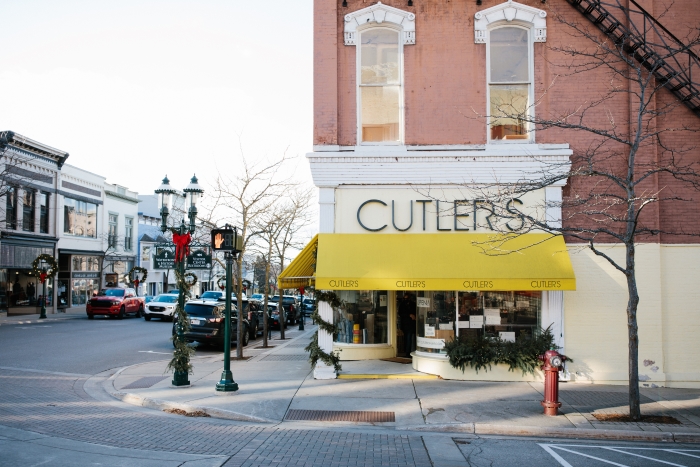 Kitchen gadgets are aplenty on the internet, but one stop into Cutler's and you can find the quality you desire to gift to the home chef in your life. One of the best parts about Cutler's is their range of prices for the fun, quirky kitchen or food accessory you didn't know you needed—but suddenly can't live without. 
A shoe store?! Yes. A shoe store. I love Dave's Boot Shop. Northern Michigan people, we love quality gear. And Dave's has all the best brands of footwear that can handle Northern Michigan seasons. Their staff is so helpful and there's something really nice about buying shoes from a small shop rather than a department store or leaving it up to some guessing game online. Don't miss the 'sale basement' where there are serious deals to be had. 
Tucked into a tiny space on Petoskey Street, this relaxing oasis of self-care is waiting for you. Lashes, brows, facials—a gift certificate for an experience with Fallon is perfect for the person on your list who loves to be pampered.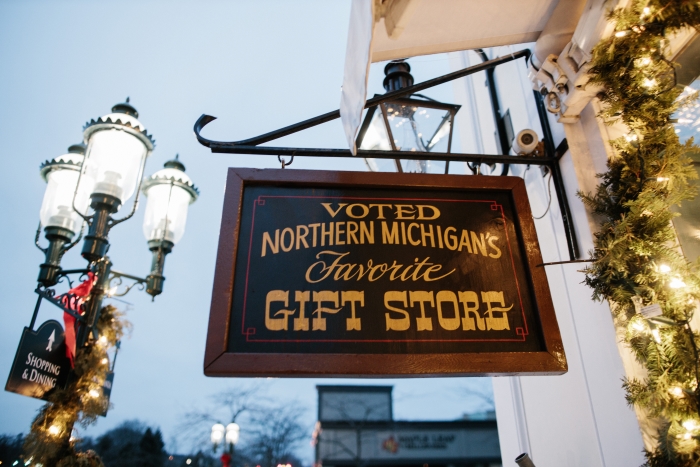 Even the street view of Grandpa Shorter's sparks joy in your heart. Step inside for a true emporium of unique gift ideas where you can cross everyone off the list. I also love Grandpa Shorter's for a hostess gift. If it's your first year doing holidays with your significant other's family, stop in for something that's perfect.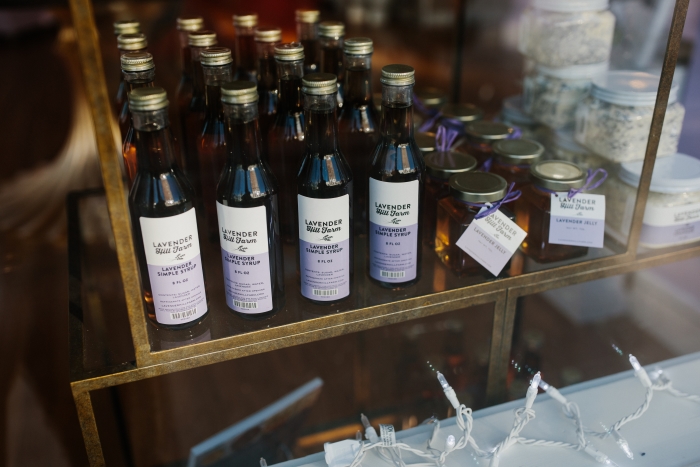 The farm is located in Boyne City, but Lavender Hill's new pop up shop in Downtown Petoskey has everything the lavender-lover in your life may need. From sachets and relaxing body products to unique culinary offerings, it will be a gift under the tree fresh from the farm.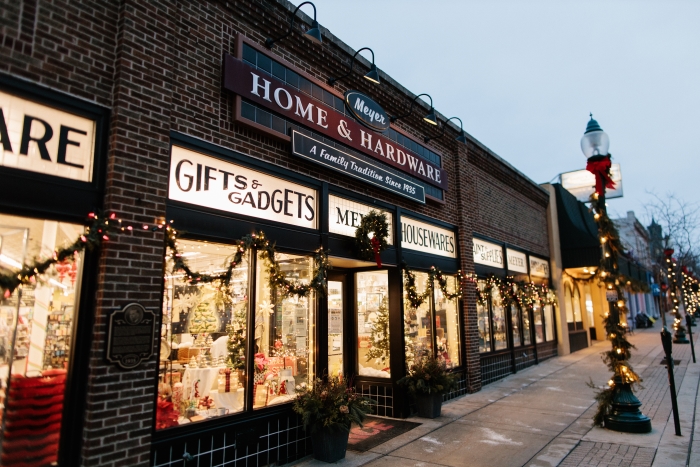 One of my favorite things about Petoskey is that our downtown still has a hardware store. The Meyer Family is a Petoskey staple and their multiple locations have everything you need from large equipment to the perfect accessory for the person who loves to tinker in the garage. The downtown location has plenty of gift options for the lake house, hostess, or outdoor buff. Know someone who loves to entertain outdoors? Whether it's top of the line grilling equipment and accessories or creating the perfect safe and friendly outdoor entertaining space this winter, they can help.
McLean & Eakin is one of the most recognizable indie booksellers in the country for good reason. Jessalynn and Matt's dedication to creating a shop culture is what makes shopping here different. Need a book? They'll find it and ship it to your door, anywhere in the country. Their children's book section is my favorite part of the store. Downstairs you'll find board games, unique gift sets, and the cozy feeling that only the best bookstores can provide.
An icon of downtown Petoskey with their classic red general storefront, Symon's wine selection is the best in town. Their friendly team will help you find the perfect bottle to share with friends or gift to even the most discerning palette.
About the Author
Kalin Sheick is an award-winning floral designer based in Petoskey. Her studio, Sweetwater Floral, specializes in weddings and workshops. She teaches floral design all over the state and hosts virtual workshops nationwide. Sweetwater also ships DIY flower kits where participants can learn to design with video tutorials, exploring their creative side. Kalin and her family live at their tiny farm just outside of downtown Petoskey where they grow lavender, flowers, and a lot of weeds.