Exploring Public Art In The Twin Cities

Southwest Michigan is home to the vibrant and artistic Twin Cities of Benton Harbor and St. Joseph. Visiting the waterfronts of Lake Michigan and the St. Joseph River, walking along Lake Boulevard in St. Joseph or exploring the Arts District of Benton Harbor soon reveals that there is a wide range of artists and artworks integrated throughout the community. In particular, there are several publicly placed outdoor sculptures and monuments. Why are they there and where did they come from?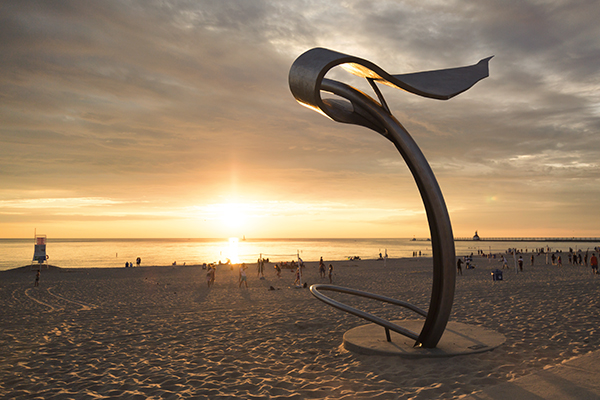 The merits of public art have become increasingly recognized. It drives cultural tourism, which in turn affects economic development. Public art increases a sense of community pride. It beautifies neighborhoods and makes them unique. It can be used as wayfinding and sometimes becomes quite iconic. It also offers informal opportunities for individuals to experience art. Social media is ripe with photos of individuals posing in front of artworks, whether in flip-flops or wedding dresses, and digital mapping has shown that these photos are taken just as often by locals as they are by tourists. Public art does not have a dress code or admission fee, and it is not ensconced within a brick and mortar building. It is accessible 24/7, free of charge.

Krasl Art Center
The Krasl Art Center (KAC) in St. Joseph is one of the organizations responsible for placing art in public places. It has collected sculpture since it opened its doors on Lake Boulevard in 1980. The KAC believed in the power of art and community. Situated across from Lake Bluff Park, the center wanted to complement the memorials along the bluff with its unique collection of contemporary sculpture.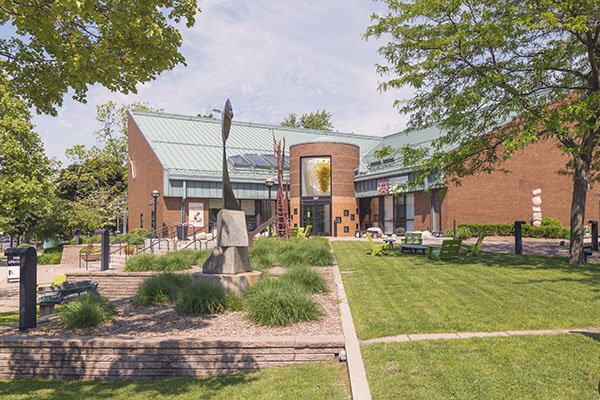 Sculpture in the KAC collection ranges from regional artists to internationally recognized sculptors. On the west face of the KAC building may be found the kinetic sculpture Three Lines Diagonal by artist George Rickey. Rickey was a native of Indiana yet his artworks are on view in museums and sculpture parks throughout the world. Three Lines Diagonal is a dynamic sculpture of vertical elements held together by industrial airplane bearings. The elements twist and turn, powered only by the wind, usually off the lake, echoing its ferocity and calm from day to day, hour to hour.
American Treasure Dale Chihuly's Beacon Gold Chandelier bursts with color and energy in its perfectly framed location within the KAC entrance. Day and night guests can see this world-class glass sculpture. On the KAC grounds, is a bronze sculpture by artist Dr. Burt Brent called The Heavyweight (renamed Lotus the hippo by local children), that welcomes young guests to crawl on her back because it is perfectly accessible and broad enough to sit on. Michigan artist Kenneth M. Thompson's Standing Arch, IV provides a more formal art experience in its classical form, as does John Isherwood's pillar-like sculpture Hidden Legend made of stone altered only by cuts from the quarry where it was taken.
Silver Beach County Park
Additional sculptures from the Krasl Art Center's collection may be experienced at Silver Beach County Park. These works happily reside alongside beach-goers, surfers, volleyball players, children and adults alike. They endure the blowing sand of the beach year-round, which is why all are made of steel and often unpainted. Preeminent American sculptor Richard Hunt's And You, Seas is located at the north end of the park, along the pier. It is a monumental steel sculpture overlooking the mouth of the St. Joseph River. Referencing waves, wind, and nature, it is a commemorative artwork that also acknowledges the sailing community within the region.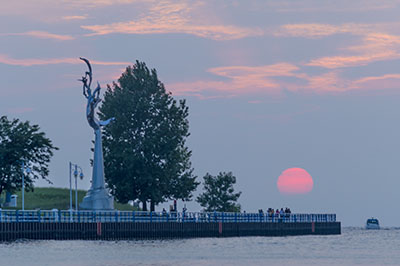 Margaret B. Upton Arboretum
Since 1996, the KAC has produced its Biennial Sculpture Invitational. This 15-month long exhibition brings in sculptures by artists predominantly from the region. It provides an ever-changing display of public art throughout the twin cities of Benton Harbor and St. Joseph, with one of its main locations being the Margaret B. Upton Arboretum. Twelve sculpture pads feature Biennial artworks. This effort is coordinated with the City of St. Joseph, with engagement by both the city and community in its selection and placement.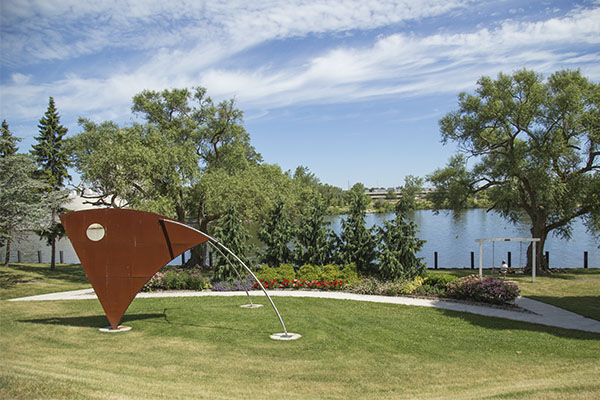 Box Factory for the Arts
The KAC partners with the Box Factory for the Arts to place six Biennial sculptures directly across the street from its main entrance. Sloping up a hill, artworks enliven the space with color, texture, and form. In 2016, the artwork Eve & the Serpent was purchased by the KAC for its permanent collection. Due to its scale, this bronze sculpture was uniquely placed just outside the front door to the Box Factory, welcoming guests as they enter the building. Eve & the Serpent is by Kalamazoo-based artist Brent Harris and is a wonderful figurative work whose hair gusts with the implied wind as her lithe figure peers downward at the thin serpent entangling her feet.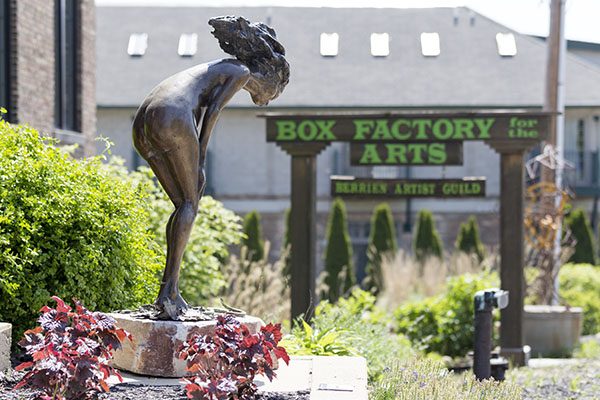 Arts District
The Arts District of Benton Harbor is filled with art, some placed by the KAC, but most placed by artists living and working in the community. There are several small pocket parks in the district and the influence of Water Street Glass Works and its Metal Shop is evident in the types of artworks often found within them. Quarterly Art Hops bring even more temporary art placements, pop-up galleries and exhibitions to the neighborhood making it an exciting place to visit and wander through.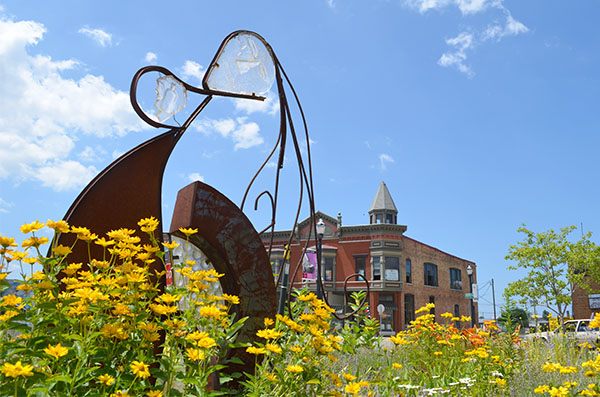 This is by no means an exhaustive list of art sites in the Twin Cities. Several memorials may be found on Lake Bluff Park in St. Joseph and more Biennial sculptures may be seen at Overlook Park along Red Arrow Highway and at Jean Klock Park in Benton Harbor. Downtown St. Joseph also features fun, thematic public art annually that pairs local businesses with artists and attracts visitors to the downtown area.
If you have not explored the art in this area, do so. Ride your bike, take a picnic, go on a walking tour, listen to audio tours from your cell phone, read the plaques and inquire with your local arts organizations to learn more. Have fun with it. Ask yourself, your children or your friends what they see. There are no wrong answers.

---