Travel Tips For Planning Your Pure Michigan Vacation
A break from the daily routine at home and work can do wonders for our well-being. Beginning to plan a much-needed vacation is the moment your future getaway feels real—but these days that can be the hardest part. To help you get started, here are our vacation planning tips and recommendations for your Pure Michigan getaway.
Why Vacations Are Important
To make sure your vacation time doesn't pass you by, this year we invite you to participate in National Plan for Vacation Day. Created by the U.S. Travel Association, this annual virtual event encourages travelers to plan their vacation days for the whole year.
Studies show that those who go through the process of planning out their vacation time are happier with their interpersonal relationships, experience increased productivity and job satisfaction, and are healthier overall. So, if you find yourself flipping through the calendar and waiting for the next holiday, create your own!
Travel Tips To Help You Plan
Tip No. 1 – Find Your Perfect Place To Stay
After choosing your destination(s), one of the most important things to plan is the perfect place to stay. If you want to spend evenings strolling charming downtowns, choose a central location within walking distance. For a camping trip with the whole family, make sure you review the amenities you need for a comfortable stay. No matter what you're looking for, Michigan's hotels, bed and breakfasts and campsites have everything you need for a safe and relaxing trip.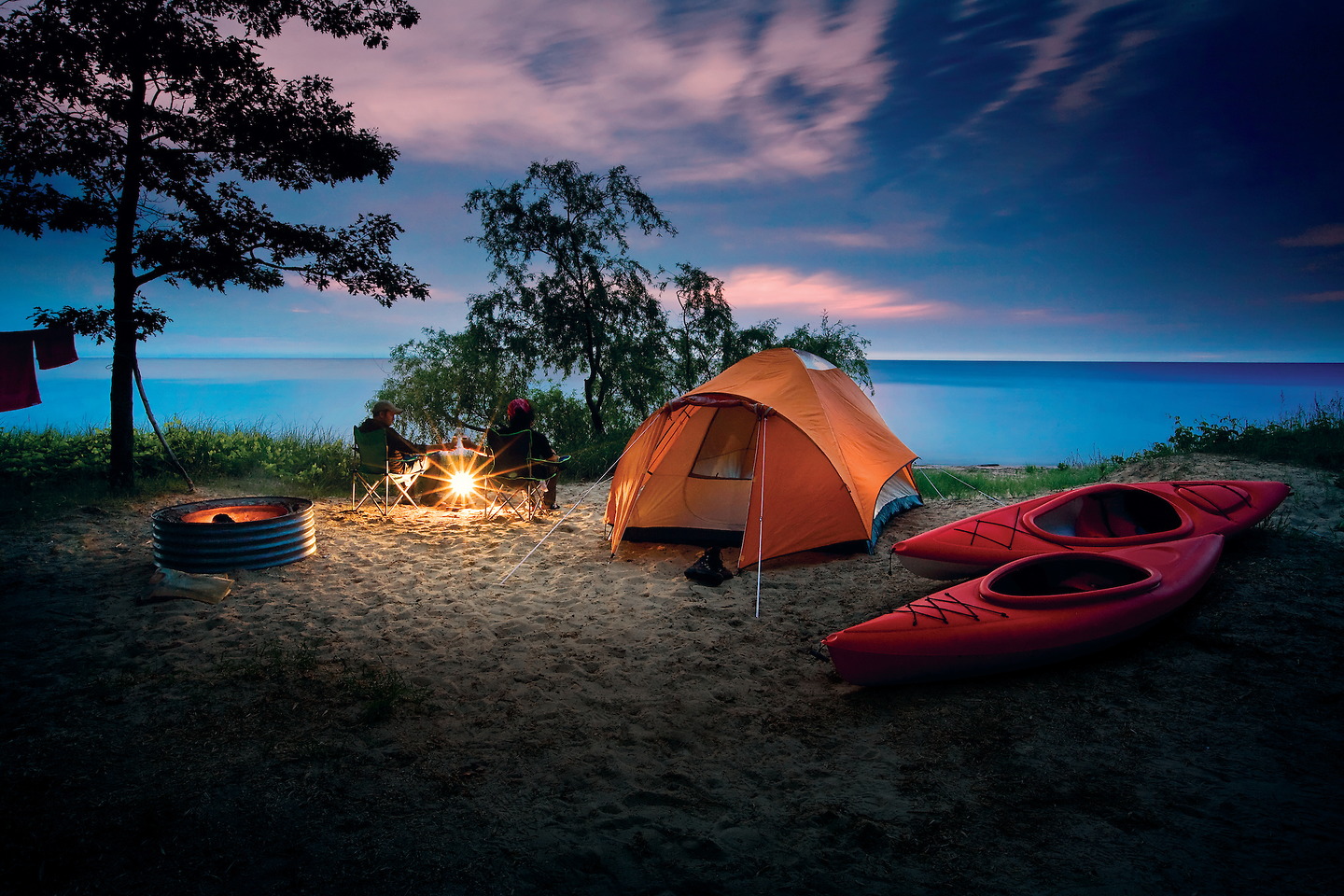 Tip No. 2 – Make The Journey Part Of Your Itinerary
One of the best ways to experience Michigan is by planning a road trip. With scenic routes along stunning Great Lakes coastlines and tunnels of trees over winding roads, you can plan your entire trip to be a sight-seeing adventure from beginning to end. You can also find historic lighthouses and museums along your journey that tell stories of rich history and culture. If you're bringing your pet along for the ride, check out Michigan's variety of pet-friendly attractions, outdoor spaces and more.
Tip No. 3 – Don't Plan Everything
While planning your itinerary and must-sees and -dos on your trip will feel like you're setting yourself up for the perfect vacation, make sure you leave room to explore. If you have your days packed from breakfast to bedtime, you might end up passing by some of the most memorable hidden gems. So take your time, live like a local and let yourself truly unwind on your vacation.
Michigan Destinations & Trip Ideas
Outdoor Adventure
Michigan was once named the top travel destination in the world for outdoor enthusiasts by TripSavvy, and it's easy to see why. With more than 3,000 miles of shoreline, 19 million acres of forests, 100+ state parks, seven national park sites and more the opportunities for adventure are endless, no matter your preference or skill level.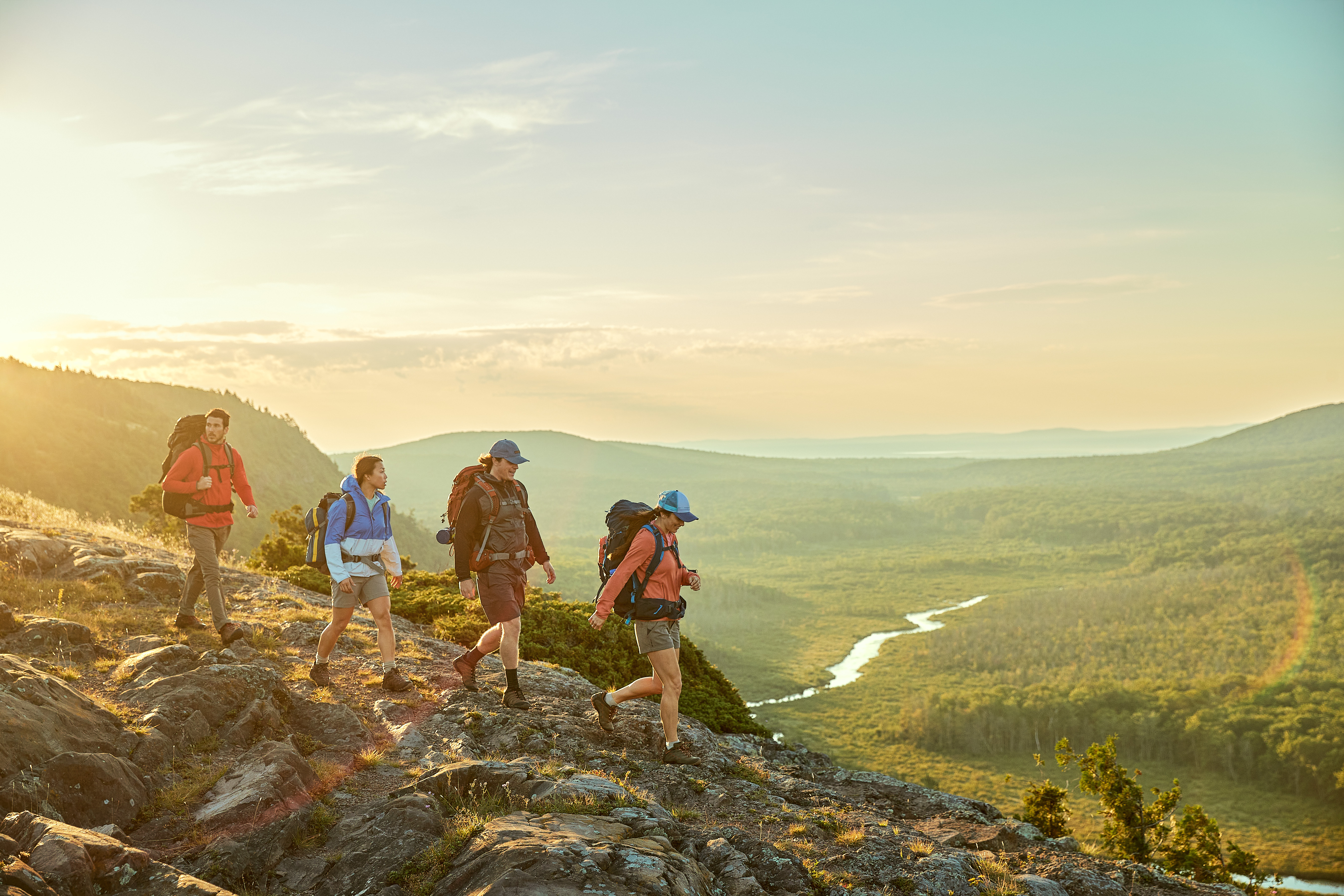 In the Upper Peninsula, kayak or tour via boat along the multi-colored sandstone cliffs of Pictured Rocks National Lakeshore in the beautiful waters of Lake Superior. For a true, remote escape from the routine of daily life, take a seaplane or ferry to Isle Royale National Park in the northern region of Lake Superior. As you hike or backpack the 165-mile network of trails, discover the island's famous moose population and other abundant wildlife. Outdoor enthusiasts can also find spectacular mountain biking, fly fishing, waterfalls and more in the U.P.
In the northern region of the Lower Peninsula, Sleeping Bear Dunes National Lakeshore offers some of the best panoramic views of Michigan's natural landscape. With 64 miles of Lake Michigan shoreline and towering bluffs that rise 450 feet above the water, the park is perfect for everything from hiking to fishing and snorkeling to snowshoeing.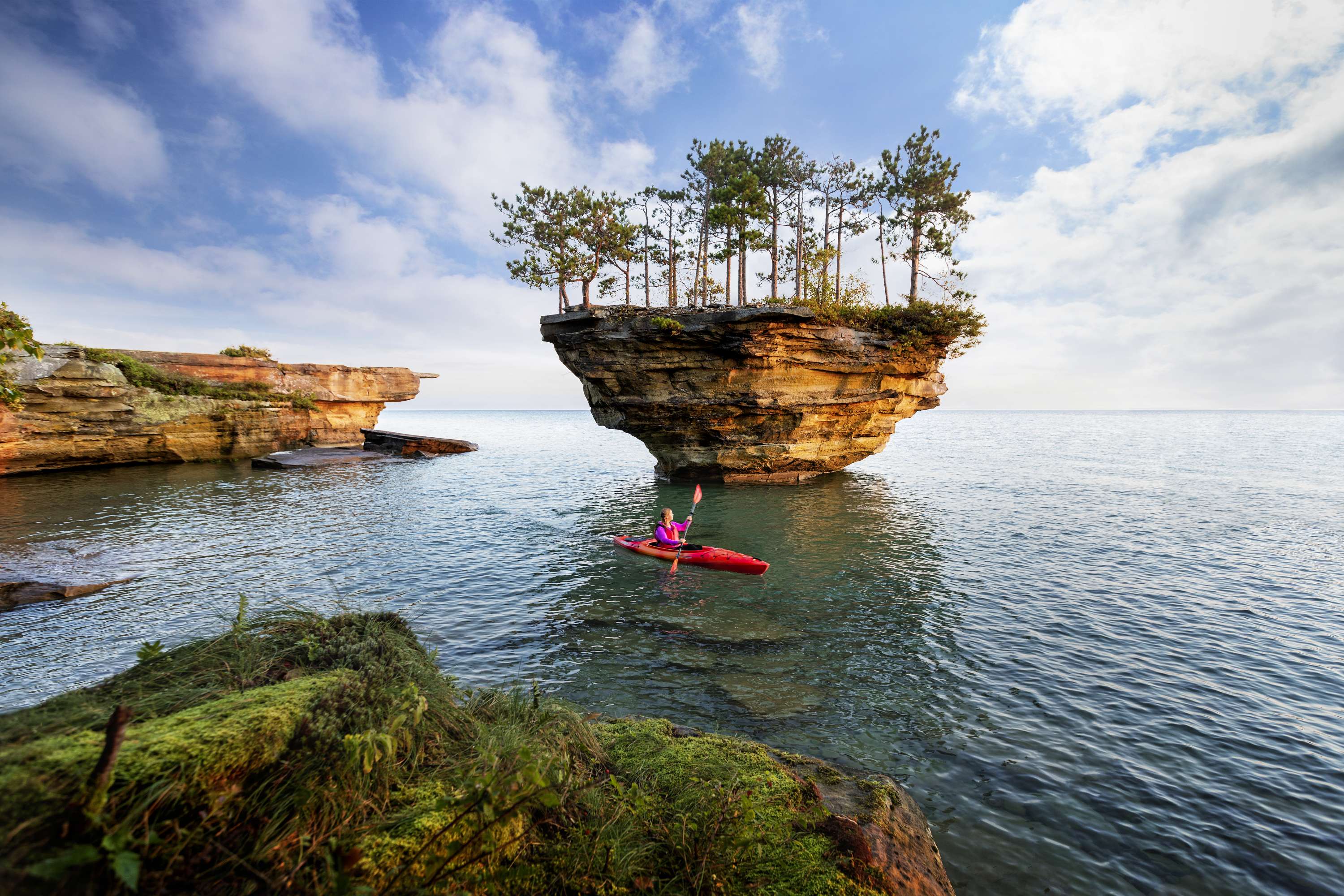 On the east side of the state in the waters of Lake Huron, Thunder Bay National Marine Sanctuary is a true hidden gem in Alpena. Nicknamed "Shipwreck Alley," there are nearly 100 shipwrecks within the sanctuary, some dating back as far as 1844. They can be explored by scuba diving, snorkeling, kayaking and more, or you can check out the Great Lakes Maritime Heritage Center on land. For more adventure on Lake Huron, kayak to Turnip Rock near Port Austin to see one of Michigan's unique natural land formations.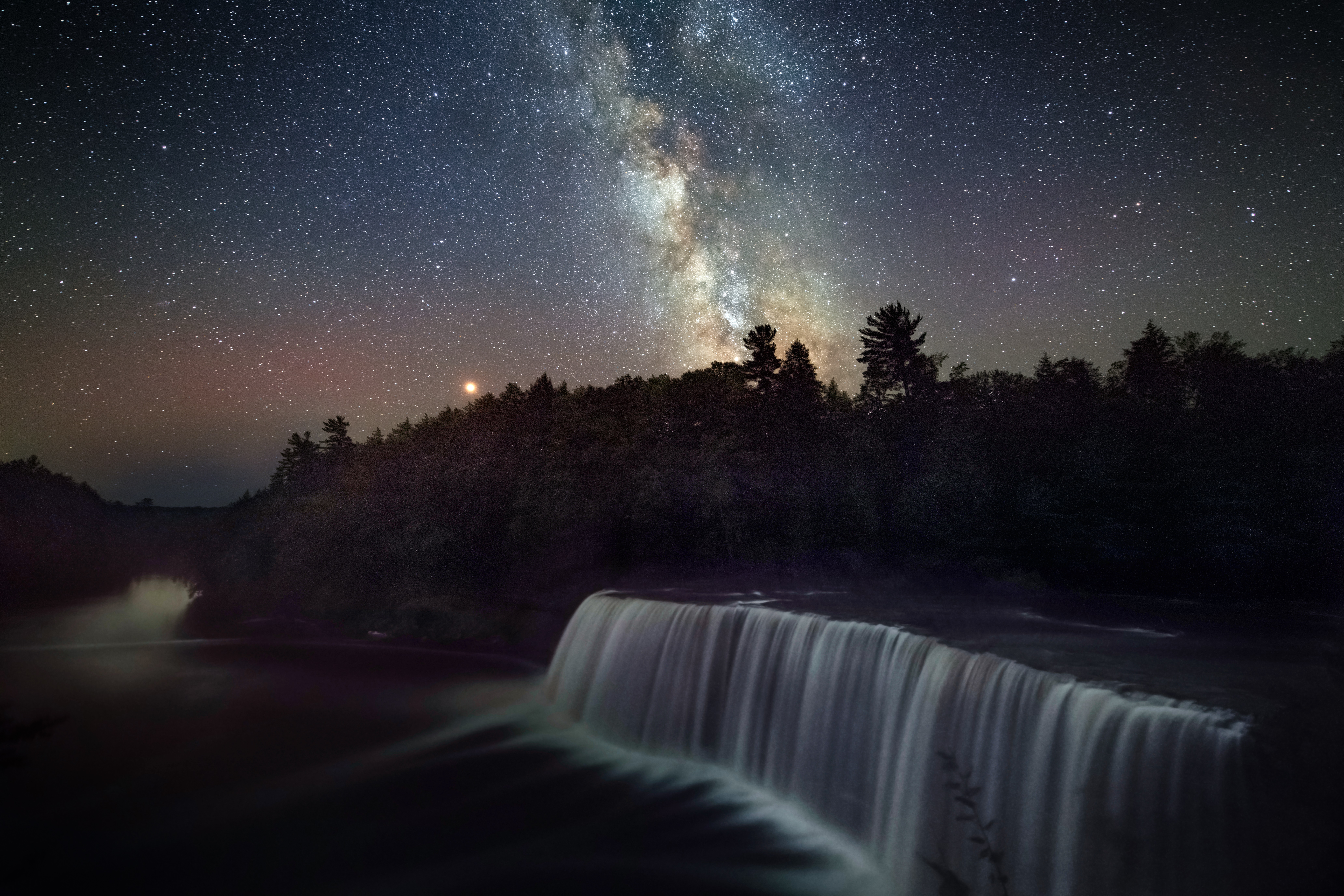 There's even more adventure waiting for visitors throughout the state. If you're looking for a golf getaway, Michigan has 650+ golf courses to choose from. You can even find otherworldly stargazing and northern lights in Michigan's dark skies at Headlands International Dark Sky Park, Dr. T.K. Lawless Park, Keweenaw Dark Sky Park and six dark sky preserves. This year is the perfect time to plan a new outdoor activity during your vacation, so what adventures will you add to your itinerary?
Discover Michigan's Cityscapes
Along with seemingly endless outdoor adventure, Michigan is home to vibrant and exciting cities packed with attractions including Greater Lansing, Grand Rapids, Detroit, Ann Arbor, Kalamazoo and Flint.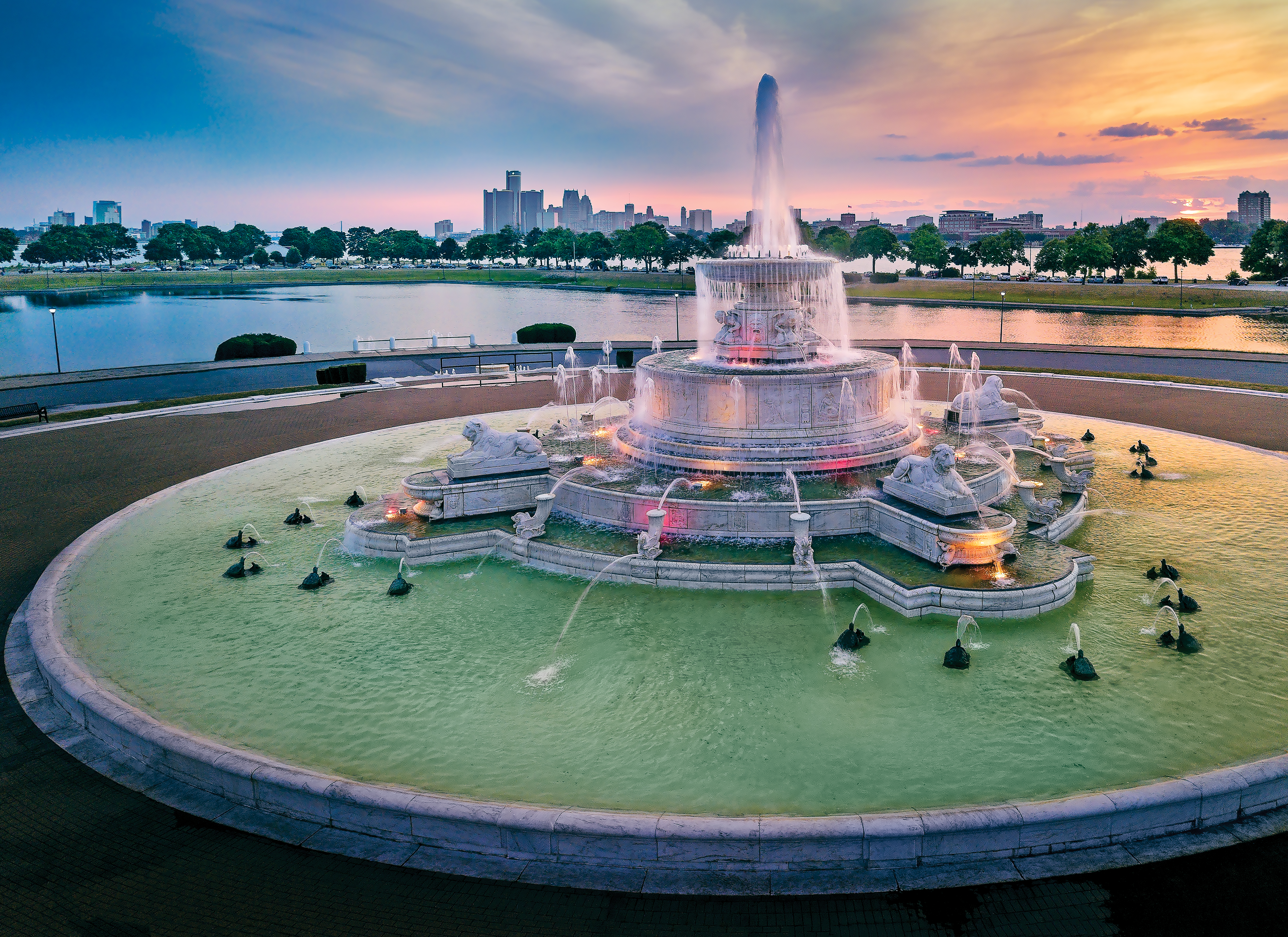 On the west side of the state is Grand Rapids, also known as Beer City USA due to its thriving craft beer scene. Here you won't want to miss out on the amazing museums and arts attractions as well, including the famous Frederik Meijer Gardens & Sculpture Park. In Detroit you will find a diverse variety of safe dining options and outdoor spaces like the Detroit International RiverWalk and Belle Isle Park. In the Greater Lansing area discover small-town charm in an urban setting while exploring unique neighborhoods like Old Town and the excitement of Michigan State University.
Ann Arbor, home to the University of Michigan, is an artsy college town with a range of boutique shops and dining options. In Kalamazoo, get a flight of beer at the iconic Bell's Brewery or shop at the nation's first outdoor pedestrian mall at the historic Kalamazoo Mall. If you're looking for more outdoor opportunities and urban attractions, visit Flint where Michigan's largest county parks system and a variety of museums and galleries can be found. When you head north, Traverse City will welcome you with all the excitement of a vibrant and urban downtown set against a stunning northern Michigan backdrop.
More Attractions & Unique Hidden Gems
Whether you're headed to the wilderness or the city, Michigan has a lot to offer from hidden gems to must-see attractions.  
For a day full of thrills, visit Michigan's Adventure in Muskegon, which is home to seven rollercoasters and the state's largest outdoor waterpark. For an adventure on the wild side, check out Michigan's zoos and aquariums. Whether you're exploring Detroit Zoo's extraordinary penguin conservation center or feeding giraffes at Binder Park Zoo in Battle Creek, you're sure to have unforgettable interactions with wildlife from around the world.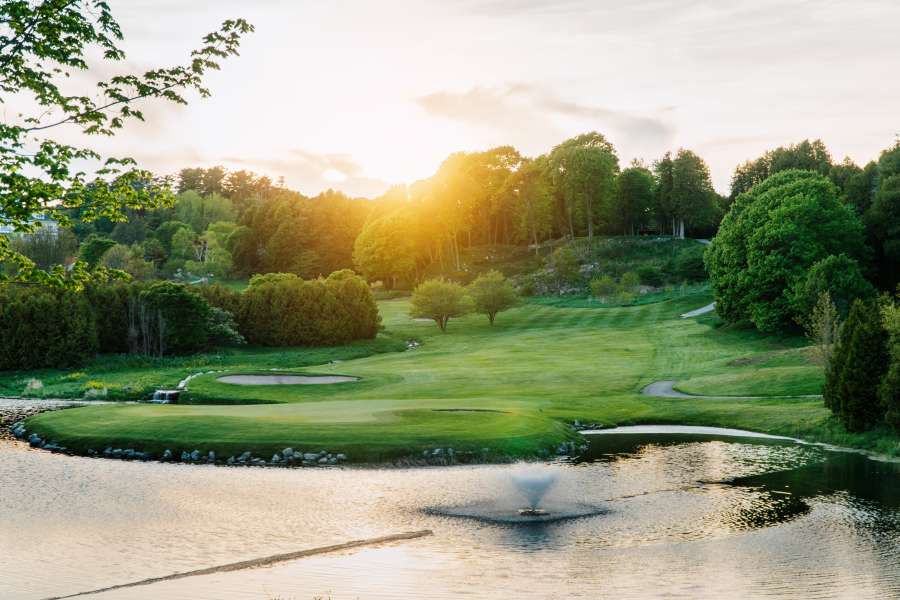 Immerse yourself in history on Mackinac Island, located in the Straits of Mackinac between the Lower and Upper Peninsulas and home to the famous Grand Hotel. Here motorized vehicles are prohibited, so you can enjoy spectacular views of the water and island via horse carriage ride, bicycle or walking. You can also get a glimpse into the past at the unique Dinosaur Gardens in Ossineke. This hidden gem offers fun for the whole family as you explore a forest of more than 25 life-size reproductions of prehistoric dinosaurs and birds.
Experience Four Seasons
Not only is Michigan home to four of the five Great Lakes, pristine forests and vibrant cities, but it also experiences all the beauty of changing seasons. So if you're not planning your vacation in the spring or summer, check out Michigan's fantastic fall and winter activities that will create lasting memories.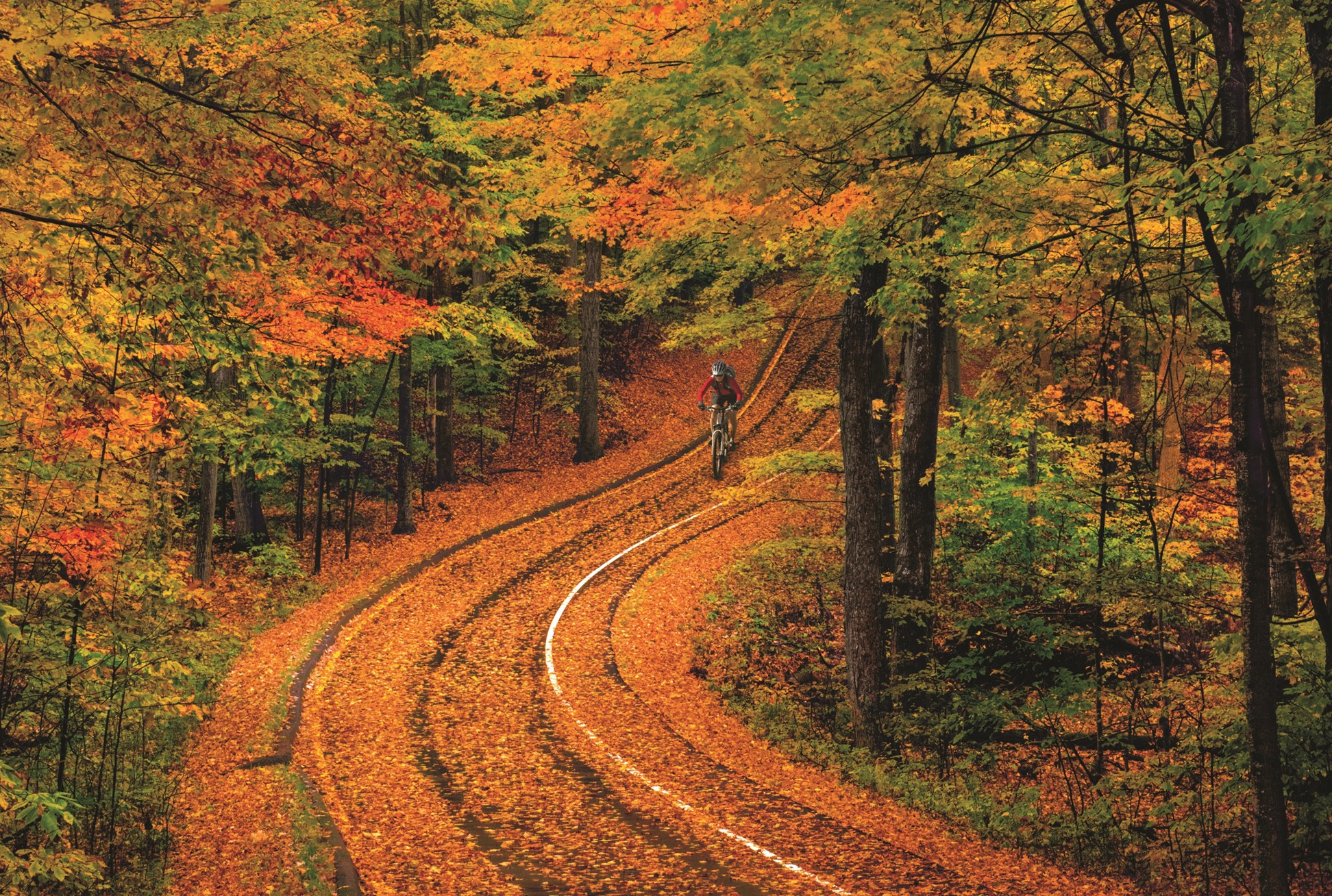 In the fall, take in the fresh, crisp air as you travel along scenic routes and trails where the trees have changed to vibrant reds, golds and oranges. Visit one of Michigan's apple orchards for outdoor fun, an apple cider or refreshing hard cider. When winter arrives, try a new sport at one of Michigan's 40+ skiing and snowboarding areas. Discover a peaceful winter wonderland as you trek across thousands of miles of snow-blanketed trails by cross country skiing, snowshoeing or snowmobiling.
This is only a sample of what you can find in Pure Michigan. If you need help getting started on National Plan for Vacation Day, check out all of our unique experiences that will help you choose the perfect destination based on your interests. To learn about accessible travel in Michigan, visit michigan.org/accessibility.