A Guide to Michigan's Pet-Friendly Beaches
 
A trip isn't complete without your four-legged companion by your side. As much as you love to swim in the clear waters of the Great Lakes and run along their sandy beaches, your pet is likely twice as excited, expressing enthusiasm with uncontainable, tail-wagging energy.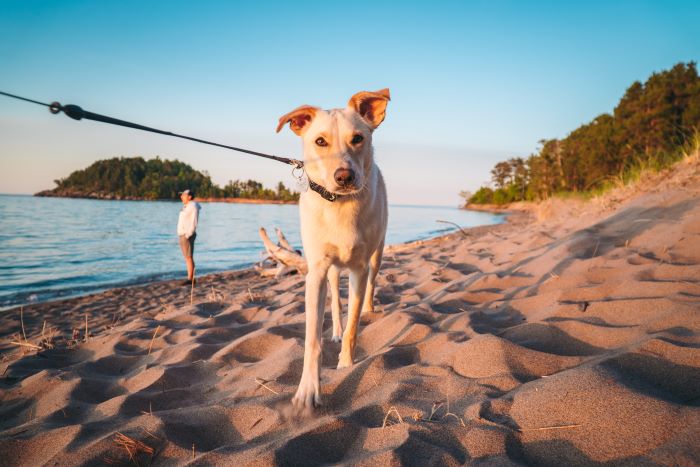 Make your trip enjoyable for the whole family by selecting the perfect, pet-friendly beaches along your route. Here are some recommendations for the best beaches and parks with pet-friendly shorelines for your water-loving pets.
   
Tips Before You Go:
1. Plan ahead – If your pet is tagging along on your trip, make sure all the places you plan to visit are pet-friendly. Take notes on the specific rules for each park and verify your research upon arrival by reading signage. If you are unclear on the park's rules for your pet, just ask! Any park ranger or other park staff would be happy to assist you in finding the perfect pet-friendly accommodations on your visit.
 
2. Pack for your pooch – Just like you, your pet will need water and other essentials throughout your trip. Make sure you are packing everything your dog might need. 
 
3. Leave nothing but paw prints – Help preserve our parks and beaches by being diligent about leaving no trace of your visit. Clean up after your pet!
 
4. Stay leashed – Many beaches, parks and trails require that your pet stays on a leash at all times. Respect the rules and only let your pet off-leash when permitted.
 
5. Know where to go – Most beaches have specific stretches of shoreline for four-legged playtime. Verify which sections of shores are pet-friendly, and don't bring your pet with you when not permitted.
 
6. Never leave your pet alone – Pets that are unattended or tied up can become anxious, loud and unpredictable. Your pet is your responsibility at all times. Make sure you are always in immediate control of them so both they and those around them are safe. While it may be hard to contain your pet's excitement, it is important to maintain the serenity of the beach for all visitors. Help keep noise and disturbance to a minimum by controlling your pet at all times.
Here are some parks and destinations that have sections of pet-friendly:
Overlooking the beautiful Keweenaw Bay on scenic Lake Superior, this stretch of shoreline is an ideal spot for dogs that love to swim.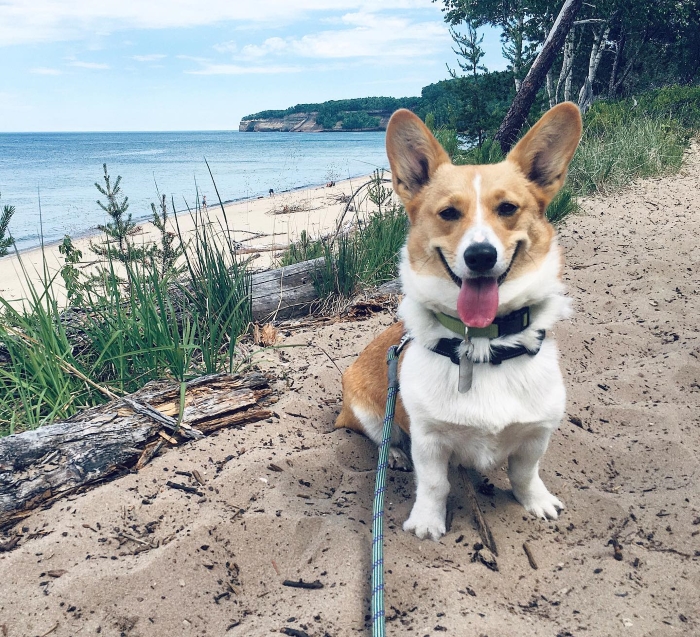 Pets are welcome in many areas of the Pictured Rocks National Lakeshore, including some incredible spots like Miners Beach and the Twelve-mile Beach Campground.
 
Known for its incredible sunset views, McLain State Park offers a stretch of shoreline on Lake Superior that you can enjoy with your four-legged companion. 
 
Situated in the picturesque Houghton County, Twin Lakes State Park serves as a great base camp for exploring much of the U.P. with many pet-friendly areas.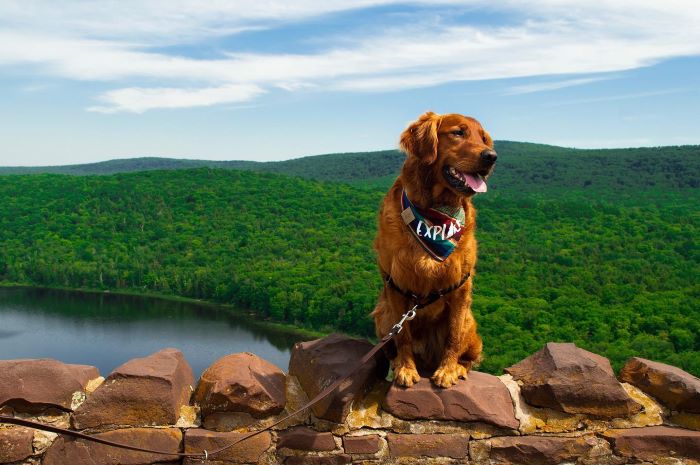 With cascading waterfalls, sweeping views and forests as far as the eye can see on the shores of Lake Superior, Porcupine Wilderness State Park is the ideal spot for an adventure.
 
Located south of downtown Marquette, South Beach is a flat and sandy stretch of shoreline along Lake Superior. The shallow water is great for swimming, making this a popular spot. Take your pet toward the southern end of the beach where there is a section of pet-friendly shoreline.
 
Northern Lower Peninsula
Located close to downtown Harbor Springs, Zoll Street Beach is a popular, pet-friendly destination along Little Traverse Bay.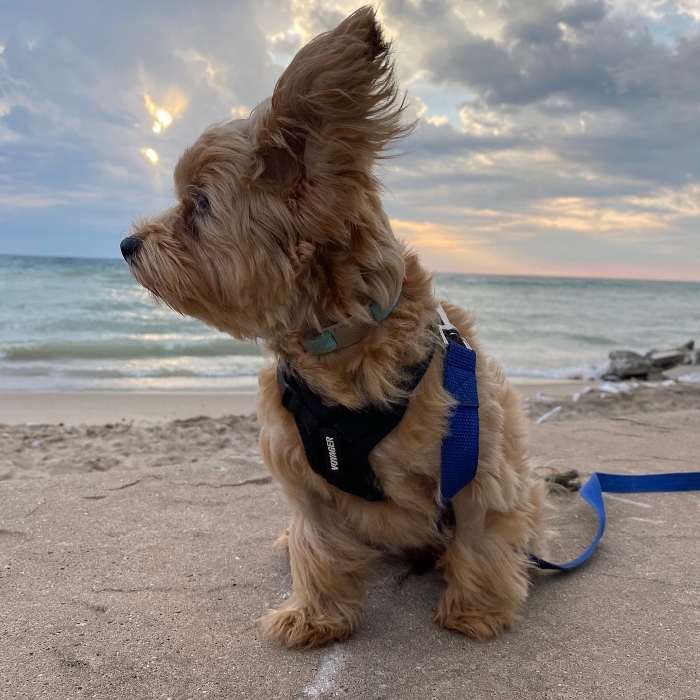 Sleeping Bear Dunes National Lakeshore is known for its towering freshwater dunes on the shores of Lake Michigan. Much of the park is pet-friendly, including a variety of beaches.
 
With beautiful views of Lake Charlevoix and a location near charming small towns, Tannery Beach is a popular spot for dogs that love to swim.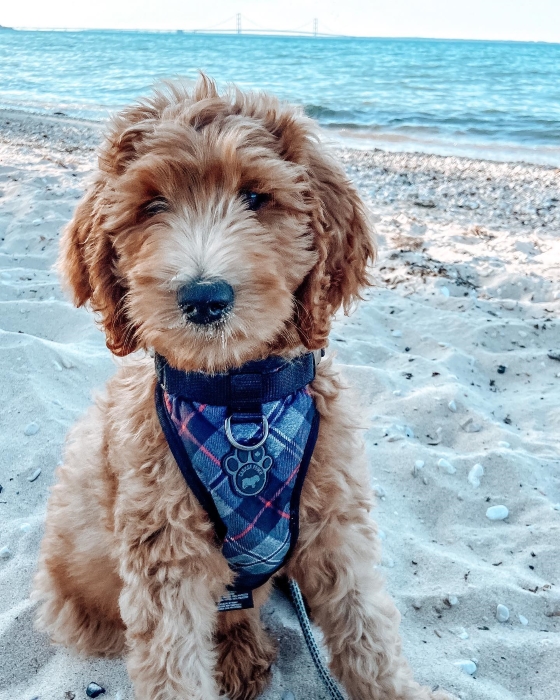 Mackinac Island is one of Michigan's top tourist destinations due to its unique historic and quaint atmosphere. Feel free to bring your dog along for a swim, as the island is very pet-friendly—including there being no cars on the island. (But be mindful of the horse-drawn carriages along the main roads.)
 
This popular park in Gaylord is known for its sandy beaches, and a section of shoreline on Otsego Lake is designated as pet friendly so you can enjoy with your water-loving pups. Please note that the pet-friendly section of the beach is only accessible via a flight of stairs.
 
Central Lower Peninsula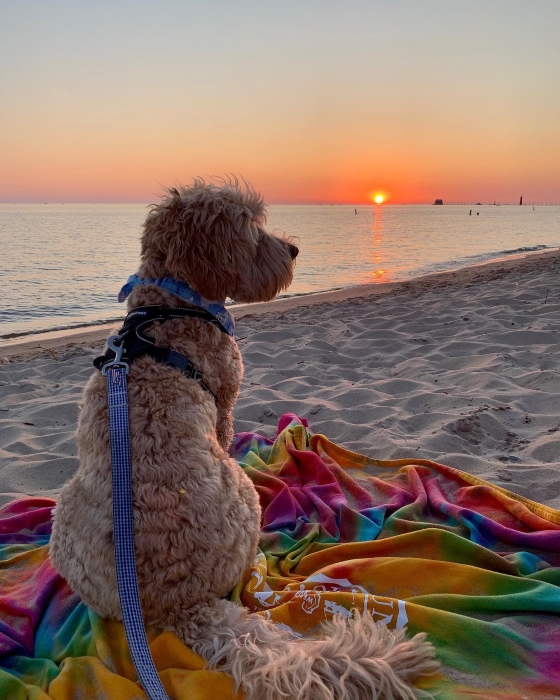 Grand Haven City Beach, nestled along the shores of Lake Michigan right near downtown Grand Haven, is the perfect location for lounging on the beach—and the pet-friendly section of shoreline allows your dog the same opportunity. 
 
Located in Orion Oaks County Park, this dog park is especially for the enjoyment of your furry friends with access to a beach on Lake Sixteen so they can swim and play. 
 
With miles of shoreline along Lake Huron, lots of trails and a dark sky preserve, Port Crescent State Park is the ideal spot for an outdoor adventure. Near the mouth of the Pinnebog River and across the bridge that connects to the hiking trails is a section of picturesque, pet-friendly shoreline.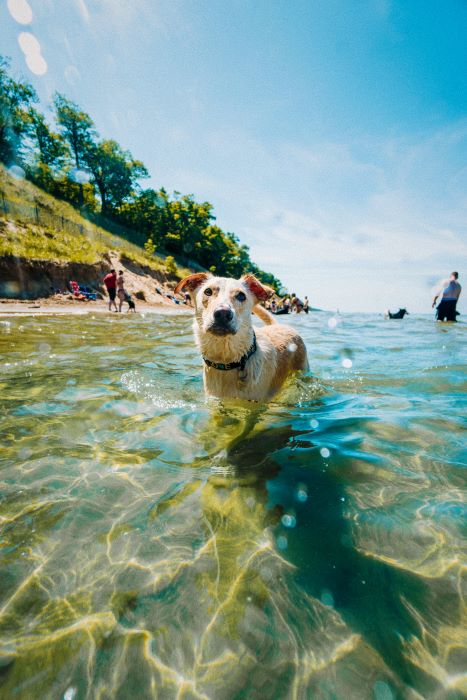 Nestled along Lakeshore Drive in West Olive, just south of Grand Haven, Kirk Park has everything from trails winding through picturesque woods to a sandy shoreline along Lake Michigan. A section of shoreline is designated as a dog beach so your pets can enjoy the outdoors just as much as you, and there are even off-leash allowances. 
 
This 183-acre park is situated on the end of a sandspit that forms Tawas Bay along Lake Huron. Its warmer, shallow waters make it a perfect swimming spot-and there's is a fenced-in section of shoreline along the bay for your four-legged friends. 
 
Southern Lower Peninsula
At 54 acres, Mill Pond Park is the largest of Saline's county parks. Their one-acre dog park with water access is a popular spot for enjoying warm weather. Some other park amenities include nature trails, soccer fields and a boat launch.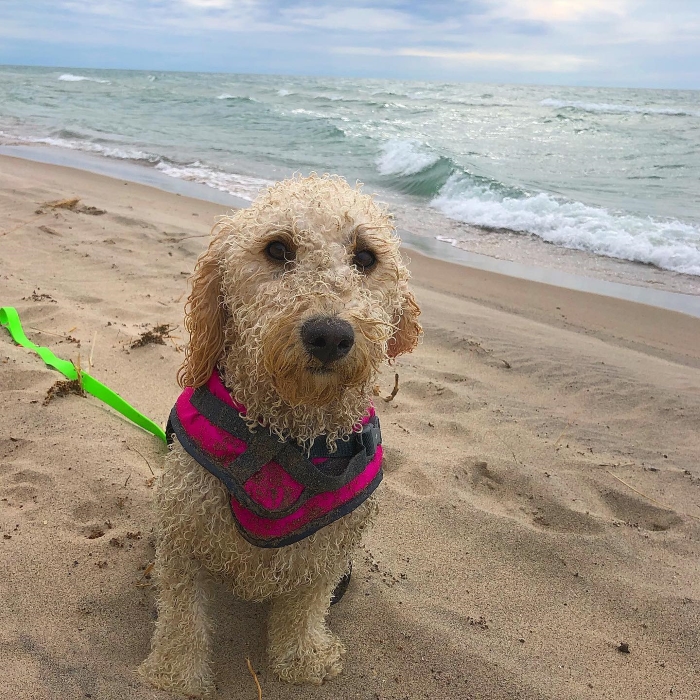 With three miles of Lake Michigan shoreline, six miles of hiking trails and a dune that rises 260 feet above the water, Warren Dunes State Park has everything you need for a day enjoying the outdoors with your pet. North of the northernmost swim buoy is 2.5 miles of pet-friendly shoreline. 
 
With magnificent sand dunes and a mile of shoreline along Lake Michigan, Grand Mere State Park offers an ideal spot for water lovers—and the entire shoreline is pet-friendly!
 
Situated on the Detroit River, Belle Isle Park is the perfect escape from the urban landscape of downtown Detroit. The park is pet-friendly and has a section of pet-friendly beach as well.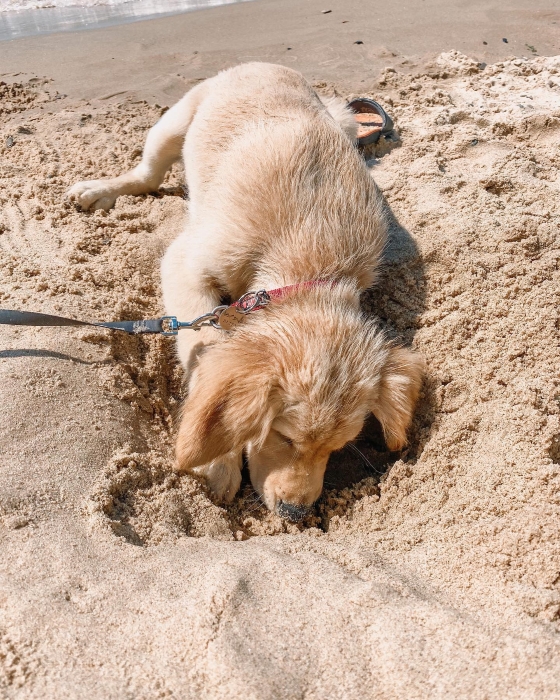 Follow a set of wooden stairs down to Hagar Beach in Coloma—a popular dog-friendly shoreline along Lake Michigan. 
 
Find a full list of Michigan State Parks with pet-friendly beaches here.
---