15 Charming Stops for a Road Trip Along Old US 27
Michigan's Old U.S.-27 Motor Tour is hundreds of miles of Pure Michigan adventure. It features working cider mills, lakeside hikes, cool college towns, and a few of the most charming cities and towns in the Mitten State.
 
Start in Kalamazoo, home of Western Michigan University. The downtown district keeps a laid-back and fun attitude, with a whopping 12 craft breweries, a bunch of totally unique museums, and water activities on nearby lakes. It's right in between Chicago and Detroit, and it can hold its own against its neighboring metropolises on quirkiness alone!
 
2. Air Zoo – Kalamazoo
The Kalamazoo Air Zoo is one of those completely one-of-a-kind museums. It's half aerospace museum, half indoor amusement park, and 100% fun. Go from seeing the fastest plane ever built (the SR-71B Blackbird) to feeling the rush of a full flight simulator or paratrooper jump... and that's just the beginning of what you can see and do there!
If you prefer to get your thrills from a pint glass, the nationally-famous Bell's Brewery, Eccentric Café and General Store is in Kalamazoo, and they offer weekend tours of their operation. End it all with a glass of Oberon in the beer garden, or with a meal at their Eccentric Cafe. If you're really into the nitty-gritty of brewing, call Hop Head Farms and ask about a tour: They provide the hops that flavor the beers at Bell's, Founder's, Goose Island, and more!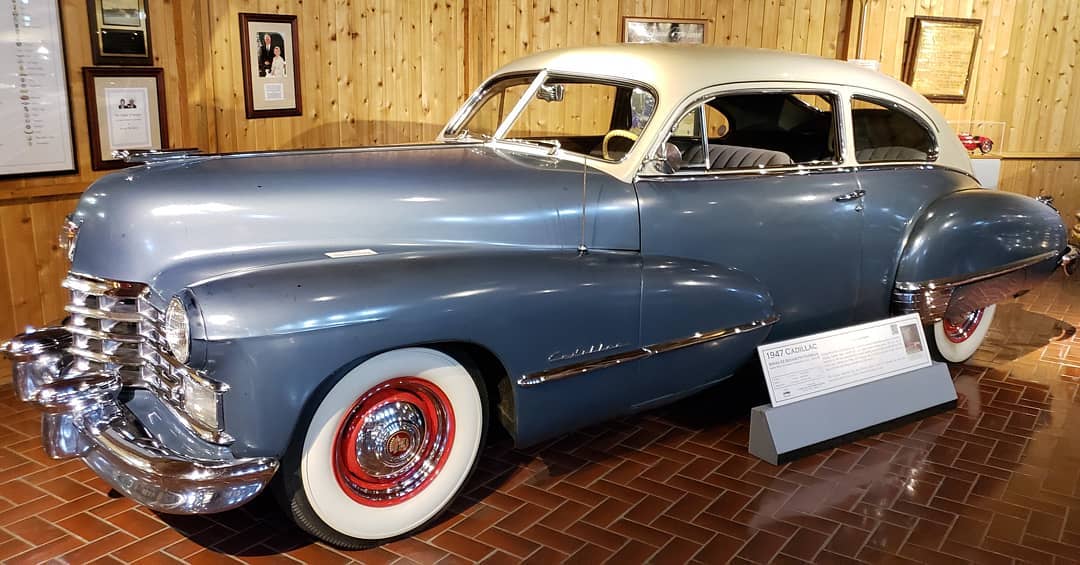 There are so many historic autos at the Gilmore Car Museum (we're talking nearly 400 vehicles) that the grounds cover 90 acres. From the early cars of the 1930s to hot rods from the 50s, and everything in between, even the least car-savvy will enjoy drooling over the retro details on the cars in this collection.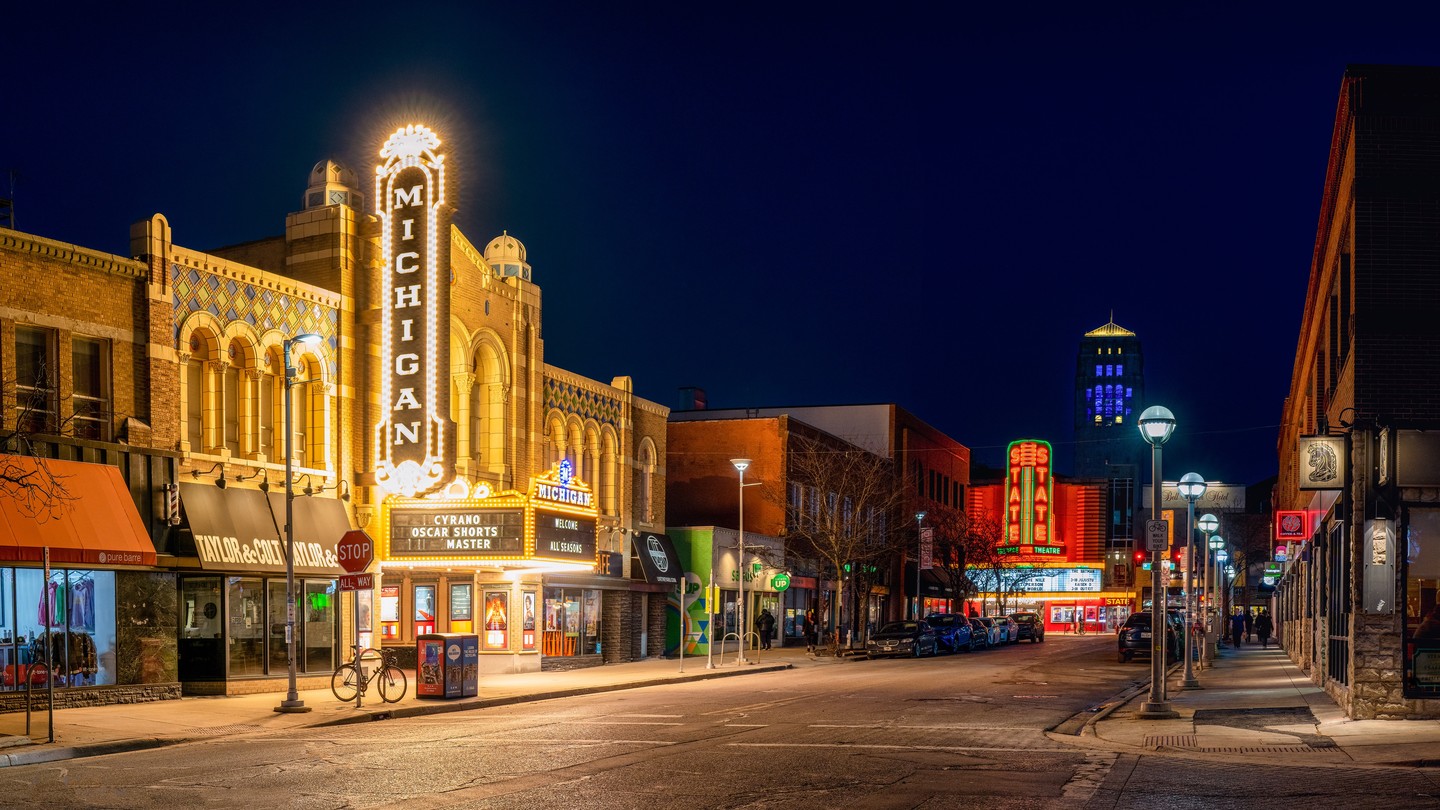 The next college town on the list is Ann Arbor, home of the University of Michigan. Here, there's always something new and exciting to try or experience... whether you're in search of arts and culture, foodie delights, or outdoor adventure, you won't have trouble filling several days here.
If you're a sports nut, a trip to the Big House (aka Michigan Stadium) is in order. Before that, spend some time strolling around the peaceful campus and enjoying the architecture and stately college vibes. Visit Motawi Tileworks' retail shop in downtown's Ann Arbor Arts Center to bask in the beauty of their handcrafted ceramic tiles, inspired by American artists like Charley Harper and Frank Lloyd Wright. History geeks can make their way right to the Kelsey Museum of Archaeology, which contains 10,000 ancient and Medieval artifacts.
 
Sweetwaters Coffee and Tea is a classic little cafe and coffee shop where you can hunker down and do some work, or simply unwind with a drink and a snack... but there's something extra special about it: It has a fairy door. Tiny, intricate fairy doors can be found all over Ann Arbor, but the one outside Sweetwaters was one of the first to pop up. Local author Jonathan Write is suspected to be the man behind the doors, which can be incredibly detailed. They've been popping up around town since 2005, and if you see one, make sure to leave a penny outside it for good luck.
If you're feeling adventurous, head to Ann Arbor's nearby neighbor Ypsilanti, where Eastern Michigan University resides. This decidedly funky community has some incredible dining, drinking, and shopping in the Depot Town portion of the city!
Or, for a taste of the great outdoors, just north of the city is Island Lake State Recreation Area, which has some trails, including a great 12-mile-long one through the dense woodland. There's also the Pinckney Recreation Area, which is just as scenic, but features a shorter 3-mile trail.
 
Lakelands Trail State Park near Pinckney is one of Michigan's many gorgeous rail trails, which follow the paths laid by old, out-of-use railroad track. Lakelands Trail is great for hiking and biking, as well as horseback riding and cross-country skiing. It's 13 miles long and meanders through forests and fields, making it an easy trail with tons of scenery.
 
8. Hiking and Biking Trails
There are lots of other hikes in the area. The epic 62-mile-long North Central State Trail winds its way from Gaylord to Indian River to Cheboygan to Mackinaw City, passing by some of Michigan's best views and coolest resort towns along the way. The Waterloo-Pinckney Recreation Area Trail is a 36-mile round-trip that takes you past farms and lakes, up rocky hills, and through forests and streams.
Bikers can tackle the 25-mile Chelsea Ramble, just outside Ann Arbor. The hilly, windy route through Waterloo State Recreation Area is exciting and scenic, with new views around each bend. There's also the Jackson Portage Lake Trail, which is a pretty flat but still gorgeous 30-mile bike ride, the Kalamazoo County Ramble, which is 22 miles long and takes you past an ice cream parlor and a winery in the countryside, and the East Lansing Cruise, which takes you deep into the lovely farm country around Michigan University.
 
Next up is the state capital: Lansing. Michigan State University can be found here, as can other cultural institutions and attractions. Whether you're feeling the awe and magnitude of the State Capitol Building or going back in time gawking at the glamorous old cars at the R.E. Olds Transportation Museum, you'll definitely learn a thing or two during your visit here!
If you're a sports fan, then go nuts at a Lansing Lugnuts game. The class-A minor league team is much loved by the locals, and the games are always a fun time. Or, if you're looking for something a little more low-key, MSU's Eli and Edythe Broad Art Museum, which is loaded with brain-bending and thought-provoking contemporary art, is worth a visit as well.
Plus, there's loads of natural beauty. In between Ann Arbor and Lansing, you'll find the lake-studded beauty that is Waterloo State Recreation Area; explore it with a quick hike on the 5-mile trail.
 
Learn about Michigan's history at the Michigan Historical Museum. Discover the stories of Michigan's native people, see the role the state played in the Civil War, learn how Michigan shaped the automotive industry or experience the landscape of the state during the Ice Age.
 
Open from the spring until late fall, Uncle John's Cider Mill almost always has something going on. Wine tastings for adults, play areas and inflatables for kids, animals to pet, bakery goods to sample, and more during the summer, and pumpkin- and apple-themed fun in the fall. And don't leave without grabbing a cider donut and a bottle of their signature apple cider!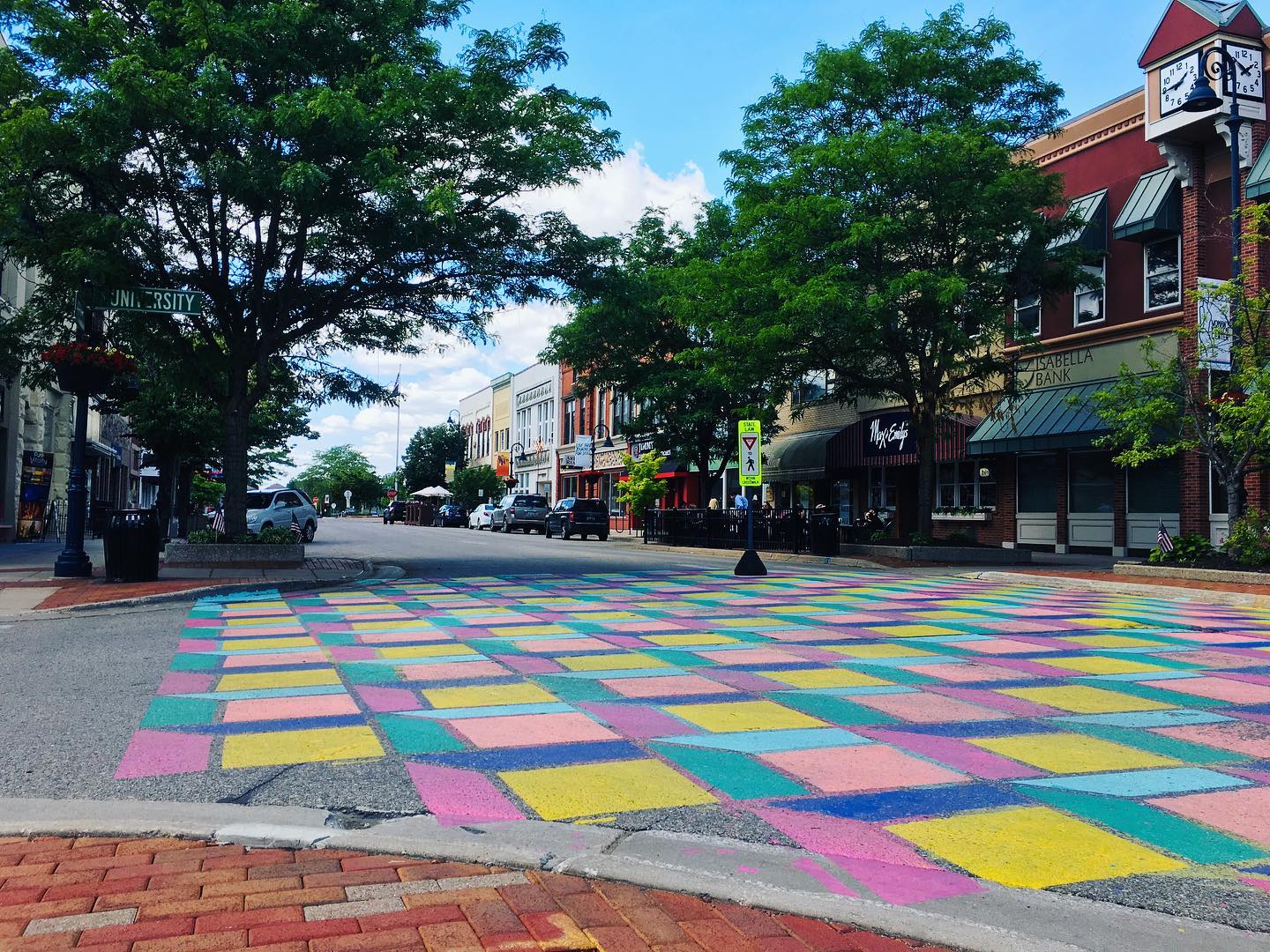 Mount Pleasant is the next college town on the route, as it's the home of Central Michigan University! It is also a town rich in Native American heritage. Delve into the culture of the Saginaw Chippewa and the Great Lakes Anishinabek at the Ziibiwing Center, which preserves artifacts, traditions, and stories.
 
If you happen to be traveling with smaller kids, the Mt. Pleasant Discovery Museum is an awesome children's museum with all kinds of interactive exhibits. A music room, a water table, a Japanese cultural play area, a farmer's market display, and tons more will have kids learning while keeping them entertained for hours!
 
Soaring Eagle Casino & Resort in Mount Pleasant is another great stop: the pool (with its indoor/outdoor jacuzzis) and the rooms (some of which have fireplaces) plus the spa, casino, entertainment, and multiple restaurants make for a relaxing stay. Plus, their indoor water parks are an incredibly fun way to spend an afternoon!
While you're in the area, enjoy the outdoor fun to be had in Houghton Lake. Trails, beaches, canoeing, farms, windsurfing, fishing, evening ATVing, snowmobiling, and cross-country skiing all make for excellent adventures in the area.
Smack dab in the middle of Northern Michigan is the Alpine-themed town of Gaylord. When the locals aren't golfing, biking, hiking, or snowmobiling, you can probably find many of them downtown, either browsing the twice-weekly farmers' market, exploring a fair, or dining out at one of their cozy, rustic eateries. During the summer, you can visit one (or a few) of the region's 15 golf courses (that's why it's Michigan's golf mecca), or canoe, kayak, and raft the Au Sable River. During the spring and fall, Gaylord is a great place for elk viewing, which can be very active and are popular to observe. There's great shopping and some nice resorts here if you want to stay inside, but why wouldn't you want to explore the natural beauty to be had in Gaylord?
 
---