The Beginner's Guide to a Pure Michigan Winter Adventure
If you're exploring Michigan for the first time this winter, we've got some activities and places you have to put on your list to get the true Michigan experience. These are the places that make the Mitten State a distinctly great destination when the snow falls.
Throw on your favorite tunes and open up the navigation app on your phone, because you're going to experience what a Pure Michigan winter really is.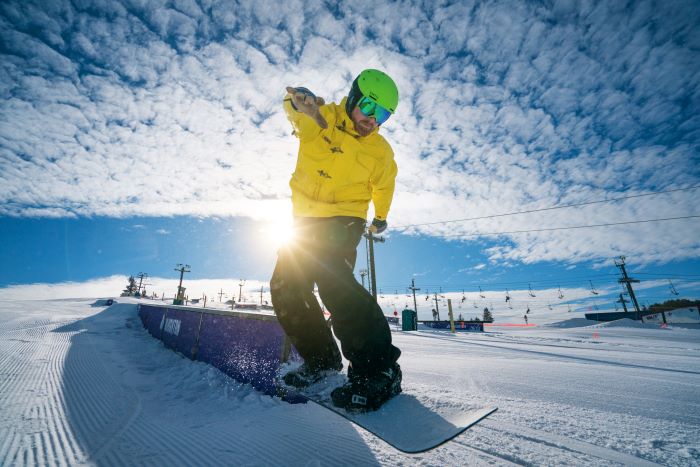 The feel of fresh powder on your face as you rip down some of the best skiing spots in the Midwest is a true Michigan winter tradition. With pitch and vertical drops on par with what you'll find in New England and out West, Michigan is home to 40+ ski areas.
Two of the most popular places to go are Boyne Mountain Resort in Boyne Falls and Crystal Mountain in Thompsonville. Boyne Mountain offers 60 downhill trails, 12 lifts and ski-in/ski-out accommodations. Crystal Mountain, located southwest of Traverse City, is a family-owned resort with 58 downhill slopes and almost 19 miles of cross-country skiing.
In the Upper Peninsula is where you'll find Mont Ripley Ski Area in Hancock and Porcupine Mountains Ski Area in Ontonagon. Mont Ripley gets an average 250 inches of dry lake effect snow every year, adding to the experiences you'll have with its 440-foot vertical drop ski area on 173 acres and 24 runs. Billed as the place with trails and views that get kids outdoors, the Porcupine Mountains Ski Area has 600 feet of vertical drop with 13 trails and four gladed areas. Visitors can also choose to rent snowshoes and experience the peaceful solitude of Michigan's northern forests as they enjoy a quiet trek through the snow.
For more downhill adventures, check out our comprehensive guide to Michigan ski resorts here.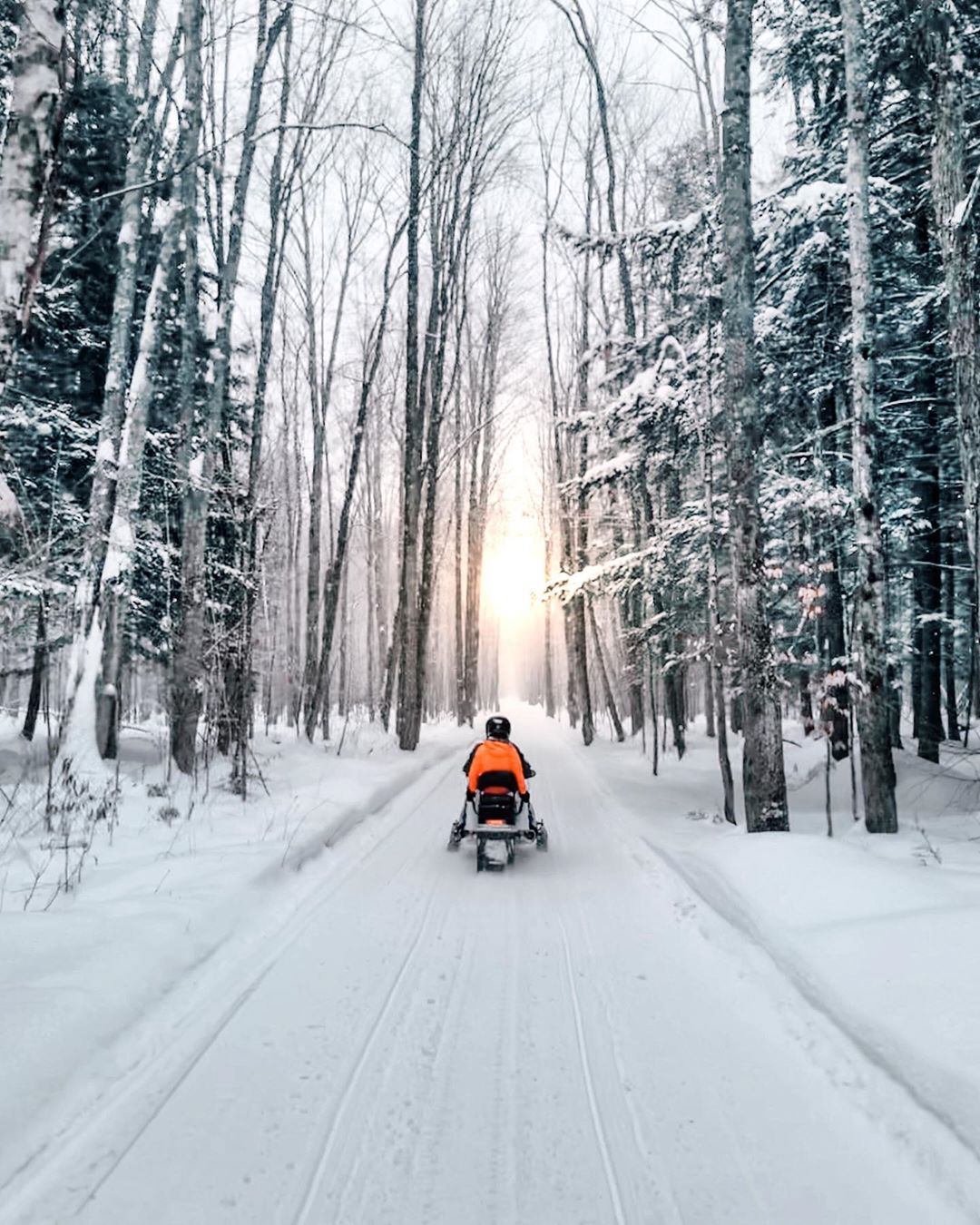 Does tearing down a freshly groomed snowmobile trail sound like a great way to spend a winter day? Well, Michigan has more than 6,500 snowmobile trails and one of the most extensive systems of interconnected trails in the United States. The state also boasts a varied terrain, which includes national forests and 11,000 frozen lakes.
Some of the most popular places for snowmobiling are Grayling, Gaylord, Cadillac and Mancelona, with a large number of trails that allow you to take off in just about any direction.
Farther north in the Upper Peninsula, the snowmobile season goes from Dec. 1 to March 31. A popular spot for snowmobilers is Trout Lake Township, which is just 30 miles from the Mackinac Bridge and is home to one of the main crossroads for Upper Peninsula snowmobile trails. Heading southwest from there is the Top of the Lake Snowmobile Museum in Naubinway, where you'll find loads of vintage snowmobiles.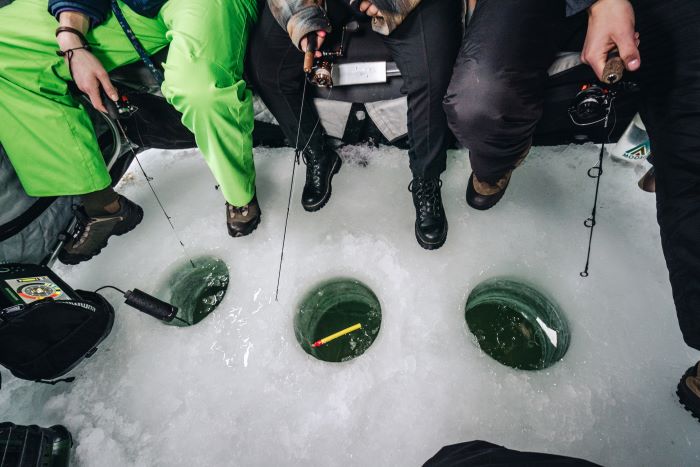 Are you looking forward to landing a big one from one of Michigan's 11,000 inland lakes as you breathe in the fresh winter air? Then grab a bucket and pole because the Great Lakes State has some of the best ice fishing in the nation. Almost any fish available in the summer can be caught during the winter months through the ice. And the ice fishing tradition is so strong in Michigan, that many lake communities host festivals to celebrate the sport.
One of the most popular ice fishing events is Tip Up Town USA, held every January in Houghton Lake. Attracting thousands from the Midwest, the annual winter festival is great fun for the entire family with children's activities, a parade and chili cook-off, as well as an ice fishing contest weigh-in and fireworks.
If you're new to ice fishing, check out our beginner's guide and packing list here. 
Something Different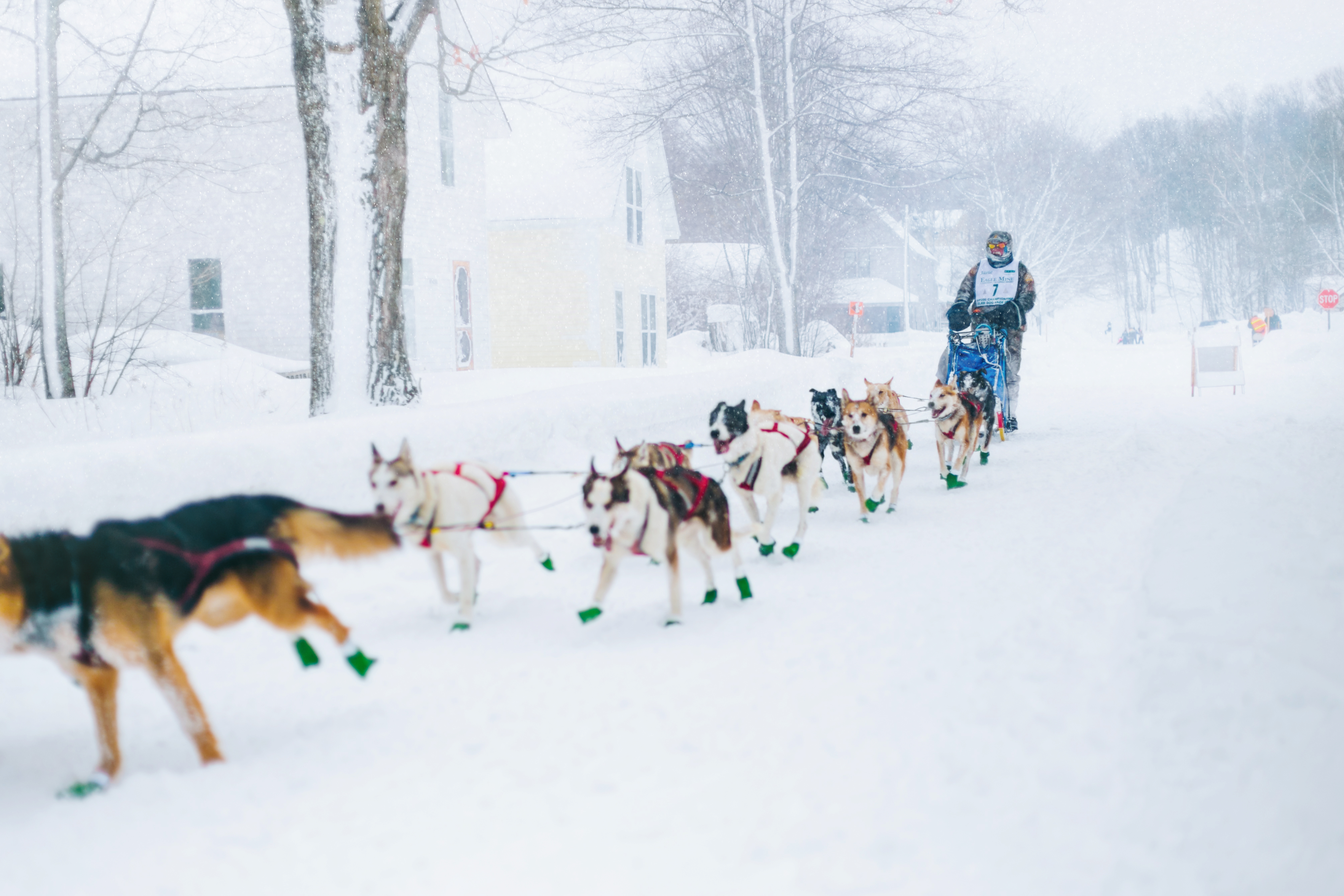 What if you want to do the unexpected? Well if you're craving to come home with a great story to tell about your winter Michigan trip, then here are a couple of ideas to consider. Have you ever considered taking a dog sledding tour? Nature's Kennel Sled Dog & Racing Adventures in McMillan offers tours and day trips for guests of all ages and abilities. Guests can learn to drive their own dog sled team and can select from 10- and 20-mile dog sled trips. They can also choose between day rides or an overnight adventure.
Another great exploit is learning to ice climb. Michigan's miles of sandstone cliffs are lined with hundreds of frozen waterfalls, creating some of the best ice climbing spots in the nation ranging from 20 to 210 feet in height. There's even the Michigan Ice Fest in Munising. Filled with classes for all skill levels, attendees can have fun while getting great experience from some of the best climbers in Michigan.
Scenic Beauty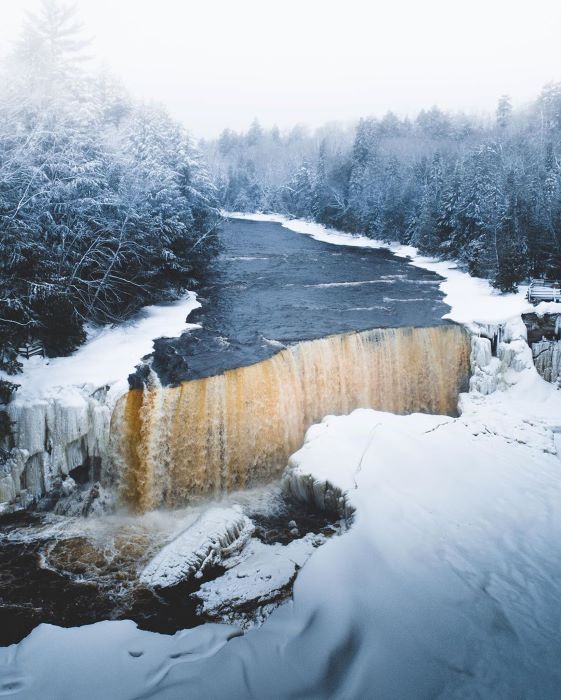 Sure there's plenty to do in Michigan during the winter, but what if you just want to spend some quiet time enjoying the natural beauty of the outdoors, filling up your social media with picturesque photos of sunsets and wildlife. Maybe you should consider a trip to Tahquamenon Falls State Park in Paradise, which has 50,000 acres of beauty surrounding the Tahquamenon River and waterfalls. The Upper Falls is one of the largest waterfalls east of the Mississippi with a length that is more than 200 feet across and a drop that almost reaches 50 feet.
Another remarkable place to experience is Pictured Rocks National Lakeshore in Munising, which is rated as one of the most beautiful places to visit in the United States. Between the solitude and beauty of its forest and the elegant ice formations along the jagged cliffs, visitors will have the adventure of a lifetime witnessing this exquisite backdrop.
From downhill sledding to cross country skiing and snowshoeing to fat tire biking, there's so much more you can do to experience a Pure Michigan winter. So what are you waiting for? Pack your bags, set the vacation notice on your work email and prepare for a winter adventure that will have you coming back for more.