Unique and Unexpected Winter Activities for the Whole Family
When winter arrives, the Great Lakes State is transformed into a frozen wonderland of opportunities to try something uniquely Pure Michigan.
Whether you're a thrill-seeker looking for a new adventure or hoping to relax and take in the beauty of the season, it's time to lace up your boots and trek out into the snow.
Snowshoe through an outdoor art museum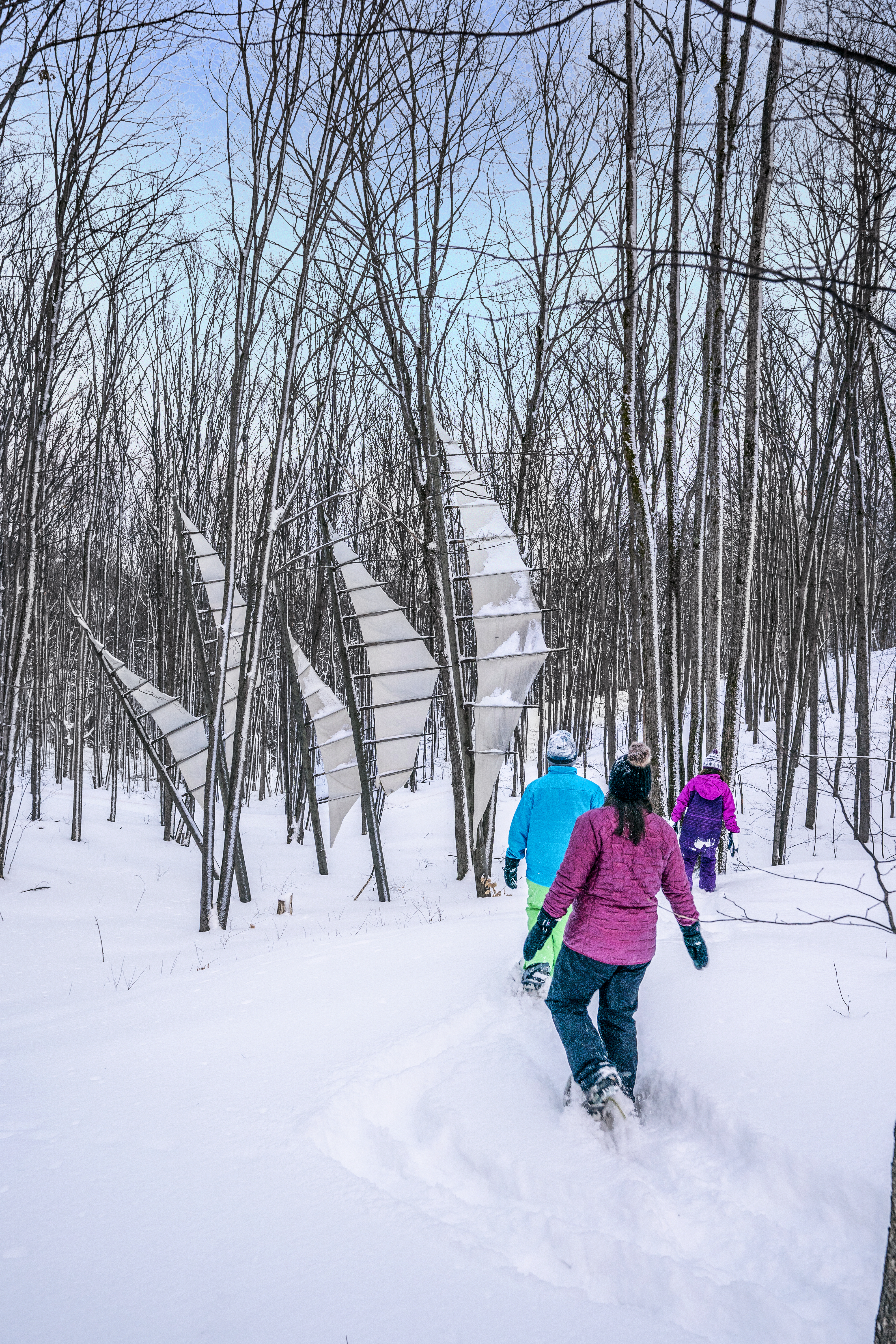 If you can't decide between visiting one of Michigan's enriching art galleries or a day playing in the snow, you can do both at Michigan Legacy Art Park. Spanning 30 wooded acres in northern Michigan's Thompsonville, the park is open year-round and takes on a new, beautiful look when it's covered in a blanket of fresh snow. The park features 2 miles of trails decorated with contemporary sculptures inspired by Michigan's history and culture, with more than 50 sculptures making up the permanent collection. The entire family can enjoy this hidden gem – children can learn about history, culture and science through art, and the trails are dog-friendly too!
Learn how to luge
Sledding and tubing are popular pastimes, but why not try your hand at a treasured Olympic sport? The luge track in the Muskegon Luge Adventure Sports Park is only one of three in the nation and is the only traditional, non-refrigerated track. If you've never luged before, there's nothing to fear. Instructors will teach you the ropes and provide you with both safety equipment and a sled. When you're ready, race down the 650-foot track to experience one of the best thrills of the winter season. For an even more exciting ride, try luging at night under colorful lights before relaxing around a crackling bonfire.
Skate along an ice trail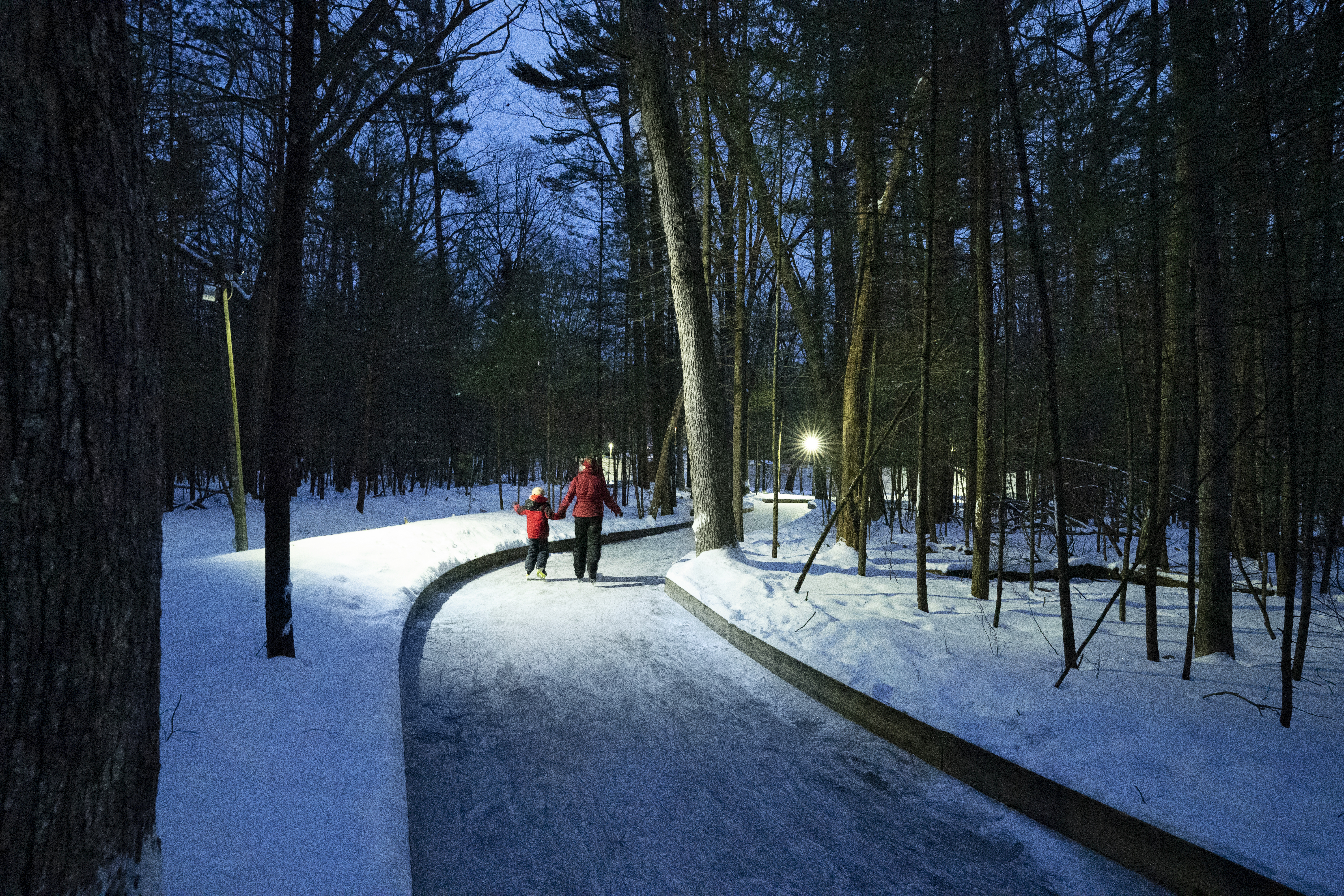 If you're looking for a gentle adventure on the ice, Muskegon Luge Adventure Sports Park is also home to a completely frozen trail that lets you explore the park on ice skates. The .25-mile loop allows skaters to glide through the white pine forest, and the trail is lit up at night for a more magical skating experience. If you or your family members need time to practice, there is an ice rink and instructors, with double-bladed skate rentals available for children.
See the Upper Peninsula's frozen waterfalls
When winter arrives, Michigan's waterfalls transform from thundering spectacles to silent, icy sculptures frozen in time. There are more than 300 waterfalls in the Upper Peninsula for visitors to discover – or rediscover if they've only visited during the warmer months. Some require a beautiful hike through the forest like those at Pictured Rocks National Lakeshore. Others are more accessible with viewing platforms like Bond Falls on the Keweenaw Peninsula and the famous Tahquamenon Falls in the eastern U.P. If you're traveling through the Lower Peninsula, plan a visit to Ocqueoc Falls, which is the nation's only universally accessible waterfall.
Explore the Eben Ice Caves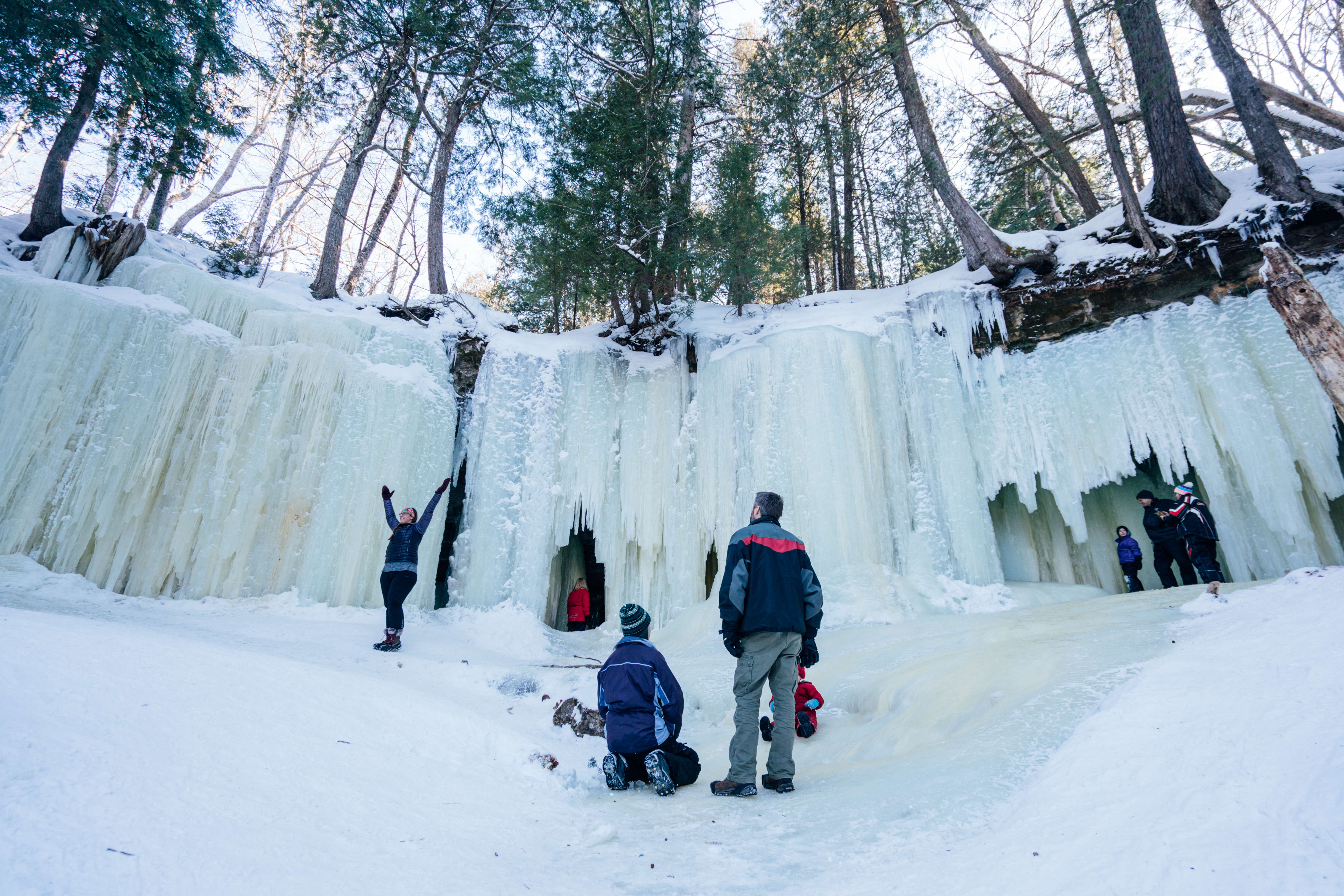 Some of Michigan's best hidden gems are off the beaten path and only appear during winter. Intrepid travelers can hike to the awe-inspiring Eben Ice Caves that occur in the Upper Peninsula's Eben Junction near Marquette. These ethereal structures form when snow melt runs over the cliffs and freezes into walls of ice, creating a winter fortress that will take your breath away. After parking your car, the hike is about .75 miles until you reach the ice caves. Due to ice forming at the base of the caves – as well as snow being packed down on the trail from hikers – ice cleats are recommended for the best footing during your adventure.
This is only a sample of what winter has to offer in Michigan. Find more activities to make the most of the season here.