Celebrate Fat Tuesday with Paczki in Pure Michigan

To celebrate Pączki Day (Fat Tuesday) in Pure Michigan, Jennifer Polasek of The Awesome Mitten gives us some history behind the holiday along with a roundup of bakeries where you can get Pączki!

It's that time of year again! Fat Tuesday, or as it is lovingly called in many areas in Michigan, Paczki Day. This day is celebrated by indulging in the traditional Polish jelly-filled pastry known as a pączek (PON-check). The more commonly used name for these is pączki (POONCH-kee), which is actually the plural pronunciation for this sweet treat.

Even though "pączek" can be translated to "little package" or "doughnut", don't be fooled! A pączek is simply not the same as an ordinary doughnut. Pączki are made from richer yeast dough that won't collapse when you bite into it. Pączki are pastries made from deep-fried flat dough with fruit or cream filling and are topped with a light dusting of sugar. The traditional fruit filling is prune, but nowadays you can get them with almost any fruit filling imaginable. The most popular fillings besides prune include apricot, lemon, blueberry, raspberry and custard.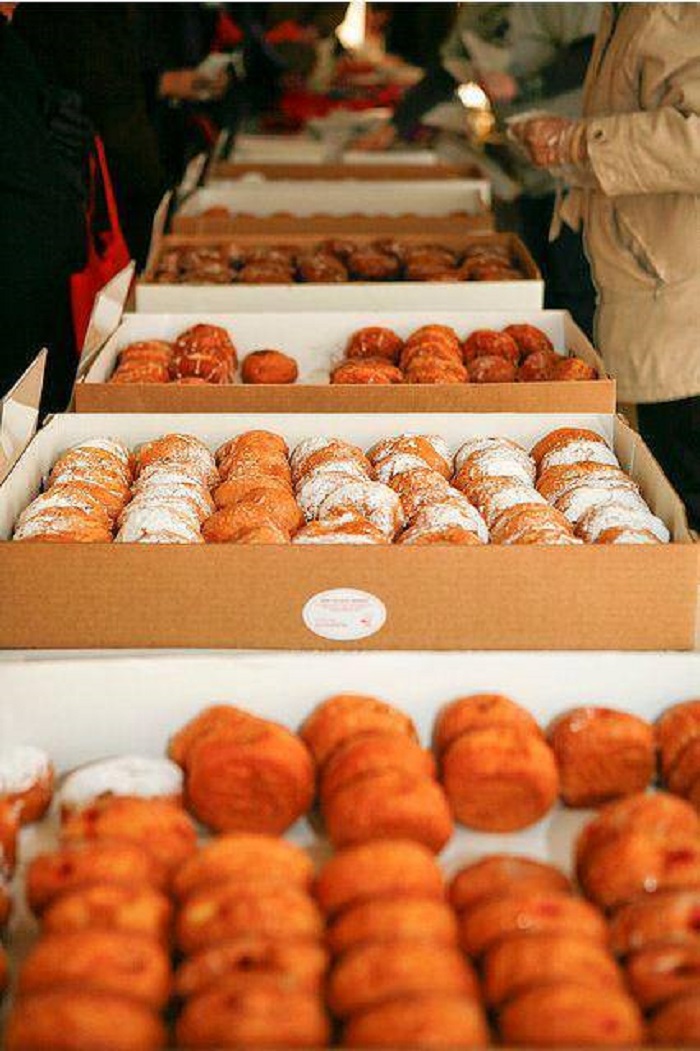 After spending three months studying abroad in Krakow, Poland, thanks to the Benjamin A. Gilman International Scholarship Program I have a deeper love for pączki. In larger cities in Poland, pączki are sold in numerous bakeries every day. The most popular kind I tried while in Krakow were filled with rose-flavored marzipan and covered in a light glaze coating. There is also quite a difference between Polish and American pączki. In Poland, these pastries are actually much smaller than ours. I've been missing pączki since I returned to the United States at the end of December, so I'm very excited to celebrate Pączki Day in Michigan this year! No matter the size or flavor celebrating Fat Tuesday by enjoying pączki is a beautiful symbol of how Polish culture is still alive in the States and continues to influence Michiganders.

One of the most popular places in the United States for pączki is right here in Michigan. Known as Michigan's 'Poletown,' Hamtramck, a city near Detroit which has been heralded as since Polish immigrants started flooded the area in 1914. Pączki is the star pastry of their annual Pączki Day Festival. Celebrations start at 7 a.m. and consumers line up around the block at their favorite bakeries to get their hands on pączki.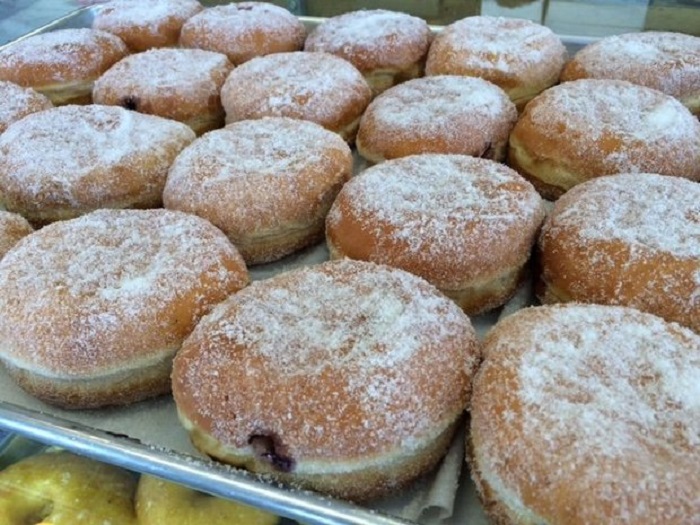 Pączki are a specialty pastry reserved for once a year in honor of Fat Tuesday. It was Polish King August III who revolutionized these pastries from savory to sweet thanks to his indulgent spirit. Since the Middle Ages, Europeans have been baking pączki to empty their pantries of excess ingredients such as lard, sugar, and eggs before the fasting of Lent began. This day became known as "Fat Tuesday".

Fat Tuesday is a Catholic day of celebration as it is the precursor to the Lenten season, the traditional 40-day period of fasting before Easter. Polish immigrants brought those traditions with them to the United States, so places with strong Polish roots hold on to those important celebrations. Fat Tuesday was named thusly because it is considered to be the last day for Catholics to indulge in all foods before Ash Wednesday, the day Lent begins. No one is really complaining; Fat Tuesday is a day full of fun and delicious treats!

We know that not everyone can travel to Hamtramck for the day. With that in mind, we've discovered several spots throughout Michigan that are rumored to have especially delicious pączki. It is often advised to get to these spots early or order in advance because they're a hot commodity!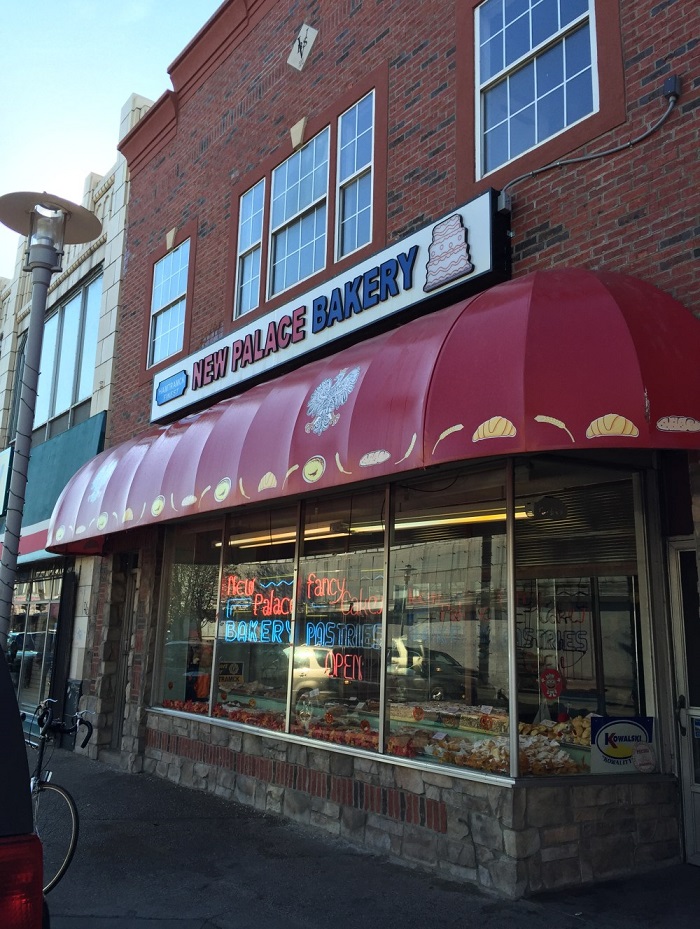 Southeast Michigan
The New Martha Washington Bakery (10335 Joseph Campau Ave., Hamtramck)
Small's (10339 Conant, Hamtramck)
New Palace (9833 Joseph Campau Ave., Hamtramck)
Sister Pie (8066 Kercheval St. Detroit)
Celiac Specialties (1928 Star Batt Dr., Rochester Hills)
Paris Bakery (28418 Joy Rd., Livonia)
Benny's Bakery (111 W Michigan Ave, Saline)
Dimo's Deli & Donuts (2030 W Stadium Blvd, Ann Arbor)
Zingerman's Bakehouse (3711 Plaza Dr. Ann Arbor)
Dom's Bakery (1305 Washtenaw Ave, Ypsilanti)
Sweetheart Bakery (19200 Kelly Rd Harper Woods, Michigan)
Dutch Girl Donuts (19000 Woodward Ave. , Detroit)
West Warren Baking Company (15708 West Warren, Detroit)
Hinkley Bakery (700 S Blackstone St., Jackson)
European Bakery (622 Page Ave., Jackson)
Bartz Bakery (1532 Telegraph, Dearborn)

East Central Michigan
Krzysiak's House Restaurant (1605 Michigan Ave., Bay City)
Barney's Bakery (421 S. Van Buren St., Bay City)
Butter Crust Bakery (6181 Dixie Hwy., Bridgeport)
Donna's Donuts (1135 West Bristol Rd., Flint)
Jablonski's Baker's Corner (5518 E Atherton Rd, Burton)
Crust (104 W. Caroline at River St., Fenton)
Quality Dairy Company (2625 E Jolly Rd, Lansing)
Roma Bakery (428 North Cedar Street, Lansing)

Southwest Michigan
Sweetwater's Donut Mill (2138 Sprinkle Road; Stadium Drive; 2807 Capital Ave., Battle Creek)
McKenzie's Bakery (527 Harrison; 4426 West Main, Kalamazoo; 7083 S. Westnedge Portage)
Sarkozy Bakery (350 E. Michigan Ave., Kalamazoo)

West Central Michigan
Sandy's Donuts (2040 Leonard St., Grand Rapids)
Marge's Donut Den (1751 28th St. SW, Wyoming)
Ryke's Bakery (1788 Terrace St., Muskegon)

Northern Michigan
Potter's Bakery (8th Street, Traverse City or Hall Street, Traverse)
Cops & Doughnuts (521 N McEwan St., Clare)
Market 22 (497 E Harbor Hwy, Maple City)
The Flour Pot Bakery (108 River St, Elk Rapids)
Johans Pastry Shop (565 W Mitchell St, Petoskey)
Goodale's Bakery (500 Norway St., Grayling)

Upper Peninsula
Huron Mountain Bakery (1301 S. Front St., Marquette; U.S. 41 Ishpeming)

About the Author: Jennifer Polasek is a writer at The Awesome Mitten. Born and raised in Kalamazoo, she adores exploring West Michigan beach towns, Northern Michigan and the Upper Peninsula. Recently, she started reconnecting with her Polish roots by exploring Polish culture throughout Michigan. This exploration of ancestry led her to a three-month excursion in Poland where she even visited Grand Rapids' International Sister City of Bielsko-Biala.

---