Pure Michigan Signature Dish Series: Baobab Fare
Part four in an exploration of Michigan's culinary scene takes us to New Center, Detroit for East African flavors.
Baobab Fare is more than a restaurant sharing East African flavor. This Detroit gem also showcases East African culture through sister brands Waka food truck and Soko Market. Not only have the husband-and-wife owners and chefs Hamissi Mamba and Nadia Nijimbere captured taste buds in the Michigan area, but the Food Network as well. In March 2023, Hamissi won the cooking show Chopped, with judges stating that they were "blown away" at what he had prepared.
Soko Market is an online market that highlights African culture through thoughtful collaborations, with some products available for purchase at Baobab Fare — including coffee beans that are imported from Burundi and roasted in Detroit, passion fruit ji, pili hot sauce, and apparel. If you're looking to enjoy warm flavors in filling portions or are looking for a spot to grab coffee with friends and community, be sure to stop by next time you're cruising on Woodward or shopping along Grand River.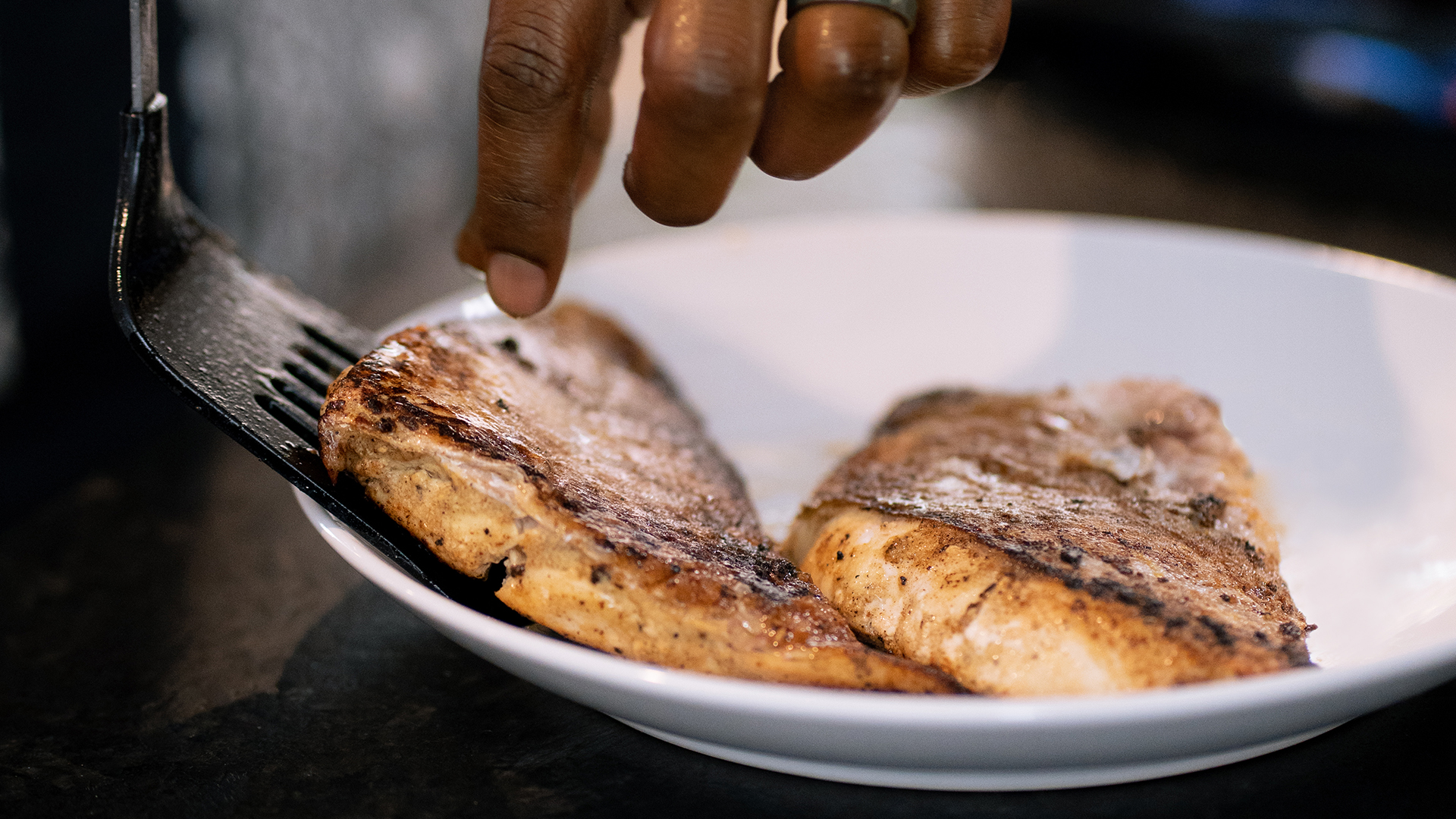 Baobab Fare serves an array of dishes, and two popular ones are samaki and ugali. The samaki is red snapper, a flavorful fish that Hamissi and Nadia marinate in a mix of spices for a full 24-hours. They then fry the fish for five minutes, and ensuring nothing goes to waste, use the remaining oil to then cook sliced onions with a touch of lemon juice from the snapper marinate. The ugali, sometimes known as fufu, is made in a pot as flour is stirred in, forming a rounded dough. While they can be enjoyed together like in this Signature Dish, it's important to note in the restaurant ugali is only made on Tuesdays and is served alongside a savory okra stew.
About Owners Nadia Nijimbere and Hamissi Mamba
Baobab Fare is owned and operated by Hamissi and Nadia, who are are originally from Burundi and arrived in Detroit as refugees in 2015. They speak very highly of Detroit and are grateful to call it home, but wanted to give back in a way that could earn them a livelihood. They wanted to share stories through food and provide a community space so conversations and understanding could find a place. In 2021 they opened their doors, and while COVID-19 was still disrupting society, their first mission was to feed frontline workers in an effort to give back to the community that gave them so much. And the result was delicious.
Follow along with our Signature Dish series as we continue to dive into Michigan's diverse, award-winning culinary scene.