Fresh Picked: Taste the Season with Michigan Apples
Nothing feels more like fall than biting into a juicy apple fresh from the tree or sipping sweet apple cider straight from the press. With more than 775 family-run farms and 14.9 million acres of trees, Michigan is the second-largest producer of apples in the country.
We take our apples seriously here! From sweet Honeycrisp to classic Gala to reddish-gold Ambrosia, several varieties of apples thrive in our cooler-climate orchards. Early in the season, don't pass up the chance to taste Paula Red, a sweet and tangy apple that was first discovered near Sparta, Michigan, in 1960.
Baked into pies, chopped into granola, roasted with maple-glazed carrots, stuffed into pork chops, dipped into caramel, mulled into cider or infused into cocktails, there are a million different ways to taste apples – or just grab a basket and start plucking.
More than half of Michigan's apples are grown around Grand Rapids, but you never have to go far to find U-pick farms, farm stands or cider mills. Every place you visit has its charm. A few standouts include:
For more than 100 years, this West Michigan orchard has been growing Michigan's favorite fruits. In 1973, the family opened Apple Haus – a restaurant, bakery and cider mill – plus a winery serving more than 20 Michigan-made fruit wines and hard ciders.
In spring, summer and fall, the Long Family Orchard sells its fresh-grown produce outside of Detroit. Autumn is prime apple season, and the cider mill is open until the day before Thanksgiving, serving up fresh cider, cider slushes, locally made jams and doughnuts.
Whether you're sipping hard cider surrounded by apple blossoms in spring or picking your own apples at the height of fall, Blake's Orchard & Cider Mill in Armada, just outside of Detroit, is a scenic place any time of year. After exploring the farm, grab a bite to eat or try a flight of hard cider at Blake's Tasting Room.
Since 1863, Overhiser Orchards in South Haven has grown fresh fruit near the shores of Lake Michigan. Peak apple season starts around September 1, and visitors are welcome to come pick their own while also meeting the local farm animals and browsing the pumpkin patch.  
Enjoy all things cider in this Grand Rapids brewery. Adults can indulge in a collection of crisp hard cider all year round, plus seasonal releases like Cherry Chuckle and delicious rosé in a can. Wine enthusiasts also have their pick of fruit-forward blends, and the on-site restaurant offers a family-friendly menu for all ages.
In the Greater Ann Arbor area, this cider mill has been family-owned and -operated since 1886 ­– making it the oldest continuously operated cider mill in the state. An authentic oak press transforms local Michigan apples into fresh cider, perfectly paired with cider doughnuts or apple nut bread while overlooking the Huron River.
Ask for the "Rennie Mix" here and you'll get a selection from 19 varieties of apples to make your own apple pie or other delicious dessert. This U-pick farm outside of Traverse City is one of the oldest family farms in the area, with fresh fruit growing from July through November.
Once you've picked a basket full of apples, our friends over at Michigan Apples have some tips on how to make the most of your harvest. Check out this recipe for Caramel Apple Punch that can be made with or without rum and served inside an apple!
Caramel Apple Rum Punch
Makes 6 (9-ounce) servings
Prep Time: 15 minutes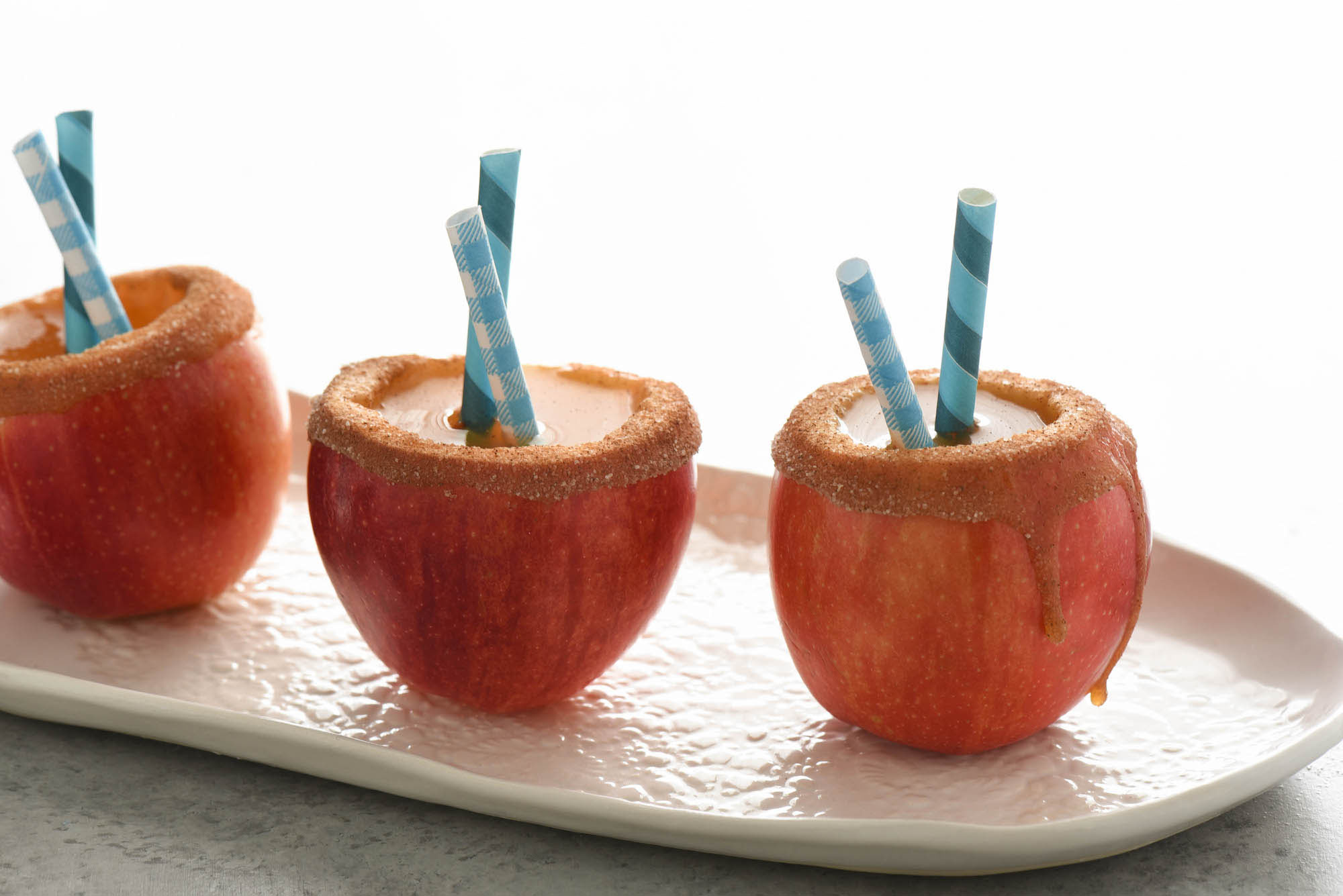 Ingredients
6 large Michigan apples OR 6 double old-fashioned glasses
Juice of 1 lemon (if using apple cups)
1/3 cup prepared caramel sauce
3 tablespoons granulated sugar
1 teaspoon cinnamon
1 bottle (25.4 ounces) sparkling apple cider
2 1/4 cups (18 ounces) apple cider
Apple slices, for garnish (if serving in glasses)
Optional: 1 1/2 cups (12 ounces) dark rum
Directions
If using apples as "cups" to serve, cut tops off of apples. Using melon baller or spoon, scoop out inside of each apple to form a cup, being sure not to make a hole through the bottom of the cup. Use pastry brush to brush lemon juice inside the apple cups.
Place caramel sauce on small plate. Place sugar and cinnamon on second small plate; stir to combine.
Dip the rim of each apple cup (or glass, if using) in caramel sauce, allowing excess sauce to drip off before dipping into sugar mixture. Place cups upright on serving platter.
In a pitcher, gently stir sparkling cider, cider and rum (optional) until well combined. Divide cider mixture among apple cups or glasses. If serving in glasses, garnish each glass with an apple slice. If serving in apple cups, not all of the cider mixture may be used in the initial serving.  Set the pitcher with the remaining cider mixture out so guests can refill their apple cups as needed.