8 Rustic Michigan Barns Worth a Photograph
 
A largely agricultural state, Michigan's countryside is dotted with numerous barns. Guest writer and photographer John McCormick crossed the state to compile photos and information about some of his favorite barns in the Mitten.
 
1. The El-Jireh Farm – East Jordan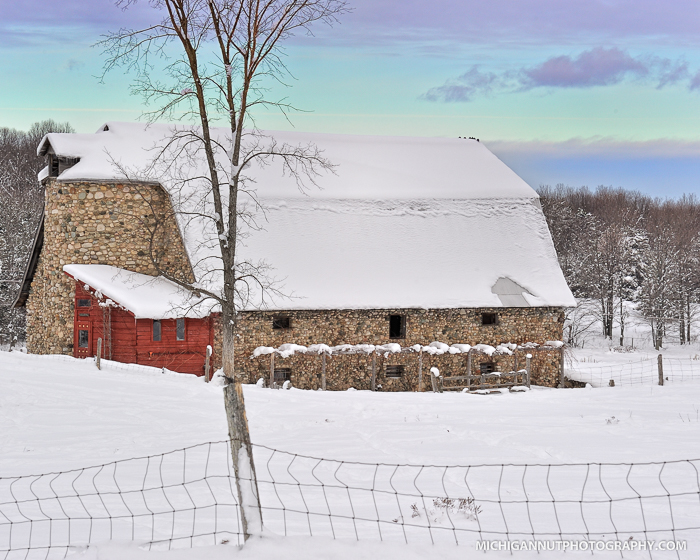 Pigeons huddle for warmth on the roof of this century old fieldstone barn. I found many old stone structures while roaming the back roads of East Jordan and Mancelona. Some of the structures I found included an old Gothic Czechoslovakian church clad with stone, old homesteads and other building remnants.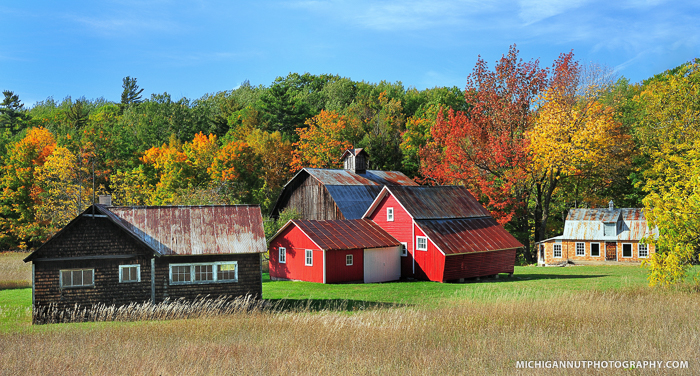 A picturesque array of historic buildings with colorful autumn leaves as a backdrop. This is one of many historic barns you can discover while cruising the 116 miles of scenic M-22's countryside. When fall colors are peaking, you'll want to have your camera with you for this scenic drive. The Bufka farm is located in the northern part of Sleeping Bear Dunes on the west side of M-22. 
 
3. The D.H Day Farm – Sleeping Bear Dunes National Lakeshore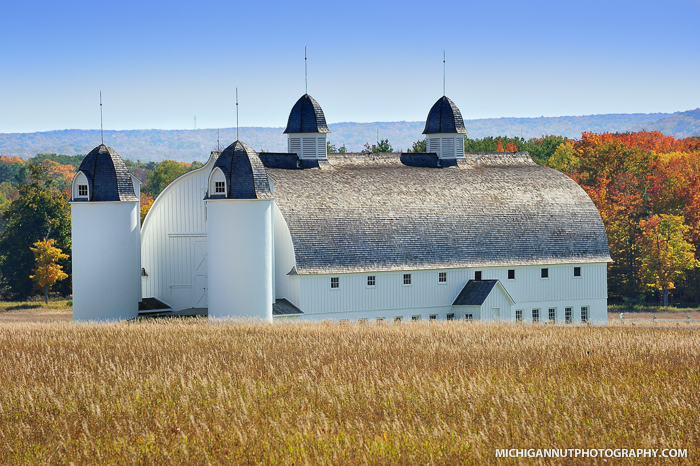 This barn is located just south of the Glen Haven Historic Village. Built in the 1880's, this barn is one of the most photographed in Michigan and for good reason. It is one well cared for majestic structure, and an iconic landmark. Like the Bufka barn, fall colors are fantastic here. Be sure to drive the maple tree-lined Day Farm Road just south of the farm.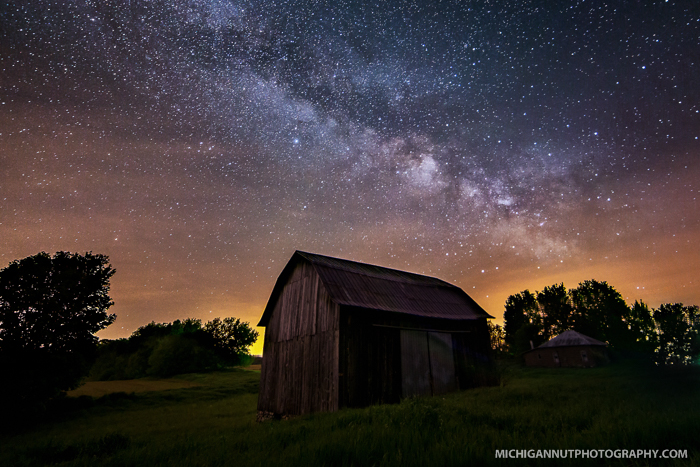 The Milky Way towering above an old weathered barn in Montcalm County Michigan. I don't know the history of many of the barns I've photographed, but if barns could talk? Maybe they'd tell stories of the families that lived there, harvest times, or the many storms they withstood. This old barn is near a homestead my parents once owned many years ago. My mother used to call this area "The rolling hills of Vestaburg." This barn sits atop one of those little rolling hills.    
5. A Rustic Old Barn – Sidnaw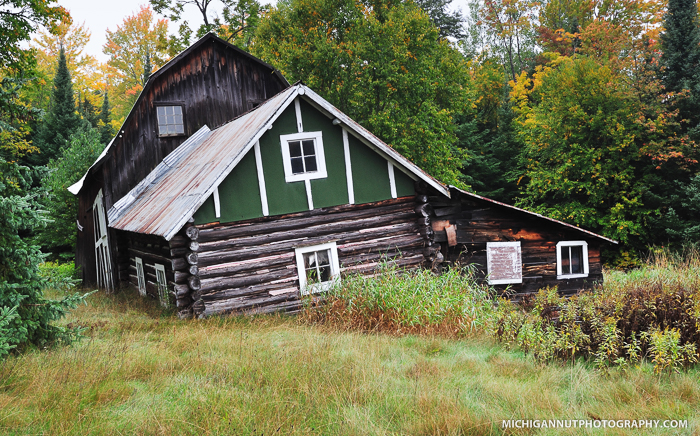 While driving the back-roads of the Ottawa National Forest near Sidnaw we discovered this old barn sinking into the spongy forest floor. I believe it was built by immigrants to the Sidnaw area.  I've read that these settlers built their barns with hand-hewn log cabins attached. This old barn really speaks to the history of this area. I wonder how hard winters were for folks back in that era.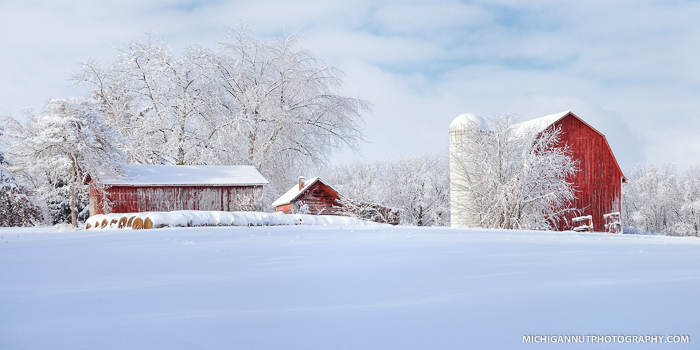 This snowy winter scene was taken on Christmas Day, 2014. We are fortunate to still have all of the beautiful historic farms and barns in Michigan's countryside. Seeing these farms is a glimpse from the past, a view you would've gotten many, many years ago. This historic Michigan farm and barn is just down the road from our home here in Montcalm County. 
7. Arched Roof Barn – Chassell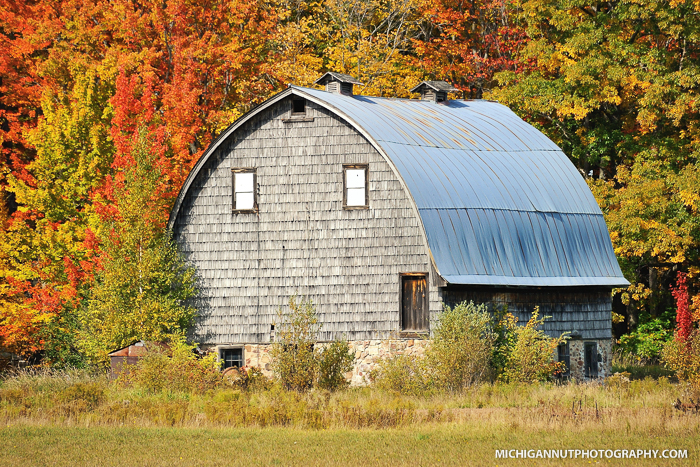 This barn is nestled in the back of a field along the tree line. It caught our eye because of its interesting shaped roof. I did a little research and this is called an arched roof barn, or rainbow arch. The Keweenaw Peninsula averages more snowfall than any other location east of the Mississippi River. Many of the homes you see in that area have steep-pitched roofs because of the heavy snows. I'm guessing the barn builders back in those days, Finnish and Swedish immigrants, might've preferred this roof style for that same reason. 
 
8. The Tilted Barn – Riverdale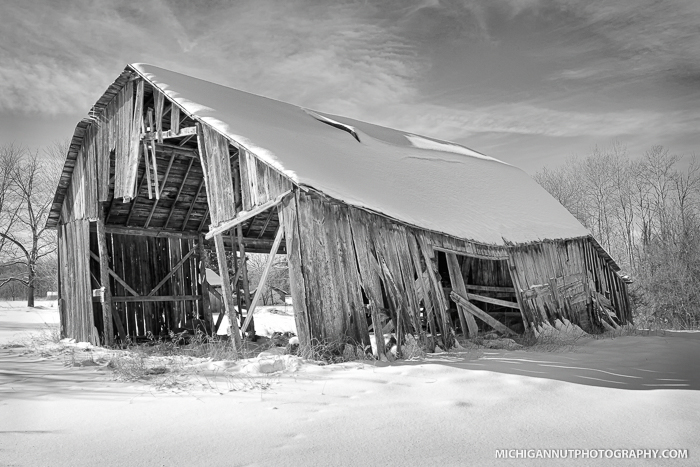 Driving around the heartland of Michigan you'll notice that many of the old barns have seen better days. Each year I see them tilting a little more, losing a few more boards, and sadly falling into disrepair. Old barns like these are symbolic to the agricultural heritage of Michigan. My mother asked me to photograph this one, and I'm glad I did as it collapsed the following spring. On a positive note, many of these old barns find new life as reclaimed lumber.
 
About the Author: John McCormick is a full time Michigan Landscape Photographer and a lifelong Michigander who has been in photography for over 30 years. John thinks Michigan is a beautiful place to live and photographing it is his passion.
 
---