8 Things to Expect at Holland's Tulip Time Festival
They say that April showers bring May flowers, and nowhere is that adage more applicable than in Holland. Since 1929, this West Michigan community has celebrated its Dutch roots with the annual Tulip Time Festival.
Here are just a few things you can expect to see and do when you celebrate spring in one of Pure Michigan's most colorful destinations.
1. Smell the Tulips
More than 5 million tulips burst into bloom each spring in the greater Holland area—and that doesn't count the city's hyacinths, daffodils and blossoming fruit trees. Drive along the Tulip Lanes, 6 miles of city streets bordered with tulips in every shade of the rainbow. Visit city parks like River Park/Window on the Waterfront Park, Windmill Island Gardens and Centennial Park for Instagram-worthy photos of Holland's favorite flower. Then check out Veldheer's Tulip Gardens, a working flower farm, to see displays of 5 million tulips and to purchase bulbs to brighten your own garden.
2. Dance with the Dutch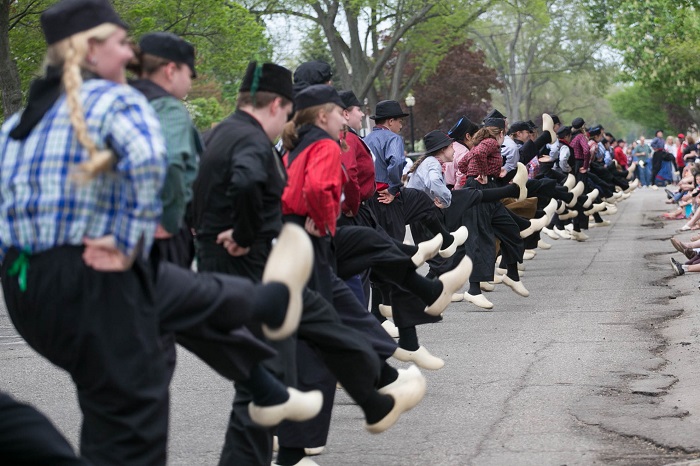 Dressed in long skirts of royal blue or emerald green, adorned with lace caps, gingham shirts, flowered kerchiefs or black fishing caps, more than 1,000 locals dress in traditional garb each Tulip Time to dance and celebrate Holland's Dutch heritage. Performers wear their iconic wooden shoes, or klompen, and dance for audiences at Windmill Island Gardens, Centennial Park and the entire length of downtown Holland's 8th Street.
3. Shop for Wooden Shoes and Delftware
With its delicately-painted blue and white tulips, windmills and rural scenes, the Dutch porcelain known as Delftware is famous around the world. So are the wooden shoes carved by hand from rectangular chunks of poplar wood. Visitors to Holland can buy teapots and tea cups, flower vases, wooden shoes and much more at DeKlomp Wooden Shoe and Delft Factory, where a Dutch-trained wooden shoe carver and North America's only authentic Delftware manufacturer sell their crafts year-round.
4. Tour an Authentic Dutch Windmill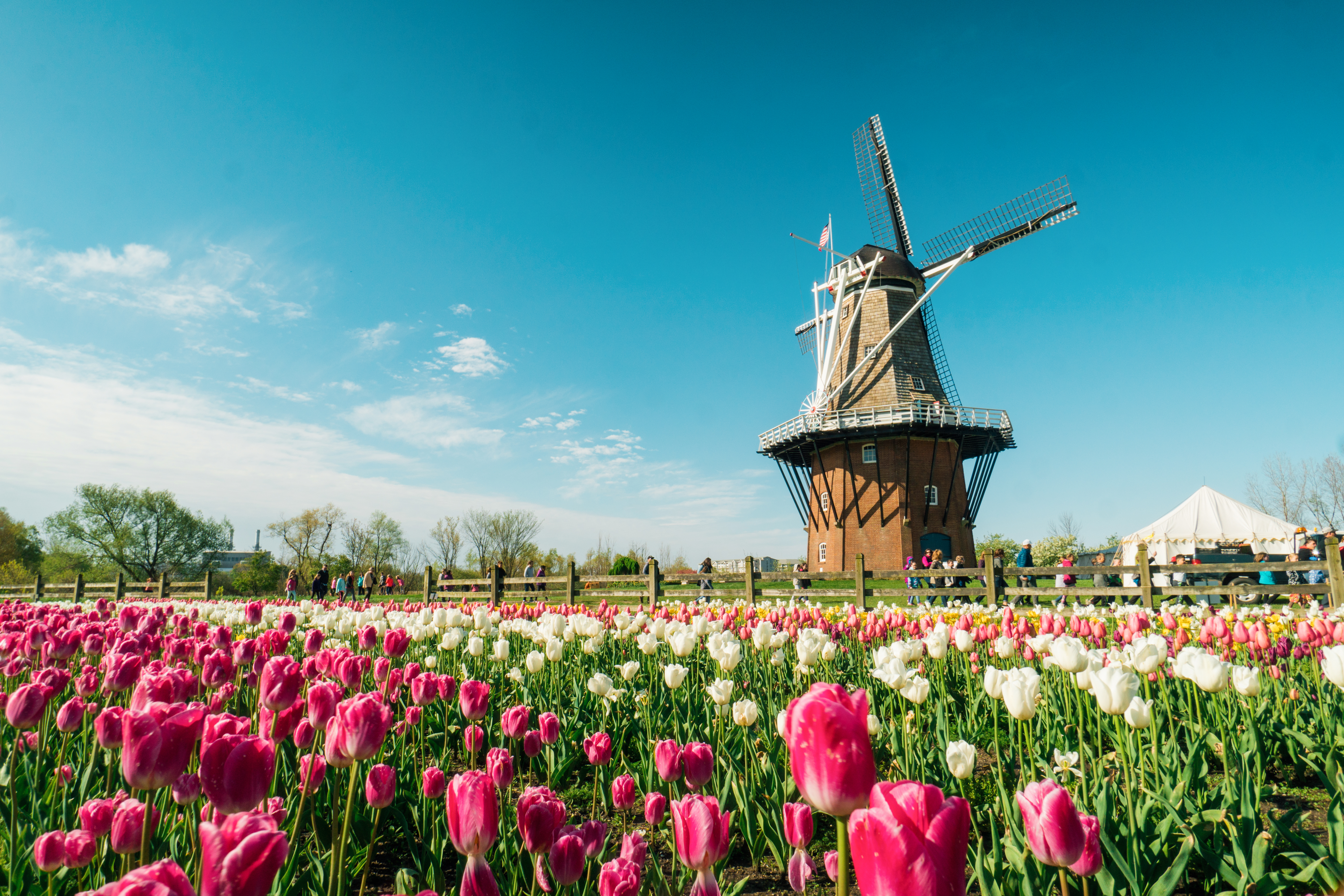 The blades of the Dutch windmill De Zwaan turn gracefully in the spring breeze, milling grain into flour just as she has since her construction in the 1700s. De Zwaan was purchased from the Dutch and transported brick by brick to Holland, Michigan, in 1964, making this the only authentic Dutch windmill in the U.S. You can tour the mill at Windmill Island Gardens to see De Zwaan in action, then purchase a bag of windmill-ground flour to take home.
5. Catch the Fireworks and Parades
Tulip Time celebrates the season with Holland's largest fireworks show, setting off its pyrotechnics display over Lake Macatawa in Kollen Park. A week's worth of parades fills Holland's downtown streets with the sounds of marching bands, klompen dancers and hundreds of Holland residents dressed in their colorful Dutch costumes, scrubbing the city streets spotlessly clean.
6. Carnival Rides and Snacks
A towering Ferris wheel, graceful carousels and wild roller coaster rides fill the carnival each Tulip Time at the Holland Civic Center. Vendors sell elephant ears, hot dogs and oliebollen (Dutch donuts) at the midway and all along 8th Street.
7. Authentic Dutch Food
Whether you're hungry for buttery krakelingen or windmill-shaped speculaas cookies, thick pea soup or savory Dutch pigs in a blanket, Holland's restaurants and markets will do their best to dish up a taste of the Old Country. Visit local favorites like deBoer Bakkerij & Dutch Brothers Restaurant, Nelis' Dutch Village and Tulip Time's Dutch Marktplaats for authentic dishes. You can also head to one of Holland's local grocery stores, where there's always a selection of Dutch licorice, cheeses and beer to choose from.
8. Musical Performances and Theatre
Each Tulip Time brings a week's worth of entertainment options, from classic rock cover bands to gospel choirs, from theatrical performances to stand-up comedy and Broadway-style musicals. Visit the Tulip Time website for details on this year's events.