Where to Eat in Detroit: The Ultimate Pure Michigan Guide
Digging into the local restaurant scene ranks as one of the best ways to appreciate a city, and nowhere is that truer than in Detroit. Whether you're planning a celebratory dinner out or craving some soul food, looking for a post-game pizza feast, or a grab-and-go lunch, Detroit restaurants won't disappoint.
1. Detroit Coney Dogs
As essential to the local dining landscape as barbecue is to the American South, Coney dogs are a Detroit mainstay, brought to Michigan by Greek immigrants who first settled near New York's Coney Island. Detroit's natural casing dogs come loaded with a hearty beef sauce and topped with yellow mustard and diced onions. Coney restaurant favorites include American Coney Island, Lafayette Coney Island, Leo's Coney Island and National Coney Island. Another Detroit tradition? Arguing about which wurst is best.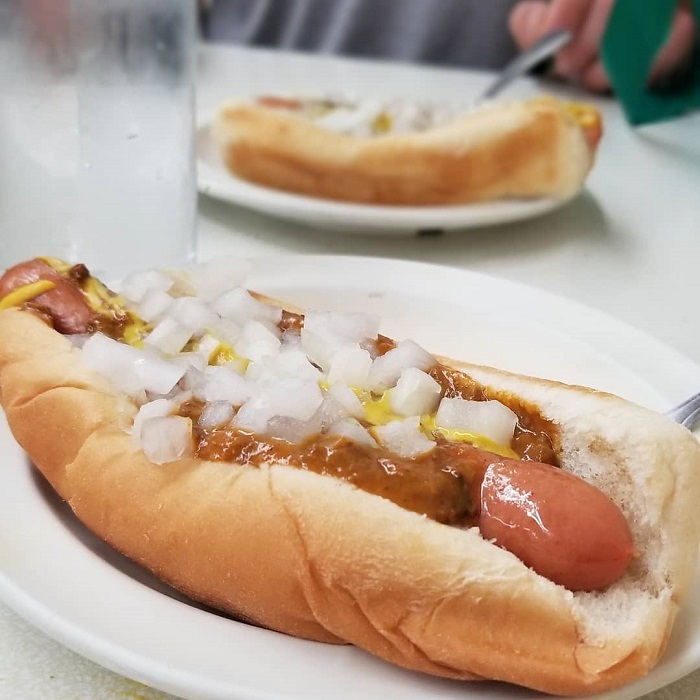 Located in Midtown Detroit, a pleasantly walkable neighborhood known for its trendy boutiques, independent breweries and university vibe (Wayne State University sits just blocks away), Selden Standard and its staff are used to winning culinary awards. In fact, Selden Standard won the Detroit Free Press's coveted "Restaurant of the Year" in 2015. The small plates-style restaurant focuses on locally-grown, seasonal meat and produce (some of it grown in Detroit's urban gardens), house-made pastas and from-scratch baked goods and desserts.
 
Platters of tender ribs and piles of pulled pork, slow-roasted chicken and mounds of BBQ wings fill the menu at Slows, a favorite in Detroit's Corktown neighborhood. Everything on Slows' menu is prepared the old-fashioned way, over smoky coals and meticulously slowly, just as the name says. Visit Slows at their Corktown birthplace, pick up carry-out at Slows To Go in Midtown Detroit, or check out the restaurant's newest location in the Grand Rapids Downtown Market.
 
4. Live Music and Dinner at Cliff Bell's
Located near Grand Circus Park, Cliff Bell's wows first-time visitors with its restored Art Deco interior, gleaming mahogany and brass, and glimmering gold leaf ceiling. But the famous jazz club serves great meals and classic cocktails alongside it first-rate musical acts. The menu includes fresh, flaky seafood, dry aged steaks and a selection of appetizers perfect for nibbling on throughout the show.
 
Chicago and New York pizzas have nothing over Detroit's, where the city's favorite pie comes square-shaped. Rooted in Sicilian tradition, Buddy's hugely popular square pizzas are served up in the restaurant's original location in Conant Gardens. But you can also bite into Buddy's cheesy goodness at numerous locations across metro Detroit, including Farmington Hills, Livonia, Royal Oak and Birmingham.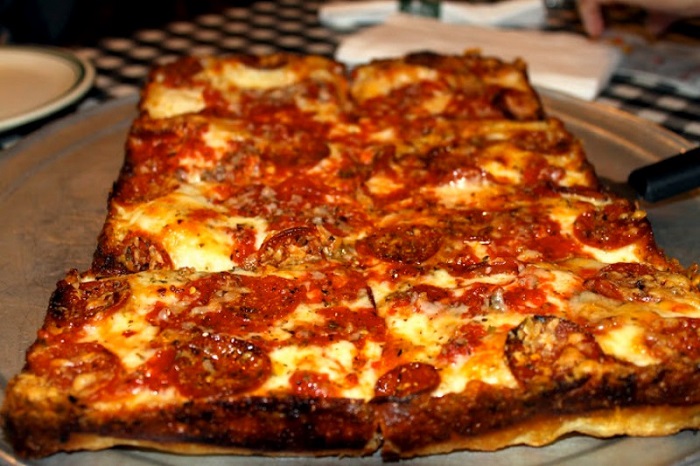 Made from scratch and using seasonal ingredients, Sister Pie is set within Detroit's West Village and has won national acclaim for its decadent pies and baked goods. Dig into divine salted maple, grape and goat cheese, or sweet beet pies. Breakfast on just-baked buttered corn scones. Or pick up some savory tomato mozzarella hand pies to share with friends over lunch.
 
7. Michelin-Starred Goodness at the Apparatus Room
After earning two Michelin stars in Chicago, Michigan-born Chef Thomas Lents returned to his home state to take up the helm at the Apparatus Room, the fine dining restaurant in downtown's stunning Detroit Foundation Hotel. Formerly the home of the Detroit Fire Headquarters, the Apparatus' dining room still features the building's original red fire doors and three fire poles in a restaurant that has won its own awards for creative preparations of Michigan meats, fish and veggies.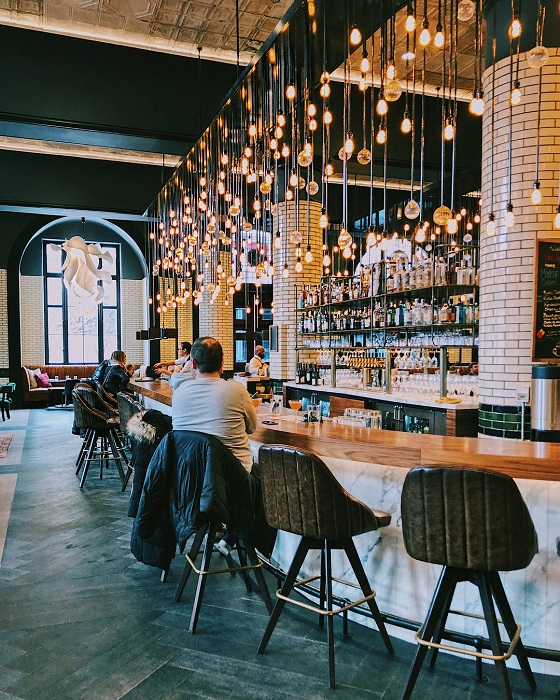 The traditional center of Detroit's historic Greek neighborhood, Greektown ranks as one of Detroit's most vibrant entertainment districts, near sports stadiums, musical venues and the Greektown Casino. Visit for the mouthwatering flavors of the Mediterranean, with restaurants such as Santorini Estiatorio, Pegasus Taverna and Astoria Pastry Shop serve traditional, slow-roasted lamb, moussaka and flaky baklava for dessert.
 
9. Stick-to-Your-Ribs Soul Food
Barbecue and collards, fried chicken and mac-and-cheese, sweet potato pie and crumbly cornbread fill the menus in Detroit's soul food restaurants. Fill up on the city's best home-style meals at favorites such as Beans & Cornbread and Baker's Keyboard Lounge (which also offers live music) in Southfield, and Café d'Mongo's Speakeasy and Steve's Soul Food, both near downtown. There's even a delicious vegan soul food restaurant in Midtown, Detroit Vegan Soul.
 
Lumber baron David Whitney built this sumptuous Woodward Avenue mansion in 1894, and his home remains one of Detroit's most elegant. Visitors celebrate special occasions dining in one of the home's 52 rooms, cozying up to one of 20 fireplaces and enjoying the glow of crystal chandeliers and stained glass. Dinner menus include finest quality steaks and seafood and a lengthy wine list. But The Whitney's weekend brunches are legendary, three-course affairs that include full entrees, fresh-baked pastries and desserts.
 
When the only breakfast you have time for is a bag of donuts, you can't go wrong with this hip-hop-themed donut shop in downtown Detroit. Owned and operated by Herman Hayes, the uncle of famed hip-hop music producer and Detroit native J. Dilla, Dilla's Delights features a wide variety of tasty themed donuts, including Rico Suave Cinnamon Raisin and Aaliyah Lemon-Filled.
 
12. Middle Eastern Dining at Al Ameer
Dearborn's large Middle Eastern population has made this metro Detroit community the perfect place to indulge in Mediterranean flavors. Al Ameer features home-style Lebanese cooking, many of the dishes vegetarian, with baskets of piping hot pitas, tender roast lamb, skewered and grilled meats and the freshest vegetables. Be sure to order a glass of healthful fresh raw juice.
 
Long considered one of metro Detroit's finest restaurants, the Rugby Grille is the premier restaurant of Birmingham's four-star Townsend Hotel. A cozy fireplace dominates an elegant dining room that features colorful contemporary art and attentive dining room service. The Rugby Grille's menu includes Wagyu steaks, fresh-caught seafood and foie gras burgers as well as a lengthy and impressive wine list.
 
14. Celebrate the Red Wings at Hockeytown Café
Three floors of dining space and a rooftop patio honor Detroit's long-time hockey tradition at the Hockeytown Café. The menu includes not-so-ordinary pub grub, featuring thick, juicy burgers, mouthwatering pizzas and crisp salads. While you wait for your food browse the restaurant's Red Wings displays, numerous glass classes filled with autographed jerseys, pucks and hockey sticks. Afterward, you'll be within easy walking distance of all four of Detroit's professional sports teams: the Red Wings, the Pistons, the Tigers and the Lions.
 
15. Polish Flavors at Polonia
A Hamtramck tradition for more than 40 years, Polonia emanates Polish culture from the moment diners step inside the door. Beneath walls painted by Polish artists, hungry visitors dig into the flavors of the Old Country: beet soup and savory potato and cheese pierogis, vegetable nalesniki (crepes) and house-made kielbasa. You can wash it all down with an imported Polish beer.