Wonderful Locations for Winter Camping in Michigan
Michigan has a reputation for harsh winters and lots of snow, but for those brave enough, Michigan can also be one of the most beautiful winter camping destinations in the world. From frozen Great Lakes to snow powdered vistas, camping in the cold months of Michigan is something everyone should try once to fully experience what this great state has to offer! Guest writer Duncan McKee, a co-founder of GoAllOutdoors.com and lifelong outdoorsman, shares his favorite locations and top tips for the perfect winter camping adventure in Pure Michigan.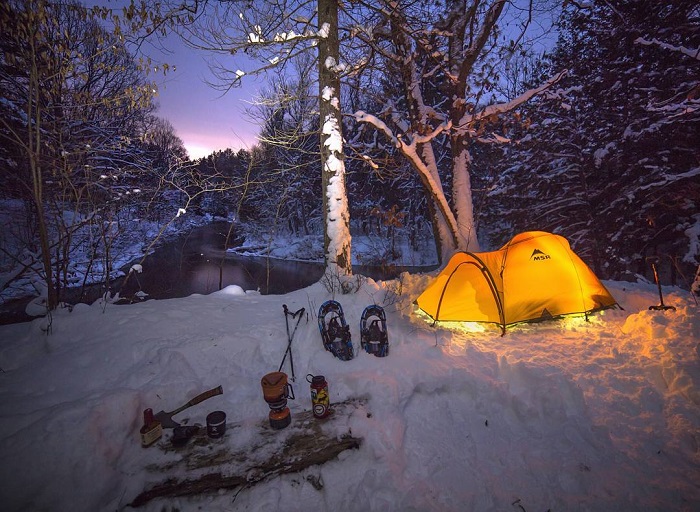 If you have never been to Lake Michigan during the winter and seen it frozen, this is a must do to add to your bucket list! Warren Dunes State Park is the perfect place to visit the frozen Lake Michigan. On 1,952 acres of land, this beautiful park is very popular in the summer because of its dunes and stunning shoreline. The park boasts an equally amazing beauty in the winter that can't be missed, giving visitors the opportunity to enjoy the impressive dunes, excellent shoreline, great hiking and cross country skiing.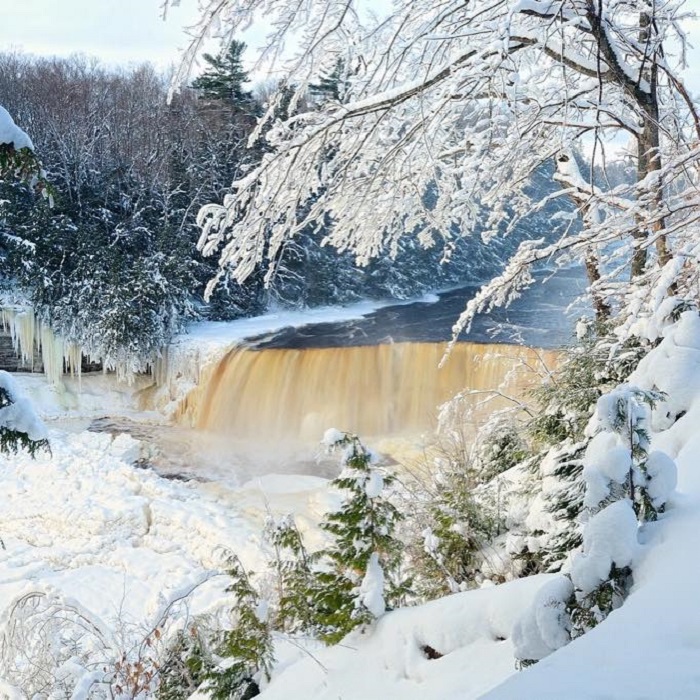 The world famous cedar-stained Tahquamenon falls tucked in the Upper Peninsula are well worth the trip. The winter scenery brings out a dimension to the falls that cannot be seen during the warmer months. Watching the cold falls crash into the frozen water is something that anyone adventurous enough to make the trip will not regret!
 
The Porcupine Mountains offer incredible hiking and downhill skiing on some of the most unique mountains in America. With over 200 inches of snow per year, this part of Michigan is perfect for snowshoeing, cross country skiing and many other fun winter activities.
 
4. Sturgeon Falls – Sidnaw
The Sturgeon Falls are some of the most unique in Michigan. Sometimes called the "Grand Canyon of Michigan," these beautiful falls have cut their way through the rock leaving behind formations that are hard to find anywhere else in the Midwest. The campgrounds are quite rustic and are open year-round. After a freshly fallen snow, the gorge looks like something out of a fairy tale. This otherworldly winter wonderland is not often well traveled and is a bit of a hidden winter gem.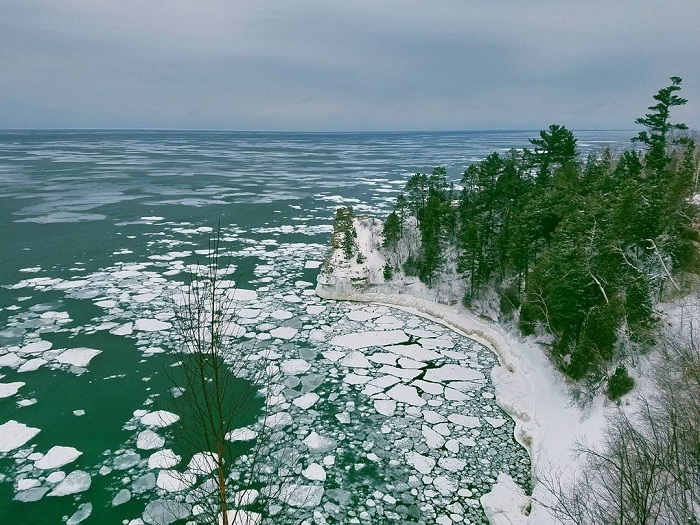 An incredible site to see no matter what time of year, Pictured Rocks is arguably one of the best-known sites in Michigan as well as one of the most visited. With incredible hiking that is open all year round, heading towards this landmark in the winter months will lead to some very unique experiences. With extremely long icicles and ice "pancakes" in the water, it is a whole different experience from a summer excursion.
 
The mini cabins and yurts can be ideal for those who don't feel like setting up a tent. The area offers plenty of gorgeous winter hiking or cross country skiing trails. Nearby, is the Muskegon Winter Sports Complex with luge, ice skating and more for the ultimate Pure Michigan Winter trip.
 
Now that you know the best spots for winter camping in Michigan, how do you actually camp in the winter? Check out these top tips to learn how to make the most of a winter camping adventure!
The choice of tent can make or break your adventure. The most common type of tent is the 3-Season tent. This class is suitable for late spring, summer, and early fall expeditions. If you are a serious winter camper or a mountaineer, it may be good to consider a 4-season tent, which can stand up to very cool temperatures and harsh weather.
Before setting up your tent, make sure to pack down the snow where you plan on setting it down to avoid stepping through the tent on a soft spot. This is easiest with skis or snowshoes but is possible with just plain old boots as well.
Having the right sleeping pad can avoid unnecessary discomfort. Sleeping pads are typically rated based on their "R-Value", or the measurement of insulation. The higher the R-Value, the more insulation, and the warmer it keeps you. An R-Value of 4 or more is suggested for winter campers. If you do not have a winter sleeping pad, use two sleeping pads or put a close-celled pad underneath. When in doubt, put coats, clothes, or just about anything else to help you insulate yourself from the freezing floor.
While chemical, mechanical, and other water filtration systems can be very useful, they take a very long time to work in the cold. For water, the best source is going to be boiled snow.
Your body will be burning a lot of calories to keep you warm. It is important to continue eating simple, easy to digest, protein filled snacks. Keep meals hot and simple. A hot meal after a long, cold hike will be very satisfying, but you do not want to have to do a lot of cleaning!
 
About the Author: Duncan McKee is a co-founder of Michigan-based GoAllOutdoors.com, which provides information about getting active outside and enjoying nature. Duncan grew up in Mt. Pleasant and has camped and hiked in 20 U.S. states and three countries. His goal is to hike all 50 states and seven continents in his lifetime.
 
---