10 of the Most Beautiful Campgrounds in Michigan
Michigan is the perfect place for an idyllic camping trip! Escape the hustle and bustle, spend quality time with friend and family, and develop a new found appreciation for Mother Nature at some of these most scenic campgrounds in Michigan.
Take in the sights of one of the largest waterfalls east of the Mississippi at Tahquamenon Falls State Park in the Eastern Upper Peninsula. The Upper Falls stretches 50 feet high and more than 200 feet wide, deservingly making it a must-see attraction. But with more than 40 miles of hiking trails, 13 inland lakes and approximately 20,000 acres of natural area, there's more to love about the park than just its majestic waterfall 
Head to Northeast Michigan to take a swim in the crystal-clear Higgins Lake or grab a metal detector and try your luck searching for hidden treasures along the shoreline. Experience tranquility and observe wildlife while traveling the camp's nature trail.
 
Be sure to bring a map when traveling in the "Porkies" to help navigate this state park in the Western Upper Peninsula. It's the largest of its kind in Michigan, comprising 60,000 acres. Take your pick from a variety of campsites including modern, rustic and yurt lodging. Enjoy scenic waterfalls, trek across miles of hiking trails, or feel the sensation of stepping back in time as you explore the ancient Porcupine Mountains.
 
Behold the beauty which lies in this Central Upper Peninsula park's dramatic, multicolored sandstone cliffs. Hike alongside comely wildflowers and ride the waves of Lake Superior in a kayak. For another priceless view of the lake, travel atop the Au Sable Light Station towering 87 feet above the ground.
 
Participate in a host of recreational activities including hiking, fishing, and biking across 10,500 acres of campground in Northwest Michigan. Enjoy 26 miles of beautiful Lake Michigan shoreline and watch amazing sunsets over pristine water. The air is so clean here that breathing is a kind of luxury.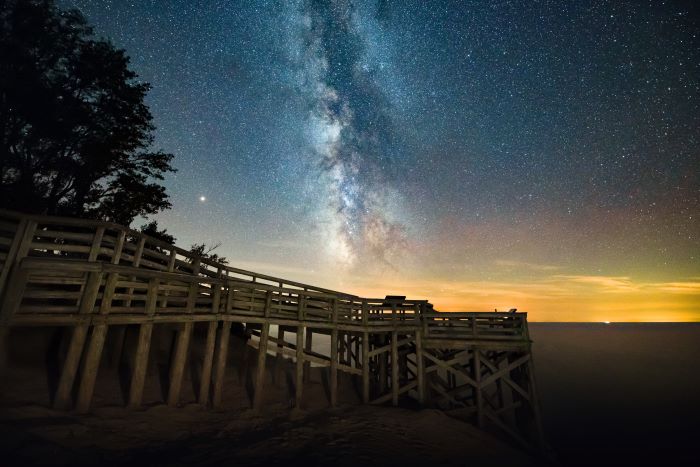 Explore these enormous sand dunes in Northwest Michigan by taking a guided tour or wandering on your own. Swim at one of the park's many beaches or take in the sweet smell of maple syrup while walking through a lush beech-maple forest. Adventurous kids can take part in a "rescue mission" of shipwreck survivors at the Maritime Museum.
 
Take pleasure in a wide variety of outdoor activities. From canoeing to shooting hoops to tossing horseshoes – there's something for everyone at this campground in East Central Michigan. Gaze into the unbridled waters of Lake Huron and take comfort in modern amenities offered at one of 250 campsites.
 
Lace-up your hiking boots or grab your bike and hit the park's 18-mile trail for personal encounters with wildlife. Head to this Northwest Michigan park to camp and set sail across the picturesque Lake Michigan or soak in the sun along the sandy shoreline of Hamlin Lake. 
 
Get lost in the peacefulness of Jack Pine trees and fall in love with miles of sparkling rivers and streams in Northwest Michigan. Have a quality canoeing experience along the Pere Marquette or catch fish from the Benton Lake. Take delight in examining the forest's remarkable ecological features including dry sand prairie remnants, coastal marshlands, dunes, oak savannahs, fens, bogs, and marshes.
 
Watch in quiet amazement the unspoiled beauty of this East Central Michigan park's natural habitat that's home to more than 228 species including the Blue Jay and Bald Eagle. Walk along trails which take you through prairie grasses, hardwood forest, and stands of pine trees.