A Thousand Sunrises in Pure Michigan
"A good sunrise will live within you for the day, if not for several days." – Bugsy Sailor
The sun rises every morning. On clear, calm mornings. On stormy, windy days. Winter, spring, summer and fall. Every day begins with a sunrise.
For many, the sunrise is more than the moment when the earth's rotation causes the sun to break over the eastern horizon. It can be a metaphor for a new beginning, an intentional activity centered around the start of the day, or simply an opportunity to enjoy the beauty that surrounds us.
For Bugsy Sailor, the sunrise has become part of every day.
On January 1, 2019, Bugsy watched the sunrise over Lake Superior at Whitefish Point in Michigan's Upper Peninsula. On January 2, he watched the sunrise again. He continued rising early and watching the sun come up every day in January that year. Once he had watched a full month of consecutive sunrises, he felt confident he could watch the sunrise every day for an entire year.
Documenting each sunrise along the way with his camera, no matter the weather, Bugsy's streak now spans four-and-a-half years – more than 1,700 consecutive sunrises.
About Bugsy Sailor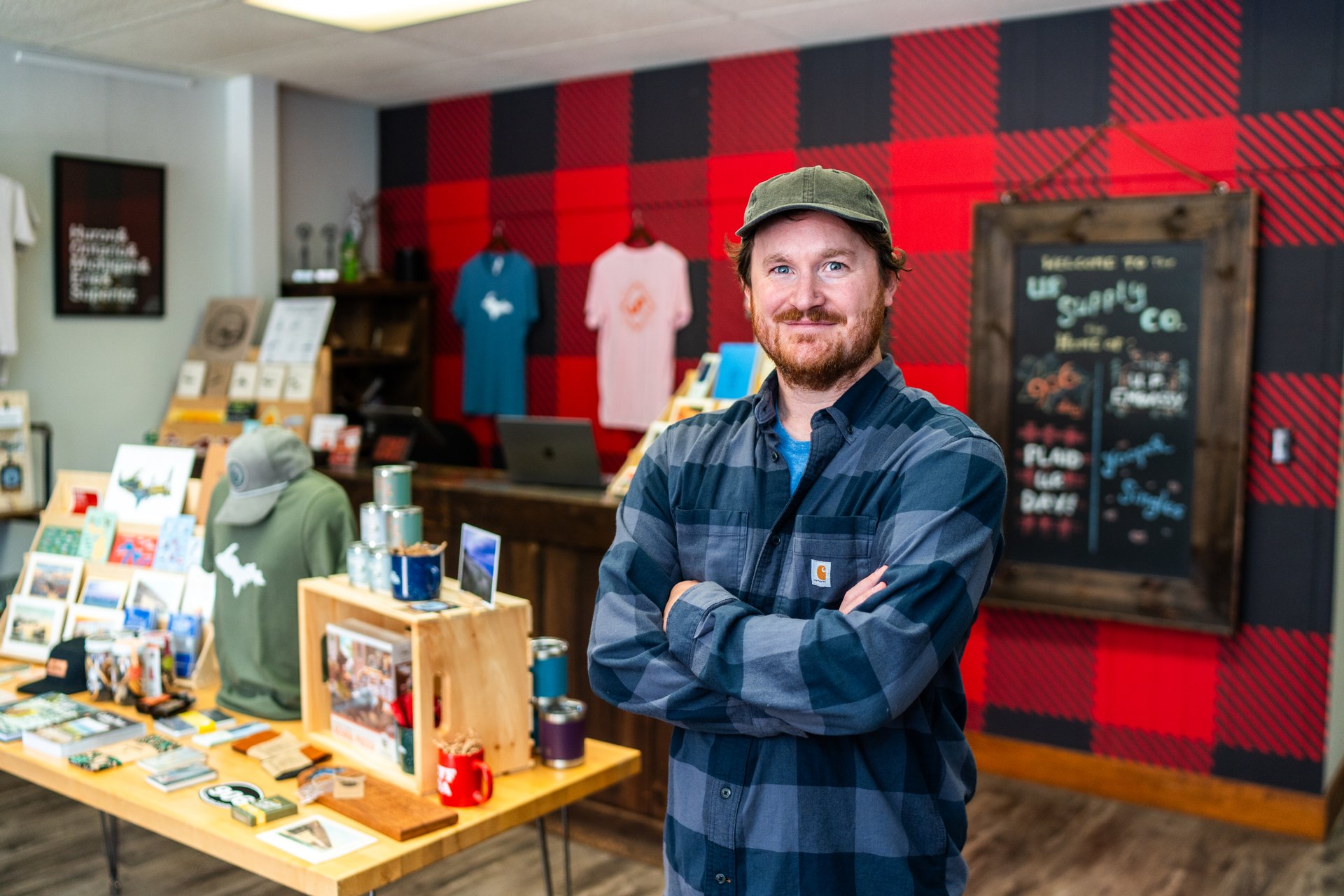 A native "Yooper," Bugsy Sailor grew up in Baraga, a small U.P. community along a bay of Lake Superior just over an hour's drive from Marquette. As the self-described "Official Unofficial Ambassador of the Upper Peninsula," he draws inspiration from the spectacular natural beauty of the region and the strong sense of community among fellow U.P. residents.
"Many of my projects are inspired by the region. This place, someplace special, offers a unique playground to launch ideas where the community is receptive and eager to participate."
Among those projects are "Plaidurday," a worldwide celebration of plaid, "906 Day," celebrated each year on September 6 when the date – 9/06 – aligns with the Upper Peninsula's longtime area code (906), and the Fresh Coast Film Festival, held each October in Marquette.
When it comes to his sunrise project, Bugsy says, "It's a Lake Superior project." The rugged shoreline along one of the largest bodies of fresh water in the world is a spectacular setting but can also present challenging conditions.
"It's not always beautiful," Bugsy says about the wide range of weather conditions he's encountered during his sunrise outings. "Negative 30 wind chill, sideways rain, sleet. So it's not always this peaceful, serene thing. But those stormy days are some of my favorites."
At Upper Peninsula Supply Co., Bugsy's Upper Peninsula-themed shop located in downtown Marquette, customers can browse through dozens of images of sunrises captured along the daily journey, which are also available for viewing at yearofthesunrise.com. The sunrise gallery was created two years after the project started, allowing visitors to the shop to see "the entirety of a year" of sunrises in front of them.
"I love when people engage with it," says Bugsy. "I love when people recognize the commitment."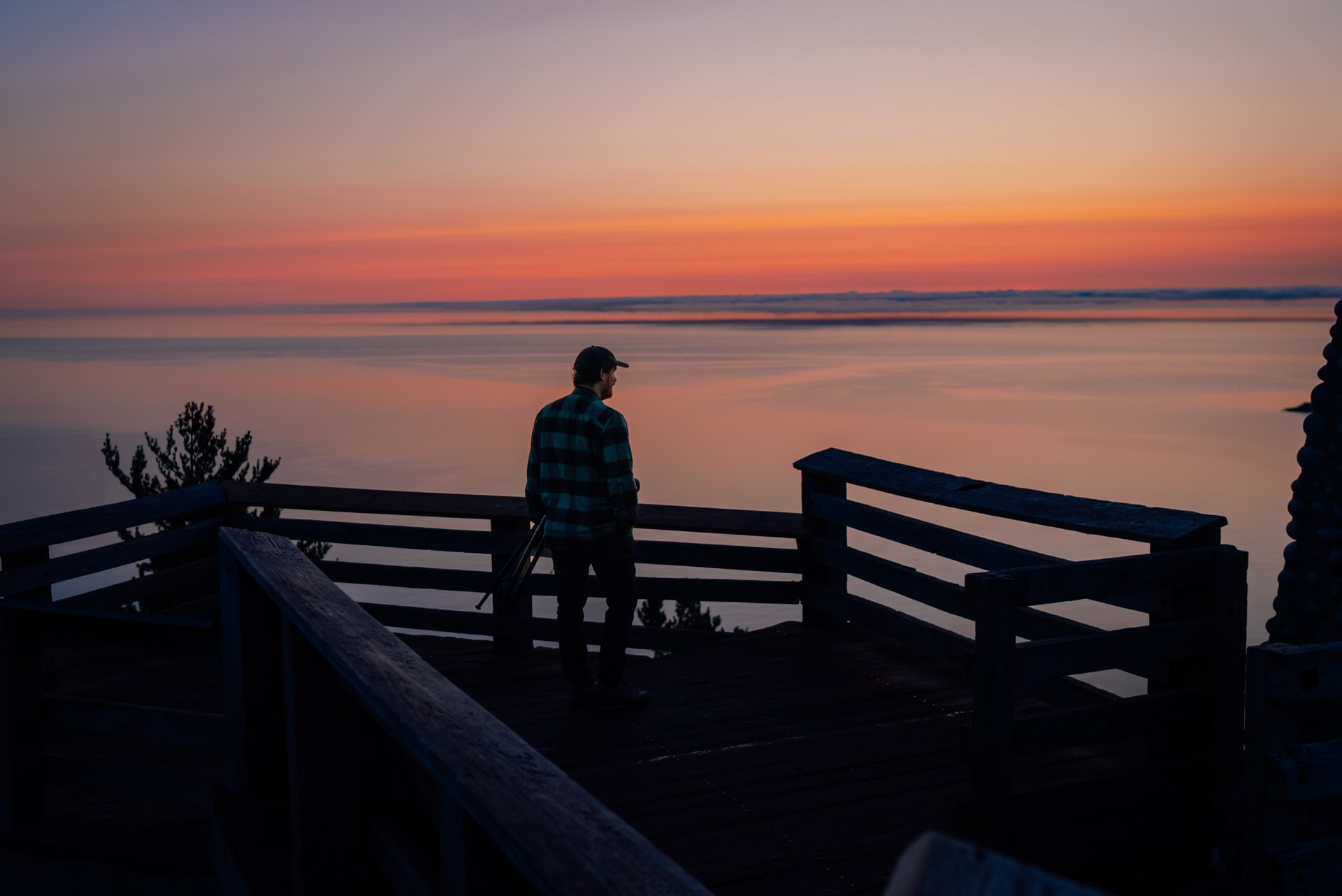 Watch More Sunrises
So, how long will the streak continue?
"I said the first two years were for myself. For my own growth, my own meditation, my own finding presence in the world. Now it's the joy that I've learned it brings other people – that's what's keeping me motivated right now."
Bugsy invites you to take The Sunrise Pledge at watchmoresunrises.com and, of course, watch more sunrises.