Escape to Wellness Retreats in Pure Michigan
There may be no better place to find rest, rejuvenation and a sense of inner well-being than in Pure Michigan. 
Full-service spa and wellness centers lie throughout Michigan, ranging from those specializing in a single, rejuvenating afternoon to those offering a long, relaxing weekend. Visit a spa and release tension through massage, and water and light treatments. Learn from experienced instructors who guide yoga practices and teach mindfulness techniques. Or take advantage of Michigan's unmatched natural beauty, sipping coffee as the sun rises over the Great Lakes, heading out for a bit of forest bathing or reconnecting with the cosmos through late-night stargazing.  
Wherever you travel, you'll find a renewed sense of well-being on a Michigan wellness getaway.
Lower Peninsula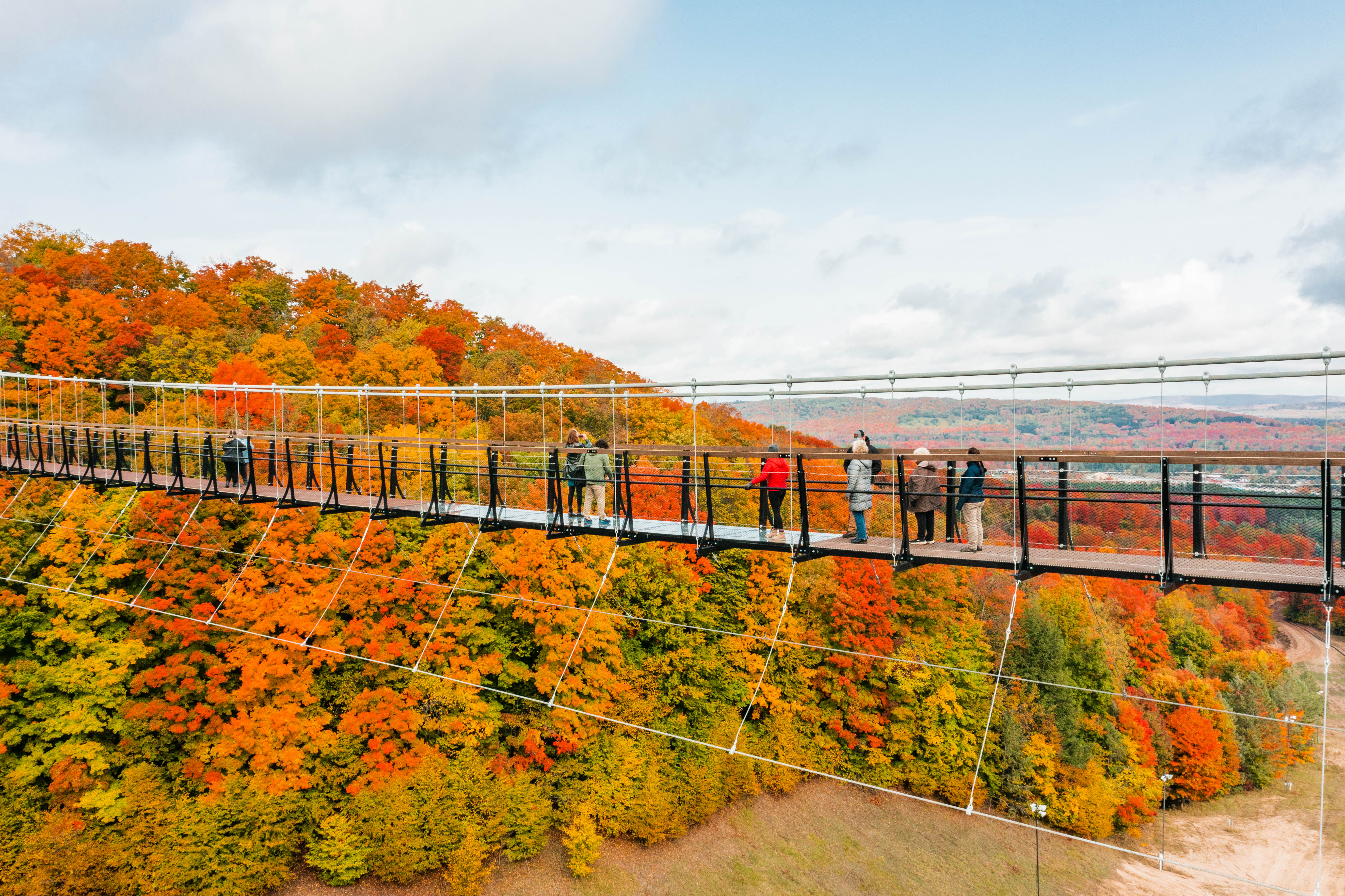 The Spa at Boyne Mountain emphasizes whole-body wellness. Beyond the traditional spa amenities of relaxation, massage, facials and salon services, the Spa at Boyne Mountain also offers access to a wellness center with guided fitness and yoga classes. Spend several days here for comprehensive, guided physical and mental training from aqua aerobics and tai chi to weight training and Vinyasa yoga. You can also take advantage of the spa's BEMER therapy program, which uses bio-electromagnetic energy regulation to facilitate improved blood circulation. 
For a breath of fresh air, catch a ride on the Hemlock Scenic Chairlift to take a walk along Boyne Mountain's SkyBridge, the world's longest timber-towered suspension bridge. The bridge offers a bird's-eye, panoramic view of the stunning natural scenery surrounding the resort.
For a serene setting that reflects the art and natural beauty of northern Michigan, head to the Crystal Spa at Crystal Mountain in Thompsonville. The 18,500-square-foot, LEED-certified spa offers deep-tissue, detox, prenatal and other specialty massages that may be combined with hot stone work. Spa guests can also take advantage of Crystal Mountain's Peak Fitness Center and Indoor Pool.
Guests at Shanty Creek Resort can improve their health and well-being with complimentary access to an expansive fitness center, which includes free weights, a complete Nautilus system and cardio equipment, a dry sauna, and a steam room. Other fitness activities at Shanty Creek—besides the resort's world-class golf course—include disc golf, traditional and e-bike rentals, and several indoor and outdoor pools. Traditional spa wraps and shiatsu massages soothe tension with lavender-infused white clay, heated volcanic stones and essential oils.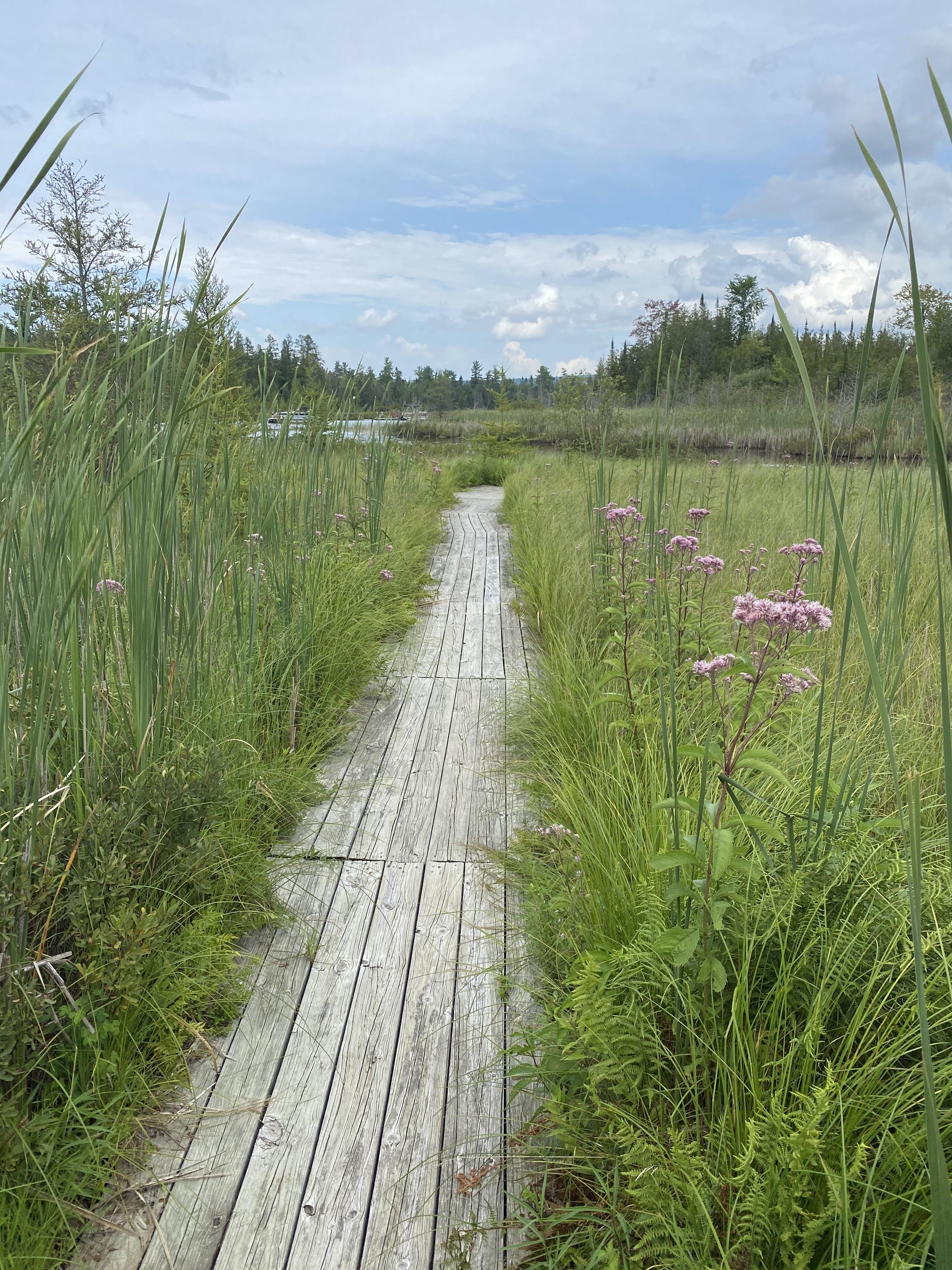 If you're looking to get lost in nature along peaceful trails, visit Bellaire's Grass River Natural Area (GRNA) or Glacial Hills Pathway and Natural Area. 
The Song of the Morning Retreat Center offers weekend getaways focused on finding spiritual and physical relaxation and restoration. Programming includes guided yoga instruction and meditation practices, as well as reiki sessions and spiritual coaching. The northern Michigan property also offers plenty of opportunities for quiet on wooded hiking trails and in private hermitages.
Mesick's Northern Michigan Retreat sits deep within the Huron-Manistee National Forest. Only large enough to accommodate three to six guests, this women-only retreat offers a respite from daily stressors. Staff-guided activities range from the active, like nature hikes and energetic conversations around a campfire, to the restful, such as restorative time in a hammock, yoga sessions and meditation.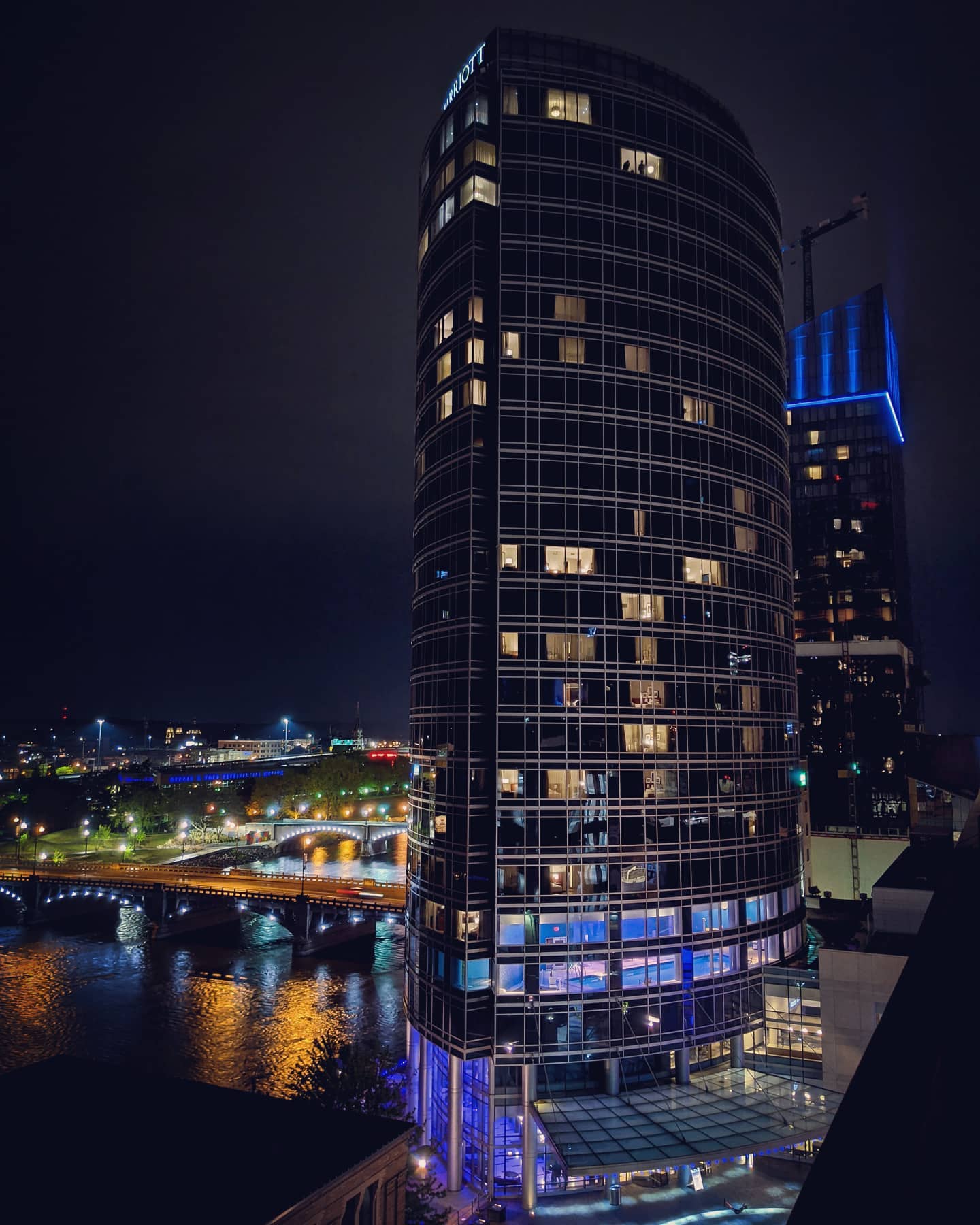 The Spa at the JW Marriott provides a treatment menu to help any visitor find calm and balance. Choose the massage that best suits your needs: aromatherapy, sports reflexology or warm bamboo. Resurface and hydrate your skin with a rose-infused body scrub and wrap. Restore the energy you need for an important business engagement with a massage called the Jet Lag Cure. Or make a full day of your visit, and book three to six treatments for a special package price.
The holistic Wanderlux Beauty and Wellness Spa, also in Grand Rapids, provides guests with natural, certified organic and plant-based skincare treatments in its menu of spa offerings, including facials and peels. The spa combines these physical treatments with massage, craniosacral work and more.
The Spa at Harbor Shores in St. Joseph specializes in treatments for guests arriving tired and sun-kissed from a day on the golf course or the water. Moisturize and soothe sun-exposed skin with the Smooth Lake Michigan Sailor facial. The Sportsman's Special or cupping therapy can help ease and refresh the tired muscles caused by a day of golfing and get you ready for the next day's tee time. 
South Haven's Higher Haven Retreat Center takes restoration and mindfulness up a notch. The retreat is devoted to helping guests live a more genuine life and to healing an unquiet mind, body and soul in a setting just minutes from Lake Michigan, surrounded by natural wetlands and hardwood forest. Spend an afternoon, or enjoy an extended stay, focused on Hatha, Ashtanga and Vinyasa yoga; learn the meditational benefits of yoga asana, and discover the power of "walking in beauty," a Native American practice of ceremonial living.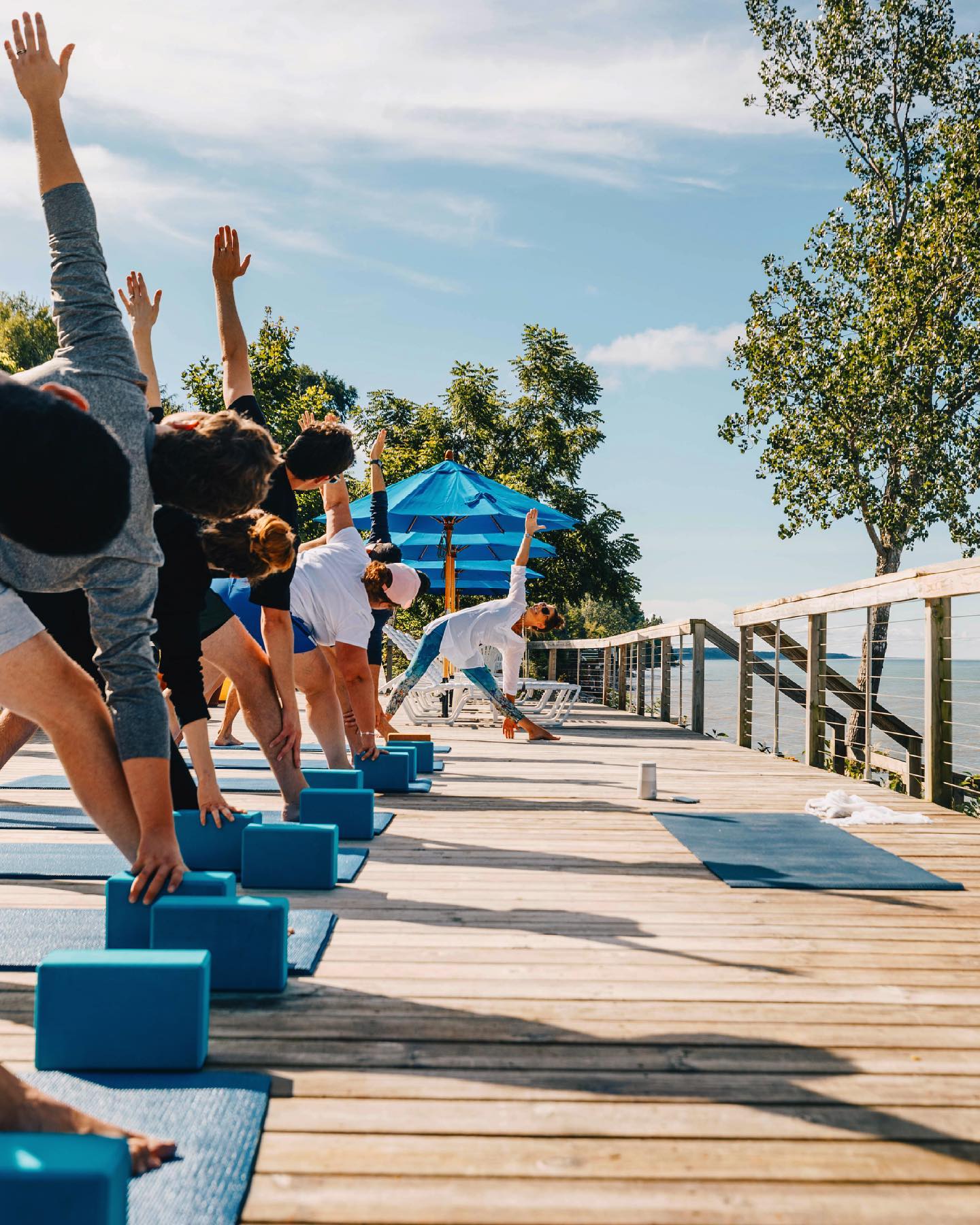 Resting on the coast of Lake Michigan, Lake Shore Resort offers a tranquil retreat with some of the best scenery Michigan has to offer. Start each day right with views of Lake Michigan during breakfast before heading out to morning yoga on the lakeshore. Visitors can choose from a range of rejuvenating outdoor activities with the resort's complimentary bikes and kayaks, or hike 2 miles of trails on the property. Whether you paddled all day or relaxed on the sand, end each evening with a stunning Lake Michigan sunset and stargaze into the night.
The Ocean Jasper Wellness Spa in Bay City offers a variety of cosmetic, relaxational and therapeutic wellness programs based on the expertise of its independent practitioners. From eyebrow shaping and acne- and stress-relief facials to therapeutic massages and reiki, the spa houses a variety of services under its roof. Ocean Jasper takes its name from the stone of the same name, believed to convey wisdom and spiritual insight.
A turquoise reflecting pool greets guests at IMMERSE spa at the MGM Grand in Detroit, giving visitors a sense of relaxation before they ever step into a pool or lie on a treatment table. Hot stones combine with essential oils and an expert touch for physical and mental relaxation, all part of the spa's signature massage. An athlete massage fosters muscle relaxation and healing, whether aches are due to overactivity, stress or illness.
The Earthwell Retreat Center sits surrounded by 145 acres of meadows, gardens, hardwood forest and rolling hills southwest of Ann Arbor. Dedicated to helping attendees connect with one another through the beauty of conversation, mindfulness and nature, the sanctuary operates weekend getaways. Activities include nature walks and art, yoga instruction, guided meditation, and meals created with organic ingredients grown mostly on the property.
Upper Peninsula
Mackinac Island Spas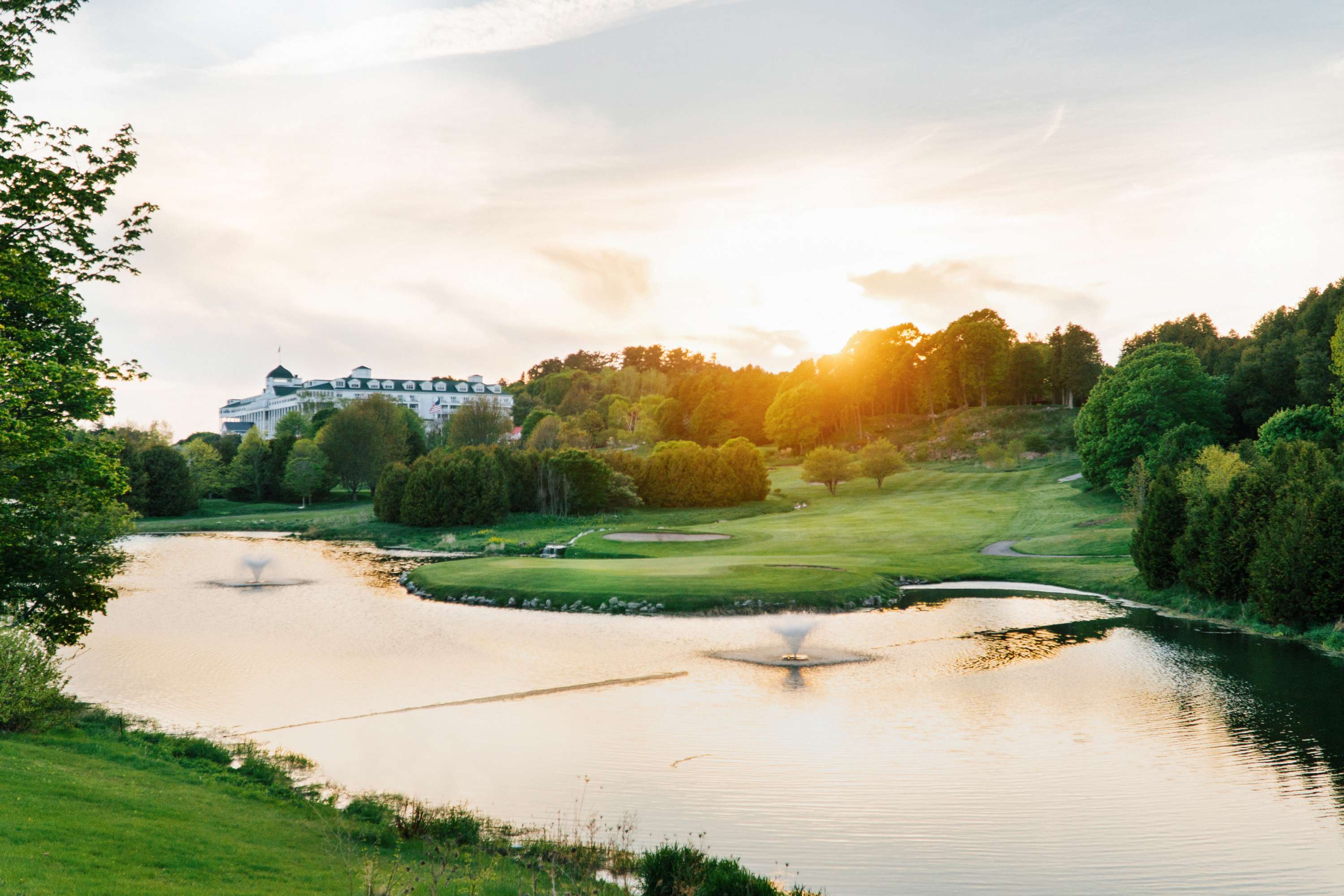 The Victorian summer cottages, horse-drawn carriages and spectacular scenery of the Straits of Mackinac brings a sense of calm and respite to many visitors to Mackinac Island. Two of the island's resort hotels add signature spa services to the area's natural offerings. Mission Point Resort offers a full-service health and wellness retreat at the Lakeside Spa and Salon. Treatments incorporate the region's natural resources, including lilac essential oils, hot Great Lakes stone treatments and cherry almond scrubs. At Astor's Salon and Spa at Grand Hotel, deep tissue and hot stone massage, steam and hot wrap treatments, as well as facials, manicures and pedicures, will leave you feeling your best before your elegant, four-course dinner in the resort's Main Dining Room.
Set in the western Upper Peninsula near Michigan's border with Wisconsin, the Full Moon Rising Wellness Studio in Norway offers a wide array of relaxing and rejuvenating services, including massage and meditation. Through energy-stimulating bodywork and meditation techniques, the studio helps clients restore balance and relieve stress. Yoga and Pilates classes are also on offer, as are focused classes and workshops on a variety of wellness topics.
At LaRose Wellness Retreat located in the town of Baraga, the spectacular beauty of the Western U.P. is a prime contributor to weekend wellness getaways. The soothing rhythm of the Lake Superior surf, a morning sunrise, local hiking and biking trails, and opportunities to kayak or cross-country ski in the winter work wonders on stressed visitors. Additional amenities include a Finnish sauna, massage and facial services, and Native American foot spas.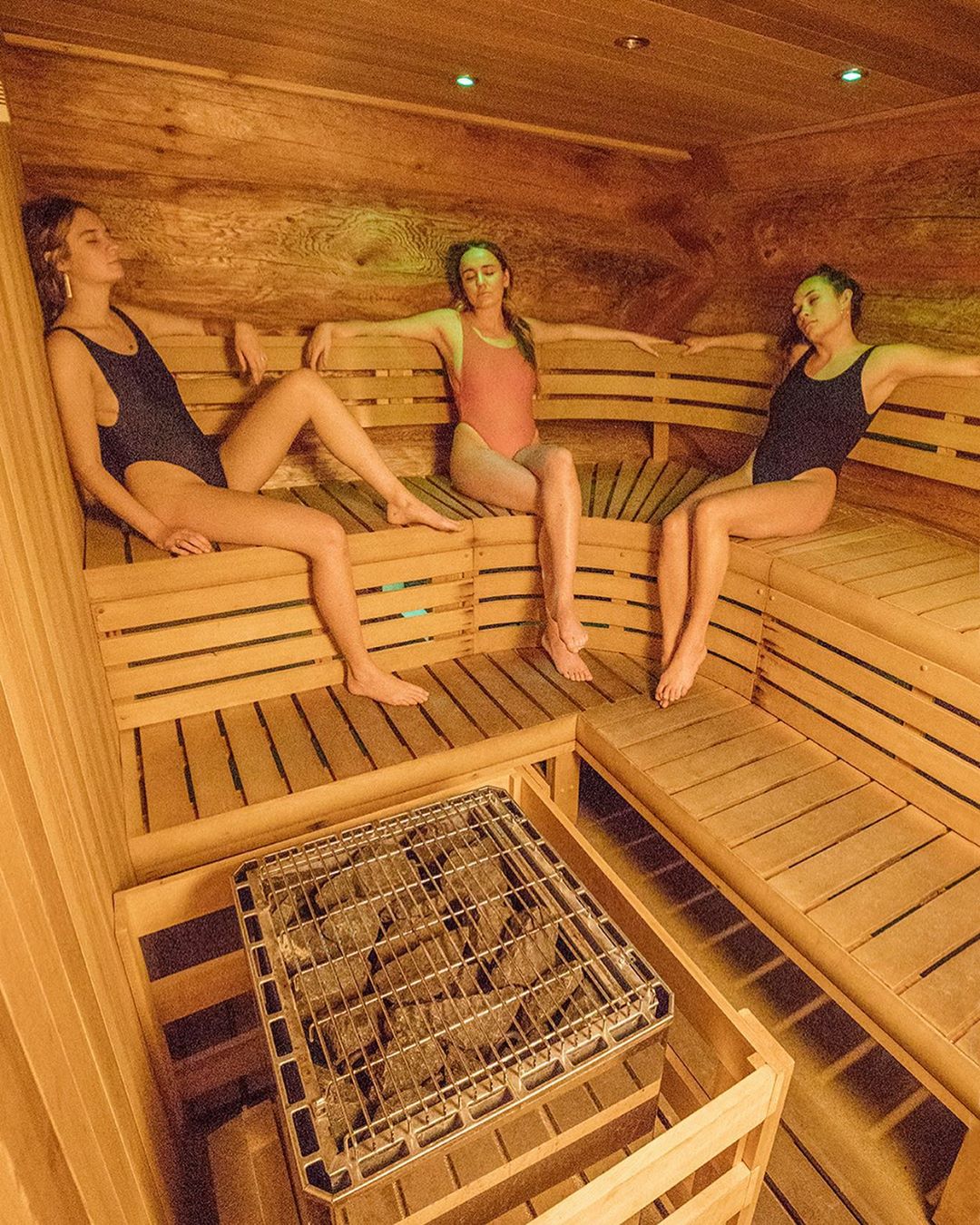 Mount Bohemia's Nordic Spa transports traditional Scandinavian wellness practices to Michigan's Keweenaw Peninsula. Guests lounge in the Finnish sauna or eucalyptus steam bath, then immerse themselves quickly in a Nordic waterfall or cold pool before relaxing at the outdoor fire pit or Log Cabin bar. After repeating the cycle three or more times, spa guests experience a sense of rejuvenation, physically and mentally.
Native American healing traditions permeate Drift Spa at the Island Resort & Casino. Located in the Western U.P., Drift Spa utilizes nature-based treatment products with ingredients such as locally harvested fruits, flowers and honey. After a revitalizing body treatment or facial, guests can relax at the saltwater pool, or in the co-ed sauna or steam room.
Outdoor Spaces
National Park Sites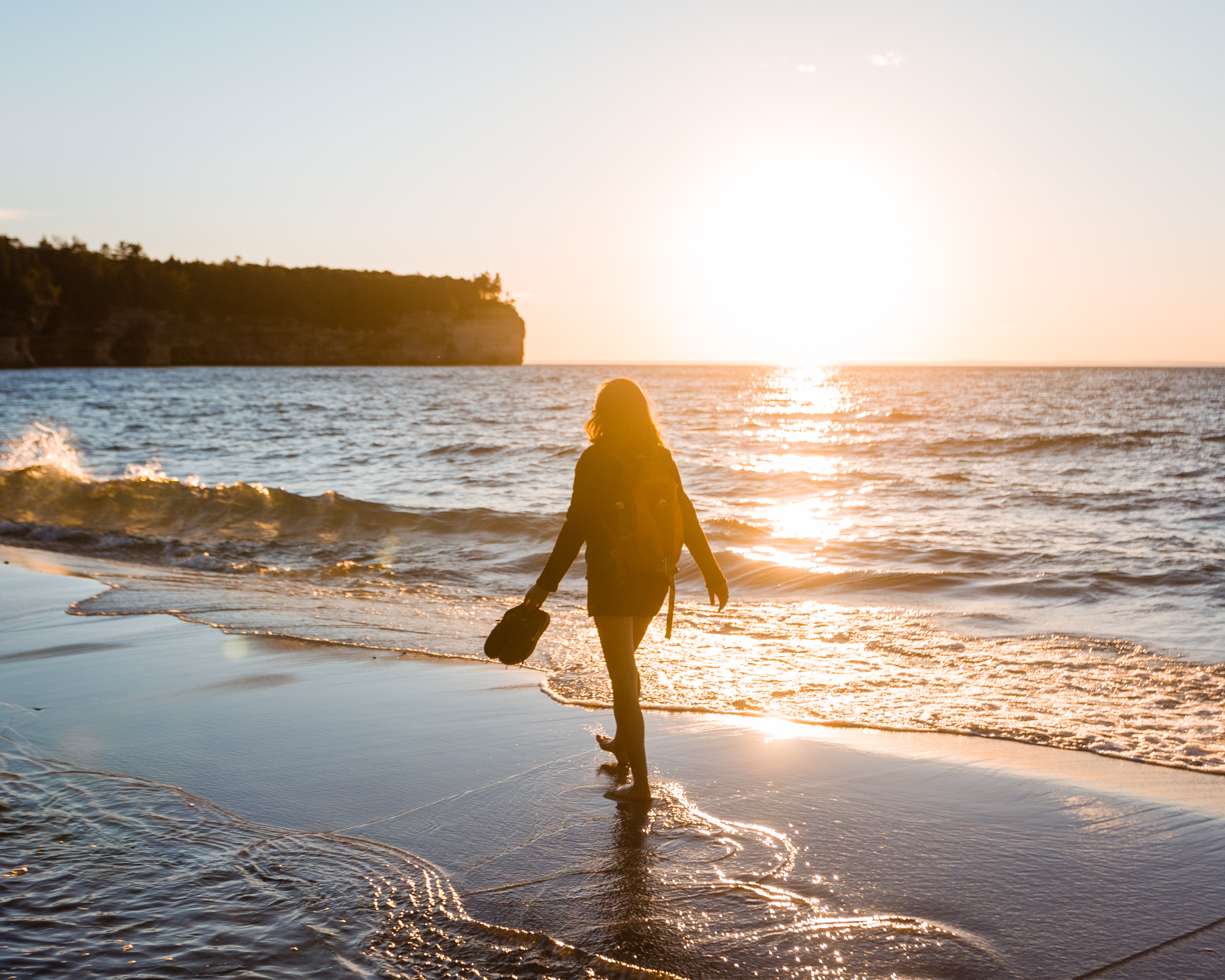 For many, time away in Michigan's beautiful outdoor settings is the catalyst for improving a sense of personal balance and wellness in their lives. Pristine hiking trails, paddling and swimming in the Great Lakes, and camping and snowshoeing are popular pastimes at three of Michigan's national parks: Isle Royale National Park, set in the heart of Lake Superior and accessible only by boat or seaplane; Pictured Rocks National Lakeshore, on the Upper Peninsula's Lake Superior shore, and Sleeping Bear Dunes National Lakeshore, on the Lake Michigan shore near Traverse City.
Michigan State Parks
Michigan's numerous state parks also offer opportunities to enjoy spectacular scenic beauty whether you plan to immerse yourself in outdoor activities or just relax beside a campfire. Head to Holland State Park for spectacular sugar sand dunes and camping within sight of Big Red Lighthouse. Port Crescent State Park is a Dark Sky Preserve on Lake Huron's shore. Craig Lake State Park, one of the state's most remote parks, is popular for its beautiful kayaking and camping. Just one mile from Detroit, Sterling State Park offers outdoor recreation in Michigan's only Lake Erie state park.
Old Growth Forests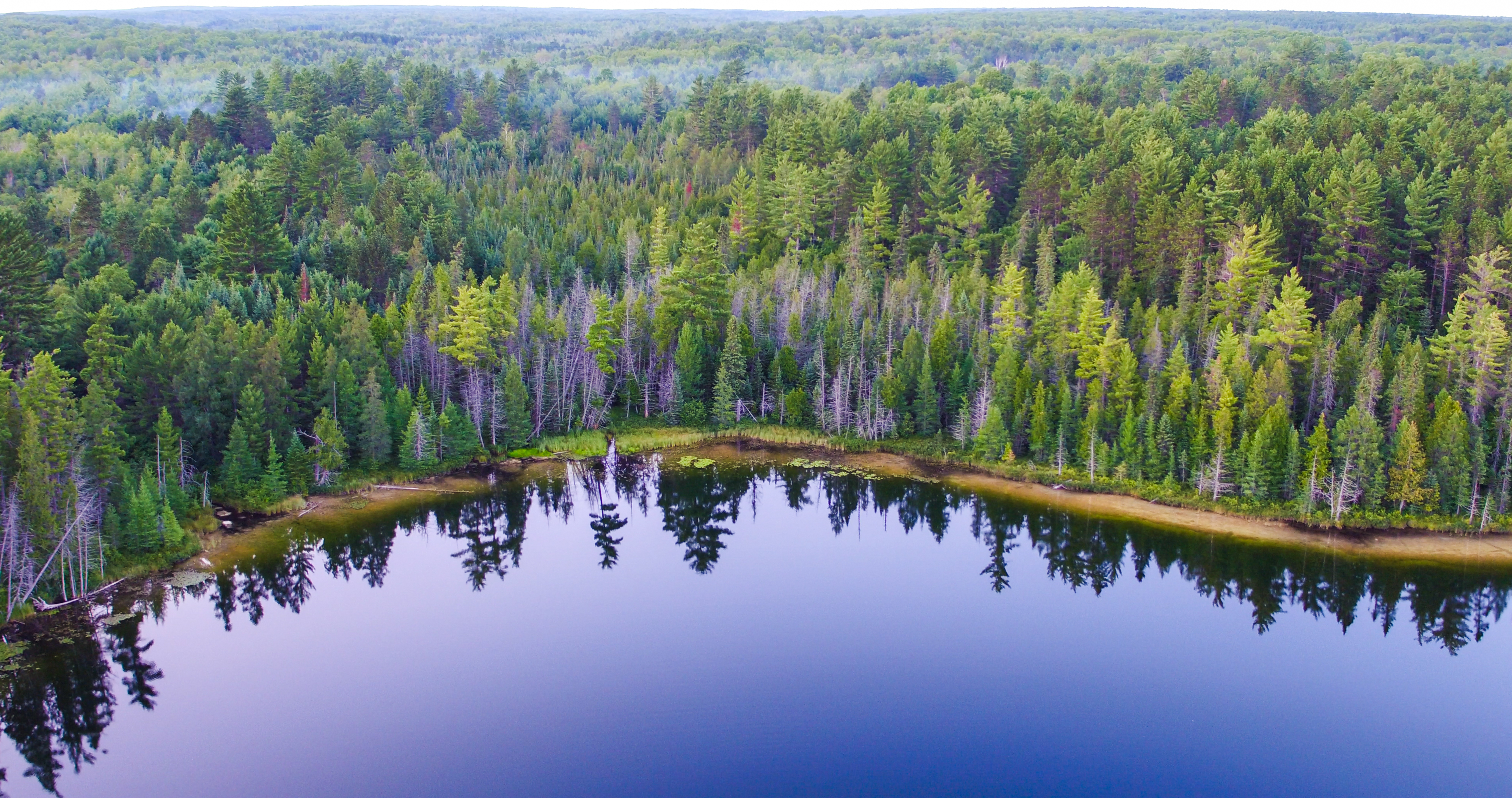 Interested in a weekend of forest bathing? Thousands of acres of pristine forest, including several old-growth stands, occupy large stretches of Michigan's Upper and Lower peninsulas. Michigan's largest state park, the Porcupine Mountains Wilderness State Park, is home to 35,000 acres of old-growth forest as well as gushing waterfalls, a long section of the North Country National Scenic Trail and a stunning Lake Superior shoreline. Hartwick Pines State Park contains a variety of hiking trails as well as 49 acres of old-growth pines. And P.J. Hoffmaster State Park's 10 miles of hiking trails wind their way through acres of ancient Lake Michigan sand dunes covered by dense hardwood forest and sprinkled with wildflowers.
Whether your travels take you deep into the Upper Peninsula's wilderness areas or to Detroit's lively center, to the Lake Michigan shoreline or to northern Michigan's golf and ski resorts, you're never far from a Pure Michigan spa or wellness getaway. Return home with a renewed sense of rest, revitalization and well-being.