20 Scenic Stops for a Road Trip Along the West Michigan Pike
 
You're gonna need a bigger bucket list. The West Michigan Pike is home to a plethora of incredible natural wonders and charming small lakeside towns. You'll get a little bit of everything along this scenic route, including sand dunes, wineries, windmills, and, if you visit in autumn, jaw-dropping fall foliage.
 
Silver Lake Sand Dunes is a great place to start your trip. Go for a swim in the lake, glide down the rolling dunes on a sand board, ride your ORV along the hills, or take a tour on Mac Wood's Dune Rides if you don't have your own Jeep or ATV. There's nothing quite like flying up and down the dunes, while experiencing the fresh Lake Michigan breezes and incredible views.
 
If you're looking to add hiking and biking to your outdoor fun, the William Field Hart-Montague Trail State Park is a 22-mile converted rail trail that provides a fun adventure. The scenic path passes by a few small towns with little snack bars and ice cream shops, so you can take your time and enjoy the ride (or walk!).
 
The Little Sable Point Lighthouse is a great stop for history buffs and beach bums alike. The 107-foot-tall brick tower was built in 1874, and makes for a postcard-worthy photo op with Lake Michigan in the background. Climb to the top to take in the panoramic views!
 
For even more history, make your way to the Silver Lake Sand Dunes Hart Historic District. Old schoolhouses, log cabins, churches, shops, mills, and more are all located right near downtown Hart. The buildings are open to tour during the summer months, and are a fascinating side trip while you're exploring the village of Hart.
 
It doesn't get more picturesque than the White River Light Station. The onsite museum provides a thorough look at maritime history in the area, the nearby pier is fun to explore, and when the lighthouse is open, you can climb to the top!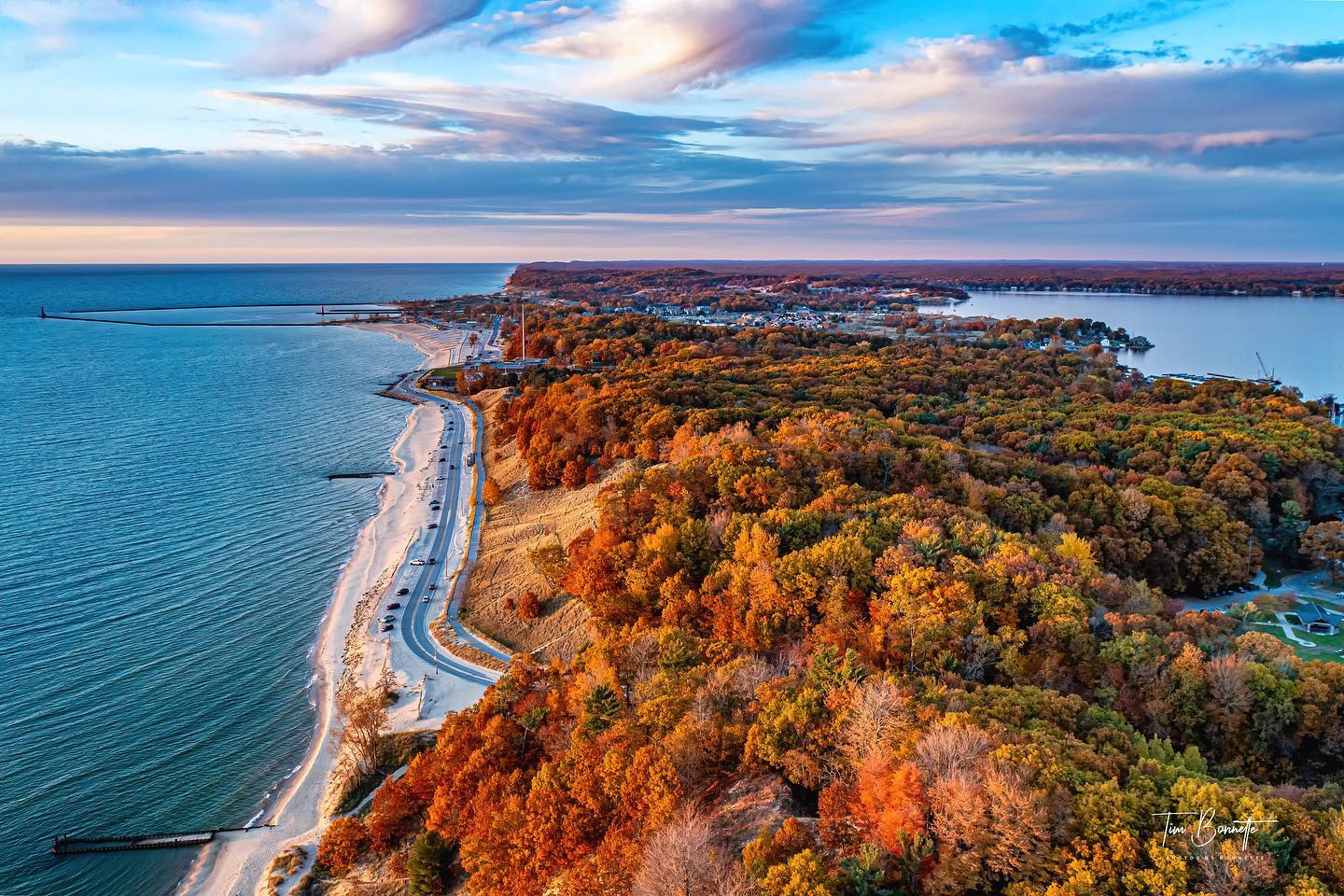 Make sure to spend some time exploring Muskegon. If you're in need of a strong dose of culture, check the schedule at the Frauenthal Center for the Performing Arts and see what they have going on. It could be a musical act, a puppet show, a movie screening, or something totally wild. Be sure to visit the Muskegon Museum of Art as well; the marble building houses an impressive collection of pieces. If you're craving more quaint history, a tour of the Hackley and Hume Historic Sites should satisfy: The two Victorian homes, built side-by-side for business partners, are impeccably preserved and detailed.
 
For a quick hike near Muskegon, try Dune Ridge Trail. The 4.2-mile trail takes you to the top of the dunes for sweeping views of both Lake Michigan and Lake Muskegon.
Since you're spending time exploring the coast, take advantage of the unique history here and head to the Great Lakes Naval Memorial and Museum in Muskegon. It is home to the USS Silversides, a WWII-era submarine, and the USCGC McLane, a Prohibition-era cutter. Boarding these vessels is a rare and fascinating opportunity. You can even look into spending the night aboard the Silversides!
 
9. USS LST 393 Veterans Museum – Muskegon
If that's not enough naval awesomeness for you, there's always the USS LST 393 Veterans Museum, which features a Landing Ship Tank that transported tanks, amphibious vehicles, troops, and more during WWII, and the S.S. Milwaukee Clipper, a freight steamer that was built in 1904 and which was totally repackaged and renamed in the 1940s. Her main job was to ferry passengers between Muskegon and Milwaukee, hence her name.
 
After you're done visiting the Silversides, walk down to Pere Marquette Park, which features a wide stretch of sandy beach. Cool off in Lake Michigan, or simply enjoy the sun, a game of beach volleyball, or the view from the lighthouse! There's a bar and restaurant right nearby as well, so you can easily spend a relaxing afternoon here.
Head back to the shores of Lake Michigan to P.J. Hoffmaster State Park. Featuring swimming beaches, hiking trails, sand dunes, a nice visitor center, and a spacious campground, it's another hidden gem filled with peaceful Michigan beauty.\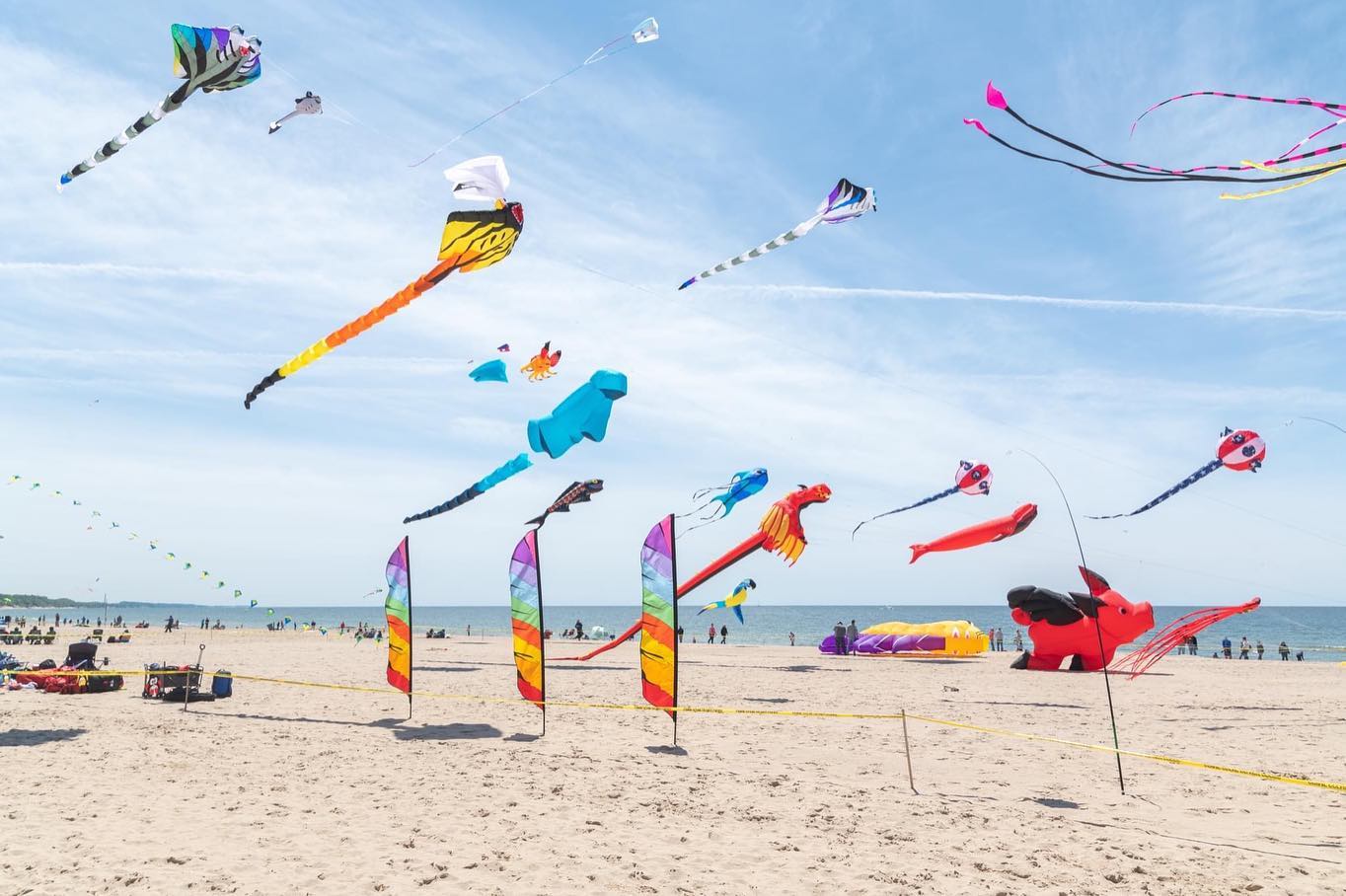 Grand Haven is a perfect beach town. Once a commercial port town for ferries, it has morphed into a vacation destination for those looking to enjoy some peace and quiet. There are plenty of attractions, and the city is surrounded by natural beauty! Explore the wooded and open dunes and swim in the lake at Rosy Mound Natural Area. Or, stroll around the harbor and down the boardwalk, which leads out to the pier. Here, you can watch the boats and snap some photos of the distinctive, bright red lighthouse. There's also the Grand Haven Musical Fountain, the largest of its kind, with lights, music, and water all synchronized for 25-minute shows each night during the spring and summer.
Take a trip back in time on the Harbor Trolley, which only costs $1.50. It drives you to some of the town's historic gems, such as Pfaff Pharmacy and The Bookman, along the boardwalk, and past the state park. You also can tour the Tri-Cities Historical Museum to see the Train Depot, which has a vintage steam locomotive, and displays on boats, bikes, trucks, and more.
For some really unique Dutch vibes, make your way to Holland. The town's famed Big Red Lighthouse is a great place to get a feel for the quirky but cultured settlement: The classic lighthouse architecture is given a punch with the bright-red paint job, making it popular with artists and photographers. Other icons in Holland include the Dutch themed Windmill Island Gardens, home of De Zwaan, the only authentic and operational Dutch windmill in the U.S.; the Cappon House and Settlers House Museum, which was the residence of the wealthy and influential Isaac Cappon family; and the Holland Museum, with its collection of Dutch art and local artifacts.
For a thrilling afternoon, rent a boat and go sailing on Lake Macatawa, or if you're in search of more Netherlands-themed fun, check out Nelis' Dutch Village. It's a Dutch-themed attraction with a playground, some rides, a petting zoo, shops, and restaurants. It's as quaint as it gets, and is a great place for kids! Enjoy Dutch treats, and watch the traditional dances as you explore.
 
A trail that highlights the dunes and forests of the shores of Lake Michigan is in Saugatuck Dunes State Park. The South Loop is a relatively not-crowded trail that offers wilderness views along the five-mile route. And if you'd rather do a bike trail, the 30-mile Saugatuck Sashay is great: The rolling hills and forest scenery along the Kalamazoo River Valley Trail provide the perfect setting, and you'll pass a few awesome little towns and a killer winery along the way.
The Southwest Shore Cruise is another bike trail that's a little longer at 50 miles, and it connects South Haven with Saugatuck. A vineyard, orchards with fruit stands, Lake Michigan views, and a fun crossing on the historic chain ferry make this ride extra special.
There are three awesome water trails in the region as well. The southern portion of the Lake Michigan Water Trail West travels the lake's coast and ventures into the lakes and rivers of the region; the southern portion of the Lake Michigan Coastal Water Trail connects Grand Rapids and Muskegon and is great for a long trip; and the Grand River Heritage Water Trail has tons of access points for a custom-length trip.
 
From Holland, it's on to Saugatuck, home to Oval Beach. Oval Beach is one of the most popular freshwater beaches in the country, and it's not hard to see why: It's got lots of parking, a location right near downtown Saugatuck, concession stands, showers, and sparkling clean water and sand. If you're in the mood for a hike, make your way up the 282 steps to the top of the park's Mount Baldhead. For a distinctly Michigan take on beach fun, book an adrenaline-inducing tour with Saugatuck Dune Rides, or take a relaxing sunset cruise on the Star of Saugatuck.
 
Michigan is famed for its fruit, so stop by Crane Orchards to pick your own! Cherries, peaches, and apples are available from summer through the fall (call to see what's available) and come autumn, they even have a corn maze!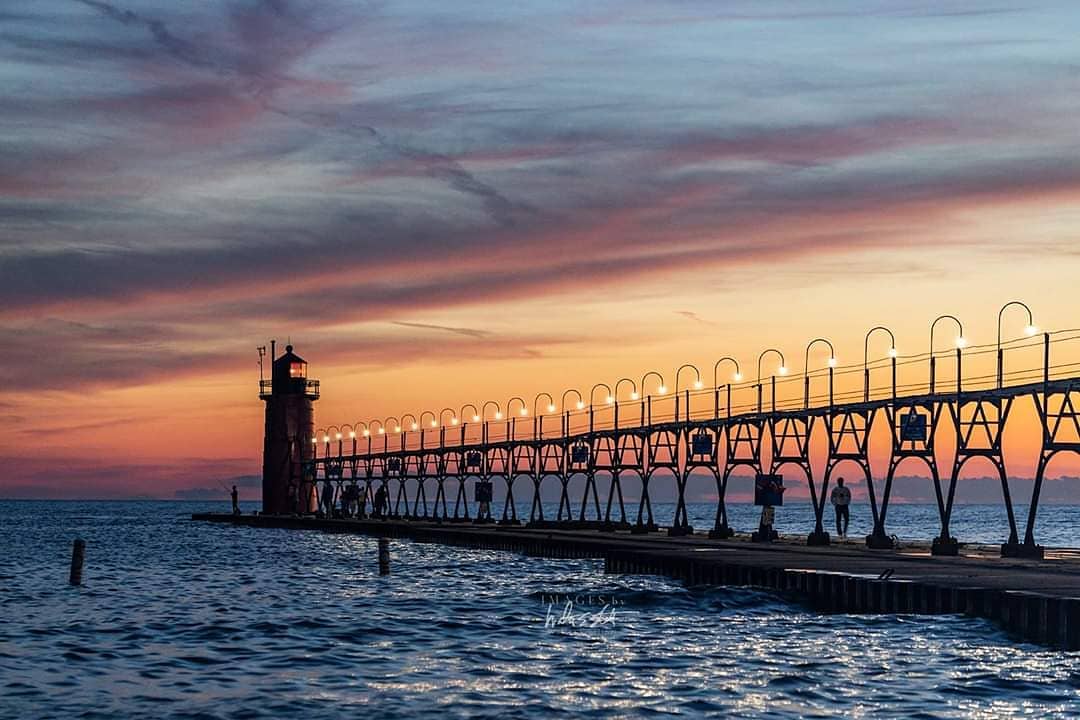 Another town worth visiting is South Haven. Stop by the Michigan Maritime Museum to browse its massive collection of sailing artifacts. Here, you can take a ride on the nineteenth century tall ship, Friends Good Will, or the electric Lindy Lou river launch, which cruises the Black River. South Haven is also home to the Liberty Hyde Bailey Museum. Liberty Hyde Bailey was a renowned horticulturist, botanist, and philosopher whose childhood in South Haven inspired him to help found the American Society for Horticulture Science. End your adventure here by catching a performance or perusing an exhibit at the South Haven Center for the Arts. Or, walk from the downtown's unique shops to the Lake Michigan shoreline to catch a sunset over South Haven's famous lighthouse.
Van Buren State Park is another great spot to hike in the area. It's a rough path that covers 14 miles between Hartford and South Haven and is perfect for bird-watchers and hikers. Bass River Recreation Area also has a four-mile loop trail that's full of twists and turns, making it great for mountain bikers and avid nature lovers.
 
End your trip at St. Joseph and Benton Harbor, two resort towns that are near each other. Enjoy the lakeshore love at Silver Beach County Park and the adjacent Silver Beach Center, which has a splash pad, a carousel, a giant kaleidoscope, and more, or at Weko Beach Park & Campground, which has sandy dunes, a campground, and live music on some summer nights. If you brought your clubs, schedule a tee time at the serene Harbor Point Golf Club and work on your swing. Looking for something a bit more relaxing than golf? Pay a visit to one of the many wineries in the Lake Michigan Shore Wine Country: Each is more charming and delicious than the last.
 
The region is loaded with historic sites as well. The Heritage Museum and Cultural Center is free and its exhibits provides insight on sports, shipbuilding, lighthouses, and fashion. And, if you're looking for something really interesting, tour the grounds and historic buildings at Mary's City of David Museum; this is where a unique and progressive religious community known as the House of David made its headquarters.
Western Michigan is perfect for a road trip. Cities such as Muskegon, tiny, offbeat towns such as Holland, as well as beaches, museums, wineries, and more make the journey a Michigan classic... you might have a hard time saying goodbye!
---