Enchanting Michigan Towns That Will Warm Your Soul This Winter
 
As Michigan temperatures cool and snowflakes flutter to the ground, Michigan transforms into a winter wonderland. Trade-in your cozy blankets and fuzzy slippers for a coat and boots because adventure awaits. As you walk through historic villages, taste the local cuisine, and ride an iconic steam train, you will forget all about the chilly temperatures. Try one of these enchanting Michigan towns for your next winter getaway.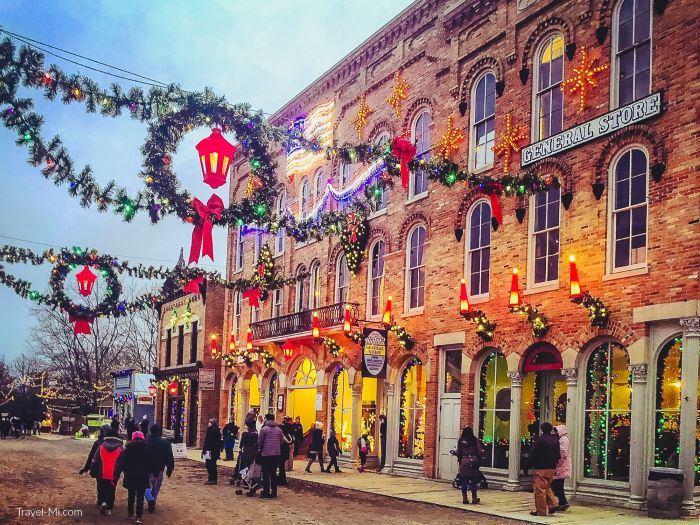 This quaint, lakeside village and railroad feels like stepping back in time. History comes alive as you explore the thirty-four historic buildings reminiscent of the 1800s, including a post office, general store, mill, print shop, drying shed and stained-glass-windowed church. Step inside the dentist's office to see some old-fashioned dental tools.
As you wander the tree-lined sidewalks, be sure to grab some freshly-popped kettle corn and take a spin on the colorful horses inside the vintage carousel house. While you are there, go for a ride on the nearby vintage Ferris wheel. Enjoy a bite to eat at the homestyle buffet with tasty desserts, including delicious ice cream.
Last but not least, hop aboard the iconic #152 steam train. Puffing billows of steam will dance past your windows as your train car rolls along the tracks. Keep your eyes open along the scenic route for winding rivers and deer leaping through the thick forests.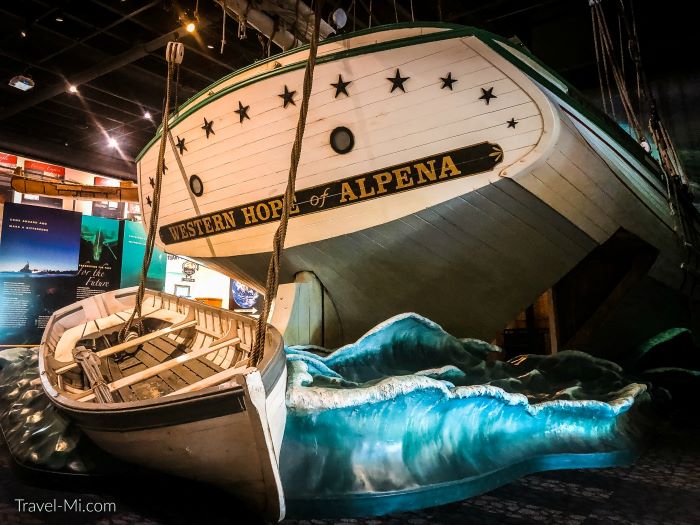 Alpena is the perfect place to explore Michigan's history and enjoy the spectacular winter landscape. The Great Lakes Maritime Heritage Center is a 9,000-square-foot maritime center featuring a shipwreck gallery, theater and archeological lab. This free attraction is a fantastic place to learn while having fun. Visit the nearby Besser Museum, where art, history and science come alive. Enjoy the museum's extensive fine art collection that includes watercolor, oil, pottery, sculptures and more.  Study the Foucault Pendulum to understand Newton's Law of Motion and view constellations in the only planetarium in Northeast Michigan. 
If you are feeling adventurous, visit Rockport State Park and dark sky preserve. This vast park is home to an abandoned limestone quarry, several sinkholes and Devonian Era fossils dating millions of years old. A bat hibernaculum located near the parking area is a fun challenge to find. Here you can cross country ski, snowshoe, stargaze and more.
When your stomach grumbles and you need a coffee break, Cabin Creek Coffee is a cozy spot to enjoy a hot beverage with homemade baked goods, delicious sandwiches, salads or flatbread pizzas.  Thunder Bay Winery is a wonderful spot to relax while tasting regional wines. Nucleus Lounge, located next door, is known for its fantastic pizzas, Michigan-made spirits and signature drinks.  While visiting Alpena, be sure to explore the quaint downtown for fantastic local finds, clothing and souvenirs. Rusty Petunias is a great shop for lake-themed items, gifts and décor.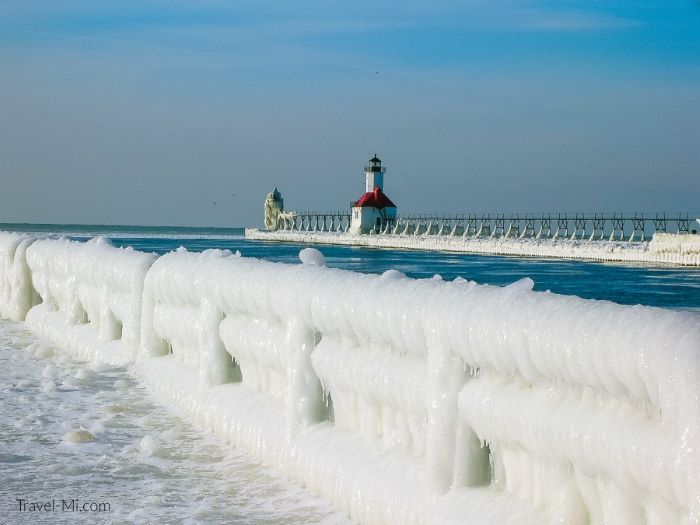 If you have an adventurous spirit, head to St. Joseph this winter. The famous North Pier and lighthouse is known for its stunning landscape as waves freeze while crashing against its side. Marvel at the lighthouse from shore, because the walk down the icy pier can be dangerous. Enjoy the beautiful lake views along the tree-lined bluff and shop in the picturesque downtown stores. For a sweet treat, stop into Kilwins for a delicious scoop of ice cream, or grab a mug of hot chocolate at the South Bend Chocolate Company. Be sure to ask for a chocolate spoon to get that extra boost of chocolate delight! 
St. Joseph was once home to the popular Silver Beach Amusement Park, which graced the shores from 1891 to1971. Carnival rides and games of chance entertained vast crowds on the midway. Visitors can still find a colorful display located at the Silver Beach Carousel will take you back in time to thrilling roller coasters, kids licking ice cream cones and the sweet smell of buttery popcorn wafting in the breeze. Be sure to take a spin on the beautiful carousel horses and grab a warm slice of pizza at Silver Beach Pizza located across the street.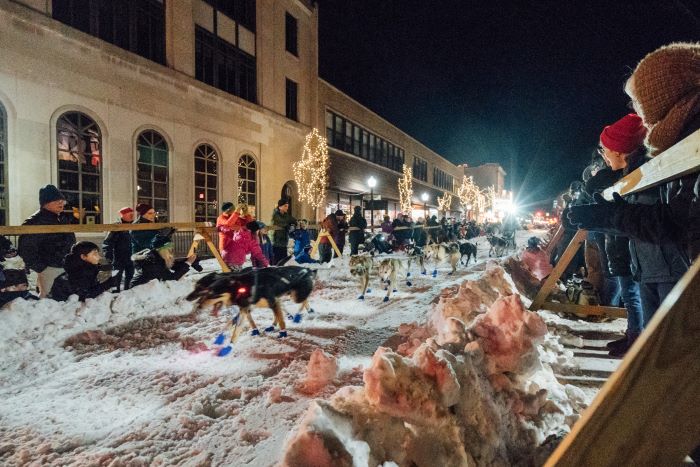 In February, the exhilarating UP200 takes over Marquette. Mushing teams congregate from Alaska, Canada, Wisconsin, Minnesota, Michigan and beyond for a chance to become an Iditarod qualifier in this grueling dog sled race that spans 238 miles, from Marquette to Grand Marais and back.
Spend an afternoon shopping in the eclectic Washington Street boutiques for great clothing, gifts and souvenirs. When you get hungry, slide into a booth at the Iron Bay Restaurant and Drinkery for local favorites like the whitefish dinner, beer cheese spread and delicious build-your-own-burgers. If you need a java fix, grab a latte from the friendly baristas at Dead River Coffee Shop. For a sweet treat, stop into Donckers for an ice cream float at the old-fashioned soda fountain or try a variety of their house-made chocolates.
​If you love history and photography, check out the old 510 Bridge located in Negaunee. This picturesque bridge was originally located in Pennsylvania and was relocated in 1921 to span the Dead River in Marquette County. The scenic landscape, surrounded by soaring pine trees and the winding Dead River, makes this an ideal spot for photography.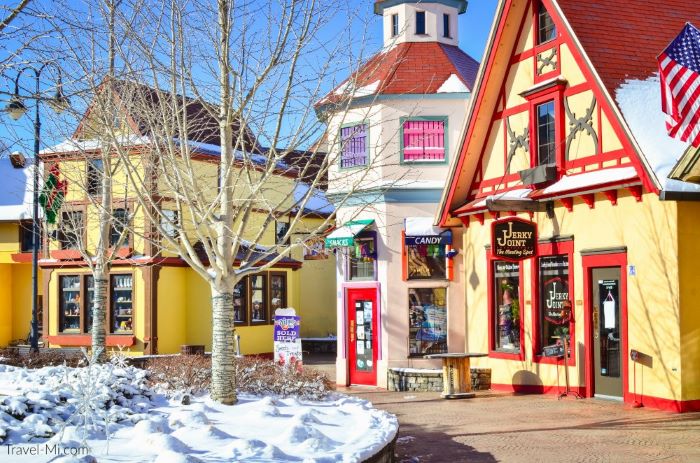 Just one visit to Frankenmuth is all you will need to develop a deep appreciation for everything Bavarian.  This colorful, Bavarian-themed village is a cheerful place to visit during the winter as you can shop, explore, drink and eat famous fried chicken all on one street! Cross the bridge on Main Street to explore the eclectic River Place Shops because you won't want to miss out on 45 flavors of gourmet popcorn, Michigan-crafted spirit tasting, outfits for your pets, and Sugar High cupcakes—winners of "Cupcake Wars" on the Food Network Channel.
It's fun to walk across the iconic Holz-Brücke wooden covered bridge located near the Bavarian Inn. Pedestrians have a safe walkway, with a spectacular view looking out over the Cass River. After an afternoon of shopping and exploring, head into the Bavarian Inn or Zehnder's for a delicious and famous fried chicken dinner and other traditional German dishes. 
Your visit to Frankenmuth isn't complete until you have visited Bronner's CHRISTmas Wonderland, the world's largest Christmas store. Bronner's is the size of one and a half football fields and twinkles with over 50,000 trims and gifts.  This joyful store will put you in the Christmas spirit any time of year!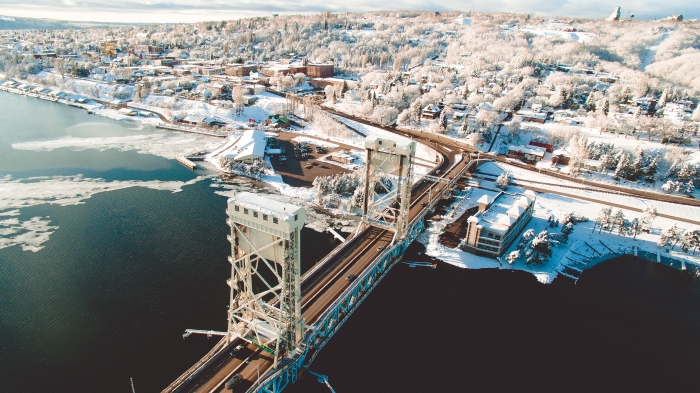 Each winter, Houghton comes alive as the famous Winter Carnival kicks into high gear. This popular festival began in 1922 and has grown into one of the biggest annual winter celebrations in the nation. During the festival, Michigan Technological University students construct magnificent ice sculptures of jaw-dropping proportions with the sole purpose of bragging rights. Visitors can also cheer on a rowdy game of broomball or curling competitions, or, if you are feeling adventurous, try your hand at ice wall climbing.  
 
Whatever the weather, there are so many excellent reasons to get outside and explore this winter. And don't forget, hot chocolate, warm apple cider and fuzzy blankets are waiting when your winter adventure is over.
About the Author: As a born and raised Michigander, Sherry Trautman produces the Michigan adventure blog, Traveling Michigan, which chronicles her and husband Chris' travel and food adventures across the state. She helps vacationers travel smartly, save money and get the most out of their adventures across Michigan.  You can also find her on Instagram, Facebook and Twitter. 
---