Freshwater Snorkeling in Michigan: Your Ultimate Guide
Michigan's swimming, boating and fishing are renowned. However, few people know that some of the state's best water views lie just below the surface, visible only with a mask and snorkel.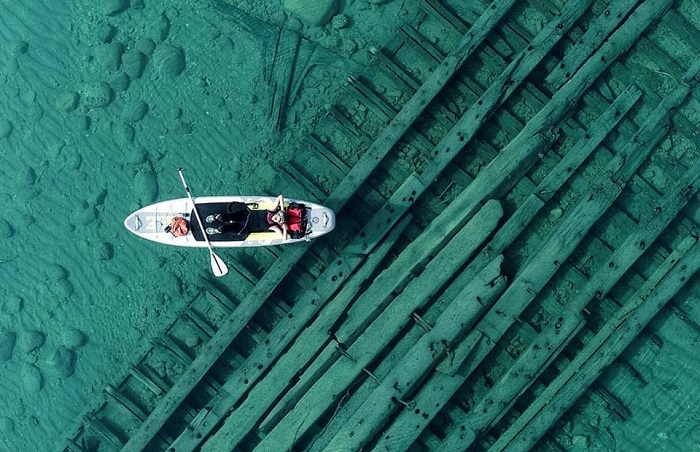 The remains of century-old shipwrecks lie scattered beneath the surface of Michigan's Great Lakes, with more than 200 in Thunder Bay, earning this area of Lake Huron the nickname "Shipwreck Alley." Most wrecks require diving gear, but several lie in shallower waters. Above water, admission to the sanctuary's Great Lakes Maritime Heritage Center is free and open year-round, with shipwreck artifacts, a Great Lakes schooner replica, research and dive operations facilities and a community boat-building center.  
 
This four-mile-wide swath of Lake Michigan from Ludington to Grand Haven is best known for its golden beaches and spectacular lighthouses. Beneath the water lies several shipwrecks, including several visible with snorkeling gear. Look for the two-masted scow schooner Helen, dating from 1881, just north of Muskegon. The 1893 schooner Interlaken lies just north of Whitehall.
 
3. Lake Charlevoix – Boyne City
Wishbone-shaped Lake Charlevoix draws visitors year-round. To the west, the city of Charlevoix lies between the inland lake and Lake Michigan, offering great Petoskey stone hunting and boating. To the east, Boyne City is known for its great snowmobiling and skiing. Not to forget that Lake Charlevoix promises especially good snorkeling at Young State Park. Explore Lake Charlevoix's waters, teeming with colorful freshwater fish and aquatic plants.
 
Lake trout and perch swim beneath the waters of Burt Lake, easily seen with snorkeling gear. Dive into the waters at Burt Lake State Park, with a sandy beach that allows easy access. Nearby attractions include the 55-foot-tall Cross in the Woods Shrine and Nun Doll Museum, the world's largest crucifix, and the Inland Waterway, a 42-mile chain of lakes and rivers running from Cheboygan to near Petoskey.
 
5. Torch Lake
On a sunny day, you might confuse northern Michigan's Torch Lake with something out of the Caribbean, even if the glacier-carved lake is colder. The long, narrow lake measures 300 feet deep and stretches 19 miles long between Charlevoix and Traverse City and is famous for its great waterskiing and crystal-clear, aquamarine waters that make for perfect snorkeling. You'll find nothing to distract your underwater views of silvery freshwater fish and colorful aquatic plant life.
 
Multicolored rock cliff faces, towering waterfalls and mighty Lake Superior take center stage at Pictured Rocks National Lakeshore. The western end of this national park includes the Alger Underwater Preserve. Beneath Lake Superior's waves lie underwater rock formations no less spectacular than those above the surface. With snorkeling gear, you can admire them and several shallow shipwrecks, including the 1870 wooden schooner Bermuda near Grand Island National Recreation Area and the 1893 wreck George near Mosquito Beach.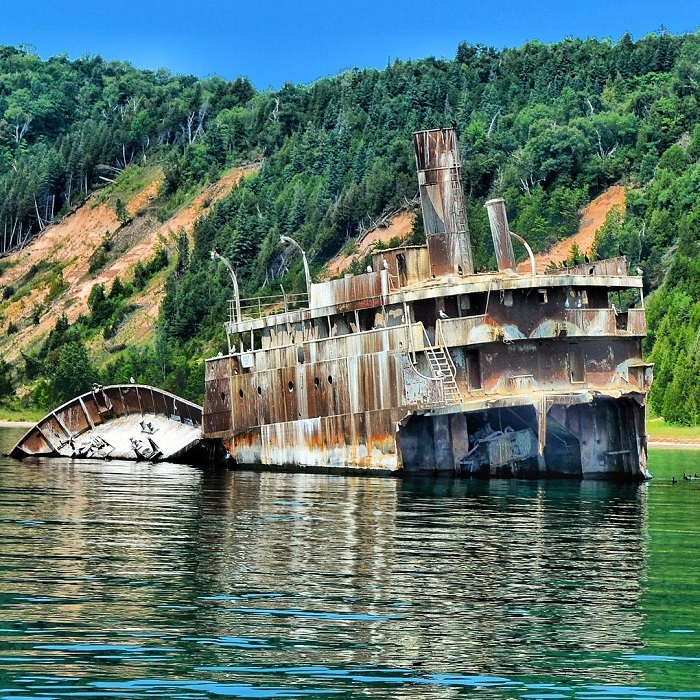 With sweeping Lake Michigan views, sand dunes that tower 450 feet above the water and two remote islands, the Sleeping Bear Dunes rank among Michigan's most popular natural areas. The waters within the national lakeshore are also home to the Manitou Passage Underwater Preserve. Beneath the lake's surface rest the remains of crumbling boat ducks and the hulls of 200-year-old shipwrecks, some shallow enough to explore with snorkeling gear. South Manitou Island marks the final resting place of the Francisco Morazan, which went down in 1960, as well as the 1911 wreck of the wooden steamer Three Brothers. Also worth snorkeling, is the Sleeping Bear Dunes' warmer and quieter Platte River on the mainland, with glimpses of shimmering fish and colorful plant life.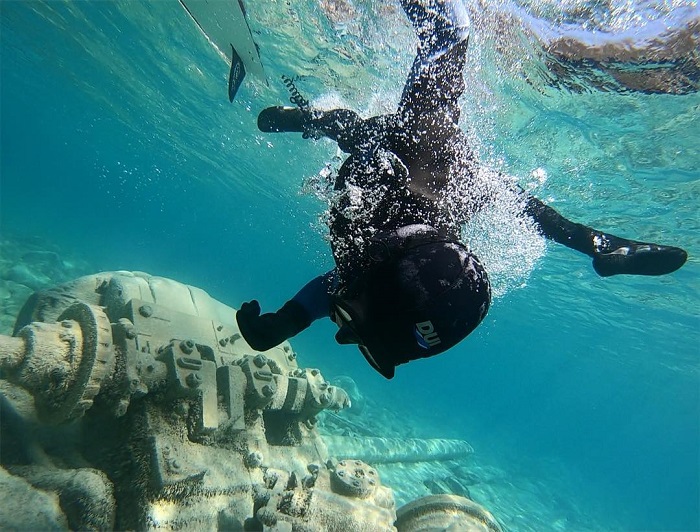 Elk Lake ranks as Michigan's second deepest inland lake at 195 feet after Torch Lake. If you don't mind the lake's cool waters, strap on your mask and explore the world beneath the water, glimmering with lake trout, the remains of old boating gear and docks. If you haven't had enough of shipwrecks, make the short drive to Lake Michigan's Grand Traverse Bay Underwater Preserve, where the 1903 Shale Scow wreck and a good deal of old lumber sit just south of the Elk Rapids harbor. Elk Lake lies between Traverse City and Charlevoix, where summertime visitors enjoy picture-perfect beaches, stately lighthouses and rainbow-sherbet sunsets.
 
Michigan's thumb juts up into Lake Huron, where two centuries ago Great Lakes ships often went aground. That's precisely what happened to the Jacob Bertschy in 1879 near Grindstone City Harbor. Spying on the steamer is considered an ideal pastime for snorkelers, who will not only enjoy seeing the 150-year-old wreck, but also the large schools of fish who claim the ship's hull as their home. Make time to visit Pointe Aux Barques Lighthouse and Museum, one of Michigan's oldest.
 
Islands small and large occupy the waters in northern Lake Huron leading into St. Mary's River and Sault Ste. Marie. It's no wonder that this important shipping lane has claimed a large number of ships over the years. The Alice W., south of Drummond Island, is considered one of the best wrecks for snorkelers, being the largest wooden vessel on the Great Lakes for some years before capsizing in 1918. While you're in the eastern Upper Peninsula, make a visit to Drummond Island, considered one of the nation's finest ATV destinations, and head up to the Great Lakes Shipwreck Museum and Whitefish Point Light Station to view the beautiful white lighthouse and lifesaving buildings that helped rescue the crew of the Edmund Fitzgerald.
 
Tips for Snorkeling in Michigan
1. Snorkeling season in Michigan typically begins in April and ends by mid-October, when fish head to deeper waters and out of sight.
 
2. Even in summer, the water in Michigan is often colder than in other places you may be accustomed to snorkeling. Wear a wetsuit if temperatures are cool so that you can take your time exploring.
 
3. Wear a personal flotation device (PFD) in the water, even if you're a strong swimmer. Focus your energy on exploring instead of staying afloat.
 
4. The big advantage of snorkeling in freshwater is the absence of dangerous creatures like sharks or jellyfish. However, it's a good idea to contact the Michigan Department of Environmental Quality (DEQ) for unseen hazards in the way of poor water quality. They can also advise on off-limit areas to humans for the protection of wildlife.
 
5. Ask a local dive shop or outfitter for advice before heading into the water. They can direct you to the best places to avoid boat traffic and where to spot fish, aquatic life and shipwrecks.
 
6. There's beauty in every Michigan waterway. If the water in your nearby lake or stream is clear enough and you've dressed appropriately, have a look beneath the surface.
 
---