Bring Your Best Friend on These Pet Friendly Vacations in Michigan
 
Pure Michigan is perfect for the pooch (and its owners too), something that becomes evident as soon as you browse popular hotels and activities and see how well they accommodate the entire family. Michigan has a long list of hotels at which the family pet is welcome. There are pet-friendly beaches, microbreweries, wineries and waterfall trails too. And when you've explored all of those, how about a scenic boat cruise or historic mine tour? Just pack along your best friend, and hit the trail—be it paved, water or a long stretch of sandy beach.
 
Mackinac Island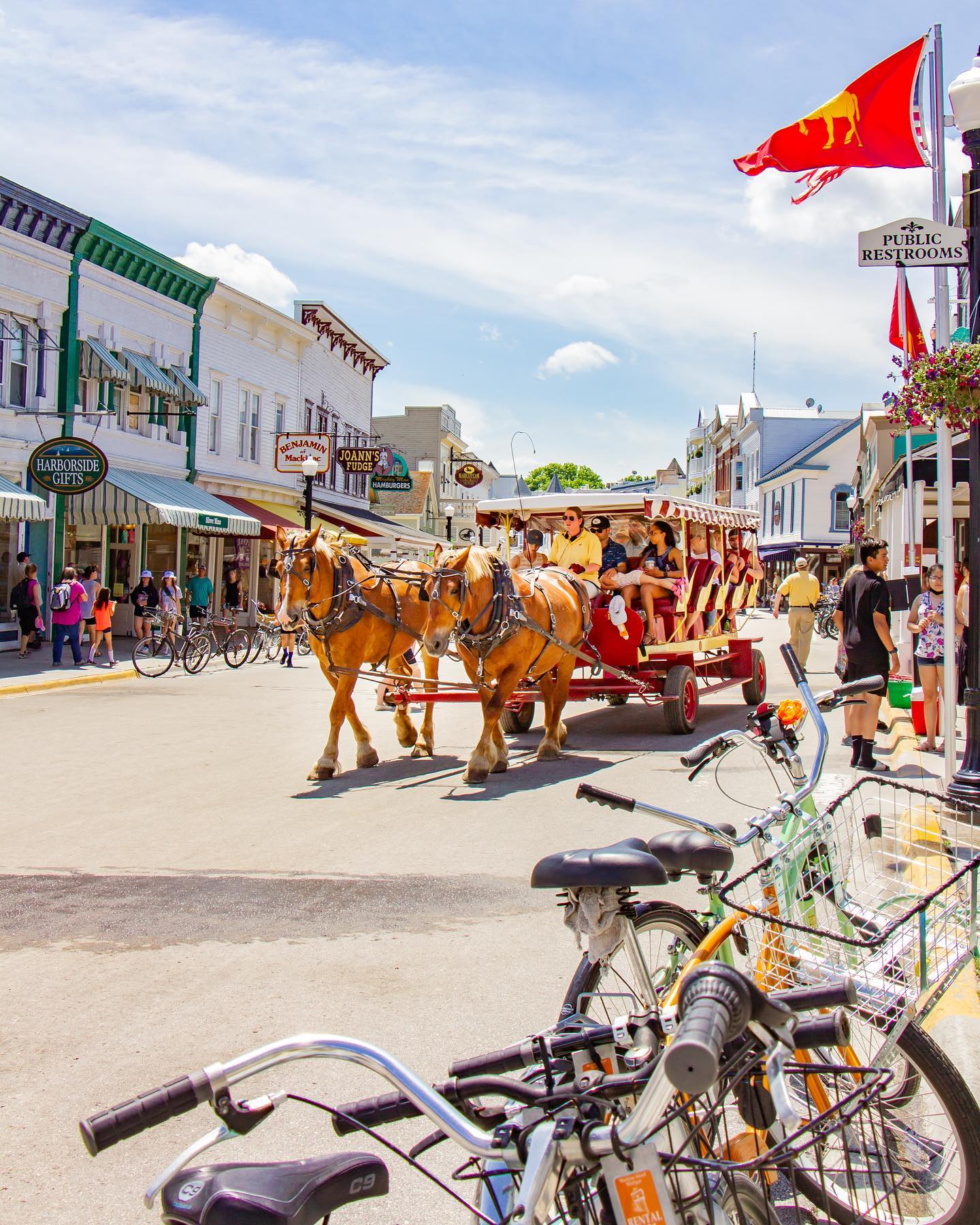 A destination that holds an annual Dog and Pony show as part of its major annual Lilac Festival and where horses (or bikes) are the way everyone gets around is sure to be pet friendly—even more so than you might imagine. Head to Mackinac Island, and your dog rides free on island transport like Shepler's Mackinac Island Ferry (if lap sized; dogs requiring their own seat go for a child's ticket rate). Go on a narrated journey aboard popular Mackinac Island Carriage Tours. Mackinac Island State Historic Parks, including popular Fort Mackinac, are pet friendly too; your pup is welcome to enter on your ticket to the fort, but be sure your dog is acclimated to loud noises. Every now and then, they fire a cannon over the Straits.
Pet-Friendly Paddle Trips
 
No need for either of you to dog paddle to get onto the water with your pet. Woods and Water Ecotours in Hessel, a gateway to the Les Cheneaux Island chain, is just one of many pet-friendly outfitters that let you get on the water with the pet—say on a kayak or stand-up paddleboard—in this case onto calm waters protected from the wilder open stretch of Lake Huron by the 36-island archipelago. Leashed pets are also welcome to climb aboard with owners on AuSable River floats at Borchers AuSable Canoe Livery & Bed and Breakfast in Grayling. Or take the family pet on a lazy paddle down the winding Paw Paw River with a rental from Third Coast Surf Shop near the state's southwest corner, and you'll all enjoy the unspoiled natural beauty.
  
Pets are accommodated in different ways on three of the most visited water attractions in Michigan's Upper Peninsula. Kitch-iti-kipi, Michigan's largest freshwater spring, lets you take a pet-friendly ride on its self-guided raft within Palms Book State Park and see the 40-foot deep springs in which more than 10,000 gallons a minute gush from fissures in the underlying limestone. Book a narrated trip on Pictured Rocks Boat Cruises in Munising or Soo Locks Boat Tours in Sault Ste. Marie, and both offer cruise-length kennel service for the pet while you glide along colorful cliffs streaked by limestone or through some of the world's busiest locks systems.
 
Dog-Friendly Beaches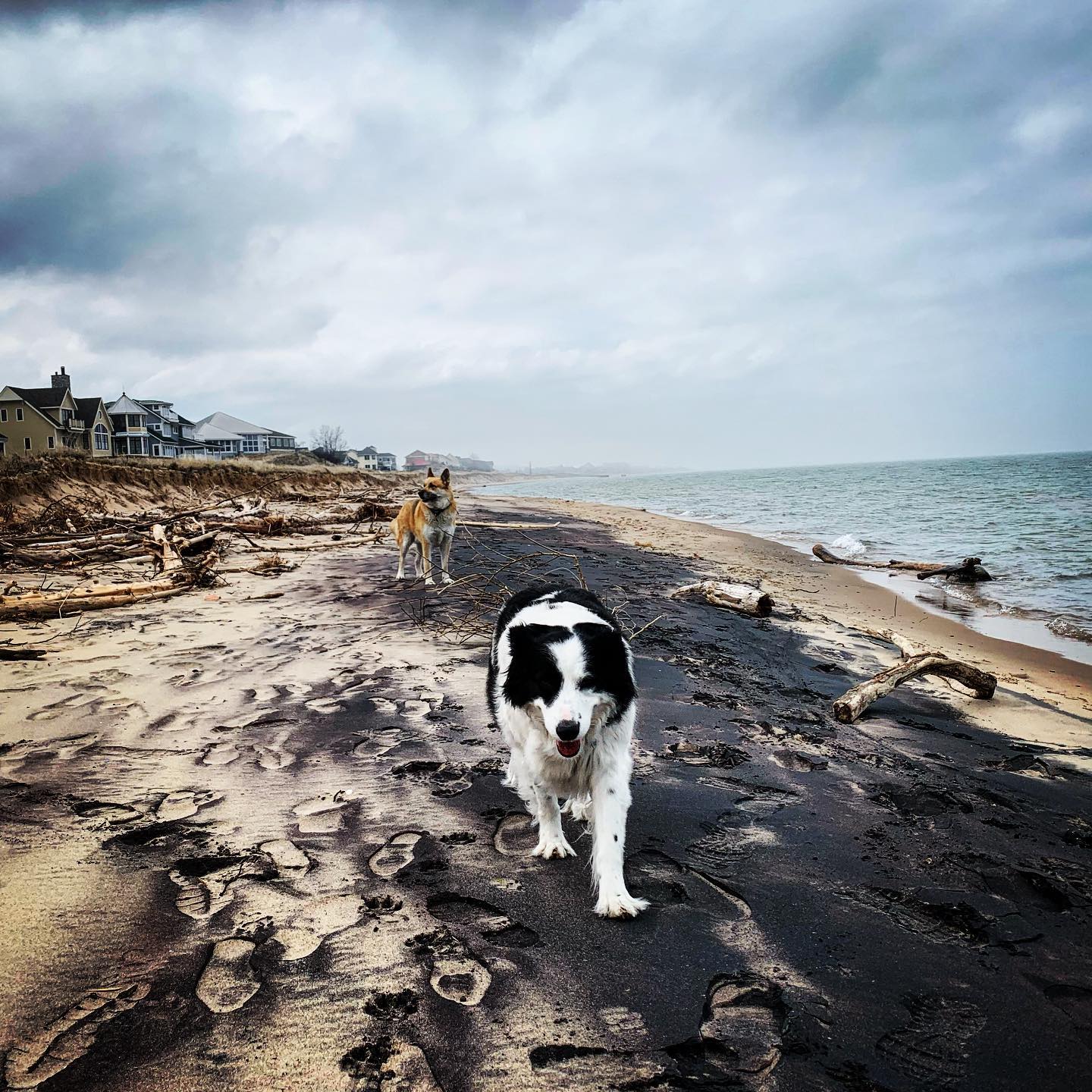 Great Lakes beaches offer room to roam, making them a favorite place to take a pet for a hike. National Parks are a good bet, with plenty of pet-friendly beaches in both Sleeping Bear Dunes National Lakeshore near Empire and Pictured Rocks National Lakeshore between Munising and Grand Marais. Many of Michigan's most stunning campgrounds and RV parks are pet-friendly, too. Warren Dunes State Park on Lake Michigan welcomes pets for 2.5 miles of sandy shoreline. On Lake Huron, head to sandy Tawas Point State Park in East Tawas or go further north to F.J. McLain to hunt for pretty agates as you stroll the Lake Superior shoreline.
  
Like sticking closer to town? Beach town favorite Grand Haven welcomes pets for a stroll on its famous boardwalk, and at its Grand Haven City Beach too (though summer hours are somewhat limited). In Traverse City, the name tells you when to be sure you've found your blanket perch with a picnic (and pet) at downtown's Sunset Park.
Pet-Friendly Hotels
Pet-friendly hotels are more rule than exception across Michigan's Upper Peninsula, but you and pet both will feel like you've been on a spa retreat when you check out the new wellness options at Mission Point Resort on Mackinac Island and your pet gets a free gift and cushy lodging both on the Pooch and the Point package.
  
Head to Detroit, too, knowing bringing the pet along doesn't preclude a stay at one of the city's most historic, iconic and immaculately restored hotels. At the circa-1924 Westin Book Cadillac, you can bring two dogs under 40 pounds per room for no extra fee and then can together explore pet-friendly Campus Martius Park.
  
In nearby Ann Arbor, you'll feel extra wise when booking a hotel like the Graduate Ann Arbor, where your pet gets a welcome gift as well as a specialty blanket and bowl for use all stay.
  
And in Grand Rapids, you may have a hard time choosing; 26 city hotels allow you to bring the pet along on the stay.
 
Dog Events
   
Prepare matching costumes, then plan a trip around the Northport Dog Parade, which each August has pets and owners parading through the quaint harbor town at the tip of the Leelanau Peninsula; the event is generally followed by a peninsula wine, food and music fest.
  
Show off the costume, too, at the Spring Lake Heritage Festival, where there are vendors and pet activities too, or plan for the Grand Haven Winterfest's dog pull in which breeds of all sizes and shape can compete. Hard to top Frankenmuth's Dog Bowl, though. The high-energy May event has dogs running, jumping, diving and retrieving. And it's easy to plan around Midland's Bark in the Park, a weekly program of dog care tips and events.
  
Dogs aren't the feature, but they're welcome, on some of the state's most interesting historic attractions. Take one of the prettiest road trips along the Keweenaw Peninsula and up Brockway Mountain Drive, stopping along the way at the collection of attractions that make up the Keweenaw National Historical Park. Sites that welcome pets include Fort Wilkins Historic State Park, once a U.S. Army post on what was then the northern frontier, and the Delaware Copper Mine.
 
Dog-Friendly Shopping
You can go from beach to shopping in West Michigan beach towns that welcome pets in stores for hats, shoes, souvenirs, clothing and more. Holland's downtown is historical, hip and pet friendly, but Grand Haven has several shops wholly pet-focused, from Ebby's Pet Bakery and Boutique to Must Love Dogs, where every Tuesday and Thursday brings a "puppy social hour." Since even the pets benefit from a deal, head to Birch Run Premium Outlets. Many Birch Run area hotels are pet-friendly too.
 
At Fido and Stitch in Grand Rapids, shop and run—literally. They host a Saturday morning running group that lets you bring your pup with you for a jog around the city.
 
Pet-Friendly Wineries, Eateries and More 
Tasting rooms at Michigan wineries haven't gone to the dogs yet, but many do allow pets on wide lawns great for sipping. Traverse City's Brys Estate Vineyard & Winery doesn't allow dogs on their patio or inside the tasting room, but they are welcomed to join you as you play bocce ball or cornhole on the elevated lawn. They're also allowed on the grounds of many of the Lake Michigan Shore Wine Trail members, too, like popular Round Barn Winery, Distillery & Brewery in Baroda.
 
In Ann Arbor, head to the popular Farmers Market and pick up a picnic to take to a park. Some 159 city parks welcome dogs. At cat cafe Tiny Lions, all cats are friendly and adoptable. And at Grizzly Peak Brewing Co., even dogs eat gourmet from a specialty Pups on the Patio menu so long as they're secured outside the formal patio area.
 
And for those who love dessert, many ice cream shops offer "pup cups" on the menu. Furniture City Creamery in the Uptown Neighborhood of Grand Rapids is a favorite.
---