20+ Things to Do in the Upper Peninsula: Your Ultimate UP Bucket List
 
In Michigan's Upper Peninsula, nature shows off with towering cliffs overlooking Great Lakes, with sand beaches and forests for as far as you can see. Even the tales are tall, and campfire stories still share legends of super-sized logger Paul Bunyan and his blue ox, or of Hiawatha canoeing the region's "root beer" falls. There are Northern Lights (if not the brightest stars you can remember seeing) in its skies and three Great Lakes bordering its land. Pack your bags and hit the Upper Peninsula (or U.P.) for a variety of activities:
 
1. Stand on Top of the World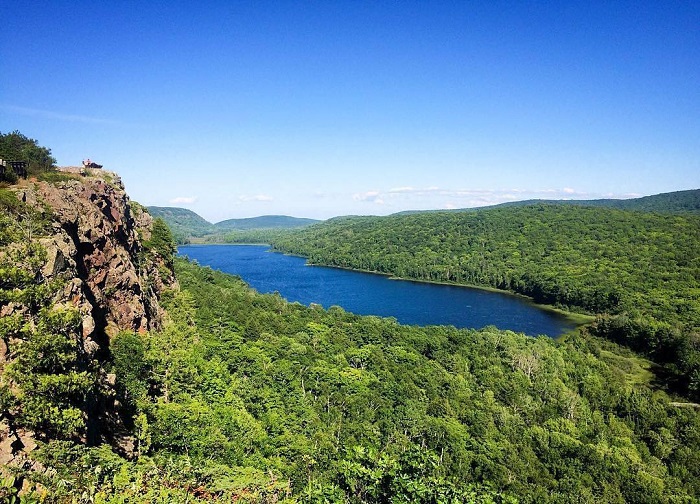 Visit Michigan's highest peaks with Instagram-worthy views that seem to go on forever. The Lake of the Clouds in the Porcupine Mountains Wilderness State Park promises heavenly views in Michigan's largest state park. On the Keweenaw Peninsula, you can't beat Brockway Mountain Drive for sweeping Lake Superior views, particularly stunning at sunset. For adventurers, careen 459 feet through the air on skis, standing atop the nation's tallest manmade ski jump, Iron Mountain's Pine Mountain Ski Jump.
 
2. Go Bird Spotting
Thousands of birds, including one of the nation's largest gatherings of eagles and hawks, make their way through the birding hot spot of Whitefish Point in Paradise. They follow the peninsula's curving shoreline as it juts into Lake Superior. Join in the migration counts, held in spring and fall, at the Whitefish Point Bird Observatory, or watch the nightly owl banding in spring, summer and fall.
 
3. Spread your Beach Blanket Where the Sands Sing
Set on the southern edge of the Keweenaw Peninsula, the white sands of Bete Grise sing under the pressure of your hand, the reawakened voice of a Native American woman who lost her love in Lake Superior according to legend. The views from this magical beach aren't bad, either, overlooking the Great Lake and backed by the rugged Upper Peninsula landscape.
 
4. Go Island Hopping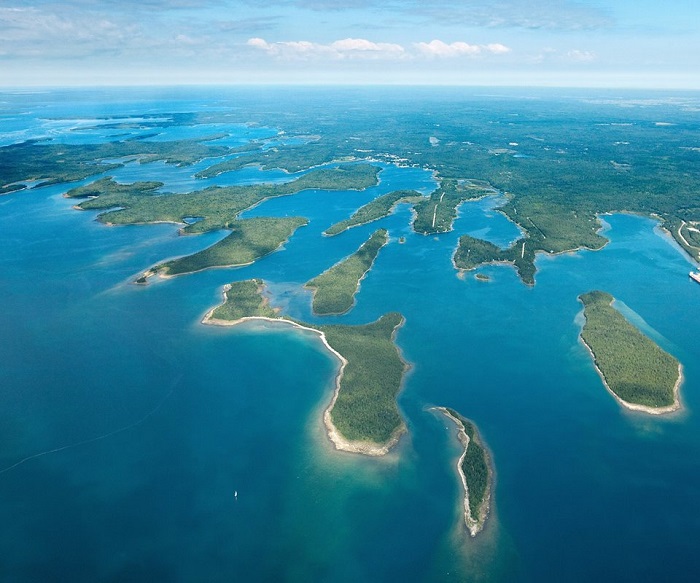 You maybe know of Mackinac Island, filled with Victorian homes-turned-inns, horses and carriages, lilacs, a storied fort and fudge, but Michigan is home to other islands as well. Lesser traveled Drummond Island is famed for wildlife and ORV trails, Grand Island for wilderness camping and mountain bike rides along scenic overlooks; and the Les Cheneaux, a series of islands, for protected padding.
 
5. Take a Mine Tour
The Keweenaw Peninsula was among the most prosperous spots in the nation at the height of its copper boom. Learn firsthand, in some cases by donning a hard hat and going underground, about the rich history on tours of the Iron Mountain Iron Mine and the Keweenaw Peninsula's Quincy Mine Properties and Delaware Copper Mine; all transport visitors deep underground where tons of iron and copper were once extracted by generations of hard-working miners.
 
6. Snowmobile the Weekend Away
With more than 3,000 miles of groomed snowmobile trails—the equivalent of snowmobiling from Orlando to Seattle—Michigan's Upper Peninsula ranks as the nation's most popular snowmobiling destination. Hop aboard your own machine—or rent one—and explore the U.P.'s thick blanket of snow in hot spots like the Porcupine Mountains and the Keweenaw Peninsula.  
 
7. Ferry to the Wolves and Moose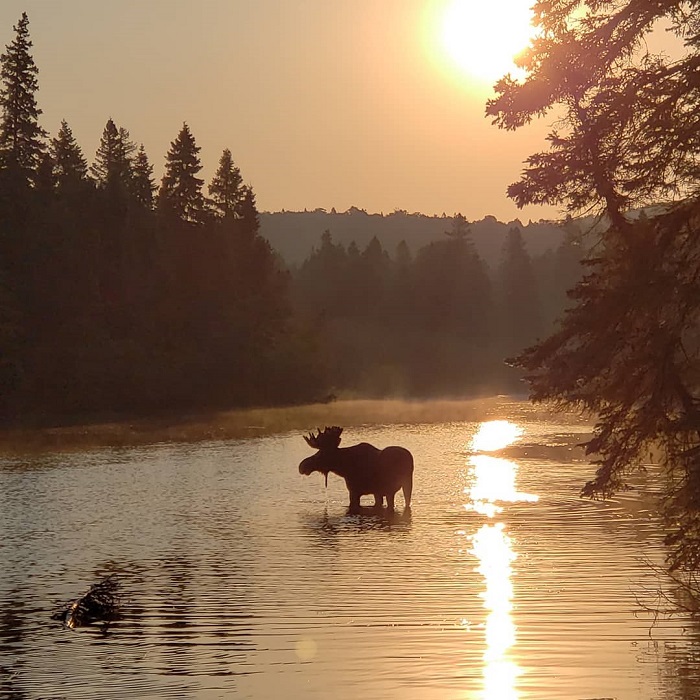 For much of the year, Isle Royale's wildlife have the island all to themselves. Isle Royale's isolation just makes a visit that much more enticing when the park reopens to humans April-October, and paddling, hiking and backpacking reveal a wilderness destination shaped by Lake Superior's winds and waters.
 
8. Visit a Ghost Town Turned Outdoor Museum Park
For nearly 25 years, Fayette was a bustling industrial center, processing and shipping charcoal pig iron into the world. With the business's collapse in the late 1800s, Fayette became a ghost town, but modern-day visitors can wander through the historic town site and enjoy the Lake Michigan shore at the Fayette Historic State Park.
 
9. Go on a Freighter Hunt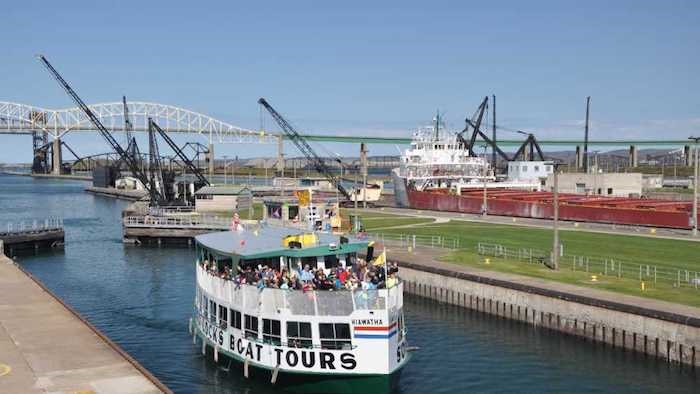 Head to the ship spotting board at the Soo Locks Visitors Center in Sault Ste. Marie and know you won't have long to wait for one of those flashing lights to indicate that a freighter is nearing the locks. On a typical day, 15 or more pass through these, the busiest locks in the world, and you can climb a tower for a close-up or get even closer on Soo Locks Boat Tours that lets you take your own ride through the water elevator that navigates the depth drop between lakes.
 
10. Treasure Hunt for Waterfalls
Most of Michigan's waterfalls can be found in the Upper Peninsula. The fabled Hiawatha was said to have built his canoe at the base of the mighty Tahquamenon Falls, over which 50,000 gallons of water falls some 50 feet. There are both upper and lower falls within the state park, bears and migrating birds and a microbrewery too. Or head west where at Pictured Rocks National Lakeshore and further west along the sandstone shelf called the Munising Formation, you can follow park maps to dozens of waterfall finds.
 
11. Feel the Gales at a Shipwreck Museum
More than 100 ships, including the fabled Edmund Fitzgerald, lie on the Lake Superior bottom off the shores of Whitefish Point, and many related artifacts including the Fitzgerald's bell, are showcased in the point's Great Lakes Shipwreck Museum. For a real feel of the eerie power of the lake, stay the night inside the circa-1923 Coast Guard Lifeboat Station, now a museum-run bed and breakfast.
 
12. Explore an Agate Beach—and Museum
Make the Gitche Gumee Agate and History Museum the first stop on your rock-hounding adventure; the collection of multi-colored rocks from the U.P. and rest of the world helps you identify your beach finds. Local rock shop owners often share their best beach secrets, or head to an event like the Rock On Lake Superior Agate Festival in Grand Marais.
  
13. Try a Pasty
The first thing to know about the Upper Peninsula's most famous treat is that they rhyme with past, not paste. The second is that these savory half-moon pies filled with meat and potatoes have a storied history. Cornish and Finnish miners found them practical for lunch in the mine since you could keep them warm in foil, then throw away the crimped edges used for holding. The authentically Cornish ones—found at restaurants, church fundraisers and the annual Pasty Fest, come with rutabagas. The Finnish version comes with carrots, and while there's nothing authentic about Muldoon's pumpkin pie pasties with whipped cream, you will want to head straight to Munising for one anyway.
  
14. Take a Lighthouse Cruise
You'll pass about a dozen lighthouses and hear the always fascinating tales of lighthouse keeper life on the Great Lakes on the west- and east-bound cruises run by Shepler's Lighthouse Cruises. All you need to bring is your curiosity—and maybe a camera. Your destinations will be some of the most photogenic lights on the lakes.
 
15. Explore Native History
The gateway to the Upper Peninsula dates back to 1671, and the history of Michigan's second formal settlement is brought to life at the Museum of Ojibwa Culture in Saint Ignace where a traditional longhouse shares the same waterfront park as the grave of explorer Father Jacques Marquette, and the Fort de Buade Museum. There, history comes to life through rare paintings and historic trade items.
 
16. See Pictured Rocks From the Water
The mineral-stained cliffs and rock formations you pass on Pictured Rocks Boat Cruises  are beautiful any time of day, but glow with the setting sun. Book with Glass Bottom Boat Shipwreck Tours and you'll get a two-for-one tour of what's along cliffs and below the surface. Or get extra close by exploring via kayak.
 
17. Go Dog Sledding
Nature's Kennel Iditarod Sled Dog Racing & Adventures lets you take the family for a short jaunt or take a multi-day trip with your team, sleeping near them from an on-trail yurt (or fancy lodge). These are the real deal; you'll likely be running with a team that races Alaska's famed Iditarod.
 
18. Glide Across a Natural Spring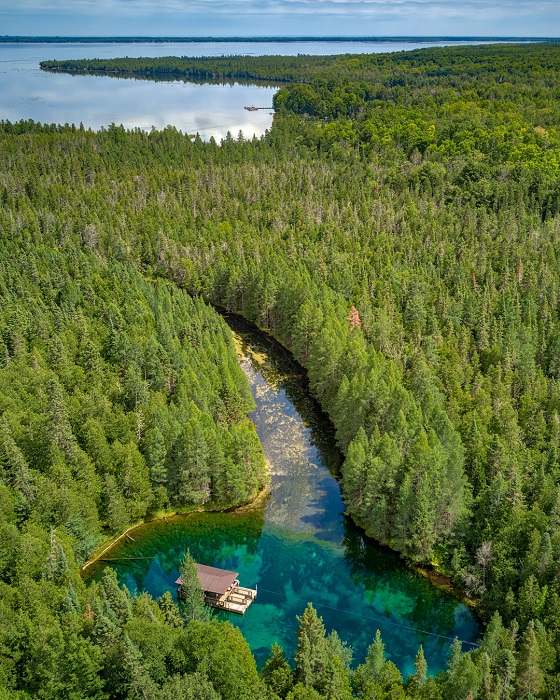 A person-powered raft on cables lets you glide the 200 feet across the state's largest freshwater spring: Kitchi-ti-kipi, notable for its emerald green color and the way you can see its fascinating underwater forms and fish.
 
19. Sleep Where Henry Ford and Thomas Edison Slept
Book Room 201 at the Thunder Bay Inn in Big Bay to sleep in Henry Ford's room in the mansion he bought to entertain friend and colleagues and keep an eye on business. Hang by the fireplace and chat with friends like Ford did with Thomas Edison there, or head into a modern day addition: a cozy pub with great food.
 
20. Bike Through Time  
The Iron Ore Heritage Trail  from Marquette to Ishpeming shares the state's history of mines, industry and human resilience in an especially striking way as you bike past interpretive markers on a trail with terrain as varied as the Lake Superior shorelines and old quarries. Plan to stay awhile in Marquette and explore its sandstone architecture and vibrant culinary and microbrewery scene.
 
21. Meet the Cubs
From Memorial Day through late September's bear migration time, you can visit wild rescue bears at Oswald's Bear Ranch as they roam this outdoor ranch-style home for orphaned cubs and d mature bears who can't be released into the wild. Entry fees fund the bear's diet of fruit and meat, and some get the priceless chance to snuggle a new cub.
 
22. Camp With a View of the Mackinac Bridge
Straits State Park is situated with such a high, straight view down the center of the bridge that connects the upper and lower peninsulas that it was used as a survey point during construction. Today, you can camp on the shoreline of the Straits of Mackinac and gaze at the way the colorful lights sparkle—all night, if you choose one of the beachfront campsites.
Please refer to event websites for updates and cancellations. Find information on how to travel safely in Michigan here.
---