Beautiful Michigan Beaches From Coast to Coast
With more than 3,200 miles of shoreline, it's no surprise that Michigan is home to some of the most beautiful and diverse beaches in the U.S.
Whether your travels take you to Detroit or the Upper Peninsula, visit in summer or in winter, or prefer building sandcastles, beachcombing or paddling, you're never more than a short drive from one of Michigan's must-see beaches.
Lower Peninsula – West Coast
Lake Michigan's beaches rank among the state's most popular, with miles of unbroken sugar sand along beautiful water. Visit Wilderness State Park near Mackinaw City to experience more than 10,000 acres of parkland that includes 26 miles of wild Lake Michigan shoreline. Watch boats sail the deep blue water, stay overnight at one of 250 beachside campsites and rustic cabins, and enjoy unbeatable stargazing after dark.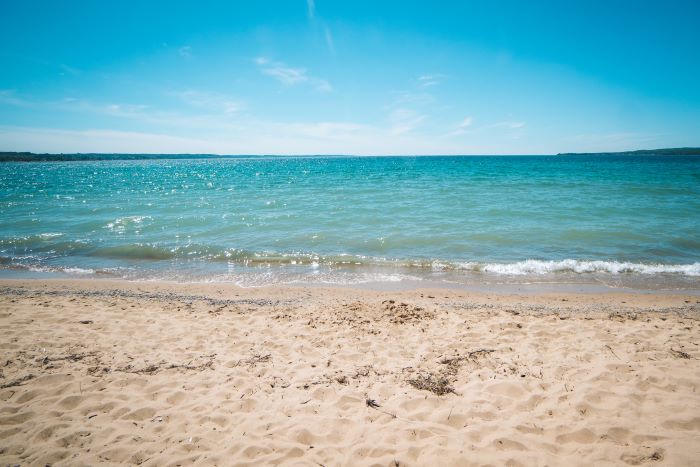 Michigan's state stone, the Petoskey stone, lies scattered along the shorelines of Petoskey's beaches. Try your hand at finding one at Magnus City Park Beach or Petoskey State Park. The fossilized, ancient coral appears a dull gray when dry, but its intricate hexagonal pattern pops into view when the stone is wet. After a day of swimming, fishing or boating, search the beach near the water, where Lake Michigan's surf reveals the stones' telltale pattern, or bring a cup or spray bottle to wet the stones yourself. Specialty shops and galleries downtown sell Petoskey souvenirs, including housewares and jewelry crafted of these beautiful stones.
 
Sleeping Bear Dunes is famous for its massive bluffs rising 450 feet above Lake Michigan's surface. But in addition to unspoiled beaches, you can check out historic Glen Haven, or find trails to hike through more than 70,000 acres of wilderness. A ferry transports day trippers and primitive campers to South and North Manitou Islands, each with their own wild beaches and the visible shipwrecked remains of the Francisco Morazán. To the east is Traverse City, also home to beautiful beaches, beachside hotels and award-winning wineries, if you're looking for more to explore.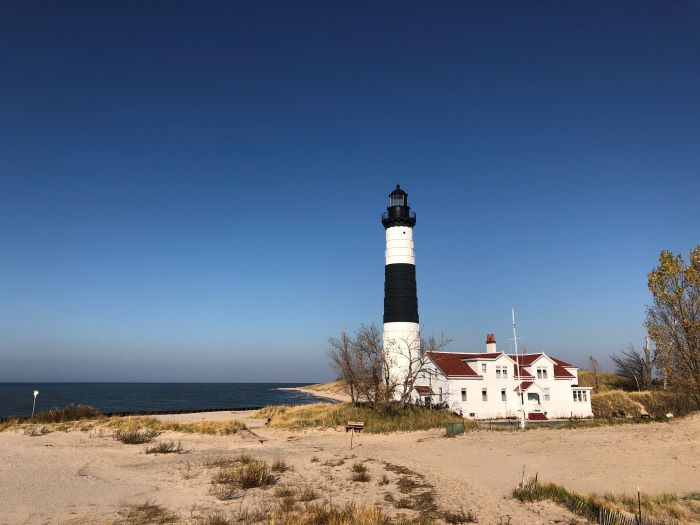 Just north of downtown Ludington, Lakeshore Drive passes through an 8-mile stretch of golden sand dunes, capped with beach grasses and set alongside a sparkling Lake Michigan beach. Park in one of a half-dozen roadside pullouts or continue north to Ludington State Park, with beachside campsites, the stately black-and-white-striped Big Sable Point Lighthouse and a boardwalk that borders Hamlin Lake. Ludington State Park is especially popular with snowshoers in winter, when the beach and its lighthouse become encased in fantastic layers of ice.
 
Looking for a quiet beach nestled in between Muskegon and Grand Haven? With a wide, dog-friendly Lake Michigan shoreline and towering dunes, the golden sand draws visitors who want easy access to a swimming beach and spectacular sunsets. Hoffmaster's miles of hiking trails are just as lovely, winding their way over ancient dunes now covered with hardwood forests, brightened by wildflowers in spring and vibrant foliage in the fall.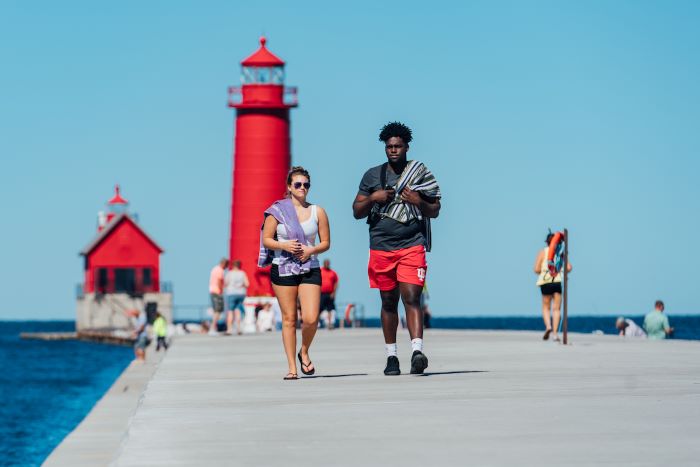 An easy walk from the coffee shops, boutiques and restaurants of downtown, Grand Haven State Park preserves the finest of this area's beautiful beaches. The flat, blue Lake Michigan strand is popular with families and offers great people-watching, beach volleyball and more than 100 beachside campsites. After sunset, catch a water and light show at Grand Haven's iconic waterside Musical Fountain. 
  
Step out of the cool woodlands of Saugatuck Dunes State Park  and you'll instantly realize the mile-long walk to this secluded Lake Michigan beach was worth it. Two-and-a-half miles of undeveloped beach lie at the end of the trail against a backdrop of tall coastal dunes, rolling hills and few people. Explore the park's numerous hiking trails in summer, or come back in winter, when the dunes welcome cross-country skiers.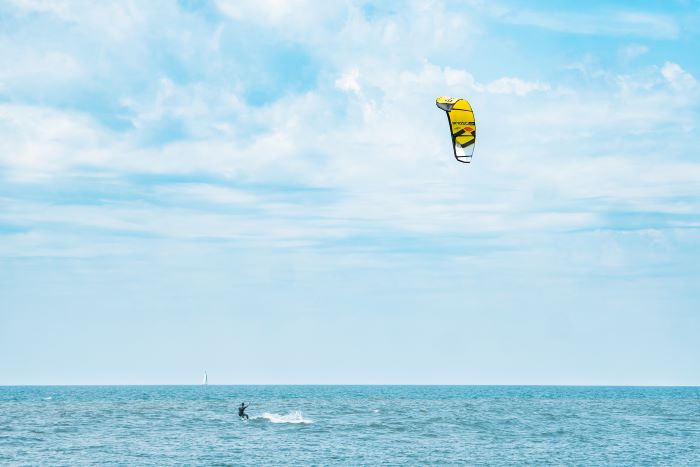 Tiscornia Park Beach ranks as St. Joseph's hidden lakeside jewel. Less well-known than nearby Silver Beach—and less crowded—Tiscornia's warm, shallow water makes this a perfect playground for children. Splash around in the water and spend the morning building sandcastles, then picnic overlooking the North Pier, the St. Joseph lighthouse and a flotilla of charming Lake Michigan boats. Take time for the Silver Beach Carousel and its attached museum to explore beach life as it was a century ago.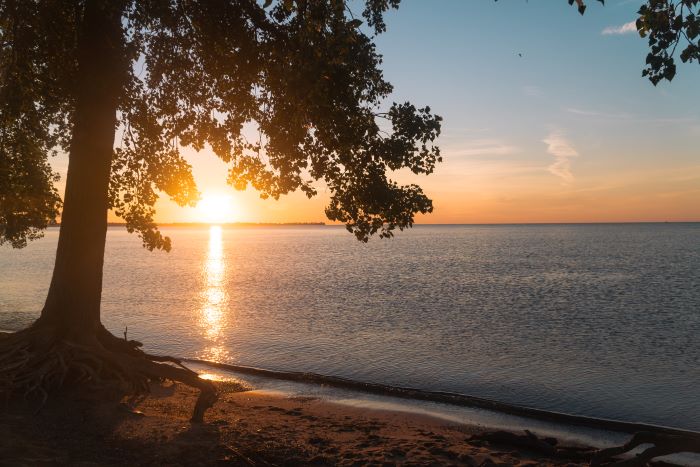 As the only Michigan park on Lake Erie, take advantage of Sterling State Park's proximity to the freshwater reservoir by taking a quick swim in its mostly man-made lagoons or exploring over 1-mile of shoreline activities, including boating and walleye fishing. Unwind around the park's 1,300 acres with a stroll along the sandy beach or on its 7-miles of biking and hiking trails, where you can also search for wildlife. Then, head into the evening with a scenic, sandy camping trip at its 256-site campground.
  
The Great Lakes are famous for their shipwrecks. Check out the remains of a beached shipwreck at 40 Mile Point in Rogers City. After touring the lighthouse tower and exploring the small museum, walk along the Lake Huron shore to see the skeleton of the Joseph S. Fay, a wooden freighter that went down in 1905 (be careful of parts of the wreck hidden under the sand). In addition to the portion of the hull lying on the beach is another portion of the ship, resting beneath the crystal-clear waters of Lake Huron and visible by diving and snorkeling.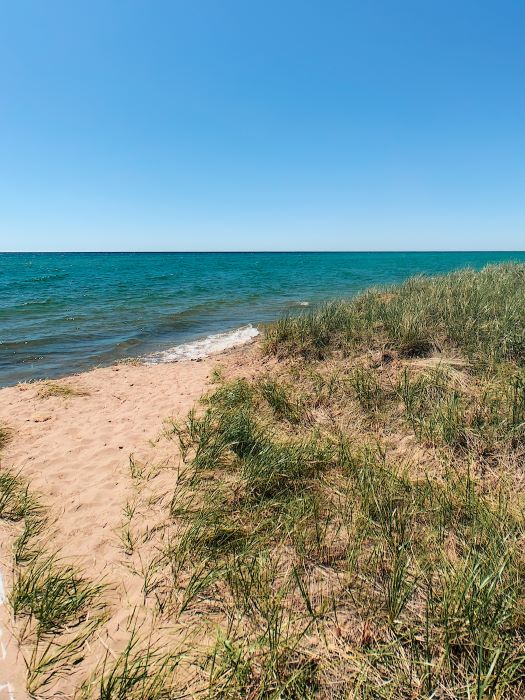 Located near Tawas City and nicknamed the "Cape Cod of the Midwest," Tawas Point State Park sits near the tip of a sandy spit of land, curling into sparkling Lake Huron. Swim or fish off the shore of this golden stretch of beach, and set up your RV or tent in one of the park's beautiful campsites. Don't miss the park's iconic Tawas Point Lighthouse. Its red roof and brilliant white tower stand in beautiful contrast to the Great Lake's deep blue.
 
Set at the tip of Michigan's Thumb, Port Crescent State Park features three miles of sandy beach along the Lake Huron shore. Swim in the surf and walk along the beachside boardwalk. But save enough energy to stay up past dark, when the park's rare status as a Dark Sky Park makes beachside stargazing every bit as enjoyable as boogie boarding.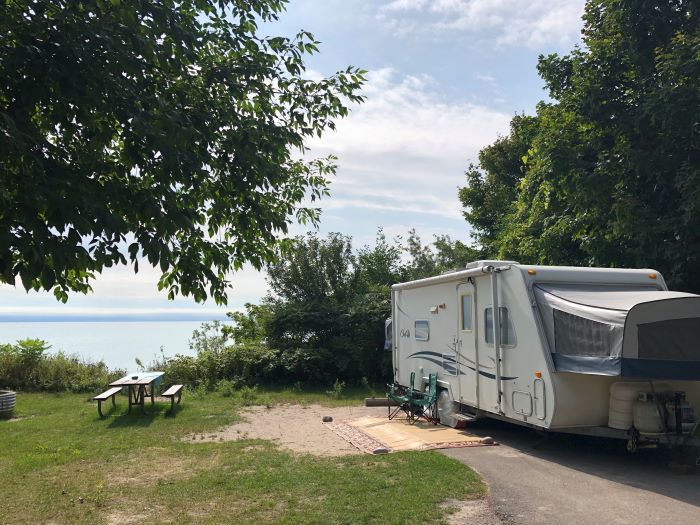 Midway between Alpena and East Tawas, Harrisville State Park offers a quiet beachside getaway on the shores of Lake Huron. The 100-acre park offers a sandy beach not often seen on the Lake Huron shore, and includes a pleasant campground and a paved bicycle trail, as well as bike rentals. Harrisville State Park is located near Sturgeon Point State Park, with its own stony beach, a lighthouse and museum, and restored keeper's quarters. 
 
This area is dotted with Lake Huron beaches, but a favorite is Lighthouse Park. A wide, pebble-strewn strand marks the perfect place for a family beach getaway, and you can shoot photos of the Blue Water Bridge to Canada in the background. Don't miss a visit to Fort Gratiot Lighthouse within the park. The historic lighthouse was built in 1825 and ranks as Michigan's oldest surviving light, the first built on Lake Huron.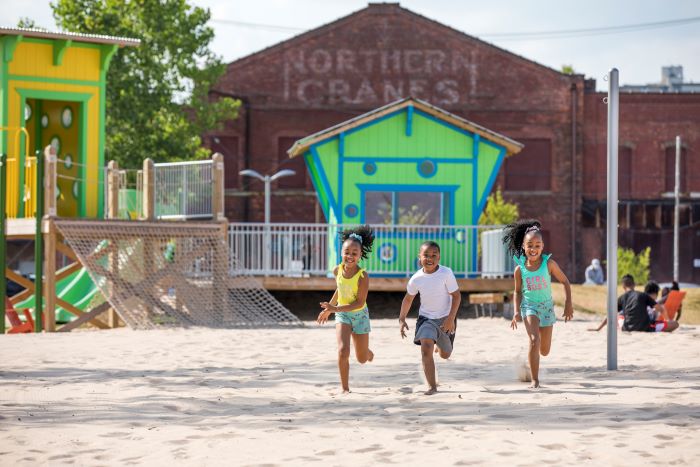 Head to Belle Isle in the Detroit River for outdoor recreation, including trails and a nature conservatory, in the heart of the urban center. In addition to a family-friendly beach, the 987-acre state park offers bicycle and kayak rentals, trails, a lighthouse, a maritime museum and an aquarium. The Detroit Riverwalk's Robert C. Valade Park offers the city's newest beach experience. Although you can't swim at this Detroit River beach, Valade Park offers a sandy beach with umbrella chairs and play equipment, a children's musical garden and Bob's Barge, Detroit's only floating bar.
 
U.P. Beaches
Head to the Porcupine Mountains for untamed landscapes within Michigan's largest state park. While most people know the park for its scenic Lake of the Clouds, the park is also home to the Presque Isle River Area, with a sand and shale beach on Lake Superior, camping and picnic areas and access to hiking trails, including the famous North Country National Scenic Trail.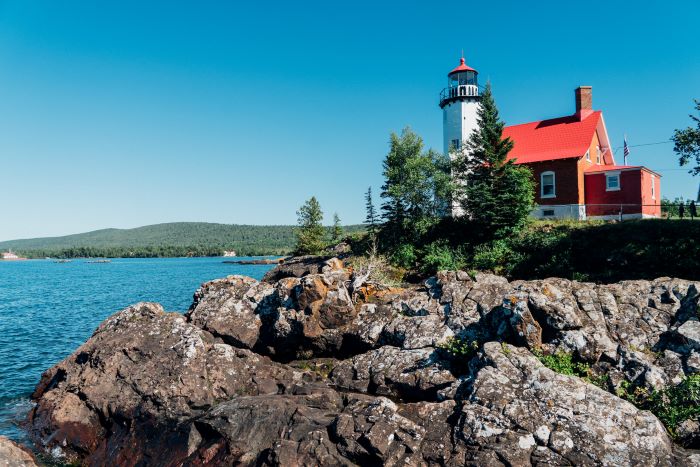 Surrounded on three sides by mighty Lake Superior, the waterfront of Eagle Harbor offers access to a marina with broadside slips, a boat launch and day-use dockage for exploring Lake Superior via powerboat or sea kayak. Check out Eagle Harbor Lighthouse while you're here, which is open to tours and includes a small museum. 
 
Also on the Keweenaw Peninsula is Agate Beach. Rock hounds flock to this strand south of Eagle Harbor, where the lake dumps piles of agates and other beautiful rocks onto the sandy beach. Bonus: you get to enjoy spectacular views of the Lake Superior surf when you're finished searching.
 
Sandy beaches are abundant in Escanaba. Find spacious, sandy shorelines, child-friendly water slides and an awe-inspiring lighthouse at Gladstone and Escanaba Municipal Beach—or take a trip to the park or biking trail for some more adrenaline-pumping activities. After soaking up some sun, head to the nearby downtown for shopping or local eateries.
 
If you're feeling especially adventurous or prefer a quieter area, opt for a secluded beach. Spend a private afternoon on Indian Point Beach and wander 10-minutes to Nahma, where water resources abound and plentiful public land sets the scene for hiking, horseback riding, boating, kayaking and more. You can also drift ten minutes from Escanaba and land on Portage Point Beach, where you'll experience piers, a walking path and a nearby protected marsh.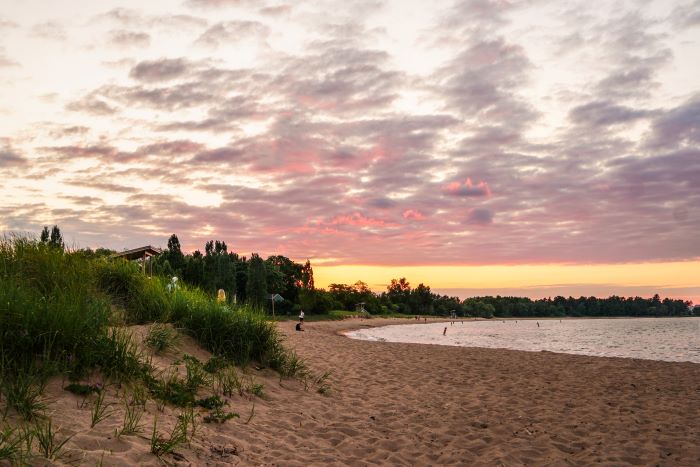 Find Marquette's Black Rocks Beach within Presque Isle Park, where rock collectors treasure the beach, tucked between two cliffs, for its vast collection of smooth Lake Superior stones. Those with a sense of adventure—or the desire to watch other adventurers—enjoy the Black Rocks formation, where locals and visitors alike leap headlong into the cool lake waters on hot summer days.
One of the most photographed beaches in the Upper Peninsula is McCarty's Cove, just outside of Marquette. You can view the Marquette Harbor Lighthouse from anywhere on this sandy Lake Superior beach, which is perfect for swimming, building sand castles, paddling and, after dark, stargazing.
 
Pictured Rocks is home to miles of spectacular coastline, much of it dotted with Instagram-worthy beaches. Among the park's favorites include Sand Point, just east of Munising, where Lake Superior's relative shallowness promises water warmer than at other local beaches. Visit the beach for swimming, sunset walks or as an access point for hiking up the iconic, colorful clifftops for spectacular views.
 
Miners Beach, also within the Pictured Rocks National Lakeshore, lies deeper within the park. A winding drive through towering evergreen and hardwood trees leads to the Lake Superior beach, a wide, sandy, mile-long stretch bookended by Pictured Rocks' cliff faces. It's a 1.5-mile hike along the North Country National Scenic Trail, along the cliff tops and through the forest, from Miners Beach to Miners Castle, one of the Pictured Rocks' most famous natural landmarks.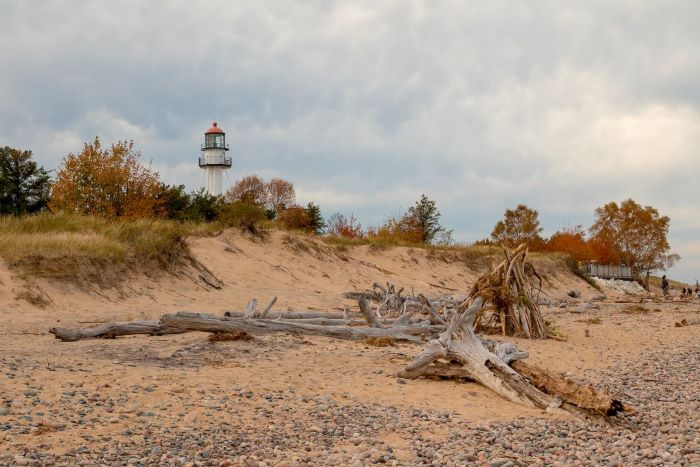 Set at the tip of a small peninsula north of Paradise, Michigan, Whitefish Point features a wild, windswept swimming beach of golden sand. Here, where the winds are often strong, it's easy to imagine the difficult conditions that confronted Great Lakes ships of previous centuries, many of whose ships lie beneath the waves. Visit the park's Great Lakes Shipwreck Museum to learn the tales of many of those lost vessels, and to see the lighthouse and tour the keeper's quarters tasked with keeping those mariners safe.
 
Just to the south, Brimley State Park is home to one of the most popular beaches in its region. The broad, sandy Lake Superior beach is popular with the locals. Besides swimming, fishing, boating and camping, you can watch Great Lakes freighters slowly making their way toward the nearby Soo Locks, linking lakes Superior and Huron.
 
West of St. Ignace, Straits State Park is one of the most popular state parks in the Straits of Mackinac. If you visit, it's easy to see why. Within the park is a sandy Lake Michigan beach perfect for swimming, beachcombing and paddling. You'll also find a beautiful campground and the Father Marquette National Memorial, which recounts the story of the 17th-century French missionary/explorer and his interactions with the local Native Americans. And all of the park's attractions include spectacular views of the Mackinac Bridge.
 
No matter what beach you visit in Pure Michigan, and no matter which coast, you're sure to find something suited to everything from a relaxing day on a gentle shore to an exciting and unforgettable family outing.