A List of Enchanting Michigan Waterfalls to Visit Year Round
The web of rushing waterways that cross the "Mitten State" creates more than 300 waterfalls in Michigan.
Each season, the falls take on distinctively different personalities. Come autumn, they are framed by colorful foliage that accents photos and makes for gorgeous hikes down paths that lead to them. In winter, the falls are frozen into ice sculptures as stunning as art—and great for recreational climbing. Spring brings the roar of winter's melt, and in summer, weather that's perfect for falls-focused picnics and more. Use this handy region-based guide to help you plan your next tour of the wonderful waterfalls in Michigan!
Eastern Upper Peninsula Waterfalls
1. Tahquamenon Falls – Paradise
The Upper Falls, at 50 feet tall and 200 feet wide, stand alone as Michigan's largest waterfalls, the most interesting and among the most accessible. The Tahquamenon River, which flows to the falls, was made famous in the Henry Wadsworth Longfellow poem Hiawatha, and its name said to originate from Indian lore too. The name stems from the water's unusual amber color, a feature that also brought today's nickname "Root Beer Falls" for the tanins from cedar and hemlock swamps that color the water brown.
The Tahquamenon is special in other ways too. It's one of the largest waterfalls east of the Mississippi, with Niagara being the largest. During spring, more than 50,000 gallons of water drop each second via the Upper Falls; that translates to a low rumble in the parking lot and thundering roar as you reach path's end. Four miles downstream is the Lower Tahquamenon Falls which is split into two halves with each more than 100 feet wide and 22 feet tall. You can rent a rowboat in the for a better look (and better photos) from the water. The state park also offers some of the best camping in the state, notable for both wildlife sightings and the on-site brewpub and restaurant.
2. Pictured Rocks National Lakeshore – Munising
Waterfalls are clustered in this area of the state in part due to the Munising Formation, a shelf of sandstone that runs from Tahquamenon to Laughing Whitefish Falls. Head to any visitor center at Pictured Rocks to pick up waterfall maps that denote about a dozen of the largest falls, some reached by solitary treks intoseemingly untouched wilderness, others well marked and right along the roadside.
3. Sable Falls – Munising
A scenic half-mile hike from the parking lot takes you to these falls in Grand Marais on the park's easternmost edge. You'll hike along the flowing water as the falls drop 75 feet over sandstone cliffs and flow down to an agate-dotted beach at the base of a towering dune.
 
4. Spray Falls – Munising
Sailing out onto Lake Superior via Pictured Rocks Boat Cruises is the best way to see Spray Falls plunge almost 70 feet over sandstone cliffs and to also learn about and soak in the backdrop of the deep greens, turquoise, yellows and reds from minerals in the rock. You can also reach the falls through a three-mile round-trip North Country National Scenic Trail hike from the trailhead at Little Beaver Lake Campground, a stretch that includes some of the state's prettiest views.
 
5. Wagner Falls – Munising
Easy to access and fun to photograph, Wagner is reached through a short walk through the woods. In spring, Marsh Marigolds bloom along the creek's edge, and in fall, surrounding trees make for a gorgeous fall foliage vista.
 
6. Miners Falls – Munising
Miners Falls are well-marked and about five miles north of Alger County Road H-58 off Miners Castle Road.  Getting there is half the fun, by traveling through a spectacular mile-long roundtrip nature trail that leads to an overlook at its base.
 
7. Munising Falls – Munising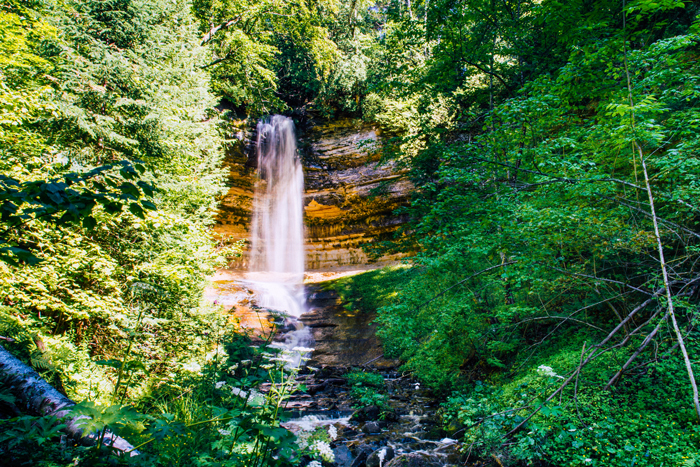 Munising Falls are easily accessed via trails and wooden boardwalks that offer multiple viewpoints. Be sure to add this Upper Peninsula gem to your visit to Pictured Rocks National Lakeshore. Stop by the Munising Falls Visitor Center for more information about hiking trails and other waterfalls in the park.
Marquette Area Waterfalls
8. Rock River Falls – Alger County
About 25 miles from Munising near Chatham are these falls hidden in the Rock River Wilderness area. This outing is perfect for those wanting a backcountry waterfall adventure since it takes driving on old logging roads and a hike of about a mile to reach. Nearby Laughing Whitefish Falls is worth the trek for the name alone; it's also easily accessible and located in a particularly scenic stretch of the Rock River Wilderness.
Further west near Paulding, these falls have it all. They're easily accessed, even by wheelchair, and one of the most spectacular to watch (and hear). Those in the know stop for ice cream at the Paulding General Store and watch for the "Paulding Lights." People have reported seeing these mysterious lights for 40 years.
Keweenaw Peninsula Waterfalls
10. Hungarian Falls – Hubbell
Using waterfalls as your scavenger hunt focus is a good strategy for getting to some of the prettiest mountain-style vistas in the entire state, so head for as many as you can fit in and enjoy the journey to the end of the Keweenaw Peninsula. Do be sure to stop at Hungarian Falls, now owned by the Keweenaw Land Trust as a way to keep this special 10-acre area forever accessible to the public.
 
The nature area includes a pond, a dam and woodland trails, but the highlight is the uppermost falls located on the Keweenaw Fault, a billion-year-old geological feature. They cascading over the tough conglomerates and basalts for about 30 feet, then flow through a short gorge formed out of the softer Jacobsville sandstone layers below. Downstream of the dam and pond lie 3 more waterfalls, all lying on Michigan Department of Natural Resources land and open to the public.  Hemlocks and white pine ring the gorge and shade it from summer sun and winter winds.
11. Jacob's Falls – Eagle River
Don't blink or you might miss Jacob's Falls as they flow along a 40-foot drop along the south side of M-26 some three miles northeast of Eagle River. Do pull over and hike the trails that run along the steep rock into the woods upstream, careful to watch for the mythical "Scoofies" that neighboring monks at the Holy Transfiguration Skete, Society of St. John, say live in the falls. The monk-run store, Jampot, is also a great place to pick up road trip snacks of fresh baked goods and chocolates or some fresh preserves to take home.
Western Upper Peninsula Waterfalls
12. Potawatomi Falls – Ironwood
Five striking waterfalls dot the Black River National Forest Scenic Byway on its way to Black River Harbor, and signs along the route explain the fascinating rock formations over which the water so frequently flows. Potawatomi Falls, in Ironwood, is one of the easiest to access, but even it has quite a few stairs to the overlook.
13. Cascade Falls – Ironwood
Half the fun of this waterfall is exploring Porcupine Mountains Wilderness State Park on the way. Take the Valley Trail for a shorter hike, or if you're up for a challenge, Bluff Trail provides a more demanding climb.
Lower Peninsula Waterfalls
14. Ocqueoc Falls – Ocqueoc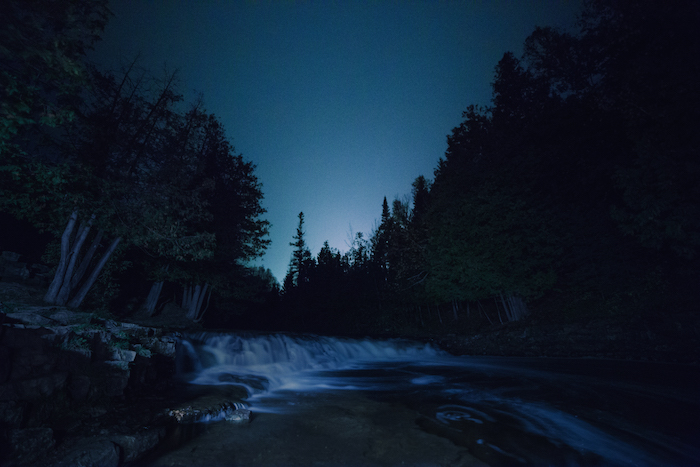 When you're the only recognized waterfall in all of Michigan's lower peninsula, you sometimes get overlooked. But the Ocqueoc Falls Bicentennial Pathway starts at the falls and runs along the river and features hardwoods that are especially brilliant in early October. There's also a picnic table with grills, and the area is wheelchair accessible.